Finley rolls up to Rebecca's ENTIRE HOUSE where Rebecca's inside dining with grown-up adults. Finley tosses her bike on the lawn, and requests her beloved's attention via aggressive knocking. Becca's pleased to see her 'til she smells the mini-bar emanating from Finley's pores.
Finley proceeds to blow it.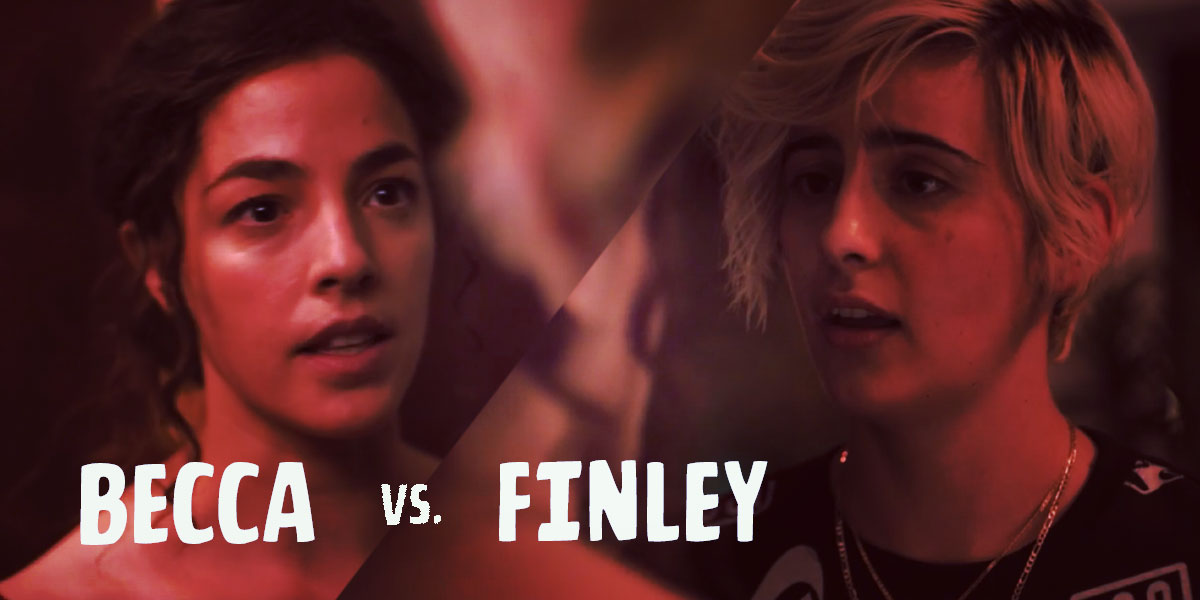 Lesbian Squabble #11: I love Jesus But I Drink A Little
In the Ring: Becca v Finley
Content: Finley's gotten over the priest thing 'cause she realized Rebecca's not a real priest! "You know you have the church and the outfits but it's not a real church so I can totally do it." Rebecca counters, "that's really hurtful." Everybody's face crumples. Finley's barely sure if her arms are coming out of her legholes or what's the upside-down game? Nothing's computing. Finley adds that she was freaking out about having sex with Jesus, but she's cool with it now, and loves Rebecca. "I think you should go home," Rebecca responds to that.
Who Wins? Love is a lie
---
Back at the Raging Surprise Party, Hassan's like heyyyy how do you know all these lesbians? and Micah's like I dated Dani in college! Hassan says Micah's got great taste in men and women. What a strange thing to say!
Everybody's getting low to the window to the wall. Sophie and Dani are dancing like sex. Maybe being really hot together is the steel core of their relationship and that's fine, people have based entire marriages on less.
Meanwhile, Lena's genitals are squirming to escape that pantsuit as her full-body longing for Shane compels her to, despite her girlfriend's ATTENTIVE eye, stroll over to Shane, whisper in her ear, and put her hand on Shane's waist. Shane pushes it away.
Jose cuts in to Hassan and Micah's dance dance revolution to ask what Hassan "does." Hassan tells Jose that he's an actor and Jose should come to his improv show next week. There goes that boner!
Jose's not into Hassan and turns around to talk to Micah. It feels like Micah's in this position a lot: still there waiting when the guy turns around.
Elsewhere in this Swarming Surprise Party….
Nat's gnawing at Alice's shoulder like a turkey drumstick…. and making eyes at Gigi.
o h  f u c k  y e s
You can tell me, you know, Alice informs Nat during a 3-second tonsil hockey time out. If there's a part of you that still wants her.
Remember Jamie and Tasha and the dance marathon? No reason, I was just thinking about it.
Nat: I want you.
Alice: I know…
Nat: I want you… and her.
Alice: Right?
Nat: She's so great.
Alice and Nat gesture Gigi over by yelling HEY COME OVER HERE WE NEED YOU and then delivering EYEBALLS of DRUNKEN LUST. I love this part of a threesome, when you know you're a hot couple and you're about to give some lucky lady an all-expenses-paid ticket to ride.
Meanwhile out back, Micah asks Jose a series of relevant questions regarding his feelings, which Jose mostly responds to with a half-open mouth that no words are coming out of. Micah pounds Jose's chest with his fists and demands to know what Jose wants. This is what Jose wants:
Alice, Nat and Gigi stumble into a back room of some kind and HERE WE GO

Lesbian Sex Moment #11: And If You Want to Dance and If She Wants to Lead I Won't Mind
The Players: Alice, Gigi and Nat (with a little backup from the dancers on the dance floor as we cut back and forth)
The Pick-Up: "Hiiiiiiiii"
Hot or Not?  SCORCHING. This is hole in the ozone layer hot. This is your flat iron cranked up to permanent hair damage hot. This is the cap of Red Pepper Flakes falling off mid-shake, thus dumping the entire container onto your pasta hot. This is sadistic boys burning insects with magnifying glasses on the sidewalk level hot. This is "'Ilomilo' by Billie Eilish is playing" Hot.
They do the standard invocation ceremony one must perform before a TV threesome:
1. the two people who haven't kissed before; kiss (I believe on ye olde Faking It, "kissing the girl you like less first" was delivered as a Rule of Threesomes)
2. the two people who have kissed or flirted before but it's a little complicated, kiss
3. the two people who kiss each other regularly; kiss
4. All hell breaks lose
Gigi's tongue is in Alice's mouth and Gigi's blazer looks great on the floor and then everybody's mouth is vying 2 become 1. Alice pushes Gigi onto a surface — a bench? a couch? What room is this? Who cares — Alice climbs over her and grinds into her and then it's Nat behind Alice and Gigi slipping one entire finger into Nat's mouth and because lesbians and their hands!!! uses another finger to guide Nat's lips back to Alice's and then Nat's got one hand going under Alice's skirt while Gigi's got one hand going up Alice's bra and then we cut to the great outdoors…
And then back to the indoors where Dani and Sophie are gripping hips, grazing side-boob, kissing, breathing into each other's necks and, eventually, needing to get the fuck out of there to fuck.
… and then we get back to the back, to Nat's fingers tracing/grabbing the full length of Alice's leg, her skirt bunched up into a mass of golden shimmer on Gigi's lap because Gigi is grinding beneath her, Alice's thong barely snagging the heel of her strappy gold shoe as it's pushed to the floor and Nat mounts her. Jump cut to Nat in front of Alice and Gigi behind – we have Alice getting fucked by Nat, we've got Gigi between Nat's thighs, we've got Alice getting fucked by Gigi while Nat watches with her hand between her own thighs her finger inside her own cunt my friends WE HAVE IT ALL. BRAVO. Emmys for everybody!!!!!
---
Back out into the land of OK Sure, Lena flirtatiously accosts Tess and gushes about how amazing everything looks.
Which brings us to…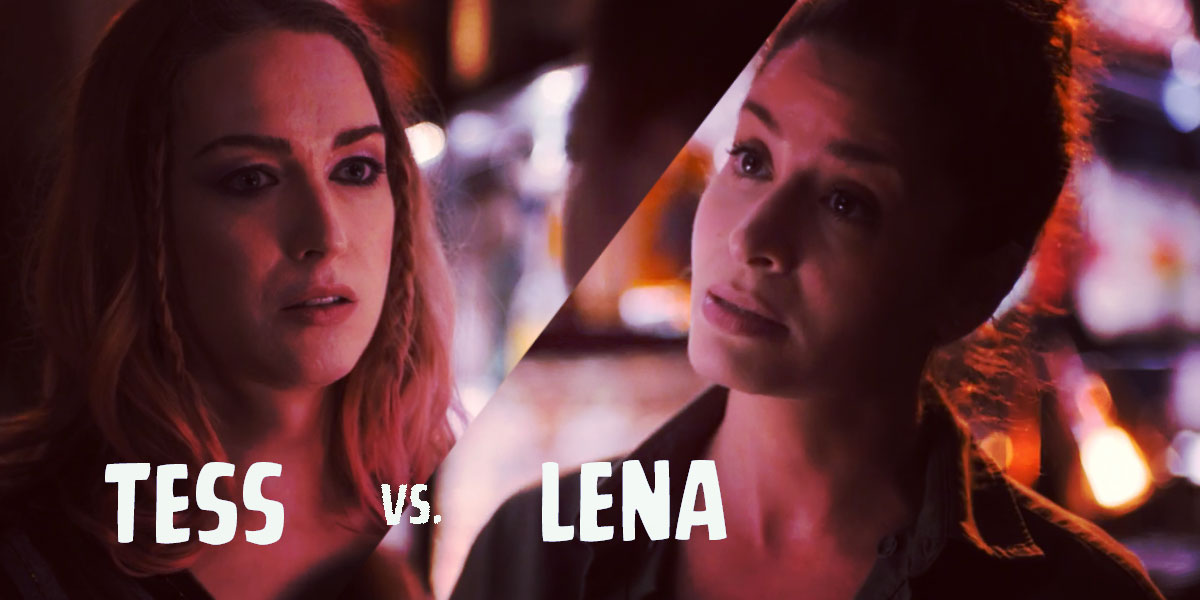 Lesbian Squabble #12: Someone I Loved Once Gave Me a Box Full of Darkness
In the Ring: Tess vs Lena
Content: "Is there something you wanna tell me?" Tess asks her. Lena plays innocent: "what do you mean." Tess tries it like this, "I know that there's something going on between the two of you, I can feel it." Lena says there is not. And then Tess delivers a single, perfect line: "You know, when you look back on our relationship I want you to know that it wasn't your infidelity that ended us. It was this moment."
DAMN!!!!
Lena backs up or steps forward, maybe she's not sure which, and so Tess asks again if there's something Lena needs to tell her — and then Lena, finally, apologizes. I wonder how long, exactly, did Lena think her lie to Shane about being on the rocks with Tess would hold up? What was her long game here? Tess says she can't do this. She walks out.
Who Wins? Gonna go with "love is a lie" again here.
---
Bette wheels out Shane's cake as Alice, Gigi and Nat stumble out of the backroom with sex hair.
Lez get a shot of that cake, shall we?
"Strangers" by Halsey starts playing, just in case I didn't already listen to that song three times today (I did) and lest we dwell too extensively upon this award-winning dessert, Alice kinda stumbles with her drink and her messed-up hair like Tallulah Bankhead and goes "Holy shit," and Bette goes, "Oh my God" and Shane turns around and look who got out of her dreams and into her car!!!
"Happy birthday," says Shane's wife.
DUM DUM DUMMMMMM
---
The Round Up:
Sexy Moments: 2 this episode, 11 total
Squabbles: 4 this episode, 12 total
Throwbacks: 5 this episode, 19 total
Quote of the Week: "You know, when you look back on our relationship I want you to know that it wasn't your infidelity that ended us. It was this moment." – Tess
GOOD JOB ROBIN ROEMER!
Pages: 1 2 3See entire article on one page