Back at Bette 2020 HQ, Dani is still on a tear and now the shame train is coming for Bette!
Lesbian Squabble #10: I Want People to Be Afraid Of How Much They Love Me
In the Ring: Dani vs. Bette
Content: Dani's like "you jeopardized the campaign!" and Bette's like "I'm pretty sure you've course-corrected worse when you were working for your father." Like DEATH. Dani says she was numb then, but ever since meeting Bette she's learned how to feel, just like Shane and Cherie Jaffe. Then, despite this being a job that Dani both invented and demanded she be hired for, she tells Bette the job has fucked up her life and her relationship with Sophie and her Dad and "right now none of that feels worth it." Dani hisses, "I just don't understand how you can throw everything away for some woman!" Bette says, of course, that Felicity isn't just "some woman" and then. AND THEN. Dani responds, "Is this your M.O.? You do something great and then you fuck up?" Which is — wow!
Okay listen. Personally, I'm all in for Dani holding her boss accountable for her actions, especially since her job is Bette's public image and because she wants Bette to live up to the expectations that inspired her to leave her father for Bette to begin with. Upwards feedback is integral to a healthy workplace and without it, your boss will just go on hurting people — including you! — and being a bad boss forever! However. The way Dani is delivering it and her tone with Bette is disrespectful and inappropriate.
But now we get the grim reaper we've all been gritting our teeth about for three weeks:
Bette: "My sister died of a heroin overdose. That is why I'm running. I'm running for her. I'm running to change the broken system that failed her."
I REJECT THIS NEWS. Killing a sexual assault survivor and now a recovering addict is… not great, y'all!
Dani barely winces to hear it! Bette, now emotionally destroyed, explains that when Kit died, Felicity picked up all the pieces, and Bette can't turn her back on Felicity now. Lest Dani expose an emotional core of any kind, she tells Bette she can either run and win and stand up for her beliefs, or she can have Happy Beautiful Breakfast In Bed Time with Felicity American Girl.
Who Wins? Bette, but only because Dani loses.
---
Today the person on The Aloce Show who took the bomp is local nobody, mayoral candidate Jeff Milner!
Unfortunately…. Drew Wilson is a terrible writer. This is his plan for the interview:
1. Talk about things you have in common
2. FYI the only thing you have in common is that you have both been to summer camp
3. Alice that's fine that you worked at summer camp for $6 an hour and Jeff attended a summer camp where people apparently got their own ponies, you both camped, okay? You both were out there with the cabins and the bug spray and the singing of "Cats in the Cradle" around the campfire and the holding hands with a boy who is significantly shorter than you.
4. As aforementioned, this conversation will lead directly into discovering that Jeff Milner NAMED HIS PONY "TUBMAN" BECAUSE HE ADMIRED HARRIET TUBMAN'S BRAVERY
Alice glances at Sophie in the wings. We're ready for Alice to ask Jeff about his campaign staff's diversity. Perhaps she could try, "so, you named an animal after a Black woman you admired — I'd love to hear stories about some Black women you hired?"
But … nope. Instead, Alice asks him IF HE THINKS HARRIET TUBMAN WAS A FEMINIST. What is happening here? This is a wild little journey we're taking to enable the Los Angeles Times reporter to say to Sophie, "she doesn't hold back, does she?"
Jeff uses this opportunity to say that Bette's affair was not feminist, which is, as we all know, how affairs are generally judged. Alice's defense of this absurd line of inquiry is that it's fine 'cause Bette made a mistake and now her and Felicity have broken up. "I totally believe her that it's over," Alice says. WHAT IS HAPPENING HERE
---
Off we go to DaSoMi's Home! I was holding onto a shred of hope that DanSo's arguments would eventually start making sense but my friends… they have not. However, bath scenes and the sexy carefree bodies that go along with them are cute. Sophie says very adorably that Dani's missing out on the joy of spending time with her. She thinks about Dani all the time but does Dani think about HER all the time? It doesn't seem like it!
Dani says she's scared. Why are you scared Dani? Dani's scared because when she met Sophie she had a girlfriend, and one day Sophie could leave her for a girl just like she left that girl for Dani. What is happening!! This feels out of the blue. It seems like the real issue is that Dani doesn't know how to talk about her emotions and she's in constant psychological turmoil about work and her father and has a new job she's obsessed with but she needs to make that job worth what she's given up to take it and doesn't know how to balance all of that with her totally emotionally available girlfriend!  Anyhow: Sophie says of course, but that that girl wasn't Dani!
Sophie hops out of the bath to grab her great-grandmother's ring and propose to Dani and promise her that she will never leave her because Dani is her person. Dani climbs on top of Sophie and I get nervous that someone's gonna bump a limb on something and get a bruise, but also I guess that's what life is, right? Bumping our limbs, getting wet and bruised and making promises we hope we can keep.
---
Cut to Shane's Penthouse where Shane is getting high and guess who else wants to get high? BETTE PORTER.
Bette: Did you ever think you'd be spending your 40th birthday with a middle-aged lesbian and no chance of sex?
[pause]
Shane: I wish you had told me you were a lesbian. You're so secretive!
They toast to our inevitably brief future (because climate change) with a joint and then Shane confesses that she's already Shaned up her impulsive small business venture by having impulse desk-sex with Lena, who's still dating Tess. Bette says it's okay Shane it's totally okay bro it's so cool CUZ LIKE wEr'e only humans!?!! And humans do fucked up shit sometimes because WE wanna move ONNNNNNN, man, or because MISTAKES and WOWWOWOWOWW THIS POT IS STRONG.
"I feel like such a fuck-up," Bette says. Shane is like, you're fucking Felicity, right? The revelation of this fact requires a conversation relocation from standing up to sitting firmly upon the ground, beneath which an earthquake is likely rumbling that will destroy us all.
So, a little Felicity backstory: Bette tried ending things when the campaign began but couldn't — maybe it was not to hurt Felicity's feelings, maybe it was to avoid hurting her own because "that would've been a total fucking free-fall." Bette's lost so much — her mother, her father, her sister —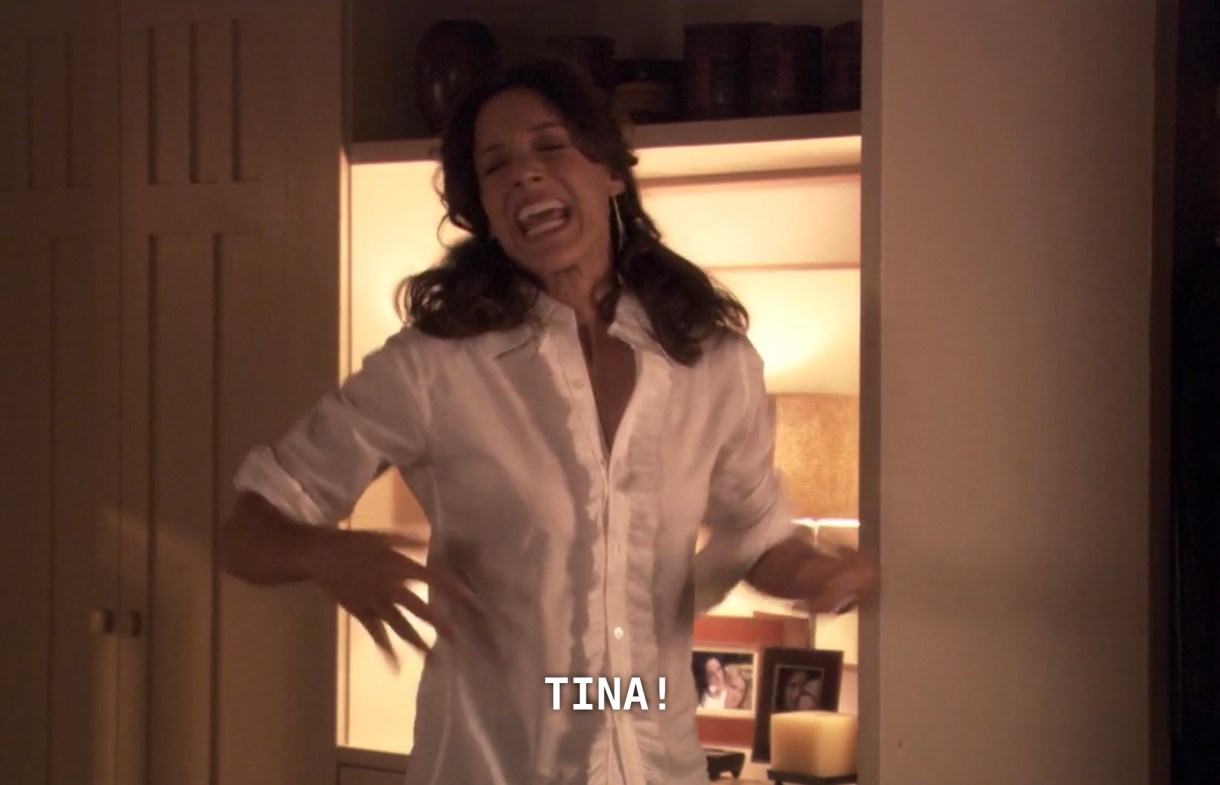 I get it. When you've lost everything that makes sense to you and grief is all you have in your bones, you can feel entitled to relationships you maybe shouldn't be having in the first place. Because without them…. the free fall, you know?
But Bette also wonders if maybe she's just sabotaging herself, over and over? This is the moment when I realized that I am Bette now and also had to sit down.
Bette wants to do right by Kit. She hears her, sometimes, saying "Girl, you gotta love the life you live and — " Shane joins her, on this next verse, "live the life you love." [Throwback #17: Episode #302 when Kit told her son that she liked seeing all the happy homos at Casino Night.]
Bette is enchanted by the bouquet of flowers on Shane's table. Shane reveals that they are indeed from Tina. "Of course they are," groans High Bette before moaning something about Tina's "good taste." Does anybody remember Henry or what?
More exposition when Shane whips out her divorce papers 'cause there's never a better time to sign 'em than on the big 40-0. Exposition: Shane and Quiara broke up 'cause Shane doesn't want kids and doesn't wanna raise 'em while Quiara's on tour. She knows that sounds selfish, but Bette says it doesn't, it's ok Shane!
"To new beginnings," says Bette "High as a Kite" Porter, and they both start cracking up laughing.
"I got divorced on my birthday," says Shane.
Instead of eating the gourmet meal Bette actually DONNED AN APRON to prepare and for which they are surely feeling a little hungry, they grab two pieces of asparagus each and leave so they won't be late, thus disappointing Alice.
---
OH MY LORDY LORDY IT'S A SURPRISE PARTY FOR SHANE TURNING FORTY!
"Who are all these people, Al?" Shane asks as she's dragged through the bar by an eager Alice, who "took some liberties with the guest list" which means she posted a general casting call on the Lex app. (Headline: YOU'VE HEARD OF SHANE, RIGHT?)
Then it's time for a little slideshow from the original series — specifically, these are photos Jennifer Beals took behind the scenes (and eventually sold in book format) that're now being passed off as part of the scenes but you know what? They're in costume. We'll take it.
They also pretend like this is a photograph somebody took, 'cause we should #neverforget:
That trip down memory lane has got everybody thirsty for a tequila shot. Meanwhile, the new class arrives: Dani and Sophie with their rings, Finley in her interesting shirt (btw she downed a flask on her way here, not knowing it was open bar and now shit's gonna get WILD!), Micah vaguely unsure of whether or not he actually likes his date. Sophie's got her eye on Finley's hollow leg, asking if she's sure she wants to get hammered in front of everybody's bosses.
Dani saddles up next to Bette Porter at the bar, and I'm prepped for a light apology regarding being extra earlier or perhaps conversation appropriate for the venue (Bette's friend's birthday party) but nope, instead Dani amps up to Serious Level 1000 and asks, "Have you made a decision?"
Bette says she's gonna end it. Dani says she's sorry for coming down on Bette so hard, but Bette says it's okay, but gets one barb in, after promising to end it: "You don't have to be so fucking excited about it."
Anyhow, Shane's standing on a table now! She's like listen, I didn't wanna have a party, but since half of the Chart is here, we may as well party!
Lena's filming it for her "Shane <3 Shane" Highlight on Instagram.
Finley's missing Rebecca, who she recently sent a bunch of emojis to. Sophie suggests ditching the fake-faces for her real face and some real words! Go tell her how you feel, Finley! This is a terrible idea.
Micah's chugging ice with Hassan when Jose walks in wearing an unforgivable shirt. He smiles at Micah and Hassan, who's thrusting chaotic energy into the air like a fog machine.
Alice and Nat are pursuing their #1 hobby — bickering — this time about the interview earlier today when Alice felt like Nat said she was hard to be with. Nat clarifies that work-life balance presents struggles for two busy career women, but don't worry — they're nailing it!!! Then Gigi saunters up, dressed like an extra in Moulin Rogue who refused to wear a skirt, to echo how great everybody's doing and to drink to that.
Then, Bette and Shane gift Alice a framed copy of her LA Times Cover Story! It's not EXACTLY what they'd expected in one major way: Gigi's in the family portrait.
"It's the Church of Latter Day Saints!" Shane teases instead of just saying "Mormons." "It's amazing!"
"Or a cult in Portland," Nat notes. Or a polycule, NAT.
---
Pages: 1 2 3See entire article on one page