The original Prop 8 trial, presided over by Judge Walker and making same-sex marriage legal (in theory at least) in California was intended to be broadcast live so the entire nation could follow along. Yes on 8 supporters managed to stall that idea with a temporary stay that turned out to last the entire trial, so instead of watching what was going on you had to rely on a potpourri of reportage and recaps. If our photoshopping the heads of important witnesses onto American Apparel models wasn't the level of engagement you were looking for on this issue, you will be pleased to know that the hearing on whether Prop 8 should actually be struck down will be televised. (@latimes)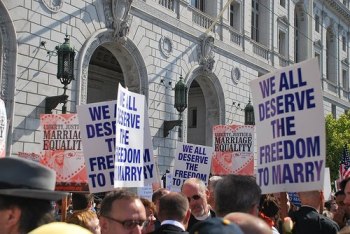 The U.S. 9th Circuit Court of Appeals granted a request by C-SPAN to broadcast the two-hour hearing, which is scheduled to start at 10 a.m. The court said C-SPAN would provide its tape to other broadcast media that receive court permission to televise the hearing.
This hearing is taking place on Dec. 6th, and will involve only arguments made by lawyers for both sides, not testimony by witnesses. The hearing is in response to the Yes on 8's sides appeal of Judge Walker's ruling, but the first hour of the proceedings will be devoted to determining whether their side even has the grounds for an appeal. Having the standing to appeal a ruling generally requires that the appellant be directly affected by the ruling – and as was pretty solidly established in the actual trial, the Yes on 8 lawyers are not directly affected by anyone getting married except them, I guess. The second hour will be devoted to whether Prop 8 violates equal protection rights – another major tenet of our case against it in the trial a few months ago.
The exact form of our coverage of this hearing – liveblog? recap? roundup post? – is as yet undetermined, but rest assured that one will happen, so stay tuned and keep your fingers crossed.