Episode 5 opens in the Great Lesbian Kitchen where there is much milling… of people, not of grains. Lena comes in and immediately confesses that she forgot the guacamole! Stef says, "Remember when you used to love me?" and I say that all the time! Not to Lena but to Luisa and Luisa always says, "I still love you" but Lena says, "Don't do that." which is less endearing.
Jesus and Lexi are heading upstairs and that's when I notice all the people – it's a full house! But the kind without hearts, spades or the Olsen twins. Stef reminds Jesus that he can't have a girl in his room unless one of them is upstairs which seems pretty lax because I don't think he should have a girl in his room unless Stef or Lena is sitting on his bed. Jesus doesn't want to hang out with Stef and Lena's boring friends and I only now piece together that they are having a party. I thought maybe Bill the social worker had called again. Stef tells him to take out the trash and Marianna breezes in and implies that Lexi is the trash and erases all the good will I felt towards her at the end of last week's episode. Lena is all, "Knock it off Marianna" and Marianna is all, "You can't make me" and then Marianna takes cheese cubes to the living room. Marianna then spies with her little eye two more lesbos coming in with a teenage boy in tow.
Digression 1: He's carrying a cake in a Tupperware container. Does Tupperware still exist? I haven't seen one of those plastic cake things since I was but a wee lass growing up in the plains of Kansas.
Marianna is excited to see Cake Boy, who seems very familiar to me but I can't place him. The Unidentified Lesbian Moms (ULMs) go into the kitchen and surprise! The cake is vegan! ULM1 compliments ULM2 for her cooking skills and then goes outside where Stef is apparently "womaning the grill" and Lena doesn't say it with humor which means I hate it. Then, Jenna (ULM2) tells Lena that she and Kelly (ULM1) are having a rough patch and I think, "Damn. Eczema's a bitch." But she's not talking about that. She's talking about the kids and work and bills and routine and lack of sexy times and I want to ditch this show right this minute and go find my lady friend and have all the sex so that I don't turn out like Jenna the Depressing Vegan Chef.
Digression 2: Jenna is wearing Keen Coronado shoes in brindle. I know because I just bought the same shoes. In a daring move, however, Jenna went with the brown laces while I went with tan. I am hoping that my tan laces shall serve as a talisman against suffering Jenna's fate.
After the party, everyone is in the kitchen cleaning up and I mean everyone because Wyatt Earp is there too. We learn two things: 1) Cake Boy is participating in a poetry slam and they're all going to go 2) Wyatt dries a mean plate.
Cue intro Montage of Family Emotion.
Next, Callie sees Mr. Earp out of the house because he has to get home to condition his lovely locks. Brandon tells Callie that Wyatt slept with Talya and then dumped her which makes Wyatt a bad guy. Brandon, have you met Talya? There were probably plenty of reasons to dump her. Meanwhile, Lena and Stef are upstairs folding laundry which is obviously the only thing they do in their bedroom besides sleep. Lena mentions that Jenna and Kelly haven't had sex in over a year and asks when the last time they had sex was. We hear Jeopardy music while Stef thinks which is never good. So, they cuddle up with their phones to schedule a date night and decide that Lena will leave school early one day and Stef will take a late lunch and they will have some Afternoon Delight. Lena leans in for a preview and Stef says, "Do we have more of those antacids, sweetheart? Because your chimichangas are killing me." And no amount of wishing on my part makes that a euphemism for boobs. As Lena and Stef discuss reflux, Jesus is eclipsing Lexi on her bed and as the music says, "Nobody knows how to get to the middle of you…" How many licks does it take to get to the center of a Tootsie Roll Pop? Jesus is about to find out.
Marianna is painting her nails and Jude mentions that he likes the color and she offers to do his. This is such a sweet little interaction and it balances out her craziness about Lexi. Callie sees the nail painting, however, and tells Jude not to wear nail polish to school.
Digression 3: When my son was about 2, he loved to have his nails painted but, as soon as it got a little chipped, he wanted the polish off and new polish applied immediately. Since we do not have a full-time manicurist on staff, he sometimes had to wait. One day, he was upstairs in his room for a nap and I heard him yell, "Oh shit! Cottonballs!" I ran upstairs and was overcome with the smell of fingernail polish remover. He had taken it from the cabinet and was sitting on his bed pouring it on his fingers when he remembered that he should have used cottonballs. Ruined the mattress.
Callie teleports to Anchor Beach School for Chatty Teens where she asks Wyatt about Talya. He tells her they had sex but Talya got weird and controlling afterwards so he broke up with her and, as much as I don't like Earp, I believe what he says about Talya. Wyatt then asks Callie out and she accepts.
Jude and Friend are talking about fishing and Friend steps away for a moment and Bullies arrive and make fun of Jude's nail polish. They push him into a locker and a teacher intervenes but Friend has seen the whole incident and he and Jude exchange looks but I have no idea what the looks mean.
Lexi and the Lollipop Kid are at the beach talking about the previous night's exploration of her middle and she worries about being pregnant and I shake my head because I'm certain Stef covered this in her Great Works of Literature Sex Talk Series. Speaking of Stef, she is checking out the sensual massage oils at the pharmacy. She gets in line to pick up a prescription and the woman ahead of her is getting a prescription for the Morning After Pill. Stef pays for her ugly lavender lube and leaves the store to find the Morning After Pill woman giving the pill to the Lollipop Kid and he thinks, "Of all the gin joints in all the towns, she walks into mine."
Stef and the Lollipop Kid return home and Lena descends the stairs. She's not nude descending the staircase but she is wearing a robe and I think I saw her chimichangas. Stef tells Lena that Jesus and Lexi had sex, didn't use a condom and he got some random woman in the pharmacy to get the Morning After pill for him. They send Jesus to his room so they can figure out what to do next and it's clear that "what to do next" is not going to involve the lavender lube. Stef wants to give Lexi the pill but Lena doesn't. Lena says, "I'm her vice principal!" They discuss teen pregnancy, abortion, adoption and they are growly and disagreeable and Lena goes upstairs to change.
Kids ruin everything.
Garrett the Cake Boy and Marianna return from a showing of "On the Road" and Marianna is frustrated because she thought it was a date but Garrett didn't seem to think it was a date and Callie says, "Do you really want to date someone whose pants were tighter than yours?" and Marianna laughs and I think Callie shouldn't judge Garrett and his pants when she is dating Teen Fabio.
Digression 4: I finally recognized Garrett! He is the kid who won the NPR Snap Judgment story slam with the story about his lesbian moms. I loved him in that but he bugs me on this show. Maybe because he talks like a nerdy robot.
Jude is playing video games and Lena asks him if he is okay after the incident at school. Callie butts in to tell him once again to take off the polish and Jude leaves in a huff. Not to huff. Hopefully. Callie tells Lena that the world is not like life in the Charming Lesbian Craftsman and this isn't permanent and Jude needs to be ready for the real world. Then, Wyatt Earp arrives and they head out for their date. Brandon asks Lena where they are going and she tells him, "Disneyland!" Really Brandon? You're not that dumb. Then, Wyatt and Callie arrive at a beach house and Wyatt takes a key from a secret key-in-a-rock hiding place and it still feels like breaking and entering.
Jude is in the bathroom trying to take off the polish with a hand towel and Lena comes in to help and does not yell, "Why the hell are you using our good hand towels for that?!" like I would have.
Digression 5: I may just be bitter because, just last night, Luisa said, "Why is there red food coloring all over the bath mat?" and I sighed because I hadn't seen it and had specifically told the kids not to use food coloring for their zombie movie and they did it anyway.
Lena starts taking off Jude's nail polish with ohshitcottonballs and says, "When Stef and I are at home, we hold hands and kiss. Sometimes, when we're out in a new neighborhood or we are walking home late or to our car, we won't hold hands." She goes on to say that she gets mad at people who judge and gets mad at herself for not taking a stand. She goes on, "If you are taught to hide what makes you different, you end up feeling a lot of shame about who you are and that's not okay. What's wrong is the people out there who make us feel unsafe." I have nothing snarky to say about this scene. I want to hug them both.
Wyatt and Callie are at the beach house and Wyatt tells Callie she has "an eye booger" and then offers to get it for her and goes in for a kiss. Thanks Wyatt! Now I know the key to getting in someone's pants is to tell them they have an eye booger! Then, they hear a noise and Callie says something about his parents being gone and he says, "Yeah, this isn't my house!" and I say, "AHA! I KNEW IT!" They run and police cars pull up and Callie is understandably upset because we can all agree that most dates shouldn't involve trespassing and/or breaking and entering. Callie calls Brandon who picks them up from the scene of the crime.
Digression 6: My first lesbian date ended on the roof of a small town Pizza Hut but she knew what we were doing because she helped me push the dumpster up against the wall.
Marianna goes to the poetry slam and there is a girl performing, "There's a tiny bit of mustard in the crack of your frown…" and I have a horrible flashback to one of my first weekends in Minneapolis when my Pizza Hut girlfriend wanted to go see a performance art piece in which a man was going to drink his own urine. I did not wish to attend this event and I should have known right then that our days were numbered. The urine drinking divide could not be bridged.
Garrett asks Marianna why she's there and she says, "I'm performing." and I say, "I'm nervous." Then, the mustard girl comes over and Garrett introduces her as Savannah and Marianna compliments her and Savanna dismisses her and I spend the next 10 minutes writing mean poems about Savannah. Marianna takes the stage and reads her poem and there is no mustard because the Fosters hate condiments and condoms, "Your smile is a flower on the garden of your face." I had reason to be nervous. No surprise – Marianna does not win the poetry slam. She asks one of the judges for feedback afterwards and he tells her they were looking for something raw. But not like steak because of Mad Cow Disease.
Callie and Brandon arrive home and Brandon pouts and Callie thinks he hates Wyatt but he says, "I don't want you dating Wyatt because I don't want you dating anyone." NO! NO! NO! I was clinging to the hope that this was not happening! I was misreading the signs! I was being paranoid! All of my denial comes crashing down on the darkened stoop of the Charming Craftsman. Callie tells him that this kind of thing happened before and the family sent them away. Brandon is as naive as I was 5 minutes ago and says that would never happen with the Fosters.
The next day at school, Wyatt (I can no longer call him Earp because Wyatt Earp was a sheriff and never would have stolen a key from the secret hide a key rock to seduce a lady) approaches Callie and tries to apologize and she's not having it until she sees Brandon watching them and then she's all, "Oh well! So what that I was on probation and your stunt could have landed me back in juvey! Let me kiss yo face!" Blech.
Jude is wading through a sea of people to sit down and have lunch. He's all alone looking into his brown paper bag when Friend comes and joins him which is sweet but then we see that Friend has painted his nails blue and then we all cry. No? Just me?
The Lollipop Kid is at the beach with The Lollipop and it's clear that she got the pill. Lexi tells Jesus that she likes him but they shouldn't try to find the center of her lollipop anymore and he is fine with that and they kiss and remain my favorite kid characters.
Marianna is looking at pics on her lap top and gets a text from Garrett asking if she's coming to the poetry slam finals and she goes into the bathroom and starts rummaging around for things…pills, peroxide, something in a ceramic dish. I think she's going to dye her hair. Actually, I have no idea what she's doing.
In the next scene, Jude is making a sandwich as Callie comes home from school. He says, "Their peanut butter is all weird and oily but it's still kinda good if you add sugar." I laughed so hard at Jude and the Battle of the Organic Lezzy Peanut Butter.
Callie asks him why he is wearing the nail polish and he says he likes it and won't take it off and she tells him not to get too invested in this family. She says, "You're gonna get hurt." and he says, "I already hurt." Oh Jude. You are so much less creepy this week. Perhaps you've had some acting classes.
Lena, the Vice Principal of Reproductive Rights, is packing up (not packing) in her office and Lexi comes in and asks if Lena is disappointed in her. Lena asks Lexi about her mom and she says that her mom would be super mad if she found out the sinful lesbians killed her unborn baby.
Stef comes downstairs in a fine leather jacket just as Lena gets home and Lena says, "Were you gonna tell me?" instead of "You look hawt!" which is why they haven't licked any lollipops lately. Turns out that Stef gave Lexi the pill without telling Lena. Stef says, "I did it so you didn't have to." and Lena says, "How generous." and Stef says, "That's not productive." and this is the evolved lesbian equivalent of a knock down drag out. They don't have time to exchange more "I" statements, however, because they have to go to the poetry slam but where is Marianna? Marianna comes down and she has pierced her nose and Stef says, "What happened to your face?" Jude asks if it hurt and Stef says, "Of course it hurt. You punched a hole in your face." Lean stares at Marianna and finally regains her senses because POETRY SLAM!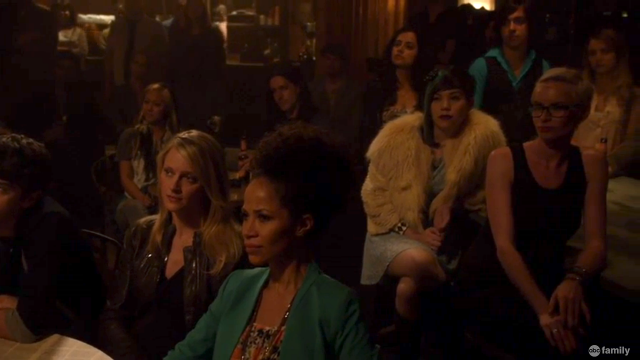 At the slam, Garrett is performing a version of the piece from the NPR story slam and it's watered down and weak here which is too bad but there are plenty of shots of the crowd looking moved. Afterwards, Marianna approaches him and tells him that he was great and he says that his moms are splitting up. I blame Jenna's brown shoelaces and eczema. He asks about the piercing and she says she wants to be "edgier" and he tells her she's "pretty great." Too bad Wyatt didn't tell him about girls and their eye boogers.
The car pulls into the driveway and all of the kids get out of it like it's some sort of Queer Clown Car but Stef and Lena don't get out because they need to talk about Jenna and Kelly. Stef says, "I'm sorry the way I handled the pill thing. Not the giving part but um…" and Lena says, "And I'm sorry I forgot to buy your guacamole." Stef calls her a saint and then a "hot saint" and they start making out and then Lena says, "Let's take this somewhere a little more comfortable…" and Stef climbs into the back seat and Lena launches herself onto her like a lesbian big cat in genie pants! Lesbian moms do it in the car! Damn. I really need to get rid of my Yaris.
Overall impression: Not nearly enough time spent on the Lena/Stef storyline though I'm happy they got it on at the end.
Favorite line: "Remember when you used to love me?"
Really? Did they have to do that?: Lather. Rinse. Repeat. Always the Brandon and Callie thing.