Welcome to Almost Famous, a weekly segment where we ask up-and-coming queer musicians some not so hard-hitting questions about music and life and maybe even convince them to share photos of their pets. Get to know intimate details about your new favorite artist or band before they hit the Big Time and become too famous for us to interview for real.
Header by Rory Midhani

---
Leanne Harte
Dublin, Ireland
Leanne Harte is a singer/songwriter, multi-instrumentalist and self-confessed computer nerd who hails from Dublin, Ireland. Having commenced her music career in her mid-teens, Leanne's racked up an impressive list of musical feats over the years including award nominations, airplay, TV appearances, nationwide tours and an electric guitar endorsement at age 16. She also released several records under her own indie label.
Leanne's new EP, Restless Sleepers, was released today! It's a new direction for the artist, featuring five tracks of "folk-with-an-edge". Check it out via the iTunes and Amazon links at the bottom of this page.
How do you describe your sound?
My music is a mix of folk, alternative and rock – all of my influences combined together to create my own unique sound. I sometimes find it difficult enough to describe, because it's constantly changing. You kinda have to just hear it for yourself!
Which track from your new EP would you most like for everyone to hear?
The title track, "Restless Sleepers" would be great to share with the readers.
[soundcloud url="http://api.soundcloud.com/tracks/95852347%3Fsecret_token%3Ds-Ca8Vw" params="" width=" 100%" height="166″ iframe="true" /]
What instrument/s do you play?
My main instruments are guitar and voice. I've been playing guitar since I was about nine, and singing since I was about two.
What do you get up to when you're not making music?
I'm also a bit of a computer geek and I love designing websites. Outside of work things, I love going to gigs and festivals, travelling, and I also play a bit of hockey. I'm actually heading away to Belgium in August to play hockey at the World Out Games – really excited about that!
What were the first and last records you bought?
I think the first record I bought was Alanis Morrisette's Jagged Little Pill on a cassette tape! The last one was Daft Punk's Random Access Memories.
What inspires you to write?
Depressingly enough, the times I find myself most inspired are the times in my life that I'm at my lowest. I find writing to be very therapeutic, and it always helps me through bad times. I find it quite difficult to write when I'm happy, which is tricky at the moment because I'm quite content! It's something I really need to work on.
If you could only listen to one album for the rest of your life?
I could think of quite a few I'd be happy with, but I'd be pretty fine with listening to Tegan & Sara's If It Was You for the rest of my life, I never get tired of it. "Living Room" is one of my favourite songs ever. I love most of what they do, but I particularly love their earlier, more raw material, it's great.
Have you ever had to work a terrible job to support your music career?
I worked in IKEA for three years. It wasn't the worst job ever, but it just wasn't for me. I am a pro at building IKEA furniture now though.
If you could share a line-up with any two other artists?
Probably Patti Smith and Joni Mitchell, because I would LOVE to chat to them after the gig. They seem like really interesting people, and completely inspired me growing up.
Who is your idol?
My little brother, Ross. He's a pro kite-surfer, and has just spent his entire life doing exactly what he's wanted to do, no matter what has stood in his way. He now lives on an island off the Caribbean, where he spends his days surfing in the sun, and that's his job. Amazing. He's totally inspiring.
Do you have any pets?
I have a lovely dog named Kaiser, who is a cross between a husky and a labrador. He is the cutest, friendliest dog in the world.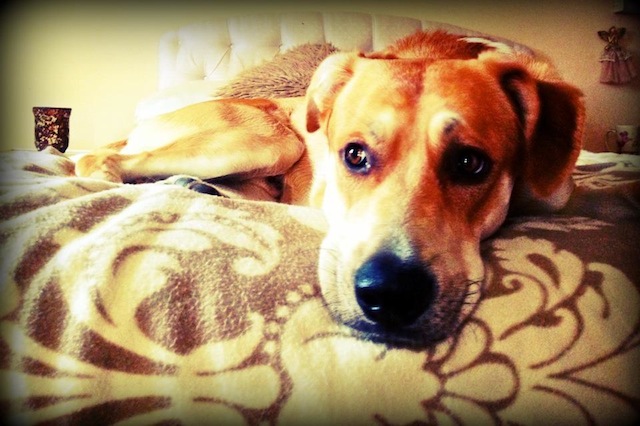 You can get your hands on Leanne's new EP, Restless Sleepers, from Amazon, iTunes UK, iTunes US, iTunes Aus and probably the rest of the iTunes stores, too. If you happen to live in Dublin or Germany, soon Leanne may just be playing a show near you. Check out her gig page.
For more on Leanne Harte, visit:
Leanne Harte's website
Leanne Harte on Facebook
Leanne Harte on Twitter (@leanne_harte)
---
If you are, or know of, a queer artist or band that should be featured in Almost Famous, drop me the details via crystal [at] autostraddle [dot] com. Please write 'Almost Famous' in the subject line!