Previously on The Fosters, everyone is lying and keeping secrets and an entire storyline we have spent all season on turned out to be nothing except a reason to get Callie into MORTAL DANGER. So yeah it's the finale.
I loved this show once. I loved the writing and the characters. More than anything I loved seeing a two-mom family on my television. But man, it hasn't been that show for a long time. The show has been given at least eighteen more episodes. But I don't know if I can keep watching this zombie Fosters.
Jesus, after reading Mariana's anonymous tweets, thinks Emma is pregnant and tells her that they can be parents together. Emma tells him that she had an abortion because the baby was Brandon's. Turns out it was a motherfucking dream sequence. Emma texts to make sure Jesus is okay since he was so weird the day before. Yep, totally fine. Fake news!
Oh hey Stef in your flannel layering. Looking good, lady. Yeah, that video of Callie in Doug Harvey's house is bad for her case. So bad that the deal they are offering is three years in prison. She has 24 hours to decide.
Callie dissolves when they get out of the elevator. She's freaking out. Everything is over and she knows when Stef tells her they have a day to think about it that's there's nothing to think about. She asks Stef not to tell the other kids; she doesn't want a day long pity party. Hooray! More secrets! What could go wrong?
Emma stops Mariana in the halls of school. She wants to know how she could have tweeted about her being pregnant. Everyone in school is trying to figure out who it is. Mariana is like, "Dude, no one knows it was me." So not the point, Mariana. Emma reminds her that she knows and so will Jesus. Mariana thinks that deleting it will fix the problem. But Emma's unimpressed by that plan. He might have already seen it and even if he didn't, Mariana's not much of a friend these days. Oh Emma Earp, there's a spot for you in SyFy with Waverley and Wynonna.
Lena pulls up to school while learning that her eldest daughter is about to spend three years in prison. She runs into Drew and gives him an earful about the Stratos family. He doesn't give a crap because turning the school private is awesome. They will get more money, her kids will get to go for free and everyone wins! Drew's obviously a Republican: lots of selfish bullshit, no follow through. Lena says she'll be back to work tomorrow and he calls her the wrong name and says if she is going to stir the pot she shouldn't even bother coming back. Someone get this guy a cat to stroke while he's saying this.
Stef called the cavalry, or what passes for the cavalry around here, to help keep Callie out of jail. The cavalry is Mike. Callie, start watching OITNB because you're fucked, girl. Stef sees that Doug Harvey lied about knowing about Martha Johnson's murder. Yeah, he's got a whole wall of newspaper clippings they can see on the video of Callie breaking in. Stef can't look into it so Mike goes to do it. Aw Mike, don't get anyone shot this time!
Stef's supervisor pops over and asks if there are any texts between Diamond and Russell. Nope no texts but they know she told him that the police were talking to her. Stef's worried that maybe they should move Diamond for her own safety but her supervisor says to give it a day. Weird that everything has the same deadline, isn't it? What a funny coincidence.
Lena scoots into the classroom where most of her kids are making signs. She pulls Mariana to the side. She wants any protest from students to be calm and controlled. Mariana says that's fine but they are making signs and they want to be heard. Lena promises the kids will have a voice at the vote but they can't just walk out of class and cause a ruckus. She tells Mariana that Nick's dad is behind everything. At the table, Callie asks Jude if he wants to take a walk with her.
Out on the beach, she tells Jude that she's pretty sure Kyle killed Martha Johnson and she was wrong to think otherwise. She says the plan is to convince the jury that Kyle manipulated her into doing all kinds of stupid stuff. She knows Jude is going through a hard time and he's finally mad after years of getting the short end of the stick. He has every right to be mad just don't be like her, okay? Find a channel for his anger that won't get him sent to jail. He says he learned how to fight back from her. She's his hero. She looks like she's going to cry and reaches to hold his hand. It's nice moment. But did we really have to go through a season of awful storyline for this moment? I mean, at what cost?
Doug Harvey and his Coyote Bergstein-inspired weed-whacker haircut is waiting in an interview room when Mike pops in. Harvey remembers Mike from when he came to talk to him with Stef. Mike says he remembers Doug telling him he knew nothing about the murder case but gee whiz, this picture sure makes it look like his story was wrong. Doug says he was there painting the curb but someone else (not Kyle) was there, too.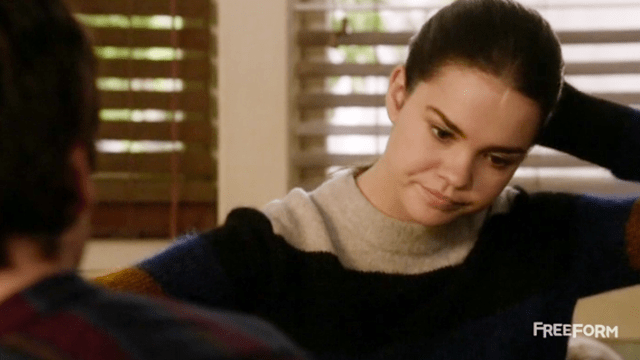 Callie continues her rounds through her siblings with a trip to Brandon's room to play some music. It's so haaaaard to say good-bye…. While they sing a duet, Jesus and Emma are in the living room studying. Mariana comes down to tell them about the board meeting. They say they will go but things are not comfy between Emma and Mariana and even Jesus notices.
Mike and Stef lay out all the evidence they have from Doug Harvey to the detective who arrested Callie after the accident. He's hesitant to step on Detective Grey's toes but Stef and Mike convince him that Grey isn't going to do the right thing after suppressing evidence in the first place.
Brandon needs stuff from his room and Jesus takes the opportunity to ask if Brandon's ever gotten a girl pregnant. Jesus explains about the Twitter account (that he assumes is Mariana's) and explains about the post about her best friend being pregnant and how Emma is her best friend or whatever. He tries to show Brandon the tweets but the account has been deleted. Brandon, ever helpful, is like "Don't worry about it, dude!" Jesus is tired of no one telling him the truth so he calls Sharon to find out if maybe Grandma didn't read him the whole note. Will someone just tell this kid the truth?
The moms climb into bed wondering if Stef's work will be enough for Callie to turn down the plea deal. Just when they look like they might have a chance to cuddle, Jesus knocks on the door. He has something he needs the moms to know. Emma got pregnant and then got an abortion. He just found out but thinks the moms need to know (jokes on you, buddy, they already know!). Stef climbs out of the bed to ask him how he feels about it all. He can't help feeling weird because if Anna had an abortion he wouldn't be alive. He never wanted to get into a situation like this but if he did, he never thought abortion would be an option he would choose. But, it's not his body so it's not his choice. He wishes she had told him but he's not going to bring it up unless she does.
Mike and Stef watch the detective question Troy's alibi witness. She better not lie because she will go to jail for it. The witness still swears that Troy was working when Martha Johnson was killed. Stef has to run out because Russell is going to get Diamond. But Mike and the detective will figure something out.
At the school, Mariana is impressed with the turnout and Jesus says it sure was good that some random person tweeted about the school maybe going private. He knows it was her. He just wishes she told him about Emma. Well, that brings the house down because she says how could she tell him when he lost his shit over pepperoni on his pizza (fair point). Really, he should be pissed at Brandon. Oh Mariana, come on!
At the stake out Stef's boss is psyched they are going to nail Russell this time. She knew Stef was going to be good at it. When she calls Stef "Foster," Stef corrects her and warns her to call her Adams Foster or risk the rage of Lena. I love it when Lena gets angry. Let's have more of that. Diamond sees a cop car and Stef and makes a run for it. Way to be subtle, coppers.
Drew wades through the crowd to welcome the distinguished guests. Mariana wants to know when they can come in to speak and Drew tells her the meeting is closed. When Nick's dad comes through Mariana lays into him. It's his fault Nick stalked her, could have killed everyone there, and almost killed himself. She's not going to let him take her school, too. He tells her that she has no say. Oh no. Mariana is taking her power back, asshole.
A cop car shows up with lights and sirens on and Russell drives out of there. Diamond and Tina are gone. They called 911 to warn Russell and Stef realizes that Diamond wasn't bringing him drugs, she was bringing him a girl.
Callie and Daphne are driving around, talking about Callie's three year deal. You know, regular girl stuff. They see Christina and Diamond and pull over to top them from running away. Diamond is desperate. If she doesn't go back with a girl for him she's going to be dead. Christina wants to back out and Callie and Daphne let Diamond try more and more lies. Callie says Christina doesn't need to go, she will. It's not like she has anything to live for anyway. Callie Jacobs Quinn Adams Foster, stop this Pretty Little Liars stupidity right now.
Lena can't believe that they closed the meeting. She looks pissed as Nick's dad starts droning on about elite schools and money. Even Monte looks nervous that Lena might ditch her calm, gentle demeanor and really let loose. DO IT!
Mike and the detective (did anyone catch his name?) are talking to Troy. He won't say anything without his lawyer present so Mike just lays it out for him. He's guilty and everyone knows it. They lay out the evidence they have on him, the times he lied, and tell him that Vanessa recanted her alibi. He admits killing her when she told him he was out of her will.
As darkness falls, Callie and Diamond get in the van with Russell.
Mike calls Stef to tell her that Troy confessed to everything. She's so relieved she is going to call Callie. Daphne pulls up to GU in Callie's car and Stef runs over. Daphne says that Stef needs to track Callie's phone to find them. Good lord, there is never good news for these moms. Callie hides her phone in a bag in the van so Russell won't find it on her.
Lena steps up to the mic at the meeting. The issue on the table is whether they should give a gift to a bunch of wealthy kids and their parents while throwing away all the work they have done for every kid who has gone to Anchor Beach.
Outside it's inexplicably pouring when Brandon arrives to tell Emma that Jesus is getting suspicious. Jesus storms over and wants to know how Brandon knew and took her to Planned Parenthood? How did everyone know but him? Jesus thinks they didn't tell him because the baby is Brandon's. Jesus runs out into the night and the kids decide not to let the adults out since they won't let the kids in.
Russell throws the bag with the phone out the window to another car. Callie wants to run but Russell has a gun and Diamond says it's stupid to run. It's stupid to get in the van in the first place!
The board counts the votes. Guess who doesn't come out a winner? Money wins! Weird! Shocking! Outside there's a circle of kids and parents around the school chanting "education is a right, not just for the rich and white." Lena tells the Drewche and Nick's dad good luck explaining to everyone out there.
Russell takes Callie and Diamond to a gross motel and it seems to hit Callie just how dangerous and awful this situation is. Russell is gross and menacing and sends Diamond out of the room with another girl and guy so he can get to know Callie. Meanwhile, Stef drives past the motel tracking Callie's cell phone.
And that's where this season ends.
Last night I went out with my wife and on the way home I told her about my frustrations with The Fosters. She laughed and made a great point (she gave me permission to use her great point in my recap). She said "No one watched 90210 for the Walsh parents." I laughed at the very notion of watching that show for Jim and Cindy. Her point holds up with The Fosters. We are, clearly, not the target audience for the show. I find this super annoying because, frankly, all of us watching that first season (and however long we stuck with it) certainly helped it get a second season. But it's true. This is a teen show that happens to have two moms instead of a straight couple at the head of the central family.
My wife likes to point out that having these moms be the figures behind all of this swirling kid chaos remains revolutionary and important. It's important in a world where my five-year-old has classmates tell her "you need a mom and a dad to make a baby." Sorry, kid you really don't. There is a big piece of me that will always be glad this show exists even if I think it has flung itself off the rails so far that I don't know if I can keep watching it.
Stef and Lena are the best part of this show. When the writing for them is good, no show can touch it. They have scenes that are every bit as good and important and emotionally resonant as Burt Hummel's finest moments on the shitshow that was the final seasons of Glee.
But, I am no longer sure that's enough for me to keep watching. We talk about queerbaiting and not giving views to shows that aren't doing right by us. While it's an imperfect analogy, I feel mom baited (no, it's not really a thing). They want us to watch an entire season for the promise of a good scene here or there. I know I am not the only one who feels this way. You tell me every week in the comments that you bailed on the show years ago. And honestly, I don't think I can do it anymore. It makes me feel used and shitty to have to wade through 37 minutes of teen crap every week for the promise of maybe a single scene where Stef and Lena are in the same room. Once a season we get a great Stef and Lena episode. But is that enough for me to watch? We'll see. They aren't writing for me any more than 90210 was writing for the Walsh parent fans. And maybe that's okay.