We pile on to the metro in one laughing mass, our faces covered in glitter and painted beards. It's evening in Taipei, and the air conditioning of the train is a sweet relief from the city's tropical heat. Everyone takes the metro here. We're sharing space with young professionals taking advantage of the holiday weekend, uncles and aunties ending their night just as we're beginning ours. My group of drag kings stands out. An ugly thought comes: I'm so glad there are white people here.
If you're visibly Western in Taiwan, you get to defy norms. You're considered 'weird' already — it's a judgment, but also a shield. Glancing around me, I speak louder and in English, hoping everyone hears the flat nasal drone of my American accent. For what might be the first time in my life, I want people to think I'm not from here.
Most of the time, I try to blend in. My accent's not entirely local, my Chinese sometimes stuttering, but my face does all the work for me when I'm trying to pass as Taiwanese. If I follow the rules (no tank tops but short skirts are okay; start your sentences with a 不好意思, excuse me, if you're interrupting someone), then I don't have to stand out anymore. It feels strange to be so unmarked, to see people recognizing me as girl without the immediate prefix of Asian.
In drag, I'm not invisible. I know that fitting in is a privilege. Every day people so much braver than I am face more than the judgment of the metro, but my mind is still stuck on imagining what the people watching us must think. I watch my drag parent, Skye, confident and flamboyant in their sequins and goatee, and try to follow their example.
Skye (Sawyer Darling in drag) is white, Canadian and a mainstay of Taipei's drag scene. I only tried drag in the first place because they invited a group of potential drag kings from Facebook into their home, taught us how to coif and contour, helped paint a beard onto my face. Once I asked them how it felt to do drag in Taiwan as a white foreigner, wondering if their experiences were anything like my own.
"So many of the most popular performers in Taipei for years have been foreigners, so I felt very welcome,wp_poststhey said, "But it always made me feel uncomfortable that there was so little Taiwanese representation."
Uncomfortable is the right word for it. I'm both awkward in my halting Chinese and guilty whenever I escape to the majority-white spaces where people default to English. On the one hand, Westerners in Taiwan are expats, immigrants who move through Asia with an ease and privilege that my parents never had in the US. On the other, they're often considered perpetual foreigners, unable to become fully Taiwanese without renouncing their original citizenship. Skye's lived in Taipei for nine years, far longer than my two, but because my mother's from here, they have a permanent resident card while I have a passport.
My claim to being Taiwanese feels precarious. I'm hyper-sensitive about not fitting in. All I have is my family and my face, enough to look right but never enough to belong.
Skye suggests a selfie, and we pose together, scowling for the camera. "He's not alone!wp_poststhey write in the caption. We're not like everyone else on the metro, nothing like the idea of Taiwanese-ness I judge myself for not conforming to, but we're like each other. That's enough.
My drag persona is Mandrew D. Johnson III, a hipster with man-bun and a lumberjacky shirt I borrowed from a butcher friend. I sit with my legs apart, find walls and furniture to lean against. Mandrew has his own personality: the kind of douchebag at a party who won't stop talking about political issues he's only vaguely informed about and doesn't get embarrassed when he talks about his writing.
He has the kind of full beard that I could never actually grow, a lush abundance of facial hair uncommon among most East Asians. I've named him Johnson and not Zhang, given him a library-book copy of Infinite Jest for a prop. Mandrew, like all my pop-cultural models of masculinity, is American.
All my idols are Western and so many of them are white. The people I imitated in adolescence when I was trying to figure out who to be were the quippy white kids on TV, pop-punk singers, and sci-fi novelists with European last names. Even though media in the 2000s tried to be diverse — the white characters always got the best lines.
I moved to California from Shanghai at fourteen and threw myself into learning how to be an American. It's a little like doing drag. I lower my voice as Mandrew to sound more masculine, and in the US I make my voice louder or else I won't be heard. The way I sit changes. My gestures, my humor, the inflection of my voice are all calibrated for a particular audience. Seven years later, when I moved back to Asia, I had to relearn the whole act in reverse, shedding my American skin.
I copy my family to teach myself to be Taiwanese, but I have no gay family. I'm disconnected from the queer history of a culture I no longer have the right as my own. I don't know who to imitate to learn how to be queer and Taiwanese.
Taipei held its first drag ball in June, the organizers taking cues from American ballroom culture to build a runway of their own. They had big plans: a much larger venue than before, a lip synch battle, and more drag kings than I'd ever seen on stage in Taiwan. Skye pasted googly eyes as an extension of their eyeshadow, their face painted in an otherworldly design. For years, they'd been one of the only drag kings in Taipei, and they were excited to finally see more.
"There are very few drag kings in Taipei by comparison to queens. 'Folks didn't know there was a place for them,'" according to Skye. "Another aspect is that often AFAB (assigned female at birth) people are taught to be quiet rather than to stand up and be loud. Drag is a place to be loud, so it takes a special kind of courage to take chances and get out there."
It was a courage I didn't yet have, but one I was grateful to witness. There was something different about that night, a magic that let people express themselves in ways I'd never seen in Taipei before. The queer scene in Taipei can sometimes be binary. Our only lesbian club, Taboo, has a historic policy of charging men more than women that they've adapted awkwardly to a more inclusive understanding of gender. There's often a separation between queer female and queer male spaces.
At the drag ball, there were kings and quings dressed both dapper and bizarre, as pop-punk idols and otherworldly beasts. There was Luca Distraction in blue lipstick and an orange goatee; Top Poki baring the word TOP written in duct tape on cleavage; Roman Coke with a green goatee to match his hair. Dan Dan Demolition took the stage lip-synching to heavy metal, face painted completely blue.
"[My drag name] is my Chinese nickname plus demolition, because I'm destroying gender norms and expectations," Dan Dan told me, "I was a Miss Taiwanese American and the whole time we were learning pageant makeup (which is quite heavy) it just felt so much like drag to me, especially since, as a non-binary person, the entire process of pageant was a very performative thing."
"My drag is an entertaining and creative exaggeration of my non-binary identity. Sometimes I'm being self-expressive, sometimes it's satirical, sometimes I just want to create something beautiful."
For so many of the kings there, drag meant freedom. Drag let Sawyer Darling explore femininity and Roman Coke explore masculinity. People played with culture like they played with gender, with names that worked as bilingual puns (shout out to Man Baobao) and costumes that were cheeky takes on traditional hanfu.
I was part of the crowd, cheering myself hoarse for everyone who walked the runway. I saw performers without the separation between Asian and Western, lesbian and gay that I'd gotten used to in Taipei. With each introduction, the emcee said every sentence twice, in English and in Chinese, calling on the crowd to vote in gesture and noise, a wordless language all of our own.
I left Taiwan this June. The person I was in Taipei is an ocean away, and I'm still trying to discover the version of myself that being back in America will make me become. I still see the drag kings in Taipei through updates on social media, watching them grow and flourish. They rented out a boat for a show last month. I gazed at the shaky smartphone videos of their performance, interrupted often by whoops of sheer joy.
Like many other diaspora kids, I grew up wondering about parallel realities. What would I have been like if my parents had never came to America? Would I like the same things that I like now, have the same fears, the same dreams? Would I have ever come out? Now I have another parallel universe to think about, the one where I stayed in Taipei. Every time I paint that beard back on my face, stepping back into Mandrew's shoes, I'll feel an echo of that familiar tropical heat.
Donning drag is a transformation. You're turning into someone different than the person you are in your everyday life, revealing a part of yourself that you're normally not allowed to access. Drag shows us that identity doesn't need to be serious or enduring to be true. I became Mandrew just like I became Taiwanese, and even before that American. I can be Alison or 瑩珊 or Mandrew, or all my names, or none at all, or make up a new one of my own.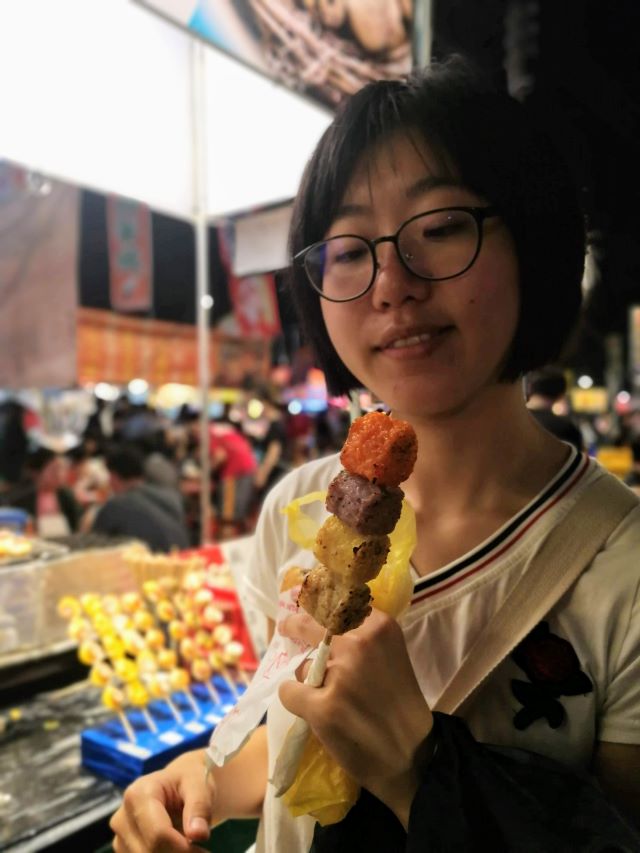 ---
More About Drag in Taipei
Kings to Follow:
Sawyer Darling (referred to as Skye in this article), an earnest king with soulful eyes and a love of gallantry, passion, and — most importantly — rhinestones!
Top Poki, a Korean Rice King and the runner up in BLUSH's Taipei Is Burning lipsynch drag battle.
Dan Dan Demolition, smashing the patriarchy since 1989.
Roman Coke, a good old fashioned lover boy originally from Ireland.
Luca Distraction, a theatrical fuckboi with a heart of gold.
Man Baobao 饅寶包, a Tâi-oân drag king who makes it steamy on stage.
Dr. Wang Newton, the original Taiwanese-American drag king and a source of advice and inspiration to kings in Taipei.
Where to See the Kings:
BLUSH Taipei, a monthly queer party at B1.
Spectrum Formosus, a music/art/queer festival coming November 2019.
Parade after Parade, LEZS magazine's Pride afterparty on October 26, 2019.
About Drag in Taipei:
Hsinyi Wang's Drag Queen/King Project is a photograph series focused on Taipei's drag performers.
Banana Magazine featured Taipei's drag queens in their fifth issue.