Hello, you wacky theatre people, and welcome to the 2012 Tony Awards, the gayest night of the live entertainment year! We talked about the Tonys last year, and now we're back!
For those of you who are new to this silly game, the Tony Awards are like the Oscars of the Broadway world: Any show, whether musical, play or special event, that played in one of about 40 New York theatres that are considered Broadway and that opened within the last year. The Tonys are important because it's a way to publicize shows and up attendance. Let's be honest, though: The Tonys are mostly about watching talented performers you wouldn't normally get to see and whining about the inevitably undeserving victors. You can find a full list of nominations here, and I made this playlist of musical nominees just for you!
In short: The Tonys are all fun and games, and they're hella gay and usually awkward, so here we are. Will Neil Patrick Harris rap again? Will anyone get hurt this year? How many times will the camera pan to a movie star who's too famous to be there? Only time will tell! It's all here, live in living color.
Prepare ye the way of the gays. Shit's about to get real at 8 p.m EST on CBS. Comment your feelings below and/or tweet me @GraceCEllis. Let's do this.
7:45pm: The fact that CBS doesn't broadcast the behind-the-scenes awards is very upsetting to me and probably a dozen other people, but 60 Minutes is talking about "Book of Mormon" in a beautiful act of pandering, so. I ain't even mad.
7:58pm: Tonys politics drinking game: Drink every time someone does something egregiously liberal, drink twice for every Obama campaign commercial.
8:00pm: Omg omg omg "Book of Mormon" parody already. Good feelings for everyone.
8:01pm: There's something universally wonderful about flashy Mormons singing musical theatre numbers, I can't explain it.
8:04pm: Neil Patrick Harris called the Tonys "Fifty Shades of Gay," and I am forgiving him because he's so charming. I would forgive him so much more if he would sing, though.
8:06pm: Oh. He's singing now.
8:08pm: Patti LuPone is pushing a lawnmower. This is already my favorite Tony opening number ever. This is perfect.
8:10pm: I'm so excited to watch that opening number like a billion times on YouTube until it gets removed for copyright violation and then someone else puts it back up!
8:13pm: Judith Light won her first Tony for "Other Desert Cities!" I appreciate how breathless and weirdly aggressive her speech is because I think that's how I would feel if I beat out Celia Keenan-Bolger.
8:15pm: I don't like Nick Jonas, and I am bitter he's introducing "Newsies." That is all.
8:17pm: Hey, remember way back when I told you about "Newsies" before it was a real thing?! Look how good they are now! I have such a bro-crush on Jeremy Jordan.
8:19pm: I would be lying if I said I wasn't pulling for "Newsies" to beat out "Once" this year. I'm a sucker for backflips and newsboy caps, what can I say. Here's their performance. You should go watch it. I'll wait.
8:20pm: "Once" won for Best Orchestration when no one was looking! That was a good win; the orchestrations in "Once" are really subtle and soft and wonderful.
8:24pm: My secret favorite part of the Tonys is the weird choice of bump music they have. "Jesus Christ Superstar" for a "Newsies" win? Why not, I guess?
8:27pm: For those of you playing along at home, that was first mention of the new "Les Mis" movie. Everyone drink!
8:28pm: Michael McGrath wins for Featured Actor in a Musical, which I'm sure was disappointing for Michael Cerveris, who definitely thought he'd won for a second.
8:30pm: Bernadette Peters is so great, "Follies" is so great, but nothing is as great as Danny Burstein's loud suit right now. Give that suit a Tony.
8:33pm: If "Follies" doesn't win Best Revival, I bet Bernadette Peters cries. NO ONE WANTS THAT, TONY VOTERS.
8:37pm: These ads for Neil Patrick Harris on "How I Met Your Mother" seem… redundant? You're preaching to the choir, probably literally.
8:38pm: "Ghost: The Musical" is performing. It reminds me so much of last year's "Spider-Man" performance in that I adore the woman singing (Caissie Levy) but this song is so unremarkable I am going to vomit on all of its weirdness.
8:39pm: What is even happening right now, "Ghost." This seems like a poor song choice, but they are belting the absolute shit out of whatever words they're singing.
8:42pm: "Once" director John Tiffany won Best Director and also Best Accent in the World.
8:46pm: Mike Nichols won the Tony Award for Best Direction of a Play for "Death of a Salesman," talked about a pie-eating contest and started crying. The Tony Awards, everyone.
8:48pm: Ben Vereen is the best. Go listen to "Pippin" immediately. After the Tonys. Listen to "Pippin" after the Tonys.
8:51pm: Josh Young performing for the revival of "Jesus Christ Superstar" looks like Josh Groban, which is appropriate because that's exactly what I want Judas Iscariot to look like. He's really good, but the set looks at little like someone took LSD and stared at a TV for a really long time.
8:56pm: Sara Gilbert in a commercial! Lesbians!
8:57pm: And now back to your regularly scheduled gay men. Neil Patrick Harris is hanging upside down ala Spiderman.
8:58pm: Bless the American Theatre Wing for recognizing that they're boring and that the time dedicated to their speech should be dedicated to staring at NPH hanging upside down "accidentally."

9:00pm: Christian Borle wins for "Peter and the Starcatcher." He's really great, despite all the Sutton Foster drama that I still haven't forgiven him for.
9:02pm: I'm sorry, Matthew Morrison, that "Glee" ruined all of your theatre cred. You were really good in "Light in the Piazza." I'll never let go, Matt.
9:04pm: I really appreciate the good orchestrations in "Nice Work If You Can Get It," almost as much as I appreciate Kelli O'Hara in that sick little newsboy cap and vest.
9:14pm: Judy Kaye won Best Featured Actress in a Musical for "Nice Work If You Can Get It," noting that "I guess chandeliers have been very, very good to me." Hahahaha inside theatre jokes. She was in "Phantom of the Opera," GET IT?!
9:16pm: This "Peter and the Starcatcher" is my favorite thing so far. If the Tonys were nothing but "Peter and the Starcatcher" performing, I would be more than satisfied. What a good year for plays.
9:17pm: In my mind, I am best friends with all three of the Keenan-Bolger siblings. Someone should tell them.
9:21pm: Oh, today is also Judy Garland's birthday! No wonder there's so much Judy happening. Talk about a gay holiday.
9:22pm Grace: Ellen on a commercial!
Meg: Are you gonna liveblog it?
Grace: I already liveblogged a lesbian commercial.
Meg: But it's Ellen, The Queen of All Lesbians. Unicorn couple!
So, there's that.
9:28pm: I am very satisfied with this super intense medley NPH is singing? This is so impressive, I can't even.
9:32pm: Alan Menken wins a Tony for "Newsies," FINALLY. It's about damn time. EGOT the man.
9:33pm: Ohhhh "Porgy and Bess." Audra McDonald is my actual hero. Have you seen her sing The Spongebob Squarepants theme song? She's singing "Summertime" right now, and my heart and my eyes are crying because it's so good. I really wish there were more people of color on Broadway, and I wish it didn't take a "Porgy and Bess" revival to make it happen. Come on, people.
9:38pm: Paloma Young win Best Costume Design of a Play for "Peter and the Starcatcher," is completely adorable. Oh gosh, crush.
9:44pm: "Death of a Salesman" won for Best Revival of a Play! Ok!
9:45pm: "Once" is finally performing. I feel kind of bad because it's supposed to be really intimate, but you really can't because the theatre is so big, so it just looks like a concert. A very pretty concert I would very much like to attend, but not what they're normally going for, methinks.
9:57pm: Jim Parsons is finally talking, which means they can stop telling us that he's going to talk. Exciting!
9:59pm: I wish there were a better way to talk about all the play nominees than just summarizing them.
10:00pm: It's really hard to focus on what Jim Parsons is saying when people are having sex "Spring Awakening"-style behind him.
10:01pm: "Clybourne Park" wins for Best Play! That little snippet they showed really didn't do it justice. Find a copy of it somewhere are read it, if you can't see it. I secretly wish "Peter and the Starcatcher" had won, though.
10:03pm: Stop the presses, Cote de Pablo in a red dress. Be still my heart.
10:05pm: Ricky Martin is surprisingly good as Che in "Evita," but his dance partner is making him look way better than he actually is, I think. I wish Elena Roger were singing always.
10:10pm: THEY ARE SHOWING THE LES MIS TRAILER. What is the sound of everyone crying?
10:13pm: The not-nominated "Godspell" is performing, including the much-heralded Corbin Bleu, who is the opposite of impressive. The cast is doing their best "Hair" impression, sans nudity. Everyone is disappointed for a variety of reasons.
10:16pm: Mandy Patinkin and Patti LuPone are singing. I'm sure everyone is having a veritable rainbow of feelings.
10:18pm: "Porgy and Bess" wins for Best Revival of a Musical! This is the best, well-deserved. Super bummed that a white guy is giving the speech, though. It will take much more than the wrap-it-up music to stop him! Mwahaha. Sorry, "Follies."
10:19pm: And now the image of Harvey Fierstein in an inner tube is a part of my visual vocabulary forever.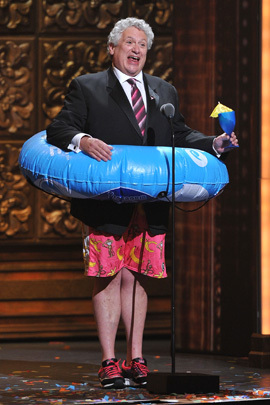 10:20pm: Satisfying things that could've happened that weren't a cruiseline version of "Hairspray" include: "Lysistrata Jones," The new cast of "Annie," my high school's production of "Phantom of the Opera," Kristin Chenoweth tweeting on Ambien, and/or Audra McDonald clipping her toenails.
10:24pm: What is happening in the audience behind Neil Patrick Harris? I feel like we've lost control of everything that's happening.
10:30pm: Hugh Jackman's wife is wearing so many feathers. Just so many feathers. Also she made a sex joke? I don't know, these awards have taken a weird turn.
10:34pm: I wish Neil Patrick Harris would just present all the awards.
10:35pm: Steve Kazee wins the award for Leading Actor in a Musical for "Once," which I'm sure he deserves, but I still feel weird about him beating out a strong pack of nominees. I will say that this group losing nominees have the best disappointed faces so far. I'm looking at you, Danny Burstein.
10:39pm: James Corden wins for Leading Actor in a Play for "One Man, Two Guvnors" and is legitimately and refreshingly humble. I would give him a hug, but he looks sweaty, so.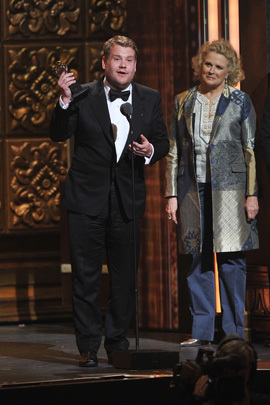 10:41pm: Well, this "Leap of Faith" performance is certainly a thing that is happening.
10:43pm: I guess I just don't understand why "Leap of Faith" is nominated for Best Musical at all? That's literally the only nomination it has. I love Raul Esparza as much as the next person, but this seems unnecessary.
10:52pm: Nina Arianda wins Leading Actress in a Musical for "Venus in Fur." A combination of her gushing over Christopher Plummer and her insane arm muscles make me want to keep her in my pocket forever.
10:55pm: Everything is Audra McDonald and nothing hurts. Best Leading Actress in a Musical. Damn right.
11:01pm: Trey Parker and Matt Stone make me nervous, but oh my gawd, nicely done, guys. So funny.
11:03pm: "Once" wins best musical! The award is being accepted by producer Frederick Zollo, prompting Meg to say "YOLO, Zollo" and ruining all of the moment's sanctity. All my "Newsies" feelings are hurt.
11:05pm: This closing song is adorable. I kind of wish the Tonys were done completely in song. Make everyone rap their speeches ala Lin-Manuel Miranda. That would be awesome. I'm tired.
And that's all she wrote! Here's a full list of the winners, and here's the entire show as it appeared on TV, and I went back and linked as much as I could to its corresponding YouTube-age. What do you think of all this crazy nonsense? Which NPH song was your favorite? Can we just talk about Audra McDonald? Tell me all of your feelings below!