Modern Family, Happy Endings, Up All Night and New Girl happened again this week. I guess they haven't been abruptly canceled after three episodes.
New Girl, which has been picked up for a full season, is going to be bringing on Lizzy Caplan, who you have a crush on, for a multi-episode story arc. Up All Night has also been granted a full-season order.
+
New Girl
by Brittani
This week on New Girl, the boys continue to tell Jess she's weird and should change who she is. Do friends say that to each other? I thought that kind of degradation was reserved for significant others.
Schmidt: We're not trying to be mean. We just don't want you to be yourself…in any way.
The roommates are at Steve and Bree's Asian-Jewish wedding. Schmidt runs into his usual wedding hook-up, Gretchen (Natasha Lyonne). She wears pants suits and lets him know that she plans on having sex with him at the end of the night. Uugh. Gross. Women on this show. Look at them with their confidence and personality quirks.
Gretchen: I'm gonna tie you down and show you pictures of my river rafting trip.
Schmidt would much rather go home with Brooke (Katie Cassidy) who was the hot girl in college. Now she is as interesting as a cardboard box. Which is a disservice to cardboard boxes because kids and cats both love them shits. She also is a recovering alcoholic. That's all we know about her. Really she serves to let us know Schmidt was "Fat Schmidt" in college and perhaps that helps explain why he is a complete turd basket. Now he's overcompensating and trying to prove he's a different, better person now because he's "more attractive" or some such. I don't know. I didn't major in psychology.
Winston's storyline was boring and stupid again. He got into an usher off with a little kid, then a dance off, and then he offered Jess the encouragement she needed to help Nick. That's right. It was Jess's turn to fix people this time. Nick's ex, Caroline, was at the wedding and she does that thing that ex's do. You know, flirt with you just enough that you can't quite let go. You know what I'm talking about. You probably do it. You're so manipulative. Don't do that. It's mean.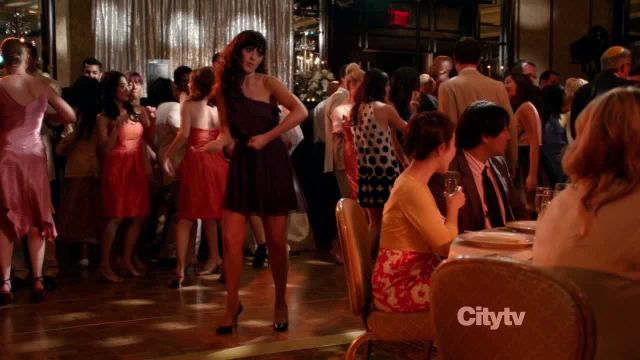 Jess: Come on in honey. The water's fine.
Jess pretends to be Nick's girlfriend and while trying to help, she drives Brooke and Caroline away. Nick ends up drunk and whiny in a photobooth but the only person he wants to talk to is Jess. She tells him he has to cut Caroline off. He listens and is all the better for it. Then they all forgive Jess and celebrate by doing a Craigslist mating ritual which we're told is the chicken dance in slow motion.
Some people probably wanted Jess to tell them to screw off but then there wouldn't be a show. So where do they go from here? Does Jess keep being Jess and they keep hating her for it? Does she change? Do they accept that women can have personalities? Because that's the real problem isn't it? She's not there to please them. She's there to figure out how to be happy and enjoy life and neither of those things necessitate she wears sexy dresses or stops liking the things that she likes. The woman that we see on TV standing up for herself and doing her, so to speak, is also childlike and at times, clueless. Do these things contradict? Or is this a realistic portrayal? Do you know a Jess? Are you a Jess? Should we all take pictures holding signs that say "I am Jess" to protest nothing in particular but because it's seems like something people would do if they wanted to make a point?
+
Modern Family
by Lizz
This week's Camitchell plot line was pretty typical. One was mad because the other Always Does This. Lilly made a brief but adorable appearance. Did you know that the actress who plays Lilly on Modern Family was actually recast? It's a new little actress! God why didn't anyone tell me? Here I was walking around thinking the actress had just grown…a lot.. really fast.
Elsewhere, Claire gets herself in to a tizzy about traffic. Again. No one in the family would help her out, but then, like magic/comedy writing, they all do. Phil spent the whole episode being goofy and appealing to Luke as they tried to recreate for an accidental off-the-head basketball shot for Youtube.
Even more elsewhere, Jay forces Manny to go around selling wrapping paper to build character because Jay subscribes to the method of parenting pioneered by Dad in Calvin and Hobbs. Actually, I think it's been quite heartwarming the way Jay has slowly begun to treat Manny like he's his son. Jay even says, "I'm an old parent." While that sentimental stuff is going on, Gloria loses the dog (Stella) because she leaves the gate open and she has to find her before Jay realizes what she's done. And Ricky still won't let Lucy be in the show! I don't want to say this show is getting formulaic, but….
Why Close the Gate?:
Gloria: "We live in a nice neighborhood. What are you afraid of? That some money is going to fly in and then your gardener is going to have to rake it up?"
Oh. I'm sorry. Did I say this show was getting formulaic? What I meant to say was David Cross guest stared as the head of the Traffic Council!

next: Up All Night and Happy Endings
Pages: 1 2See entire article on one page