Rachel Maddow is on the cover of The Hollywood Reporter.
You should probably read the full article so you can feel all warm inside about her H&M blazers, her humble attitude, and all of the really kind words quoted about her from people on all sides of the aisle. You probably already knew she fishes and owns a little rowboat and describes her relationship with artist Susan Mikula as "love at first sight," right?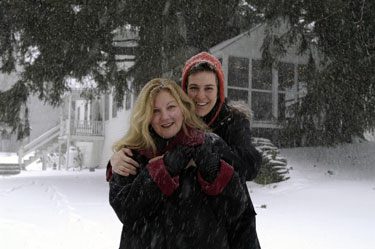 Maddow's sexuality wasn't a prominent topic of discussion in the interview, but what was uncovered is food for thought: Maddow, a staunch gay marriage advocate, doesn't feel "urgency" to do the deed herself – and is worried about the "assimilationist aspect" of the entire thing:
Gay marriage was legalized in Massachusetts in 2004, but Maddow says she and Mikula have no immediate wedding plans. "We know a lot of people who have gotten married but I don't think we feel any urgency about it."
Later she admits that she's actually ambivalent about the cultural impact of gay marriage.
"I feel that gay people not being able to get married for generations, forever, meant that we came up with alternative ways of recognizing relationships," she explains. "And I worry that if everybody has access to the same institutions that we lose the creativity of subcultures having to make it on their own. And I like gay culture."
So there you have it: Rachel Maddow, the first gay person on primetime TV and the lesbian who singlehandedly increased visibility for lesbians by probably a million percent, thinks gay marriage might be changing gay culture. And is "ambivalent" about it, if not "worried."
Maddow is a staunch supporter of same-sex marriage rights, but this is the first time she's said publicly that it may not be something she's interested in for herself. Straight people have been using this argument to tear down gay marriage, but in reverse: the idea that straight people will be changed by sharing an institution with gay people, because of our "alternative ways of recognizing relationships." And this certainly isn't the first time a gay person has shared Maddow's feelings. Maybe Rachel Maddow's position is more or less what we all do as part of a politically aware subculture; fight for access to social power and cultural institutions while maintaining our critique of them. We're a community that recognizes the symbolism and importance of many institutions, but still hopes those institutions bend to fit us – and that they don't make us bend to fit within them. Maddow's beliefs may be described as "conflicting," but she's certainly not alone in that. We're all actively participating in some of the systems we recognize as flawed – including our broken election system, our education system, and how you stand in line at the DMV for like 25 minutes. Our gay and alternative culture doesn't have to completely embrace or completely reject anything – because that's what keeps us dynamic.
Rachel Maddow has conflicted feelings about marriage, and so does everyone else. But her saying it might keep us in check as we experience new successes and look deeper for more challenges.