Earlier this year, Equality California announced that they were going to call on the community to help them make a big decision — whether to make a push to put marriage equality on the ballot in California in 2012. While obviously ending Prop 8 as soon as possible is the goal, EQCA acknowledged that if the general population still hadn't come around to the idea of same-sex marriage significantly more than they did back in 2008, then there would be no point getting it on the ballot at all — it would just be shot down by voters, putting us right back where we started despite the hard work of activists and campaign organizers. EQCA's words back in April:
"Because legal experts are advising that the Proposition 8 federal challenge could take years to resolve, Equality California is launching a community engagement initiative to start a discussion on whether to return to the ballot in 2012 to repeal the marriage ban or whether to wait for a final decision by the courts,wp_poststhe group said. "Before making any recommendation, Equality California will survey its membership, hold 10 town halls across the state and an online town hall, conduct a poll of likely 2012 voters, consult with political experts, coalition partners and engage with its members and the LGBT community. Equality California will announce results of polling and analysis by Labor Day."
The results of this 'membership survey' are now in: EQCA won't seek to put a Prop 8 repeal on the ballot in California in 2012. 
"This is exciting work, but it also means that given what we know about public opinion and the significant challenges of the current political and economic climate, Equality California will not lead an effort to return to the ballot in 2012 to overturn Proposition 8."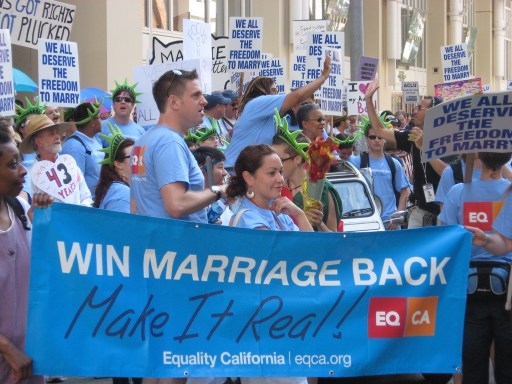 This communication is significantly more vague than the one back in April, when they admitted to making some key errors as far as campaigning and failing to fully engage the community, and announcing their intent to do better this time. The declaration that they won't work for the ballot in 2012 actually came buried in the middle of an email about something else, as FrontiersLA noted, a "breakthrough project" about public education called "The Breakthrough Conversation." In the meantime, the organization Love Honor Cherish told Frontiers that they're now going to pick up where EQCA is leaving off.
"If EQCA abdicates their responsibility to fight for equality for the LGBT Community in California and to honor their prior commitments, Love Honor Cherish will fill the void. If they move forward as they should, we will work hand-in-hand with them." 
Love Honor Cherish is an organization "dedicated solely to the repeal of Prop 8," and since their website currently announces that they're pursuing its repeal by November 2010, it does seem like a safe bet that they would definitely want it by 2012.  While their drive to move forward to repeal Prop 8 is certainly admirable, their response to EQCA's announcement doesn't seem to address the other organization's reasons — while it's totally fair to call into question someone else's assertions about "public opinion and the significant challenges of the political and economic climate," those factors need to be taken into account. Back in April, EQCA's reasoning was that if public opinion is already set against a vote for this coming year, then the resources and person-hours that would go towards that campaign could work for something else, or even begin laying the groundwork for a vote at a later date. Where does this stop being a matter of principle and start being a matter of smart activism in a very difficult time?
FrontiersLA promises to continue investigating this story and Love Honor Cherish's plan — it will be interesting to see how EQCA responds, and to see what Love Honor Cherish's plan is. At this point, there seems to be no question that Prop 8 will be repealed. But when — and how — is still a mystery.