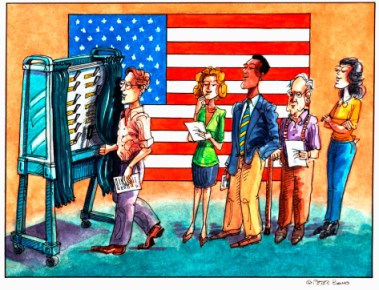 After Judge Walker's 138-page smackdown of a decision on Prop 8 last year, it seemed like the end was near; it felt to everyone like that one battle was finally won, and celebration was justifiable. Prop 8 had literally been declared unconstitutional by a federal judge; what more did we need to do?
But it's been almost a year, and somehow — though honestly, not that surprisingly — everything has stalled. A stay on the performance of marriage ceremonies was introduced almost immediately after the ruling, and now the appeals process on Judge Walker's decision is stretching into infinity – the California Supreme Court is currently mulling over the question of whether the apellants have standing to appeal at all.
Most people have pinned all their hopes on the Supreme Court, crossing their fingers that the case will in fact work its way to the highest level over the next few years, and that the combination of the moderate-to-liberal judges that Obama's appointed (like Elena Kagan and Sonia Sotomayor) and the decision of the Department of Justice to stop defending DOMA in court will mean that Prop 8 will finally be gone for good. Even optimistically speaking, though, that's a timeline of years at the least, and little comfort to the thousands of couples in California who have been putting their legal union on hold for years already.
But a campaign communication from Equality California yesterday reminds us of another option: putting Prop 8 back on the ballot, to be overturned by voters instead of judges. EQCA and its then-Executive Director Geoff Kors (he has since stepped down, citing family reasons) were the subjects of much criticism after Prop 8 first passed; they were accused of focusing on the wrong voter blocs and using ineffective methods to reach them, relying overmuch on high-priced political consultants instead of the community they represented.
After Prop 8's passage in 2008, EQCA immediately began research to determine whether Prop 8 should be put back to a vote and hopefully struck down on the ballot in 2010, or whether more time was needed to bring around a voting public that had been roundly misinformed by a variety of political and religious groups about what gay marriage meant for California. After the seeming progress in the Ninth Circuit Court of Appeals, however, they assumed as most people did that this issue would soon be settled by the courts, and backed off their campaign. As the ability of the courts to end Prop 8 quickly becomes less assured, EQCA is testing the waters for a ballot vote once more.
"Because legal experts are advising that the Proposition 8 federal challenge could take years to resolve, Equality California is launching a community engagement initiative to start a discussion on whether to return to the ballot in 2012 to repeal the marriage ban or whether to wait for a final decision by the courts," the group said. "Before making any recommendation, Equality California will survey its membership, hold 10 town halls across the state and an online town hall, conduct a poll of likely 2012 voters, consult with political experts, coalition partners and engage with its members and the LGBT community. Equality California will announce results of polling and analysis by Labor Day."
This is about Prop 8, of course; it's about a ballot measure that should never have passed for a dozen reasons, like the massive amounts of funding it received from out-of-state religious organizations and the fact that much of the Yes on 8 information given to voters was blatantly false. But it's also about the growing up of an organization, of a largely traditionalist activist organization trying to figure out how to make change in an era where 53% of Americans support gay marriage but just a few years ago Prop 8 passed with 51.2% of the vote. This is an organization that's spent untold dollars hiring political consultants of the same ilk that work for the people in the White House, and it's navigating a historical moment when queer activists are chaining themselves to the White House gate, when people are more concerned about whether any kids have killed themselves today because of homophobic bullying than about whether the first ever lesbian comptroller has been appointed to the mayoral office of Oceanside. If they really do want to unite the community to explore and commit to avenues besides the court system, they'll need to change a lot of things about how they've always operated. The good news is, they seem willing to try:
"How could we have realized earlier that professional, high-paid consultants were not delivering product?" [Los Angeles Gay & Lesbian Center CEO Lorri Jean] asked. "I'm trying to say this and not be too provocative, since we have so many professional political campaign consultants in the room. But, you know, there is an approach that people who are professionals use to do this. And I think one of our challenges as a community, given that issues of relevance to our community are different than anything else that goes on the ballot because of the emotion and the other things that are associated with them, we have got to find a completely different way than business as usual to do this work."
No matter how much EQCA proves its willingness to change, however, it won't change the fact that same-sex marriage has never been achieved by a voter referendum. When put to a vote of the people, gay marriage has so far lost every single time. For instance, it's been noted that many of the mistakes EQCA has since acknowledged – not enough face-to-face contact with voters, overlooking the importance of voters of color, and more – were corrected in Maine's campaign against the revocation of same-sex marriage, and we lost there by an even larger margin than in California. Many wonder if EQCA will ever have the strength to play as dirty as the other team, and if that might be our only real hope of beating them.
In the end, the real issue at hand is whether voters in California have changed their minds. Straight people as well as gay people have followed the high drama of the Prop 8 court case, although probably not with the same passion. Did it have any effect on their hearts or minds? Or do they still believe the completely unfounded assertion that repealing Prop 8 will somehow lead to their children being "taught gay marriage" in school, or that their own marriages will mysteriously erode?
It's hard to say, which is presumably why EQCA is asking people about it in their town hall meetings. If EQCA is able to successfully engage the queer community in a united effort (a monumental undertaking in and of itself) and reach straight voters across California, this could be the first time that a voter referendum ever grants us rights instead of taking them away. Or it could be more of the same, all over again, but even sadder this time.
We'll find out at least what EQCA's opinion on the matter is by Labor Day, and until then watch the California Supreme Court like the citizens long denied our full participation in the life of the nation that we are.