In every thrift store across this great land, tucked away in a forgotten corner of the housewares section, sits a potent culinary powerhouse – usually in harvest gold and priced at $5 or less. I speak, of course, of the humble slow cooker, which, with the input of a meager amount of electricity and some time, can coax the richest and most complex flavors from the humblest of ingredients. You may have grown up seeing that raw potential squandered on countless dubious hunks of meat covered in off-brand dry soup mixes, but you don't have to make the same mistake. Pick that aesthetic monstrosity off the thrift store shelf and work some low-budget magic with it. Try it now, because summer is the perfect time to start experimenting with slow cookers. They give off so little heat that you can cook to your heart's content without having to face the prospect of a sweltering kitchen or standing over a hot stove.
Of course you don't have to stick with the harvest gold thrift store model. Even brand new slow cookers are incredibly cheap and newer slow cookers often have neato whizbang programming features and come in really cute colors and patterns. However, for the love of cheap, all the recipes in this article can be made with an old or basic model whose only settings are "plugged in" and "unplugged" (plugged in corresponds to "low" on a multi-setting cooker).
Dulce de Leche
This is probably the most well known slow cooker trick, but it's worth repeating because THE WORLD MUST KNOW. It's magic; creamy, delicious magic. Here's the super complicated recipe:
1 or more cans of sweetened condensed milk (how ever many you can fit in your cooker without them touching)
Peel the label off the can(s).
Turn it/them or its/their side and place in slow cooker.
Cover with water.
Turn cooker on low.
Leave for 8-12 hours.
Turn off and let cool before removing cans. Done.
Label the cans before you forget and store. They have to be refrigerated after opening, but can stay on the shelf unopened pretty
much forever.
Now that you have all this wonderful dulce de leche you can now start putting it on everything: ice cream, popcorn, hot cocoa, oatmeal cookies, poured in ribbons on top of brownie batter before baking, whisked with cream cheese into frosting, the possibilities are endless.
Caramelized Onions
I once read that carmelized onions are like bacon for vegetarians, both because they have the same deeply satisfying umami-filled flavor profile and because they act as that one secret ingredient that makes almost everything they touch just takes better. Sadly, they're a complete pain to make. You have to spend at least an hour slowly cooking them over lowest heat, stirring constantly to make sure they don't stick. That is, unless you'd rather just throw some onions in a slow cooker and flip it on.
No really, that's the basically the recipe. Take as many yellow or red onions as you can fit in your model (usually about 5 pounds for a 6 qt), slice them into half moons. Place in slow cooker and sprinkle about 1 tsp of salt over them all, then drizzle 1-2 Tbsp olive oil. Stir to combine and cook on low for 12-24 hours, until they reach desired color and yumminess. This will yield about 5 cups of caramelized onions.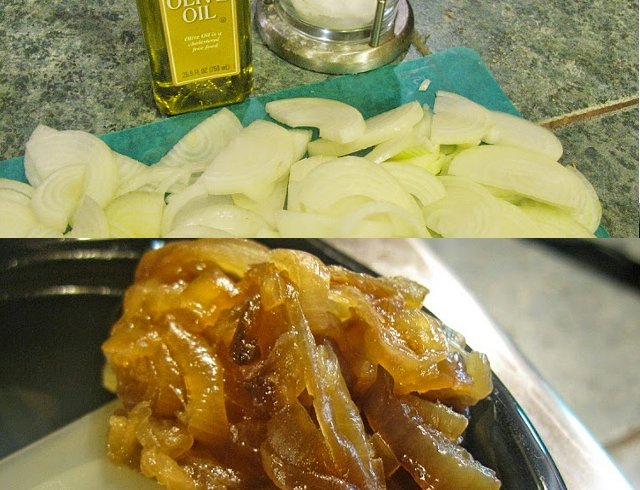 You might also have some broth left over at the bottom of the pot. This is potently oniony so dilute it in a quart of beef or vegetable stock to add extra onion power to the broth, Alternatively, scoop half the onions from your pot and reserve for future use, pour in that quart of beef or vegetable stock and about a ¼ cup of sherry. Keep it on low until warmed through and you've just made pretty killer French Onion soup. Just add bread and cheese and broil.
You can freeze the onions in convenient amounts for later use. Fill an ice cube tray with some and once they are frozen, transfer to a plastic bag. One or two cubes is the perfect amount for all your sandwiches (try some in grilled cheese with a really potent gruyere), omelettes and such. Freeze the rest in half or 1 cup amounts to add to things like soups, sauces, quiches, and meatloaf. My favorite use is a plain rice pilaf (pictured below with the dahl).
1 Tbs olive oil
1/2 C caramelized onions
1 1/2 C basmati or jasmine rice
1/2 tsp cinnamon
about 2 C chicken stock (you can use vegetable stock but I would recommend a vegetarian chicken flavored broth or stock cube/powder, like Osem chicken consomme, since some vegetable stocks have too strong a flavor)
Heat the oil in a pot over medium heat and add in onions.
Saute until onions are warmed and any liquid has dissolved (usually a minute or two).
Add rice and saute a few minutes until some kernels have started to color, then add cinnamon and saute 30 seconds more.
Meanwhile, heat up stock in microwave until is is nearly boiling (2-3 minutes on high, stirring half-way though).
Pour enough stock over rice to cover completely plus about one centimeter, stir well to combine, and turn heat to lowest setting immediately.
Take a damp tea towel (two paper towels will do in a pinch) and place it on top of the pot, then fit the lid tightly in the pot over the towel. If the towel is large and hanging a little too close to the heating element, tie the corners together in a square knot over the lid, like you see here.
After ten minutes, taste the rice to see if it is tender. If it isn't, re-heat the stock and pour a little bit more over, don't stir, then replace the towel and lid and give it another five minutes. Once the rice is tender, take it off heat, put the towel and lid back on and let it rest for 10-15 minutes.
When serving be sure to scoop deeply into the bottom of the pot, because the rice on the bottom with have formed into a flavorful, chewy crust.
Beans!
Long have slow-cookers been considered the preserve of the carnivore, capable as they are of turning cheap cuts of meat into a yummy dinner, but I say: no more! Slow cookers are just as much a boon to vegetarians/vegans as to anybody (I mean even beyond the onions), because slow cookers can make the smoothest, creamiest bean dishes you've ever had with practically no effort. Win the next vegan potluck with your giant bowl of perfect hummus, or enjoy easy but delicious Indian dahls (perfect with your caramelized onion pilaf) such as the one below.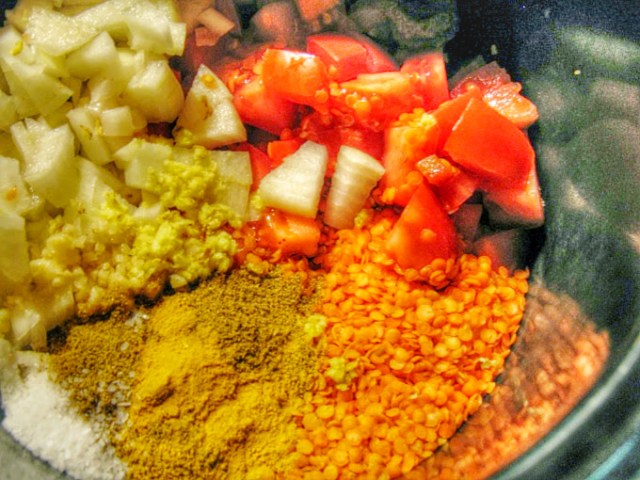 2 Cups red lentils/ masoor dahl
1 onion, diced
either: 1 large diced tomato, or a 14 oz can of diced tomatoes
1-in of ginger root, finely grated
2-3 cloves of garlic, finely grated
2 Tbls garam masala
2 tsp each: salt, ground cumin and coriander
1 tsp turmeric
optional: ½ tsp cayenne pepper
6 Cups water
1 Cup coconut milk
Cilantro to garnish
Put everything but the coconut milk and cilantro in the slow cooker, stir, and turn on low for 5-6 hours.
Stir in coconut milk and continue cooking for half an hour to an hour, until it's the consistency you want.
Serve and garnish generously with cilantro.
This is a good, basic recipe that you can use as a basis for more experimentation. Mess around with the spices, try it with split chickpeas or some other lentil or bean (whole beans will take much longer to cook). Go nuts. If you have a smaller cooker or don't need enough dahl for eight people, for instance, you can just half the recipe.
(In the picture below the part of cilantro is being played by parsley because I grabbed the wrong thing at the store)
Cuisine de Bonne Femme
That just means "housewife cooking" but doesn't it sound fancier in French? That's kind of the thing. Slow cookers are great for making food that is homey and comforting, but that doesn't have to also mean boring or pedestrian. Homey food can be elevated, interesting, and alive with flavors. You just have to say it in French (or you know, experiment with different recipes, use good, non-weird-processed stuff ingredients, try out your own culinary genius; but then again it might just be the French). Here's my favorite slow cooker recipe to make when I'm trying to convince someone I spent a summer backpacking through Provence. It's a one-pot meal and pure comfort food, but it reads fancy. I call it "Poulet de la Menteuse".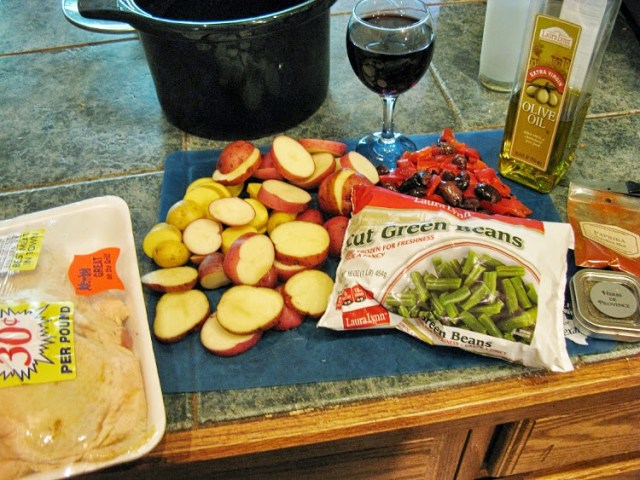 2 tsp each: salt, herbes de provence, and paprika (preferably smoked hot)
2 Cups yellow or red potatoes cut into centimeter thick rounds
2 Tbls olive oil
1 cup good quality pitted olives, an assortment of green and black or just black, roughly chopped
1 roasted red pepper, diced (optional, sometimes I replace it with a can of marinated artichokes, or something else from the olive bar, or just skip it)
2 Cups of green beans, asparagus, or brussel sprouts. Frozen is fine.
4 chicken legs or one whole chicken, cut-up
1 glass of red wine, the precise amount isn't important
Italian parsley, for garnish
Combine the herbs, spices, and salt in a wee bowl.
Toss potatoes with half the oil and half the spices then place in the bottom of your slow cooker.
Layer half the olives and pepper over potatoes, then pour on the green beans (or whatever).
Rub the chicken with the remainder of the spice mixture then layer on top of the beans.
Layer the remaining olives and pepper on top of chicken then drizzle the remaining oil over everything, then slowly pour the wine on top. This does especially well assembled the night before and then cooked the next day, but it's good either way.
Cook on low for 6-8 hours, until chicken is fall-off-the-bone-tender. Serve garnished with fresh parsley. Serves 4-6.
---
Let me leave you with a few general tips for playing with your slow cooker:
Add something fresh and bright, like some fresh herbs or a twist of lemon, right before serving. Slow cooked foods don't tend to be what you'd call a riot of color so a little garnish will make it much more beautiful and appetizing while adding a bright note to contrast the usually heavier resonant flavors a slow cooker extracts.
Almost no liquid cooks out of a slow cooker, so if you are converting a recipe for slow cooker use, add less liquid.
Generally don't put dairy in until the last hour of cooking or it will curdle.
If you, like me, are really not a morning person, assemble your slow cooker meal in the pot the night before. All you'll have to do in the morning is pop it in and turn it on. This adds about an hour to the cooking time.
Leave the lid on for christsakes! It'll take forever if you take off the lid, even just for a second to check on things. I know it smell delicious, just leave it alone (possibly transcribed from an actual conversations with old roommates).