Steam fills the room as I take off my shirt after a long day. The white fabric moves over brown skin covered in skulls, flames, and flowers. Years ago, I would close my eyes whenever I took a shower. But now when I catch a glimpse of myself — I do not look away. My shoulders ease and I hold my head high, I'm covered in tattoos from my neck to my toes. Growing up as a trans person — my body never felt like it belonged to me. But now, through the process of getting tattooed, my body finally feels like it's my own.
I didn't have words to explain that I was neither a boy or a girl when I was growing up. In puberty, my body changed in ways I never asked for. I didn't have any representation of what it meant to be transgender or what it meant to be non-binary, but I saw people with tattoos. Their deviation from the "status-quowp_postswas so inspiring. People get tattooed for all kinds of reasons, I saw tattoos as a rejection of cisgender beauty standards and expectations and in tattoos, I found my freedom.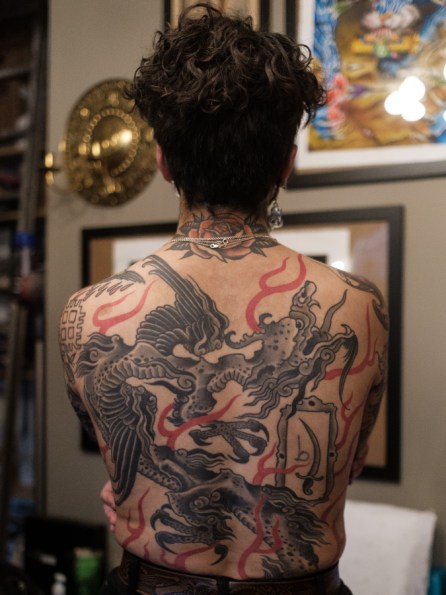 Many people have written about the connection between tattoos and the queer community. I'm not only an extremely tattooed trans person, I'm also a tattooer. Many of my clients have expressed to me that tattoos have been greatly affirming to them as well. In terms of gender affirmation, tattooing can be just as life-changing as hormone therapy, electrolysis, or surgery. And compared to the thousands of dollars that a trans-affirming surgery can cost, tattoos are relatively inexpensive and accessible. Tattoos were one of the first tangible ways I ever felt at home in my body. And so many of my clients — both trans and cisgender — have reported feeling the same.
Tattoos are a form of visible expression that can be separate from binary expectations of gender. Because of this separation, they have helped to enhance my understanding of my own gender before I even had words for what I was feeling. Getting tattoos has given me the confidence to pursue other avenues of gender affirmation, such as changing my pronouns and starting Hormone Replacement Therapy. I've been able to explore gender presentation in my clothing choices, hairstyles, and makeup with this confidence. Knowing what it felt like, to feel at home in my body, gave me the permission to choose that again and again.
Ed Hardy says "A tattoo is an affirmation: that this body is yours to have and to enjoy while you're here. Nobody else can control what you do with it.wp_postsTo have that agency as a trans person can be life-changing. —
Certain tattoos have been pivotal markers in changing the way I feel about my own body. I have an Arabic-style dragon with red flames that stretches from my shoulders down my spine. When I see myself from behind I'm no longer fixated on the shape or strength of my body. The euphoria of seeing such a powerful image on my own skin has given way to such an incredible revelation. I'm more aware of the power that I've always had. It has boosted my confidence and truly changed the way I see myself.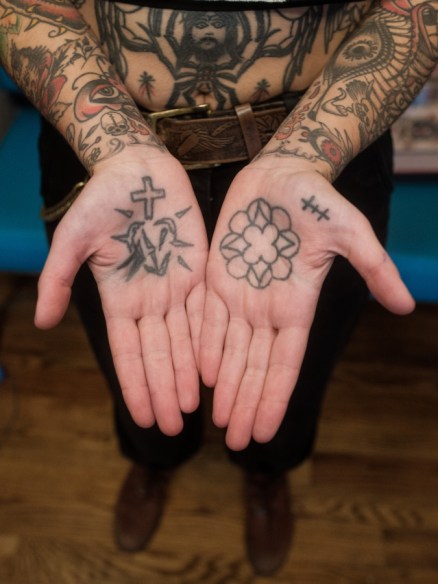 I don't know if I would have had the courage to cut my hair short or start hormones if I hadn't experienced the euphoria of getting tattooed. I've experienced so much joy watching some of my clients step more into their true selves through the process of getting tattooed. One client of mine told me that she used to shave her arms daily to cope with gender dysphoria, but after we covered her arms in flowers she no longer felt that desire. I can only try to explain the feeling of looking at a part of your body that used to bring up feelings of shame and discomfort,  and now loving what you see.
When I first started getting tattooed, I avoided my chest area. I knew that eventually, I wanted to get top surgery and I didn't want tattoos to interfere with that process. But as I started to fill up in other parts of my body, the part that I was avoiding started to stand out to me even more. Ultimately, I realized I could still get that part of me tattooed while I waited for surgery. I'm still waiting, saving up and doing research on surgeons, but having my chest tattooed while I wait has helped ease my dysphoria in such profound ways.
It wasn't until I started talking to more trans people with tattoos that I started to realize this experience is a shared one. The more I listen to my clients express their gratitude, for helping them to finally love a part of their body,  the more grateful I am to be in this industry. As someone who has both given and received so many tattoos, I've witnessed firsthand how transformative tattooing has the potential to be.
It should be noted that not all tattoo shops are safe places for trans people  — especially for trans people of color. While there are more queer tattooers than ever before – there are still many shops where queer people are not represented or respected. The most affirming experiences I've found, have happened when I've been able to receive a tattoo from someone who shares (or at least understands) my identity and background. Not every tattoo experience will be profoundly transformative. But more and more artists are seeking out trauma-informed approaches to tattooing, and more clients are seeking out artists who will make them feel safe.
Tattoos have brought so much joy to my life. I've met the most incredible people, worked to build a loving community, and found more confidence in my own skin. And, tattoos may not be a part of every trans person's story but they absolutely have been a huge part of mine. Existing as a trans person is joy at its fullest. So many trans narratives focus on the dysphoria we experience, the coming out story or the violence that our community faces. But existing in the trans community has taught me that being seen is possible — love is abundant and our joy is worth fighting for.
*All photos by TJ Walker