The Lesbian Stereotypes Survey was conducted in September of 2018 by soliciting volunteer participants via Autostraddle.com. You can see an infographic displaying the demographics of our 12.3k survey respondents here. Not all of our survey-takers identify as women, but headlines can only be a certain length. More accurate language exists within the post. 
---
Anybody who's seen The Real L Word — which I hope is not a lot of people, because it was really bad — might get the impression that lesbian skin comes right out of the package with a full sleeve tattoo.
There's plenty out there on the intimate connection between queer women and tattoos, as well as accordant theories, like that we're fans of celebrating "the wild, unabashed expression of individuality" or that we've already broken society's boundaries by being gay, so we may as well get tattoos! Like so much of what we're talking about with this survey and this theme issue, the prevalence of tattoos for queers can be seen as another example of what Danae Clark described in the oft-cited "Commodity Lesbianism" back in 1991: "lesbians have a long tradition of resisting dominant cultural definitions of female beauty and fashion as a way of separating themselves from heterosexual culture politically and as a way of signaling their lesbianism to other women in their subcultural group."
In the '40s, many lesbians got nautical stars tattooed on their inner wrists to advertise their sexuality — a spot they could cover up with a watch during the day. Tattoo historian Samuel Steward, who tattooed in the '50s, said lesbians were some of the only women who ever came into his shop:
In order to protect the propriety of the women who came to see him, Steward implemented a policy of refusing to tattoo a (heterosexual) woman unless she was accompanied by her husband. Steward's rule (found among other tattooists of the time as well) served to keep middle-class women from transgressing the class and sexual borders of the time: of turning into tramps. Lesbians, because they already had transgressed those boundaries, were thus fair game and were in fact among the earliest women to receive tattoos in the United States.
Tattooing itself — for recipient and artist — was often categorized by psychologists at the time as sado-masochistic and sexually deviant, or indicative of homosexual desires or impulses. Like the aforementioned nautical star, tattoos of certain symbols, like rainbows or a labrys, were often inked onto queer bods as a form of "flagging."
So, there are cultural reasons why we might tend towards tattoos, but there's also the possibility that at least some of our tattoo love is simply a norm passed on from generation to generation, going all the way back to when we were the only ones getting tattoos at all. (Conversely, apparently straight men, them of consistently esteemed taste, view tattooed straight women as less attractive and more promiscuous.)
So, Are We More Tattooed Than The Straights?
It's complicated. First, here's what we've got: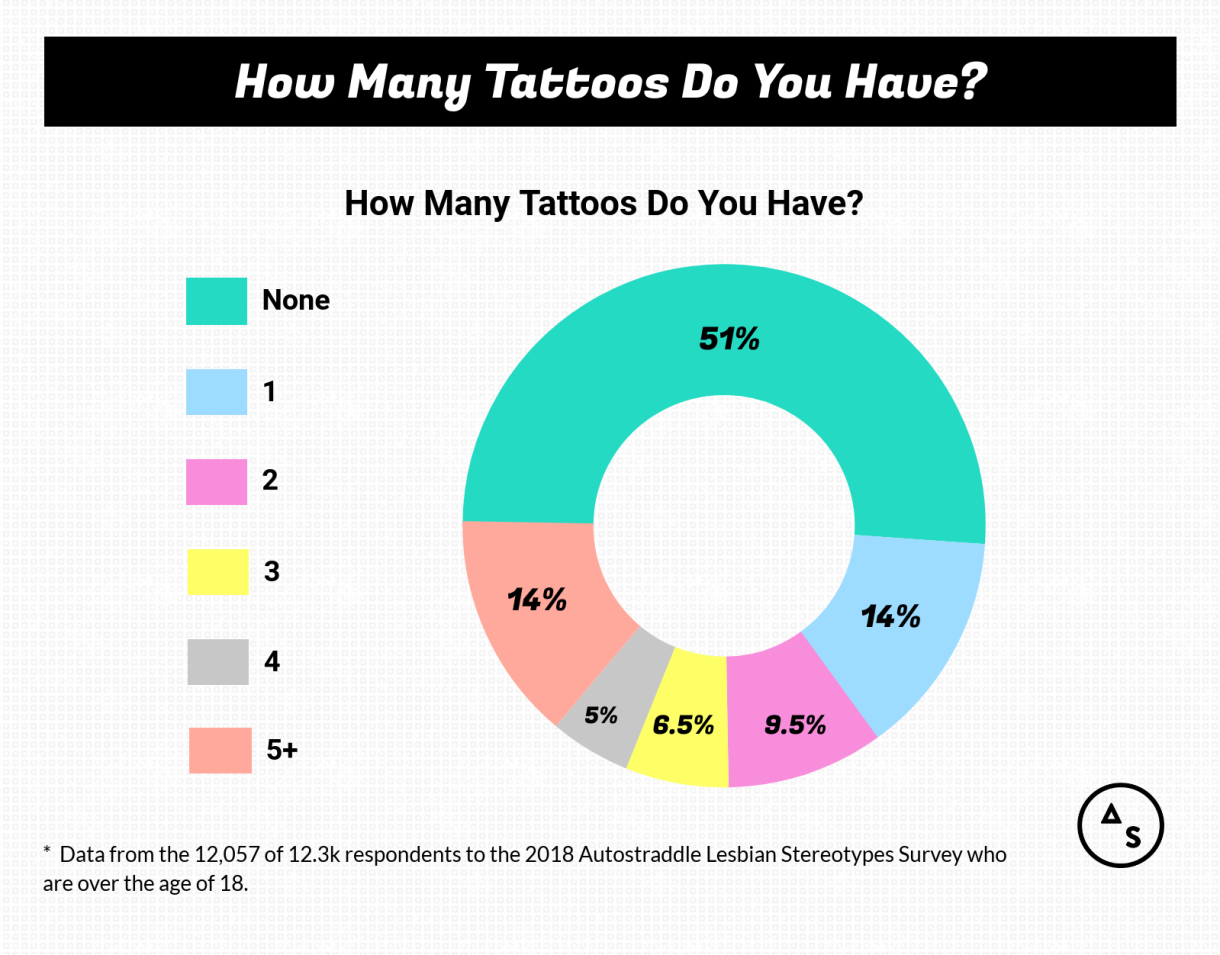 For starters, it's hard to figure out exactly how many heterosexuals have tattoos. A 2015 Harris Poll found about three in ten Americans (29%) have at least one tattoo, up from 21% in 2011. Of those with any tattoos, 69% had two or more. The rapid increase in tattoo-having reflected on their poll suggest that lower numbers found by Ipsos Reid and Pew Forum in 2011 and 2010, respectively, are probably well outdated.
52% of our American survey respondents over 18 have tattoos, which is roughly twice as many as the Harris Poll group. (Perhaps more than that, if queers lurking in those survey groups drove up the average.) Of those with tattoos, 71.7% have two or more.
The Harris Poll sample is controlled for age. When I adjust our sample to make each age group equal in size so that disproportionately high numbers of Millennials don't impact the results, we end up with 49% of our group having at least one tattoo — so we're still coming out well ahead.
Here's where it gets interesting, though! Harris found 47% of Millennials, 36% of Gen Xers and 13% of Baby Boomers saying they have at least one tattoo. So do 51% of American Millennials on our survey, and … surprise! … 58% of Gen Xers and 33% of our survey-takers over 55. So clearly we started the trend and everybody else is just catching up, threatening to overtake us and our inked-up power. In some areas, they already are: they found 37% of Millennials with more than one tattoo, whereas we came up short at 36.5%. I have three and exist somewhere on the Millennial/Gen X cusp, so I'm doing my part.
Other Demographics Of Tattoo-Havers on Our Survey
Unless otherwise indicated, these numbers are from looking at the entire group (both U.S. and non-U.S. residents):
Gender Identity: 60% of non-binary/genderqueer/genderfluid people and 65% of non-binary/genderqueer/genderfluid women have tattoos, compared to 47% of cis women and 34% of trans women.
Sexual orientation: 58% of pansexuals and 56.5% of queers have tattoos, compared to 44% of bisexuals and 46% of lesbians.
Gender Presentation: 61% of hard femmes, 61.5% of stud/AGs and 56% of butches have tattoos, compared to between 50%-55% of other gender presentations and 36% of those who picked "none of the above."
Cities: Over 60% of residents in the following cities have tattoos: Portland, Seattle, New Orleans, Denver, Austin and Tampa. Less than 45%: Washington DC, Houston,  Detroit, Sydney and London. Los Angeles, San Francisco and New York all come in around 49%-50%.
Metro Status: On the Harris Poll, tattoos existed amongst 33% of Urbanites, 25% of Suburbans and 35% of Rural-dwellers. Looking at just Americans — on ours it was 54% of Urbanites, 47% of Suburbans and 53% of Rural-dwellers.
Having Children: The Harris Poll found "Those with kids in the household are much more likely than those without to be sporting at least one tattoo (43% vs. 21%)." Same on ours — 63.5% of those with kids have tattoos, compared to 51% of those who don't.
Other characteristics that made a person significantly more likely to have a tattoo than those who do not have that characteristic include: being non-monogamous (68%), having seen The L Word multiple times (58%), identifying as an activist (61%), being Wiccan (69%), being Vegan (57.4%) and owning a reptile/amphibian (64%). Presently or formerly having an undercut or shaved head doesn't make you more likely to have a tattoo, but it makes you MUCH more likely to have two or more tattoos — nearly half of undercut people and over half of shaved-head people do.
To get back into that L Word bit —of those who've seen it multiple times, 14% have one tat, 44% have two or more. Those who've born witness to this classic merely a few times: 14% have one tat, 36% have two or more. Those blessed humans who've seen it only once: 14% have one tat, 33% have two or more. All ye who've seen The L Word but not every episode of every season: 14.5% have one tattoo, 31% have two or more. Amongst the people who have yet to cast their gaze upon this sacred television event, but desire to, 12.5% have one tattoo, 31% have two or more. Those who've not seen it and don't want to? 14% have one tattoo, and a mere 24% have two or more. So there you have it: an immediate side effect of watching The L Word is getting a tattoo, and the risk of that side effect increases with each subsequent viewing. So be safe out there y'all.
In Conclusion
Unfortunately, this is a category that did not have a comments box, which somehow none of my survey-taking testers noticed and apparently neither did I. This breaks my heart. I would've loved to hear all your tattoo stories, even though a lot of you have already told them to us.
I have three tattoos. I got my first tattoo with a girl I was dating. We decided that on her birthday we'd get really drunk and high and then walk to St. Mark's and I'd get a tattoo (she already had one) and she'd get her bellybutton pierced (I already had mine), and so we did. As I discussed in our recent Queer Jew roundtable, I got a chai tattoo on my thigh. In Judaism, having a tattoo allegedly means you'll get buried in the corner of the cemetery but thanks to this survey I'm now aware that 40% of my fellow Jews also have tattoos, so you will all be in the corner with me. So that's something to look forward to!