Welcome to the eighth edition of Sunday Top Ten, a list of completely random and undoubtedly self-indulgent things that may or may not be published on a Sunday or number "ten." This feature is a continuation of the Sunday Top Tens I used to write for my earth-shattering personal blog Autowin, where I talked about myself pretty much constantly from 2006-2008. 
---
My Mom insisted that my brother and I were mistaken when we insisted a video game console was necessary to our existence, considering that we had a Mac and a PC in our home, the latter utilized mostly for games (and eventually for Prodigy, which was basically AOL 1.0), the former provided to my Dad by his employer. She was right, I now realize, but at the time I couldn't, because my friends talked about Super Mario Brothers all the time and nobody wanted to talk to me about Gold Rush!. As you can see, I was clearly living a life of oppression and misery and it's truly remarkable that I made it this far in life considering those circumstances. That changes today. Today I am determined to locate even just one human being who spent countless hours controlling the Amquack Railroad in order to make enough cash to build a tire swing for Huey, Duey and Louie.
In January, The Internet Archive released over 2,000 classic DOS games for us to play for free on the internet, which our Geekery Editor Ali celebrated by spending an entire Saturday revisiting these fond memories. You might want to do that after reading this, too. Plus, you'll find yourself exempt from the holiest of old-school-computer-game rituals: removing and inserting a new floppy disk for each ascendant level of play.
The screenshots here come from a variety of sources including the aforementioned Internet Archive, as well as from The Adventure Gamer, Dos Game Archives, Moby Games, My Abandon Ware and Abandonia.
Top Ten Dudical Computer Games I Played In The Computer Room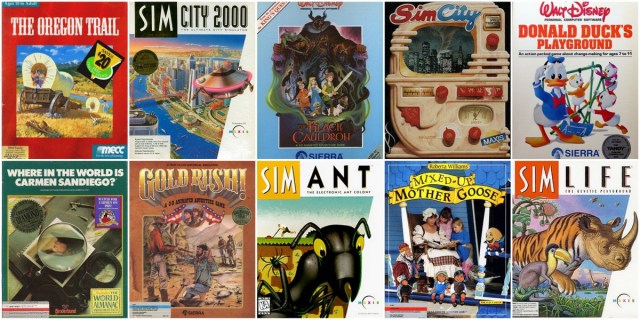 ---
10. Sim Life (1992)
"A complex game in which you can create your own ecosystems, animals or vegetables, then watch them eat, evolve, mate, or die. Feel free to create funky animals! How about a giant snail that would have to eat several trees each day to survive – or a small kangaroo that would lay eggs and eat only bugs? You can even edit their DNA code, and make your animals mutate." (via)
Basically, I was on board for whatever the good people of SimLand wanted me to do with my time, but I found SimLife intensely unsatisfying, perhaps due to my ambivalence towards animals in general and disinterest in science. This shit was complicated and, I suspect, genuinely educational. But thank you SimLife for introducing me to the term "gestation period."
---
9. Sim Ant (1991)
"In SimAnt, the player plays the role of an ant in a colony of black ants in the back yard of a suburban home. The ant colony must battle against enemy red ants. The ultimate goal is to spread throughout the garden, into the house, and finally to drive out the red ants and human owners. In this respect, SimAnt differed from other 'Sim' games that were open-ended and had no victory conditions." (via)
I have no idea how this could've possibly been fun, but it actually was? I think my little brother was better at SimAnt than me. I hated when my brother was better at things than me.
---
8. Black Cauldron (1986)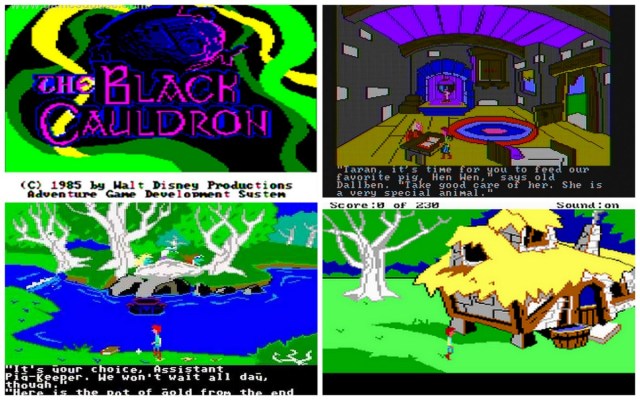 "You are Taran, assistant Pig keeper, living in Caer Dalben. Soon you'll notice that your pig HenWen has magical powers… The Evil Horned King want that pig so that he can locate the black cauldron and rule the world. You must stop him." (via)
Based on a '60s fantasy book series for children, The Black Cauldron was an epic flop of a Disney movie before it became a Sierra Game that my brother and I were obsessed with. I think this was the first computer game we ever played 'cause I remember playing it in the basement, which's where our computer was before "computer rooms" became a thing. My primary recollection of this game is begging our parents to let us call the 1-900 number in the manual for hints on how to advance past stubborn levels of unfairness. It was like $2.95 a minute or something ridiculous but also that was the only way to get anywhere in this game. It was hard and we were so small.
---
7. Mixed-Up Mother Goose (1987)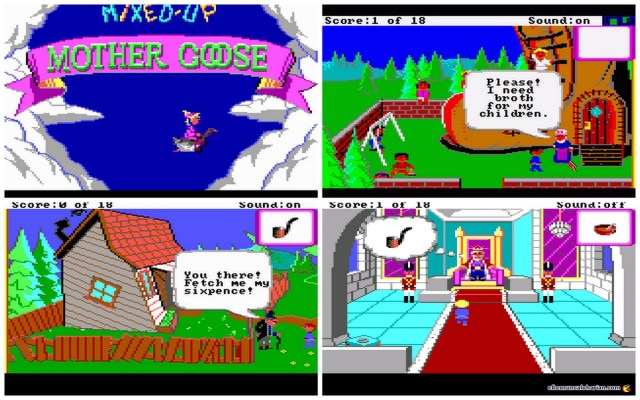 "In a dream, you are carried on gooseback to the fantasy land where nursery rhymes are true stories. Mother Goose has inadvertently mixed up all her rhymes, and it's up to you to fix it." (via)
I'd forgotten about this game 'til scrolling through the Internet Archive selections and then it all came back to me, all my memories of helping Humpty Dumpty find his ladder in a hot panic. Apparently the game was designed by a woman, Roberta Williams, who's also pictured on the front of the game box. Also: nursery rhymes are dark, y'all. There was an old woman who lived in a shoe who needed broth to feed all her children and a dude who survives on a diet of pumpkin whose wife keeps leaving him and a girl who lost her sheep. Losing your sheep is the worst.
---
6. Donald Duck's Playground (1984)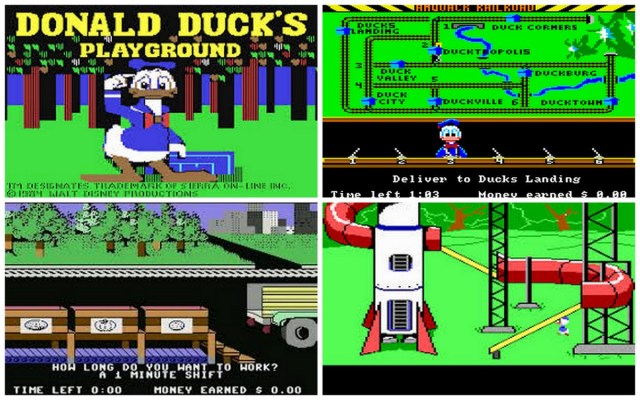 "The plot is simple. You as Donald Duck have various workplaces to choose from to earn money which you need to buy items for the playground of your nephews." (via)
Donald Duck's Playground was, then, not really one game so much as it was lots of tiny games absorbing the warm embrace of a larger umbrella game. Just watching screen grabs of Donald sorting luggage at McDuck Airlines or failing to catch a flying watermelon at The Produce Market makes my heart race. I loved games where you had to work different jobs to obtain small amounts of money which you could then put towards building something glorious for your friends to enjoy. That's basically Autostraddle's Business Plan, which means Donald Duck Playground is Autostraddle's root.
---
5. Oregon Trail (1985)
"As a covered wagon party of pioneers, you head out west from Independence, Missouri to the Willamette River and valley in Oregon. You first must stock up on provisions, and then, while traveling, make decisions such as when to rest, how much food to eat, etc. The Oregon Trail incorporates simulation elements and planning ahead, along with discovery and adventure, as well as mini-game-like activities (hunting and floating down the Dalles River)." (via)
Apparently, being born in 1981 makes me part of the "Oregon Trail Generation." As Anna Garvey wrote for Social Media Week, "If you can distinctly recall the excitement of walking into your weekly computer lab session and seeing a room full of Apple 2Es displaying the start screen of Oregon Trail, you're a member of this nameless generation, my friend." Guilty as charged. Oregon Trail, however, unlike the other games on this list, was a game I only played in school — there was really no need to have it at home, because we got plenty in the classroom. According to the comments on Ali's post, y'all are really into this game and are aware that cholera is a bitch.
---
4. Gold Rush! (1988)
"The story follows the misadventures of a city slicker named Jerrod Wilson. A journalist for a Brooklyn newspaper, Jerrod's main goal in life is to go to California and find his long-lost brother who has been accused of a crime he didn't commit. Jerrod also hopes to find gold, become rich, and settle down with the lady of his dreams. It is up to you to help Jerrod accomplish his goals. He'll face many dangers in the Old West, so keep on your toes in order to protect him from danger." (via)
This was absolutely my favorite adventure game, and pretty much taught me everything I needed to know about moving to California from New York: you might get rich but you probably won't, everyone will try and fuck with you, there will be a genuine ambiance of opportunity but no concrete path towards it, the weather will be fantastic and you'll never really be sure if things are better than they were in Brooklyn. I was shocked to learn that this was one of Sierra's more unpopular adventure games! It's so good!
---
3. Sim City (1989)
"The original SimCity.. was one of the most innovative titles of its time, allowing the gamer to plan, build, and maintain a city from scratch…. You start out with nothing but a bit of money, and a piece of land, and it's your job to create and maintain a city. As City Planner, you choose what goes where: residential, industrial, and commercial zoning as well as transit and power. You need to maintain equilibrium to keep your city flowing smoothly; each type of zone relies on the other, and you must create the perfect balance." (via)
This was the first game besides solitaire that we installed on the black-and-white Mac SE/30, and it quickly consumed me entirely. SimCity convinced me that running a city is really hard and introduced me to the concept of Industrial / Residential / Commercial zoning. Also, I learned that power plants are bad and kill people, and if you don't plant enough trees, people will murder each other. If I could go back in time and do it all again, I'd turn Bernardville into a lesbian separatist commune.
---
2. Where In The World Is Carmen Sandiego (1989)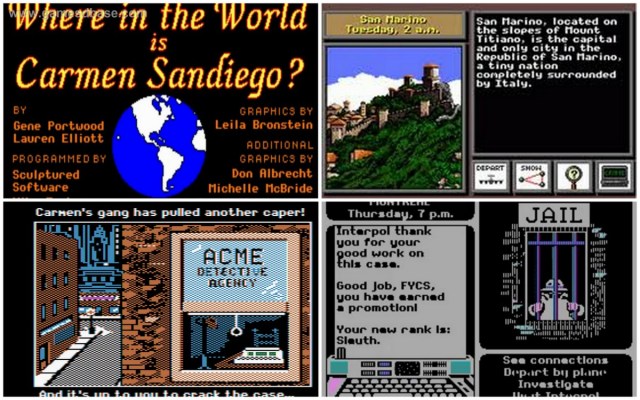 "This time you continue to catch Carmen Sandiego and her american gang in the U.S.A. Breaking from jail somewhere in Europe, she comes to yankees to steal their treasures. You as ACME detective have to travel from town to town on the tail of suspect, using clues and collecting evidences, which allow you to put suspect to jail finally. The words of witnesses are clues for you only if you have basical geographical and historical knowledge." (via)
Real talk: I'm fucking amazing at this game. THIS IS WORLD'S BEST GAME. Not only am I killer at the computer game, but I'm also adept at being an armchair competitor for the live TV show game. I consistently found myself smarter than everybody else, especially for the final round when they had to locate things on the map.
---
1. Sim City 2000 (1994)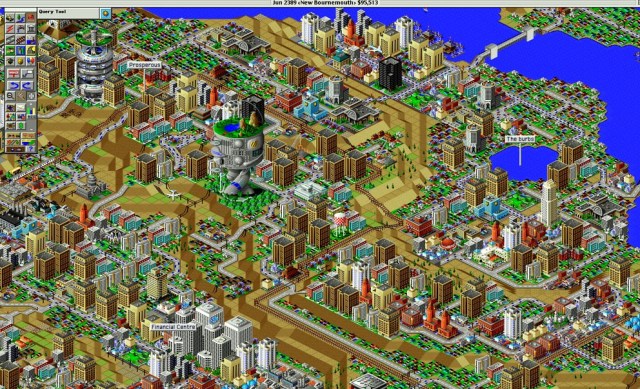 Sim City was the greatest, but once Sim City 2000 debuted, all bets were off. I loved this game — the first we installed on the new COLOR Mac Centris — more than I'd ever loved a game before. The main challenge of SimCity 2000 was that I never managed to succeed without using cheat codes to bulk up my bank account. Building cities is hard-to-impossible. Hats off to all you people who try to do this in real life.
---
Okay, now you're gonna tell me about The Sims and I want you to know that I am 33 years old, which means I didn't get into "The Sims" until just after graduating from college. At which point I got way too into The Sims and had to stop.
Recommended follow-up K-Holes:
Abandonia – one of the largest DOS game websites in the world (which survives on donations!) with forums, an incredible database and so many downloadable games. "It's like an old gaming arcade with all the old games in their original format," say its creators.
Abandonware – Thousands of games to download for free (organized by theme, creator, and more) and tons of screenshots.
The Adventure Gamer – This guy plays ALL OF THE GAMES and reviews them for you in clear and relevant detail. If your Mom wouldn't let you play Leisure Suite Larry, this guy played it for you, okay? I enjoyed reliving Gold Rush through this guy's eyes.
SO, TELL ME ABOUT YOUR CHILDHOOD COMPUTER ADVENTURES, GUMSHOES!