Happy Sunday Funday, y'all! And now, without further ado, here's a batch of good gay news to get you through your darkest hours.
The Notorious RBG Just Married A Gay Couple and It Got Sassy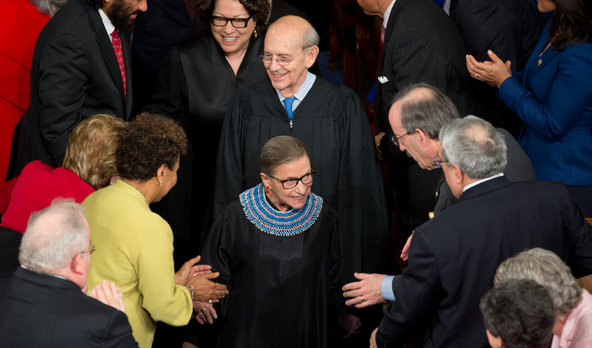 Say it with me: constitutional right. Oh no, she didn't! Oh, yes, she fucking did.
Wearing her black robe with her signature white lace collar, Justice Ruth Bader Ginsburg presided over the marriage on Sunday afternoon of Michael Kahn, the longtime artistic director of the Shakespeare Theater Company in Washington, and Charles Mitchem, who works at an architecture firm in New York…

With a sly look and special emphasis on the word "Constitution,wp_postsJustice Ginsburg said that she was pronouncing the two men married by the powers vested in her by the Constitution of the United States.

No one was sure if she was emphasizing her own beliefs or giving a hint to the outcome of the case the Supreme Court is considering whether to decide if same-sex marriage is constitutional.

But the guests began applauding loudly, delighted either way.
Three Words: LGBT Sandwich Tour
Would you like a side of gay rights with that sandwich? Because if you do, you're in luck.
According to the latest Washington Post-ABC News poll, 61% of Americans are in favor of gay rights. With that much support, the team saw an opportunity to bring people together and fundraise for LGBT rights, which led them to launch a food truck that makes a unique version of the BLT — the BLgT (get it?). Miller-Stevens and Stolarski will be driving across the country all summer, holding a BLgT party in every U.S. state, including Alaska and Hawaii (though they won't be driving to those). At each stop, they will partner with a different chef or restaurant to make sure the proceeds of the events go to local LGBT support groups. The party (and the sandwiches) will be open to everyone.

"When we thought about how we wanted to […] touch people across the entire country, we went back to food," said Miller-Stevens. "The ability of food to connect people is unlike anything else." Thus, the BLgT tour was born.
TWO WORDS: WALRUS. CAM.
New Orleans Mayor to Bobby Jindal: Nah, F*ck You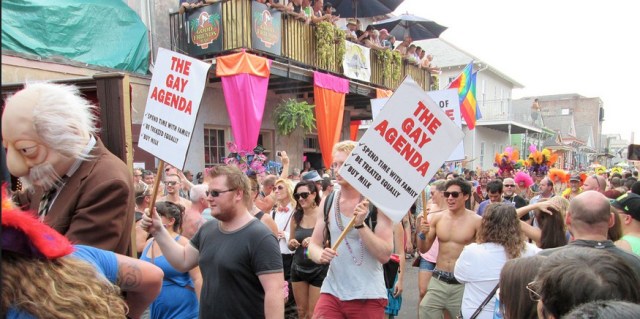 Governor Bobby Jindal just signed an Executive Order that opens the floodgates for discrimination against LGBT people under the guise of "religious freedom," but not all of Louisiana's having it. In fact, the Mayor of New Orleans is straight-up ignoring that bullshit, and he has the legal authority to do so. He also wrote a big, public letter about it because he wants you to like him.
With this executive order, I am issuing a clarifying call to the nation that New Orleans is an accepting, inviting city that thrives on its diversity and welcomes people from all walks of life with open arms,wp_postsLandrieu said in a press release announcing the order. "In New Orleans, we believe religious liberty and freedoms should be protected and discrimination prohibited, and we have passed our own laws to reflect that principle. This executive order is an important, symbolic affirmation that discrimination in any form will not be tolerated in New Orleans — and it should not be tolerated anywhere in Louisiana.
Amanda Seyfried Really Likes Her Dog
These Are Leopard Cubs
Look at these beautiful babes just getting their start in a big, wonderful world!