Howdy! This was a really great week because Obama likes gay marriage and guess what – it's still getting better! For example, Keaton Fuller is gonna be recognized at his graduation and! I graduated myself. So happy Sunday Funday to us all!
This week I also bring you some anti-assimilationism, photobombing animals, Anne Hathaway in a bikini, and did I say photobombing animals yet? See you at the bottom of the article.
Uncomfortably Extensive Compromise Reached for Keaton Fuller
The Prince of Peace debacle I discussed earlier this week regarding the Matthew Shepard Scholarship has been resolved – and Keaton Fuller will be recognized by the Eyechaner Foundation for his achievement at his graduation ceremony. But it isn't that cut-and-dry, because they made it super extensive in order to make it "okay" for the "extremely controversial group" to attend:
The Des Moines-based Eychaner Foundation that is providing Prince of Peace Catholic School senior Keaton Fuller with a $40,000 Matthew Shepard scholarship has prepared a script to be read at a May 20 graduation ceremony with the blessing of Bishop Martin Amos.
The diocesan superintendent of schools will read the script, but a representative from the foundation's scholarship committee will be there to physically hand a statue to Fuller.
The good news? Keaton Fuller is kind of getting what he asked for. And even if not, the Bishop didn't get his way in the end, so there.
Anne Hathaway in a Bikini
It's Sunday. You deserve it.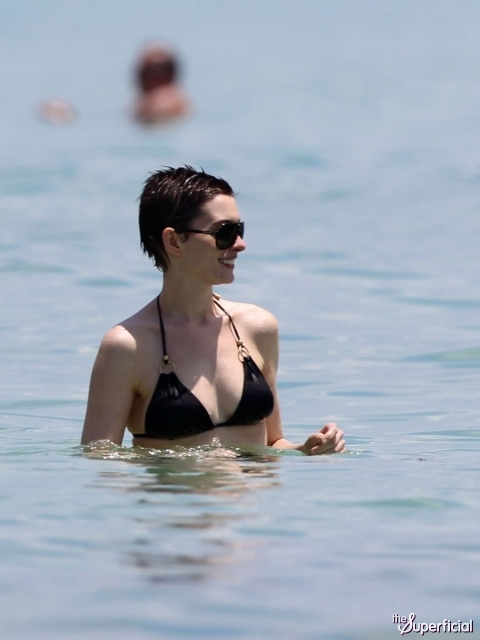 Obama Loves Gay Marriage
Obama finished evolving on gay marriage this week, and it brought him a lot of good juju and big dollars! If you're in the process of evolving yourself, here's a handy guide to moving it along.
+ Obama's statement on gay marriage earned him some great attention from celebrities, translating into time spent with George Clooney (among more celebrity money):
Under a tent on George Clooney's basketball court, the cheers were loud and warm for President Barack Obama.
"I want to thank Clooney for letting us use his basketball court,wp_postsObama quipped to a glittery crowd that included Barbra Streisand, Jack Black, Robert Downey Jr., Salma Hayek and Tobey Maguire. "This guy has been talking smack about his basketball game ever since I've known him." 
It can't feel too shabby to be applauded by Barbra, Salma and Tobey while you're teasing your buddy George. And though many of the guests Thursday night at Clooney's home in the Studio City area of Los Angeles were, like their host, longtime supporters, there was no question the president was feeling some special love at this fundraiser. He had, after all, thrilled the community a day earlier with the support for gay marriage they'd long awaited.
+ Your average, everyday, normal, beautiful people are also proud of Obama, too:
President Barack Obama has seen an uptick in fundraising since he announced his shift on gay marriage, with some Democratic rainmakers citing renewed interest from gay and lesbian donors who had been urging the president to clarify his stance on the divisive social issue.
"The phone calls went on until one in the morning after the president spoke — people calling saying 'Where do I go, what can I do to help, what events are coming up,'" said Robert Zimmerman, a Long Island, N.Y., Obama bundler. "People I've been seeking out for campaign support for months have been calling me saying, 'I'm ready to give.'"
Kristen Stewart in "The Question Box"
"The Question Box" is a French show I wish I knew more about, but I don't speak French. The webseries recently posted an episode with Kristen Stewart in it, though! I think this is relevant to your interests.
Photobombing Animals
No but really there are 35 photobombing animals in this gallery.