Do you have a mom or momish person in your life who likes breakfast? You should make her a dutch baby for breakfast out of bed! Out of bed because a) no one likes getting crumbs all over their sheets and b) because this breakfast is too impressive to pass up for a few extra minutes of sleep.
This giant pancake is all you need to make your momling smile on Mother's Day. It's a cross between a traditional pancake and a crepe and it's at least seven times cooler than a bowl of cheerios. All you need is some basic ingredient stuff and about 30 minutes and you're as golden as the top of the baby you're about to make.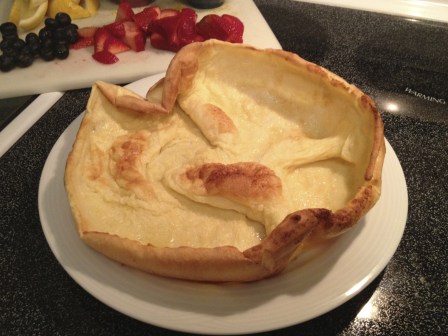 DUTCH BABY
Ingredients
2 eggs
½ cup flour
½ cup milk
1 teaspoon sugar
a pinch of salt
2 tablespoons of butter
toppings (e.g. powdered sugar, lemon wedges, yogurt, fruit, syrup, nuts, ice cream)
+
Instructions
Beat the eggs, hard! Then stir in the flour so that you have a paste. If you're wondering why or if you just need an extra dose of cute, watch this video.
Grab a whisk and mix in the milk, sugar, and salt and let the batter sit for half an hour. While you're waiting, preheat the oven and then throw the butter in a cast iron skillet (or really any oven-safe pan) and cook it until the butter melts.

Pour the batter into your now-well-buttered pan and let it cook for 12-15 minutes. Get your toppings all ready in little bowls so that your mom can decorate her dutch baby slice(s) to her liking.
When it comes out of the oven, yell really loud so that you mom wakes up and comes down to see what's wrong. When she comes downstairs, yell "surprise" and make her look at the pancake before it deflates. Hopefully any lingering irritation at being unceremoniously ripped out of bed will be overshadowed by just how novel and delicious her breakfast is.