Happy Sunday Funday, cronut holes! I ordered a custom plate for my car yesterday that reads simply "V BAD GRL." That's all. Here's some good gay news for us to mull over while I try to figure out which DMV they'll get sent to!
Welcome to the World's Largest Lesbian Wedding
53 same-sex lady couples got married at Bride Pride in Provincetown and I'm mad nobody invited me.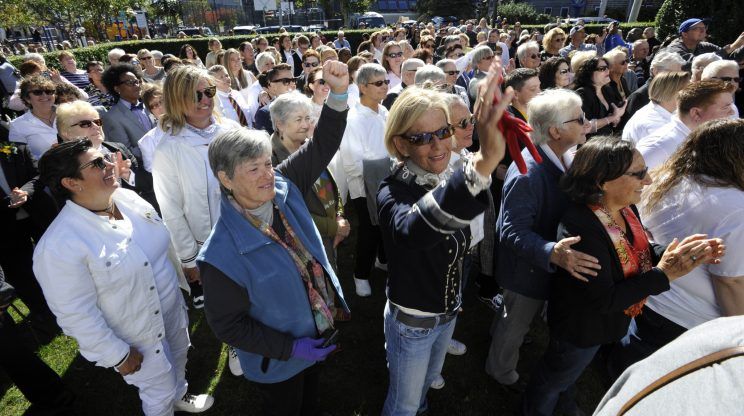 "There was such joy and love — it was a beautiful event,wp_postsMitnick says, noting that it attracted hundreds of onlookers who spilled into the surrounding street and borrowed milk crates from the nearby deli on which to stand for a better view. Bride Pride's participants ranged in age from 25 to 72, Mitnick adds, and traveled from 15 states including Michigan, Florida, Tennessee, and California.

The day's officiant was comedian Kate Clinton, a long-beloved figure in the lesbian community, who kept everyone laughing with lines like, "You are a basket of adorables!wp_postsand "We are only one menstrual cycle away from this election cycle being over!wp_postsBut Clinton inspired tears, too, by declaring, "I am here because I believe in the miracle of two women exchanging vows of marriage,wp_postsand by having participants recite "I willwp_poststo moving vows, including, "Will you love and respect her?wp_postsand "Will you promise to trust each other — to be flexible, generous, courageous, and committed to making your relationship flourish together?"
Even More Election News You Can Use (to Restore Your Faith in Humanity)
+ Even the Log Cabin Republicans don't like Donald Trump.
+ Miley Cyrus is knocking on doors for Hillary, which brings me back to my original question: Why isn't Miley Cyrus my best friend?
"Hello? How are you?! I'm Miley,wp_postsCyrus said after knocking on the George Mason University dorm room door of Jake Zartman, 18, a freshman from Ohio. The 23-year-old pop star, now a coach on "The Voice,wp_postswas dressed in a glittery red and silver dress with a blue furry jacket, a blue bow tie covering her chest and a pink head band. The young man was practically quaking.

"I'm here supporting Hillary. Are you going to vote?wp_postsasked Cyrus.

"You'll be proud to know I've already voted for Hillary,wp_postsZartman told her.

"Yeah!wp_postsshe yelped.

"Obviously,wp_postsZartman said.

And so it went on Saturday afternoon at George Mason in the swing state of Virginia, where a lucky number of students in the Piedmont dorm got to wait in their pizza box-laden rooms waiting for Cyrus to enter and chat them up, even pose for selfies on their junky twin beds. They were smiling and sticking their tongues out in trademark Cyrus style.
I Heard You Like LGBT Landmarks…
…So I found you this virtual tour of a bunch of 'em!
Local Politics: Sometimes Of Interest
+ Indonesia's president has finally broken his silence on anti-LGBT discrimination.
+ Little Rock is fighting tooth and nail in Arkansas state court to uphold their LGBT protections.
+ Philadelphia's newest institution? A commission for the LGBT community.
These Notable People and Organizations Love You
A whole lot of people you admire wore purple on Spirit Day.
Stand against the bullying and intolerance occurring throughout society and take actions to support LGBTQ youth💜 #spiritday @glaad pic.twitter.com/kqj3AVelAw

— Jazz Jennings (@JazzJennings__) October 20, 2016
Today is #SpiritDay Being bullied because of sexual orientation is a daily reality. Go purple and show your support for LGBTQ youth! pic.twitter.com/rDuKlwcpGi

— Tegan and Sara (@teganandsara) October 20, 2016
We are all more free when we are treated as equals. Today, White House staff stand against bullying and in support of LGBTQ youth #SpiritDay pic.twitter.com/kI4HcDlyDI

— White House Archived (@ObamaWhiteHouse) October 20, 2016
Oh Also Ali Got Married
I LOVE YOU ALI BLESS IT ETC