Hi-hi-hi, eager and ferocious lion cubs! If you're feeling enraged and exhausted by the injustice in the world, I'm right here with you. Yesterday I spent the morning and afternoon getting a lot of work done even though it was Saturday, which felt like something I can at least control. Today, it's my queer wedding anniversary and Waffle's first daddy dino day. It's good to have some things to celebrate when it feels like everything is spiders. We've gotta focus on the things we're grateful for, the good things, as long as we're not using the good to disengage from or become complicit in the shitty, awful things.
In that vein, here are some nice, friendly links and it's quite a good bunch because it's Pride month and this is the time for us to celebrate survival and resilience and resistance! Onward, friends!
---
All Genders Welcome in Yukon
Yukon became the final Canadian territory to enact non-discrimination protections for trans people. That's right. Trans people are now legally protected every place in all of Canada and can also change their gender marker on their birth certificates without undergoing surgery. The Yukon Bill 5 is the first in Canda to also allow gender neutral markers on birth certificates.
The Canadian Senate is considering another bill that would add protections for gender identity and expression to Canada's human rights and hate crime laws.
---
Vimeo and Chill with Your Fav Celesbians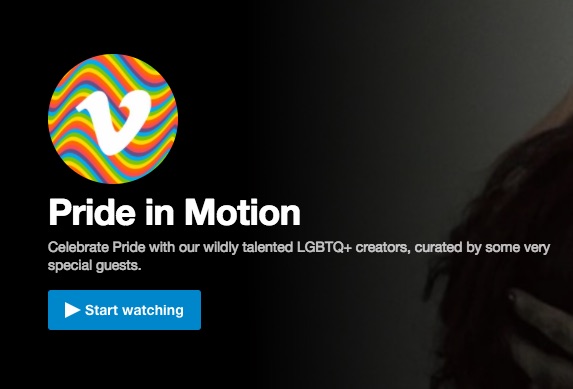 For Pride month, Vimeo collaborated with LGBTQ artists and performers to bring you these fucking amazing channels of curated videos for your hungry eyes. Get into it!
+ Lena Waithe wants you to see this Cakes da Killa vid, short film Miss Diamond, Faggots Are Fantastic — A Love Story, some clips from the 24th Annual Latex Ball, and more awesome stuff.
+ Jen Richards and Laura Zak want you to watch Suicide Kale (duh, why haven't you?!), Brujos, the short film Pronouns, Hayley Kiyoko's video for Sleepover, and more beautiful stuff.
+ Tegan and Sarah are sharing short film First Night Out, Peaches' video for Rub, and Courtney Barnett's star-studded Elevator Operator.
---
Here, Queer, Etc.
+ The University of Kansas will have a dedicated LGBT housing wing as part of their gender-inclusive housing initiative and there's already a waiting list for the fall!
+ You could own K.D. Land's motorcycle plus a signed CD and tank strap (what is a tank strap) for a cool $7855 if that's a thing you want to buy. You'd really one-up all the other dykes on bikes at Pride this year!
+ The Chicago Tribune explains all our various pride flags in a way heterosexuals can kind of understand.
+ Castro Theatre: The epic history of a San Francisco and LGBTQ landmark
+ The new prime minister of Serbia, Ana Brnabić, is an out lesbian! She's both the first woman and the first gay person to be prime minister.
---
This Seems Like A Very Ambitious DIY But SO PRETTY