Happy Sunday Funday, weirdos! Joyride update: Yesterday I drove out to Rancho Palos Verdes and it was beautiful and there were hiking trails and I wore a pre-destroyed crop top and no bra, so. #MyLifeIsYourVacation #Blessed #CanILiveInMyCar, is what I'm saying.
And now, on to the good gay news!
Kezi Dugdale Comes Out
Scottish Labour Party leader Kezia Dugdale just came out, which means LGB folks are officially a majority of Scotland's mainstream party leaders. Welcome to the future.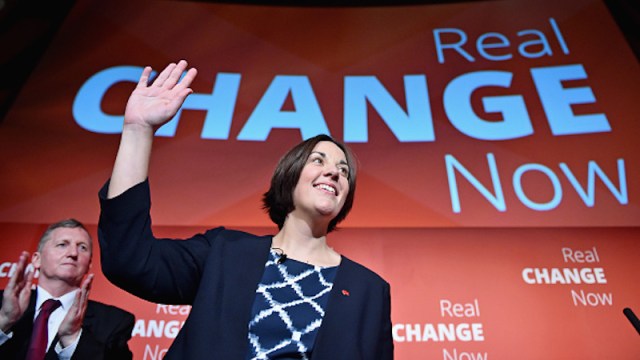 "I have a female partner. I don't talk about it very much because I don't feel I need to. And there's something too about how meteoric my career has been. I am generally calm, almost serene. I don't get easily stressed or battered. But I need a bit of stability to do that, and that means my private life is my private life. That's the thing I have to have that nobody gets to touch, and that gives me strength to be calm elsewhere."
This Dude Teaches Animals To Take Selfies And I Am HERE FOR IT
Eli needs this man's help. Just sayin'.
Let's be honest, a good holiday selfie takes work. Those off-the-cuff smiling action shots you see on Instagram are probably the result of many blurry eyed, failed attempts and good lighting. Photogenic traveler Allan Dixon however, finds the art of the selfie so easy that he's starting to include wild animals into his holiday snaps to jazz them up a bit.
Jennifer Azzi Is Gay
Jennifer Azzi, former Stanford basketball star, came out as gay and also revealed she's married to her assistant, Blair. Gasp! The drama! The intrigue! The world of sports!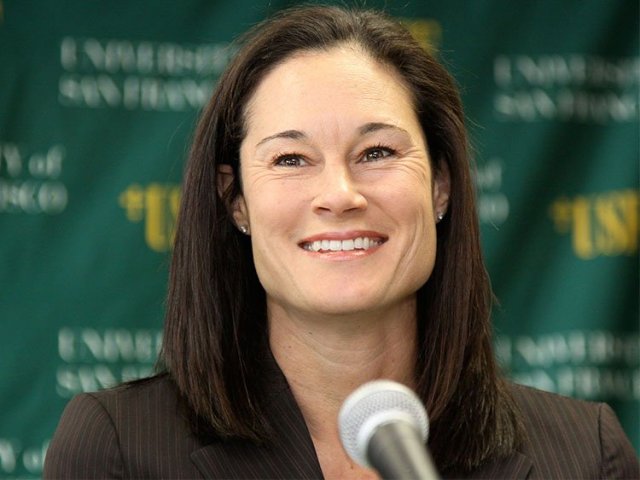 Let The Wild Weddings and Families Begin!
+ Mississippi's ban on same-sex adoption was just struck down. Whee!
"We are so overwhelmed with joy,wp_postsHrostowski said in the same press release. "Our son just turned 16 on Easter Sunday and is going to get his driver's license tomorrow. … For us, the feeling and the way we have operated as a family have never been impacted by this law. But to have this ruling and to be able to start the adoption proceedings tomorrow means everything to me. There is no greater joy on this planet than to have him as my son and for the world to understand, appreciate, and affirm that he is my son. It means everything."
+ Greenland's same-sex marriage law went into effect on April Fool's Day and it WASN'T A JOKE!
A statement on the Greenlandic Parliament's website celebrated the beginning of a new era of marriage equality. Nivi Olsen, the Minister of the Chuch in Greenland, wrote:

"We have long waited for this day. To have the opportunity to enter into marriage means a lot to many couples regardless of the gender of one's partner. I am therefore pleased that a united Parliament adopted in 2010, finally made it a reality."

"The Government warmly welcomes this new opportunity and the national church rejoices that we are ready for the new era."
HB2 Backlash in North Carolina
+ Wells Fargo lit up the night sky for Trans Day of Visibility in Charlotte, transphobes be damned.
+ PepsiCo has jumped on the bandwagon of corporations opposed to HB2, with their CEO this week urging Governor McCrory to repeal the law.
+ If North Caroline doesn't repeal HB2, it may lose billions in federal funding, care of the Obama administration.
+ Washington, DC just banned district employees from traveling to North Carolina.
The mayor of Washington, D.C., has banned all nonessential employee travel to North Carolina after the state passed an anti-LGBT law that bars transgender people from accessing public facilities like bathrooms that correspond with their gender identity and eliminates all existing LGBT-inclusive nondiscrimination ordinances in the state.

D.C. Mayor Muriel Bowser tweeted out the executive order banning travel for government employees, saying, "We stand with the LGBTQ community and against discrimination."
How Did You Celebrate Manatee Appreciation Day?
I feel weird about the audio in this video because it feels more fitting for that montage at the Oscars of all the dead people than a video of an adorable sea cow, but! This video is 100% still worth watching because it was Manatee Appreciation Day but also because every day should be Manatee Appreciation Day.