Born Annie Clark, St. Vincent possesses some of the most visually arresting personal style even far as rockers go. The Grammy winner, multi-instrumentalist and gal pal always looks damn good. St. Vincent pairs an ear for off-kilter melodies with a knack for the sartorial reflection of that vision. Boldness is key; you'd be hard pressed to find her in a wallflower's clothes. Even while clad from head to toe in black, textures are at play. Color, patterns, rich textures and dramatic shapes are how she does it. St. Vincent makes the most of a silhouette; shapely outerwear, tailored goods and re-imagined vintage all play a part. Strong makeup looks temper the style with pops of color in the form of eye shadows and lip colours. Even her hair is part artist's stroke! Whether a mountainous range of mahogany or a cresting spray of platinum, the hair is quite essential to the look.
St. Vincent and Cara Delevingne were in attendance at Stella McCartney's Resort 2016 presentation. St. Vincent looked particularily stellar in a vest dress… who knew a vest could be a dress?
St. Vincent opted for all black everything at the premiere of Paper Towns; she was purely an onyx dream.
Bolder than thou makeup looks stunning on Ms. Clark.
Pastel suits make for dreamy tailoring in St. Vincent's profile in Wonderland Magazine. Given the ethereal nature of Clark's hair, the look becomes sweetly masculine.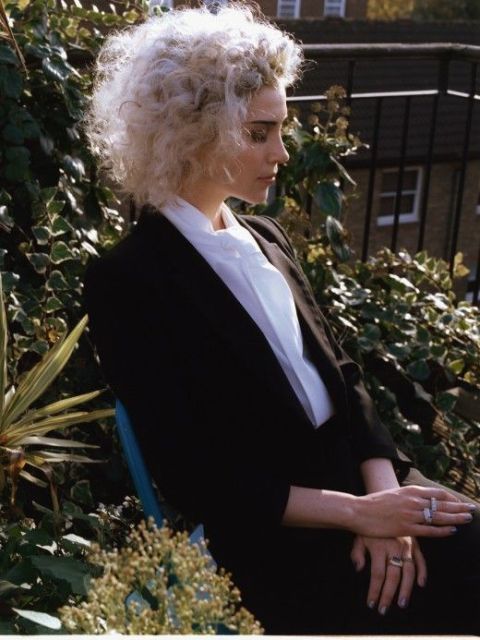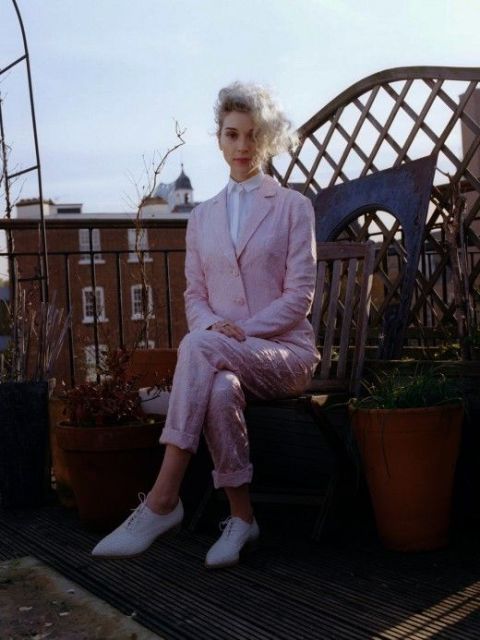 What's that? You'd like a St. Vincent inspired shopping guide? We've got you covered!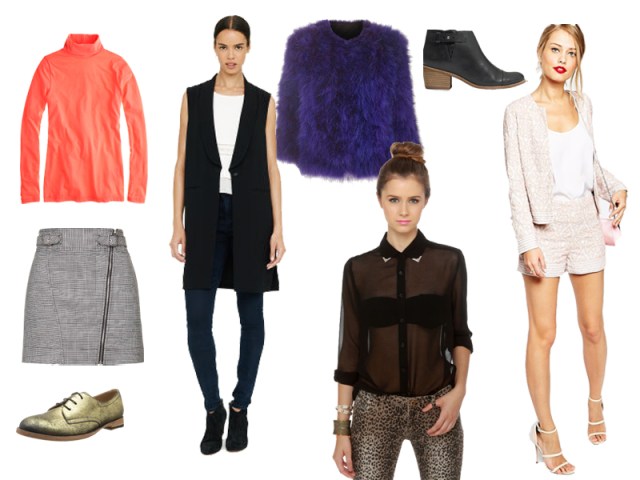 topshop jacket // j. crew turtleneck // topshop biker skirt // Club Monaco Sonti Vest // madewell dakota cutoff boots // lulu's black collared shirt // asos shorts // asos jacket
If your wardrobe is in dire need of chanteuse badassery, look no further. Annie Clark is your gal.