Hi crush monsters, this is Straddler On The Street, a feature where I celebrate all of you incredible Autostraddle readers by hunting you down, demanding you chat with me, and then writing about you on the Internet so we can all crush on you. Get excited, because butterflies in your stomach 24/7 is a fantastic way to live.
Header by Rory Midhani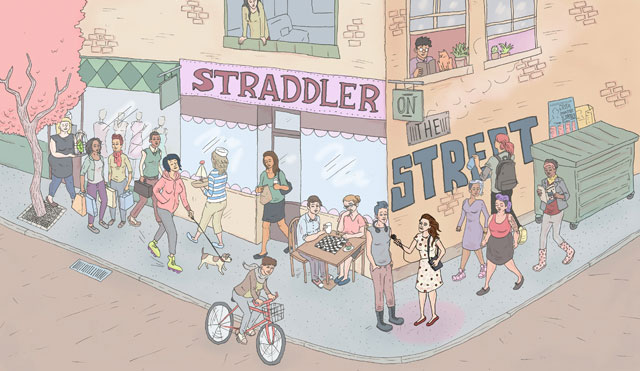 ---
Straddler On The Street: Jackie, 26
Jackie is one of my oldest and dearest friends, and while she was a little bit hesitant when I first asked if I could interview her for this column, she eventually relented, saying: "I'll support you in whatever you do, V." Awwww. No but seriously, Jackie is wonderful and hilarious, and she has some really interesting things to say about queerness and religion and the intersection of these two things that I do not believe get discussed enough in our world, so I am forever grateful that she allowed herself to be persuaded.
Jackie is 26, lives in "the glorious suburb of Newton" just outside of Boston, and currently is in school and working for a sign language interpreting company, though she says she's still trying to figure out what to do with her life. In her own words, she's a "self-identified queer, gender non-conforming, feminist, patriot, numismatist, vexillophile, Christian." Obviously I had no idea what a couple of those words meant, so for those of you like me who may be scratching your heads right now: a numismatist is a coin or currency collector and a vexillophile is a flag lover. So! Now that those details are out of the way, let's meet Jackie.
Tell me about school. What are you studying?
I'm in a really neat program for adult learners trying to finish their Bachelors, so it's completely self-designed and customized to my life and interests and goals. My specialization is in sociology, social change, and gender studies.
So cool! Do you feel comfortable speaking a little bit about the path you've taken with regard to your college education?
Of course! At first I did the traditional college thing: went right after graduating high school, lived on campus, got involved in student activities. But from day one, I struggled to find courses that I was interested in and for every two classes I took, I failed one. I changed my major a lot. I became president of the college's GSA which was really amazing, but the actual schoolwork sucked a lot. After six years, I had gone from a traditional student, to a commuter, to part-time, and then decided it was time to just drop out.
After two years out of school and lots of conversations with friends, family, and my fiancée, I decided to try school again, but do it on my terms. The traditional college structure wasn't right for me and it took a long time for me to realize that that was okay and that I hadn't failed.
That is true, you have not! And now you're at your awesome school in a perfect program for you.
Yeah, it's so much better, but it still feels a bit weird to be considering grad school when for so long I thought that I wasn't cut out for higher ed.
I think your story is proof that our education model does not work for everyone. Let's talk about your fiancée! How did you guys meet and how long have you been engaged?
Ah! My fiancée's the best! And she's definitely the best thing to come out of my first run at college! She was an RA in my all-female dorm. Scandalous. We've been together for seven years and we've been engaged for two.
Oh my god. I can't believe it's been seven years!
We started dating when I was 19! I was a baby!
A small child, basically! So you guys are having a long engagement. Why did you decide to do that?
Well, I don't know if we necessarily decided, but we sort of fell into it. From the moment we started dating, we knew that we wanted to get married on the Fourth of July. It's our favorite holiday, she was an American History major in college, I collect old US currency and things. We are America freaks. But when we got engaged, we were like, "We can't get married in July! We'll be so hot and sweaty!" so we started planning an October wedding. But it never felt like our wedding. So we stopped planning and decided to wait until it felt right again. Now we're both really busy with work and school – she got an amazing promotion and is in a Master's program, and I'm trying to figure out my life – so we're just going with the flow for now.
Can you talk to me about this America love? I feel like a lot of people I know are sort of borderline anti-America, if anything. Why should we love this country?
If you haven't seen the HBO mini-series John Adams yet, I highly recommend it because it beautifully captures why we're so proud to be from Massachusetts and America. From a sociological perspective, I can be critical of colonial issues like slavery and women's rights, but the American Revolution is a story of an oppressed people fighting for their rights – rights to life, liberty, and the pursuit of happiness – on their own terms. The Revolutionaries fought for freedom and risked literally everything for it. If we could apply that same conviction and dedication to social justice issues now, I think we'd be a different country – maybe one that more Americans would be proud of.
Wow, that is a super compelling argument. My next question is about religion!
Tied very closely to our love of America!
This interview should be titled "Basically Every Subject You're Supposed To Avoid At Dinner Parties." Anyway. Tell me about your personal religious journey.
I was raised Roman Catholic by a non-practicing family. I went to Sunday School because it was what I was "supposed to do." [My] family didn't go to church and we didn't talk about God except for when I was reminded that "God punishes liars." So I was never very connected to religion or God. It wasn't until I was in high school when I was starting my coming out journey that I really questioned why I was going to a church that didn't accept gay people. At my mother's insistence though, I was Confirmed at 15. Confirmation is really important because without it you can't get married in a Catholic Church which was obviously really important to my mom. Unfortunately, she didn't know I was secretly dating a girl.
So fast forward to my relationship with Jess. She grew up in a loving Protestant church and taught Sunday School with her Godmother and wanted us to go to church together. I couldn't understand why anyone would want to go to church. That seemed so crazy to me.
It wasn't until a few years later – almost 10 years since I had last been to church – that I attended a funeral at the church of my youth. It came time to take Communion and the priest started going on about how only those who live a true Catholic life every day were welcome to take Communion. I was just totally stunned. Even in my years of doubting, I would have never refused Communion, but here I was, not even welcome at the table. I went home and told my fiancée and our roommate Chris about the experience and we talked about how there must be a church somewhere that would welcome us. And it turned out that the perfect church for us was on the same street that Chris and I worked on.
Oh my gosh! What church was it?
Old South Church. We spent a ton of time on their website and read their welcoming statement and saw rainbows and same-sex couples. Then we saw that they were a historically significant congregation – the home of Samuel Adams, Benjamin Franklin, and Phillis Wheatley! They were the meetinghouse of the Boston Tea Party! They were perfect. And that was before we even walked in the door.
That first Sunday, and for a lot of Sundays after that, I sat in the pew sobbing because I just couldn't believe that I had gone so long without knowing that church could feel so good.
I am maybe tearing up right now. Thank you so much for sharing all that. I think so many queer people who have strong ties to their faith sometimes feel like outsiders in queer spaces, because so many of us have been hurt by religion that it's easy to sort of make negative blanket statements. But religion is also so important and so good to so many queers that it's really vital to talk about that, too. As a Jewish person I feel a little ignorant about Christianity, but can you tell me more about your specific church and denomination?
Old South Church is a congregation of the United Church of Christ (UCC). Basically, our individual church is governed by its own members which is cool because that means that my voice and opinions matters. Our denomination, UCC, is sometimes called the "most left" denomination in the country, and has long-held liberal views on social justice issues like civil rights, gay rights, women's rights, abortion, etc. Plus Old South practices open communion which means everyone is welcome at the table, not just Christians or people who live a certain "lifestyle."
That sounds amazing. You've definitely put a lot of thought into your faith and religion.
I have. I'm also currently developing an independent study project for the fall about the sociology of religion and the intersections of faith and social justice which I am super pumped about! And like everything else, I get to customize it to my interests to it's going to include feminist theology too.
Going back to school and academics, what is your favorite book?
The Bible.
Ha!
Just kidding. I don't know if I have a favorite book, but The Interpreter of Maladies really changed my world and Jhumpa Lahiri is just such an incredibly gifted writer. I'm also reading a book right now which is amazing called This Odd and Wondrous Calling. It's written by two UCC ministers about their journey to ministry. It's giving me some necessary perspective while I'm discerning what God is calling me to do with the rest of my life.
I love you. Now, as such a strong lover of Boston, you have to tell us about your favorite things to do in the city.
To be honest, we do a lot of cheesy touristy stuff that most Bostonians avoid. There's lots of great free historical sites to visit. We spend a lot of time on the Freedom Trail. We visit the USS Constitution a lot. Every year on John Adam's birthday, we visit his estate, Peacefield, which is in Quincy. And we love love love the Minuteman National Historical Park in Lexington! With Harborfest coming up in a few weeks, we're already planning our itinerary!
Gosh you guys really are the cutest. Finally, is there anything else you'd like to share with the Autostraddle community?
Yes! I'd love to tell everyone about our Mission Trip blog. One of the most amazing experiences I've had since joining Old South has been going on Mission Work Trips. For the past two years, I've traveled to New Orleans to rebuild homes destroyed by Hurricane Katrina. This year, our congregation and friends funded 100% of the material costs for a home and sent twenty missionaries to help with the build. Last week, the second half of our group was there, mudding, sanding, priming, and painting – all in 90°+ weather! You can learn more about us and read about our journey at missions.oldsouth.org.
---
If you would like to be featured as a future Straddler on the Street, please email vanessa [at] autostraddle [dot] com. Include a few photos, 3-5 sentences about yourself and put "Straddler Submission" in your subject line. Approximately a million people have submitted so far, so please be patient as Vanessa goes through her inbox — you're all sexy with really smart brains, and don't you forget it!