George Floyd was murdered on May 25, 2020, and we stand in unequivocal support of the protests and uprisings that have swept the US since that day, and against the unconscionable violence of the police and US state. We can't continue with business as usual. We will be celebrating Pride as an uprising. This month, Autostraddle is focusing on content related to this struggle, the fight against white supremacy and the fight for Black lives and Black futures. Instead, we're publishing and re-highlighting work by and for Black queer and trans folks speaking to their experiences living under white supremacy and the carceral state, and work calling white people to material action.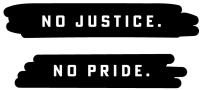 ---
It's a very strange Pride month. More than ever, I'm inspired by my radical queer and trans ancestors, who knew that we have to fight for our freedom, who knew that Stonewall was an uprising against police brutality, who would want to see queer and trans people celebrate Pride as the insurrection that it should be. But I'm also inspired by the protesters in my town, who recently made sure they weren't going to have a revolution without dancing.
Day 6 of Oakland #GeorgeFloyd protest: Oakland going dumb. 3 hours past curfew. pic.twitter.com/ygY87qCnfB

— Sarah Belle Lin (@SarahBelleLin) June 4, 2020
According to Susan Stryker, Marsha P. Johnson — who may or may not have thrown the first brick at Stonewall, but is a heroine regardless — "had this joie de vivre, a capacity to find joy in a world of suffering." And for Black queer and trans people, insisting on cultivating joy might be the most radical move of all.
White supremacy and transphobia would prefer I experience only a life of torment and desolation. But as an act of resistance, I refuse! How I do so depends on the day. For many of us, being a part of the movement is a joyful act! Or sometimes, it's scrolling through accounts like blackjoyproject or blackqueerjoy on Instagram. Sometimes it's doing a Zoom call and playing silly online games with my Black queer friends. Sometimes it's sparking up and taking an epsom salt and bubble bath. Sometimes it's teaching, or writing, or making art. And sometimes it's turning up the volume and dancing! That's what this playlist is for. Chock full of new bops (all released in 2020) and exclusively featuring queer and trans artists of color, this is the Pride playlist for allowing yourself a measure of joy as we struggle together during what could very well be the birth of a new, better, more just world. Enjoy!
The Playlist
---
Tracklist: