In My Top 10 Favorite Lesbian Movies, various members of Autostraddle's TV Team tell you about the movies nearest and dearest to our hearts and invite you to like all the same things we like. Today, Autostraddle Senior Editor Carmen Phillips shares feelings about her favorite lesbian films of all time.
Hello, I am mostly here to swoon over Dee Rees, in my opinion the greatest queer filmmaker of our time. Alright! Let's get started!
---
rent for $3.99 // free on Starz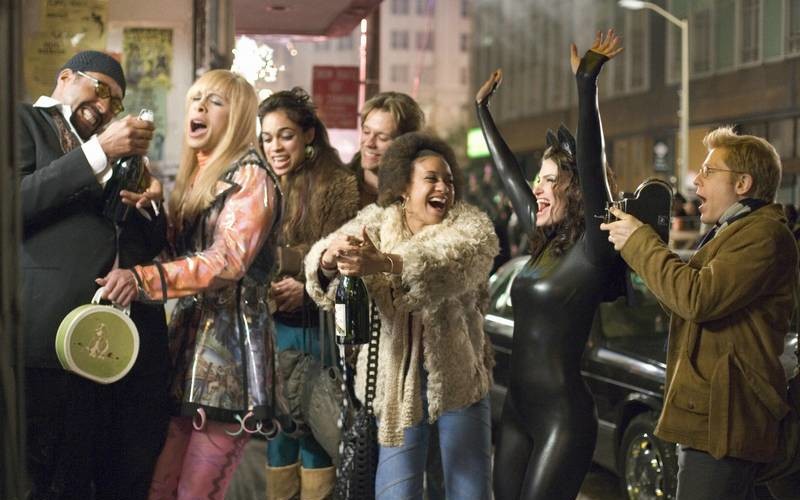 I'm going to start this list by keeping it 100. Rent is not a great movie, and to be really honest it's not even a good movie. But Rent is an important queer story, and in fact it's my favorite queer story. The magic of the world that Jonathan Larson created surpasses any genre, and that includes this admittedly lackluster film. Rent is best enjoyed Rocky Horror style, singing at the top of your lungs with your friends. And there's no better way to do that than with a movie — I mean you can't do it in a theatre (that would be disrespectful to the actors!). So let that be a lesson for us all: Even imperfect art can serve the greater good.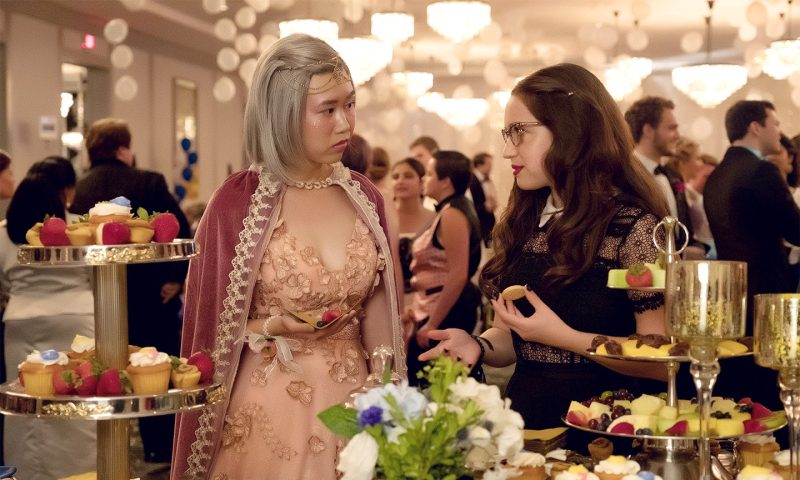 Blockers is the perfect example of my favorite kind of comedy, which is basically "What are the dumb shit gangs of girls can get into?" I love comedies that are essentially frat boy humor, but without any of the latent misogyny that the genre usually comes with. Blockers is refreshingly and surprisingly feminist, full of those girl power friendship tropes that I eat up like the most comforting junk food, and more important — its legitimately side-splitting funny. It's well intentioned and so, so good.
8. Gia
rent for $3.99 // free on HBO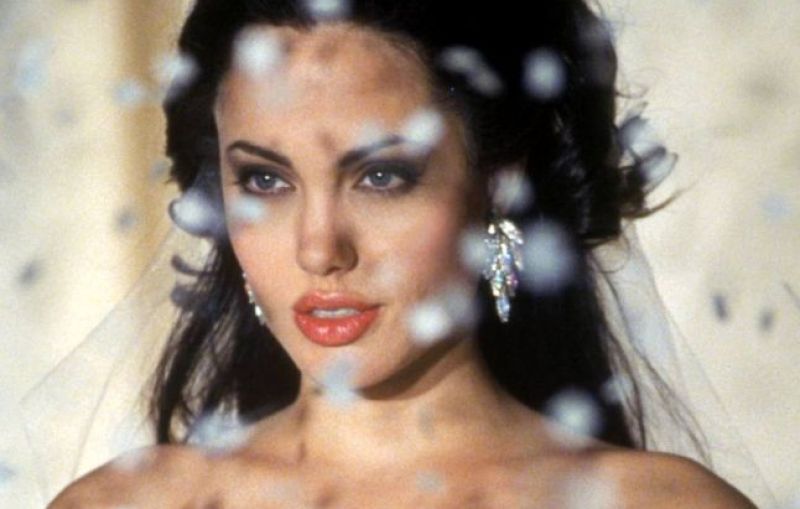 The first time I saw Gia I was 13 years old and I thought Angelina Jolie was the height of glamour. I completely just skipped over the part where Gia dies because, I mean, have you seen her lips? Jolie's performance is the very definition of magnetic. Anyway, now I'm gay.
I don't love horror films. I like to be in control of my emotions. It's that same quest for perfectionism that underscores Black Swan — which is probably why I am so drawn to it. Darren Aronofsky's direction is bewitching, purposefully dancing the line between beauty and madness. And sure, that sex scene between Natalie Portman and Mila Kunis is legendary for a reason. But also, Portman's Academy Award winning performance haunts long after the final frame. Black Swan is every Type A personality's worst nightmare, and goddess help me — I can't turn away.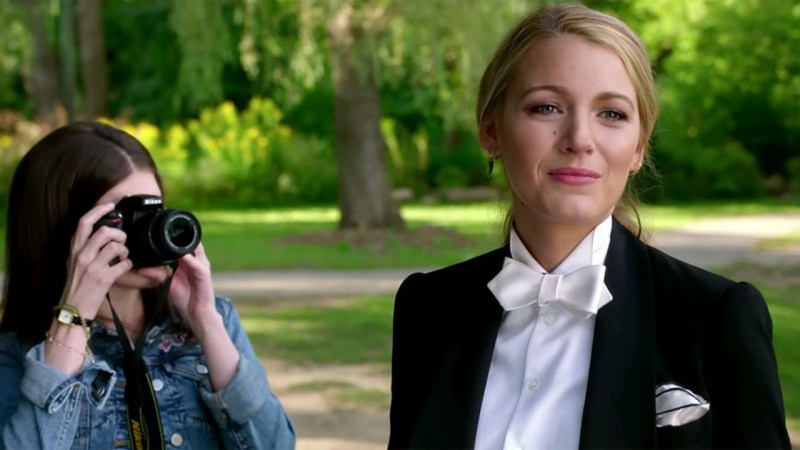 I saw A Simple Favor about a year after everyone one else in my social circle, and the worst part of that experience was that I kept wanting to yell, "THIS IS SO GOOD!?! HOW DID NO ONE TELL ME ABOUT THIS!?!?" except literally everyone had told me it was that good and I chose to ignore them. If you're reading this list and haven't yet seen A Simple Favor, please don't repeat my mistake. It's both gayer than you expect and exactly as campy as you expect. It's an incredibly solid neo-noir mystery without sacrificing any of Ana Kendrick's comedic chops. Blake Lively was born to be the woman that her next door neighbor erotically obsesses over, and A Simple Favor takes none of that delicious tension for granted.
5. Dope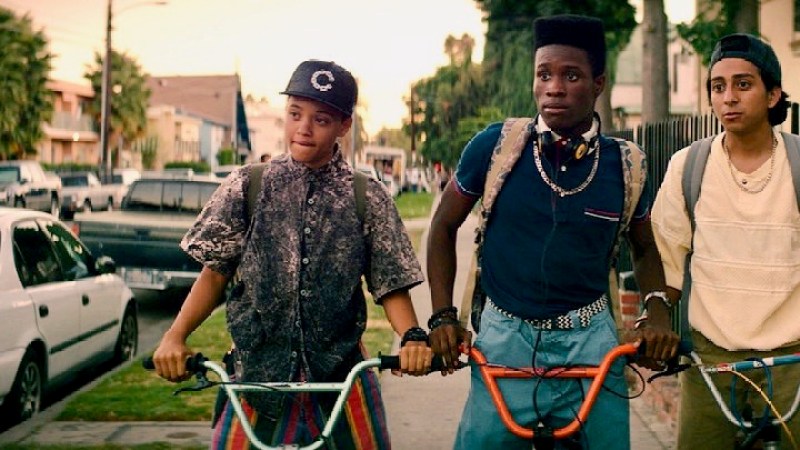 Here's the thing about Dope: it's far, faaar from my favorite lesbian story. I love Kiersey Clemons, but this isn't her strongest queer performance by a mile (for that, please see Hearts Beat Loud). I realize that key technicality should kick this movie out of the Top 10 for a website like Autostraddle, but Dope is one of my favorite movies overall and forever. It's part teen comedy (which given my inclusion of Blockers on this list, you can probably tell I have an appreciation for), part heist mystery (see also: A Simple Favor, ranked lower and Set It Off ranked much higher), but most importantly it is so sweetly and effortlessly and casually Black. A complete love letter to nerdy ass black kids and the black communities we grew up in. That matters. The few movies that are about black nerds often have them existing within a whitewashed reality, but I'm a black nerd who grew up in Detroit. The Dope kids are growing up in an equally black Inglewood. I want more black movies that are about smart black teens who are part of the fabric of their own neighborhood. And that's why this movie is ranked so high on my list.
What else is there to even say? Saving Face is iconic for a reason. Alice Wu's only film for sixteen years (shout out toThe Half of It, Wu's latest entry into the romance genre, which premiered on Netflix just last month) is as funny and swoon worthy as the best of its peers. It's enchanting and nearly wistful, but also incredibly rooted in the reality of a Chinese immigrant community in Queens, NY. It doesn't sacrifice specificity of space or character to tell what ultimately became the most singularly beloved queer love story of at least two generations. It doesn't get better than that.
3. Set It Off
rent for $2.99 // free on HBO Max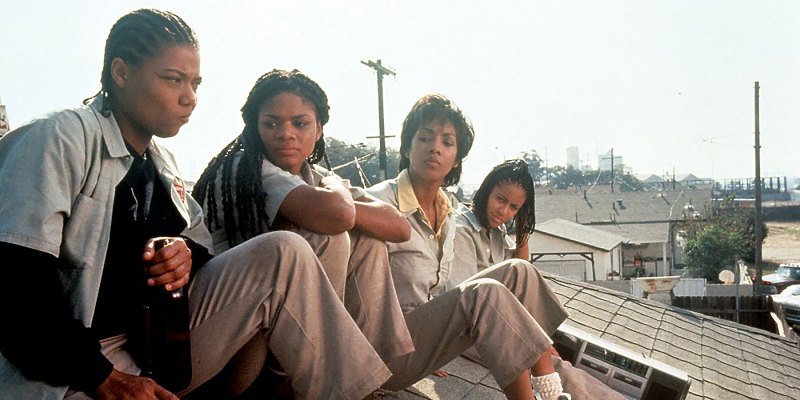 I really want to just yell "Set It Off is perfect!" and go, but I'm paid to be here, so here's some additional words: Set It Off is my favorite tribute to the intimacy and joy and depth of friendship between black women. It's also one of my favorite action movies. It's a stark and clear-eyed depiction of the intertwined nature of systemic racism and capitalism, police violence, and a perfect tribute to the Black Lives Matter moment — 25 years ahead of its time. But 25 years ago is also right now and is also 40 years ago or, shit, 100 years ago. Time and again, black women in America continue to only have each other to depend on when all the chips are down. In Set It Off, F. Gary Gray understands that like no other, which is why this film remains an absolute stand out.
buy for $9.99 // free on HBO or HBO Max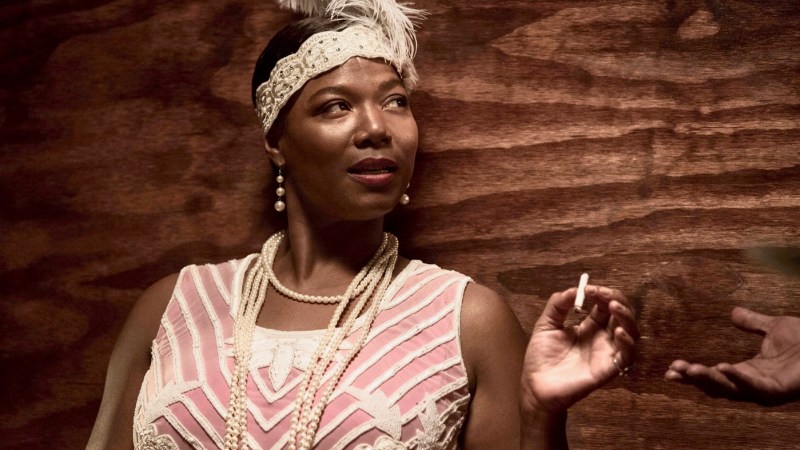 Bessie is my second most-loved Dee Rees film (hold on one second for #1). It's a stunning testimonial to black queer women artists who live — and die — by their own defiant rules. It's also only the dedicated period piece (at least that I know of) that's entirely centered from the point of view and lived experience of a black queer woman. Its costumes and lighting are lush, the music energizes, and as Bessie Smith, Queen Latifah is the best she's ever been in her career. More than that, Mo'Nique's captivating portrayal of Ma Rainey never fully got the respect it deserved. When the two women share the screen together, the sparks that Rees was able to grab ahold to with her camera are nothing short of magic. Bessie would hands down be my favorite queer film of all time, if it were not for…
Welcome to the elite circle. Pariah is so much more than my favorite queer film, it is, in my opinion, a class of its own, bar none. Dee Rees' major release debut is a marvel, poignant as it is loving. Bradford Young has already defined a generation of black cinematography, but here his choice of color stupefies. Black skin has never been so beautiful. Adepero Oduye's performance in this coming-of-age is the kind of majesty that all of our young, baby gay selves deserve to be seen in. The end result is a film that's simultaneously heartbreaking and triumphant. I can only imagine how intimidating it must be to create such perfection in your first nationwide outing. In a recent interview with Jenna Wortham for The New York Times, Rees described the goals for her legacy as eloquently and simply as: "I want to create work that matters and lasts." Her only challenge is her own greatness. That's never been more clear than in Pariah.
---
Movies that almost made the list: Hearts Beat Loud, Pride, Imagine Me & You, Frida, Grandma, The Incredibly True Adventure of 2 Girls in Love, The Children's Hour, Mosquita y Mari, Dirty Computer, D.E.B.S., The Watermelon Woman, But I'm a Cheerleader
Want more movies? Check out Autostraddle's 200 Best Lesbian Movies of All Time.