Spaces & Places is a three-week series focusing on the private and community areas we occupy, the ways we personalize them, and the meanings that we assign to them. Organized and edited by Meg Jones Wall.
---
Designing a room or a whole home so often leaves us at the mercy of budget, space restrictions, and the preferences of other people we may live with. But sometimes we just gotta dream big and indulge our wildest fantasies. So I asked our team — if you could have absolutely anything in your home, what would you choose?
Kayla Kumari, Writer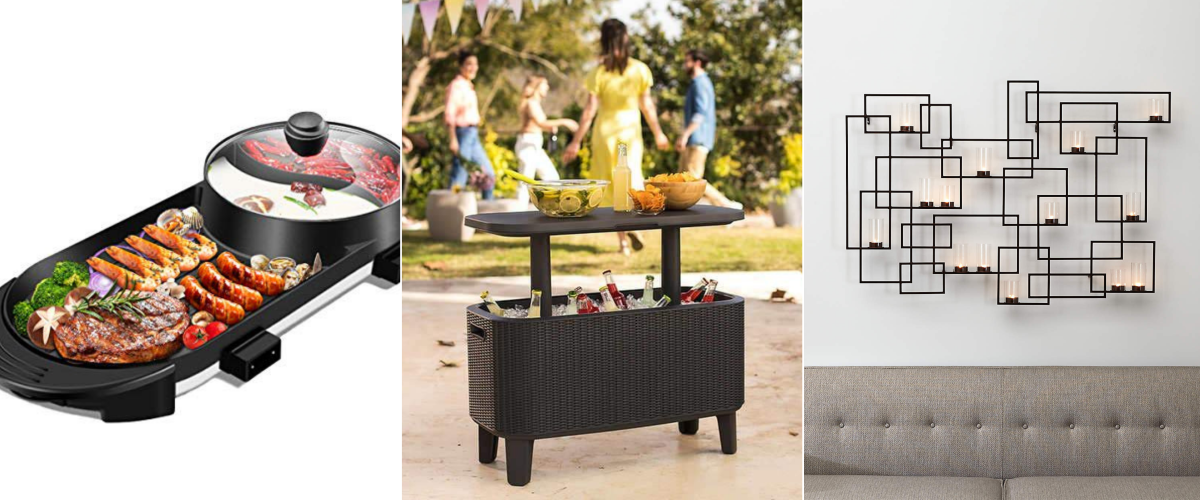 1 / Combination Hot Pot/KBBQ Grill ($142)
2 / Outdoor Cooler Table ($181)
3 / Massive Wall Candle Holder ($199)
Maybe this is my freshly vaxxed brain talking, but I am DESPERATE to host more dinner parties. I'm destined to be a Dinner Party Bitch! So I decided to pick three things that would really take my fantasy dinner parties to the next level, starting with this at-home KBBQ grill that has an attached, dual-divider hot pot! See also: this hybrid cooler/table that I absolutely do not have space for on my current balcony. Just think how cute it would be for pre-dinner drinks and apps! And even though I also do not have the wall space for this (mainly because an entire wall in my apartment is one big mirrorwall), I've always been obsessed with this simple but gorgeous tealight wall piece that YES my mother owns but NO I'm not turning into her!!!!!
Riese Bernard, CEO
1. Stairmaster 4400PT Free Climber ($800 – $3,000)
2. Quincy Bed ($1,198)
3. Modern Cabinet Bookcase ($699)
All I want in this life is a 90s era Stairmaster and I am not going to apologize for it while also acknowledging that I will never be able to afford it?!
I haven't had an actual bedframe in years and sometimes I think, wow it would be cool to like, lean back in bed onto a beautiful headboard, you know? My bedroom is the room in my house that has gotten the least amount of attention so far, and it shows.
Lastly, I'm already running out of space for all of my books and magazines and assorted paper items and this would be a beautiful addition to the ongoing attempt to handle the situation!
Meg Jones Wall, Spaces & Places Editor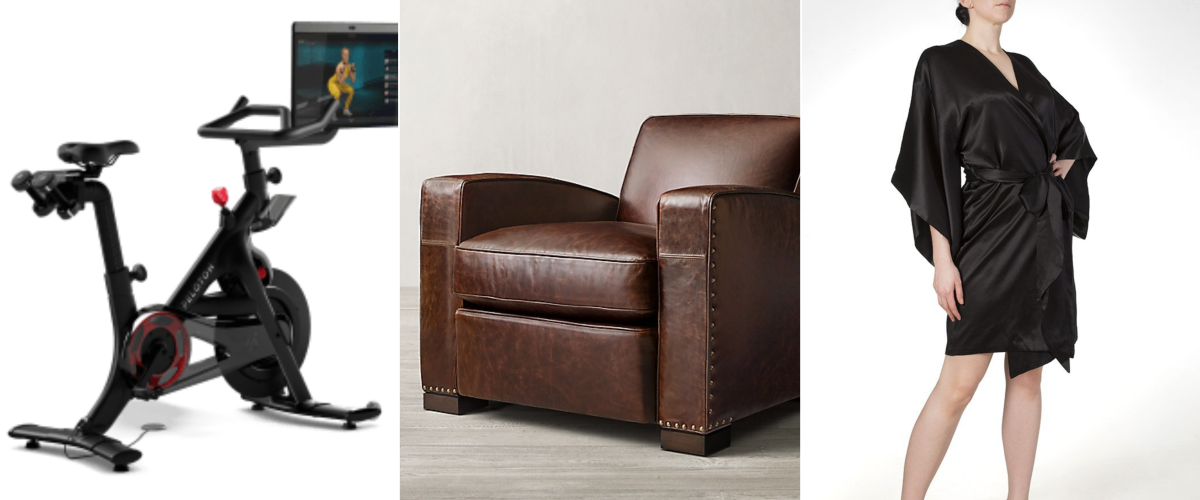 1 / Peloton Bike ($2,495)
2 / Library Leather Chair ($3595)
3 / Cassiopeia Black Silk Robe ($565)
There is literally nowhere in my current apartment that a Peloton Bike could possibly live, but that hasn't stopped me from lusting after one for nearly a year anyway. And while that fantasy is fairly new, I have wanted a big squishy leather armchair since I was a little kid, and that dream has never faded. Obviously, I need a gorgeous, luxurious silk robe to wear while I sit in that chair, drink bourbon, and plot revenge on my enemies.
Abeni, Writer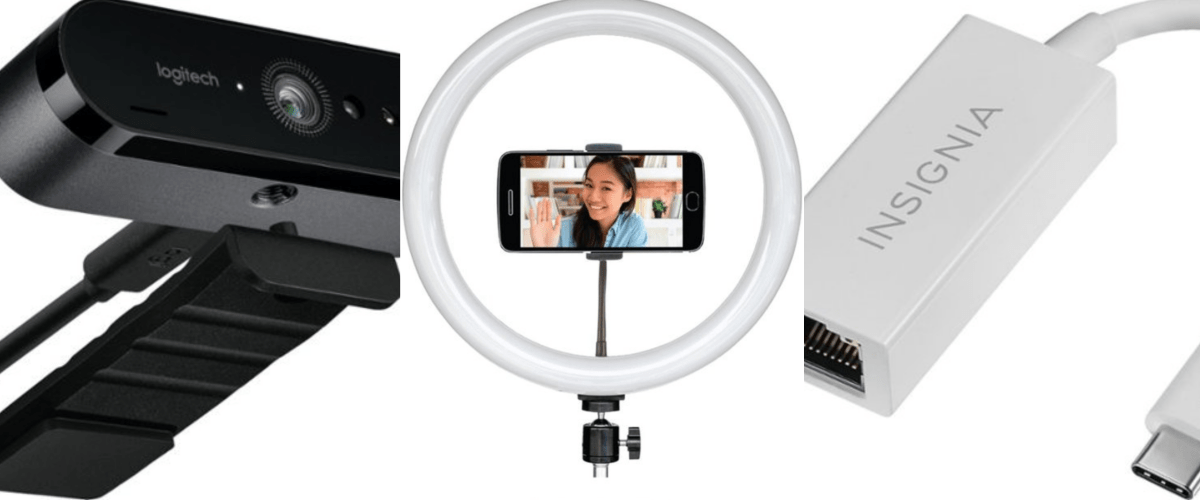 1 / HD Webcam ($199)
2 / Ring Light ($69.99)
3 / USB-C to Ethernet Adapter ($29.99)
Am I going to ever go back into Twitch streaming? I don't know. But I do have to be in Zoom meetings for approximately 12 hours per day, so I'd love to upgrade my setup. My webcam was free; it's decent (how are webcams built into laptops still so bad, so many years later?) but it's not like, great, and I would like to stunt on all of my coworkers, so the HD webcam and the ring light are essentials. Also I have a Mac Mini, which doesn't even have a built-in. I sometimes use my work PC, a Microsoft laptop that sucks and has a sucky webcam, and also it doesn't have an ethernet port, which means it is slow because wi-fi sucks and is slow, especially if I ever want to play and stream a PC game. So I need to plug into the ethernet! Help make my stream dreams come true (or help me look cute in the 23 Zoom meetings I have each day).
Nicole Hall, A+ and Fundraising Director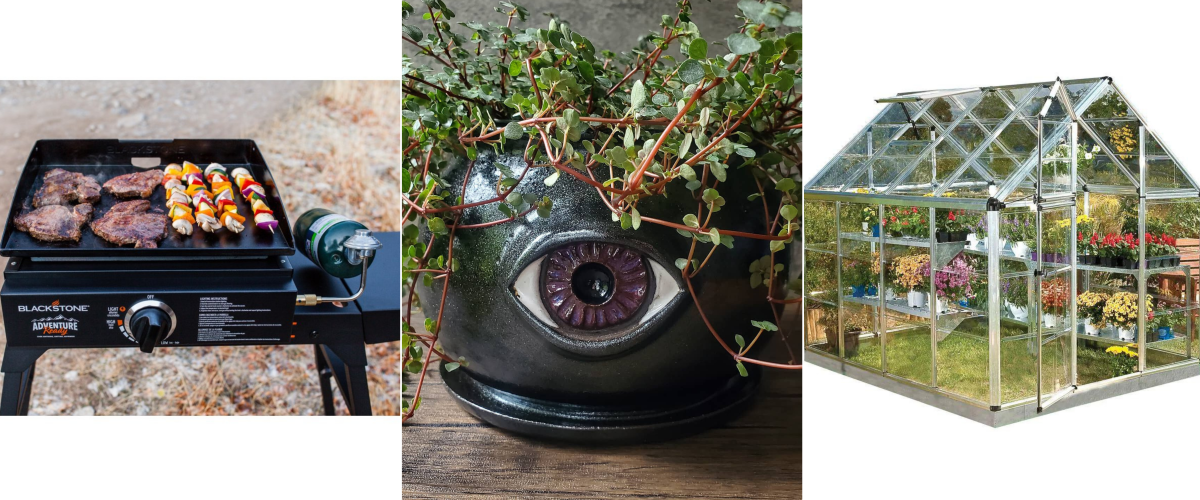 1 / Blackstone Adventure Ready 17" Outdoor Griddle ($84)
2 / 6" Evil Eye Planter with Drainage ($180)
3 / Palram Snap and Grow Greenhouse ($616.55)
I'd like to say I'm also "adventure ready" — and maybe I am, but do you know what this is really for? That's right. Cooking outside when it's too hot to turn on the stove inside my kitchen. But also: cooking anywhere, cooking in the woods, cooking with friends, cooking while on adventures! Also, so, I really want an herb wall because it's space-efficient. However, I know that for anything I can find in the range of pre-made herb walls, if I showed it to my girlfriend, Sadie, she would say "We can build that." And she would be right! What I canNOT do, however, is create gorgeous and slightly sinister hand-thrown ceramic planters. I would like 13 of these, please, so that I can deflect any ill will while surrounding myself with tiny herb and flower babies all winter. Finally, also in preparation for winter (while it is July), while I would really love to make a greenhouse out of reclaimed windows, I am also not made of time. So, in this spendy fantasy, I'd go for an easy-to-assemble greenhouse. I just want to stand in it in fall weather and inhale the scent of tomato plants having an extended season. That seems nice.
Rachel, Managing Editor
1 / Vintage Hairpin Leg Card Catalogue Side Tables ($1,850)
2 / Azilal Rug ($648
3 / Cast Iron Plant ($79.99)
Most of my design dreams are sort of rooted in the fantasy that I live in a spacious sun-drenched loft with twelve-foot windows and a sexily dilapidated exposed brick wall; I very much do not, and none of these things will fit in my like 600-square-foot apartment, but we can dream. Maybe someday they will fit in like, the lower floor of a duplex with screened-in porch! Either way, we're going for cozy but refined elegance, lots of textures and living plants, tiny tchotchkes on every surface, also plenty of room to lay on the floor.
Valerie Anne, Writer & Social Media Co-Editor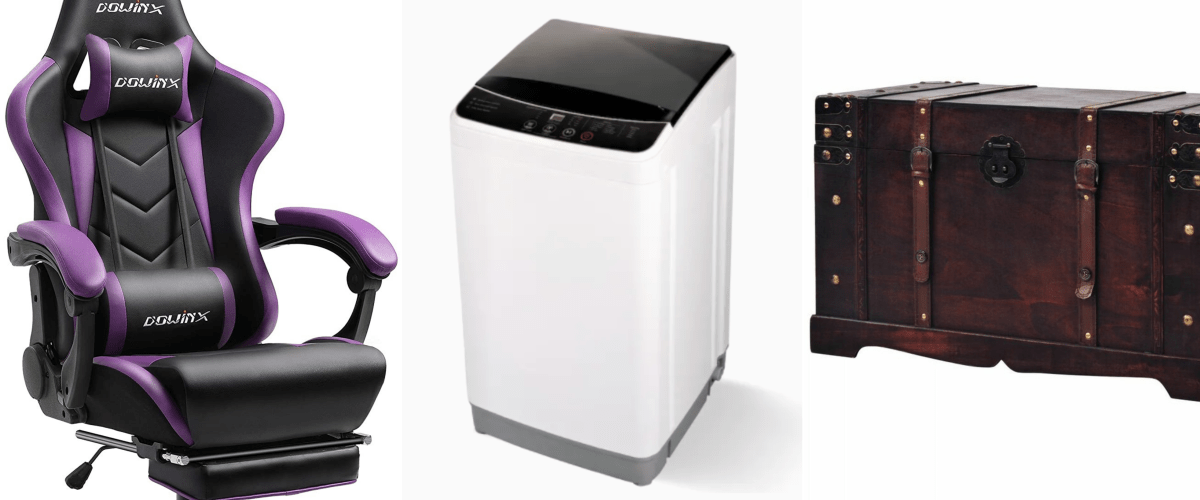 1 / Gaming Chair ($190)
2 / Portable Washing Machine ($408)
3 / Vintage Trunk ($152)
Looking at these three things together makes no sense, but neither do I. One thing I've learned about being an adult and living on my own means my furniture doesn't have to make sense to anyone but me! Also in my defense they are for different rooms. I really want a gaming chair. It wouldn't match my decor in my living room but I play Fortnite with a cute queer squad every Friday night and my couch is juuuust a little too far away to properly spot teen enemies and the dining room chair I sit in is FINE but it could be BETTER if it was PURPLE and also cushy. My bathroom is absolutely not big enough to house a portable washing machine but having to walk up and down three flights of stairs to get to the laundromat makes doing my laundry an even more annoying chore than it would be on its own. And I just need more storage in my bedroom, and what better thing to put my traysures in than a potentially haunted vintage trunk!! Bonus points if it comes with a skeleton key.
Heather Hogan, Senior Writer & TV Team Editor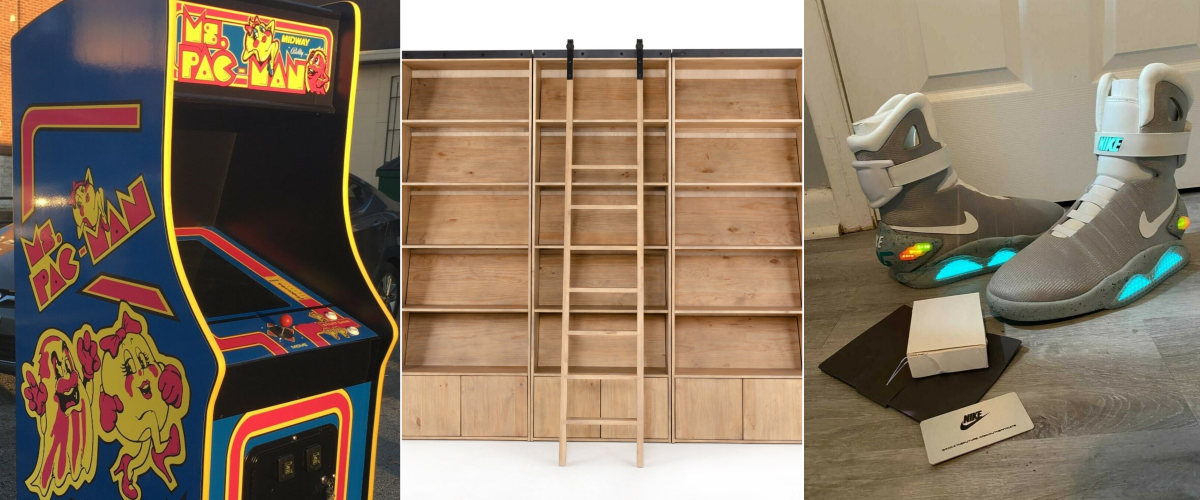 1 / Ms. Pac-Man Arcade Cabinet ($1,780)
2 / Library Bookcase With Ladder ($5,800)
3 / Nike Air Mag — Back to the Future ($650)
I wouldn't say that I have a "design aesthetic" as much as I have an "idea of perfect happiness curated from the design choices of my favorite childhood movie characters." Luckily for me, my wife is fully on board with this because her personal design aesthetic is "cool stuff I like." When people come to our house, no one ever says, like, "What a cohesive modern industrial style you have!" Instead they're like, "Wow, your house is so you." And it is. Full of soft things in the colors we've each loved most since childhood, the toys and treasures neither of us could ever afford growing up, and endless homages to our favorite movies, books, TV shows, video games — and also our cats. And so that's why, for this fantasy design situation, I have chosen: Ms. Pac-Man, my all-time most played arcade cabinet game, something I have wanted in my home since I saw Tom Hanks' Big; a set of bookcases with a built in ladder to start building out my own Beauty and the Beast-style library; and a pair of Nike Air Mag self-lacing sneakers like what Marty McFly wore in Back to the Future II, and which I would display on my Beauty and the Beast laddered bookshelf in a glass case, as I would with all my other priceless collectibles, such as my childhood teddy bear, Teddy Hogan. (I would, however, need easy access to remove Teddy in case of bad dreams, hard times, etc.)
---
Before you go!
It takes funding to keep this publication by and for queer women and trans people of all genders running every day. And A+ members keep the majority of our site free for everyone.
Still, 99.9% of our readers are not members.
A+ membership starts at just $4/month.
If you're able to, will you join A+ and keep Autostraddle here and working for everyone?
Join A+