Ali's Team Pick:
Not all emergencies require evacuation. Some just require compliments. With Emergency Compliment, you can get some really sweet, really funny ones for just such an situation. Simply visit the website and bam, you've got your compliment. If you still feel crappy, just click the button that says you still feel crappy and the website will continue to barrage you with the most unique compliments you've ever received. Basically, this website is like liquid self-esteem comedy elixir that you can figuratively drink and feel better.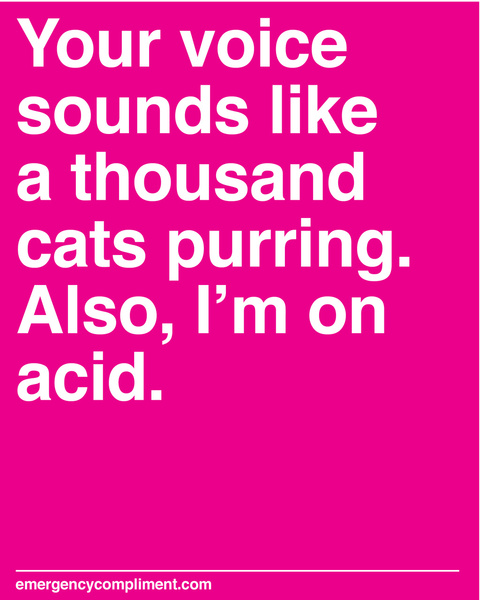 And the best part? If you want to share this compliment with another human or if you just need a friendly reminder above your desk, you can buy a print (or a framed one! Or a stretched canvas one!) Just click the "Thanks! I feel better!" button to get to the one that made you smile. Like for instance, I really want to buy my girlfriend this one. Because it's true.
Actually, I have so many favorites and the regular prints are so cost effective that I'm thinking, because all the department stores have told me it's Christmas in October and I have to be thinking about these things before Thanksgiving is even planned, that I might just do my entire Holiday season in bold, stylish typography and silly, whimsical words. That and, of course, Autostraddle gear. Who's with me?