Welcome to Soggy Bottoms, where, lacking a tent in the British countryside, Autostraddle writers attempt to bake things inspired by The Great British Bake Off in their own homes, to varying degrees of success.
---
Have you seen The Great British Bake Off? If you haven't, you're missing a reality show that manages to be entirely dignified, while simultaneously packing in a lot of dry British gender-nonspecific sexual innuendo. But my favorite thing about The Great British Bake Off is that it has inspired me to start baking!
However, in this baking endeavor, I have discovered that, while anyone can bake a thing, mastering all the components that add up to produce a good-quality baked good is a refined craft that is much easier said than done. Maybe it looks good, sure, but is it cooked all the way through? It might taste good, but if the bottom is soggy, a kind-but-honest elderly British woman might shake her head at you with the kind of disappointment that makes you feel ashamed of yourself.
So today, I'm going to tell you all about my attempts to bake English muffins, inspired by a Bake Off technical challenge set by judge Paul Hollywood. While English muffins are pretty much guaranteed to not have a soggy bottom, there are still plenty of opportunities to go wrong.
Who bakes English muffins? Don't they just come out of the pack with all their nooks and crannies, ready to lay the foundations for tasty meals like egg sandwiches and English muffin pizzas?
Turns out, there's a reason no one bakes them: they're hard to bake! Six weeks and about ten batches after my initial muffin-making attempt, I have developed a reasonably passable English muffin recipe that would probably land somewhere around the middle of the pack in an early-season GBBO technical challenge. Read on for that recipe and some of the lessons I learned about how not to make an English muffin in the process.
First Attempts
My first batch was ok. The dough was really wet and sticky and hard to work with. My roommate came in while I was up to my elbows in dough and laughed at me. But after the dough rose for a few days, I cooked them and they came out looking like English muffins! But in my haste to get away from the super sticky dough, I didn't knead it enough, and so they were lacking the nooks and crannies I'd hoped for.
I was not deterred. I was going to get these guys right.
I'll just do it again and knead it some more, I figured. The second dough came out looking great. I left it to rise. The dough puffed up. I formed them into circles and left them to proof another time. They puffed up more. I put them on the stove, because that's where you cook English muffins. The outsides cooked. The insides were doughy and raw. Turns out they'd puffed up WAY too much. We cut them open and toasted them to dry them out. They were still doughy. We ate them anyway.
The third batch was much the same, but I was determined they would cook through. I resorted to some creative measures:
For batch four, I popped them in the oven at the end to finish cooking through. That worked, but wasn't very satisfying. English muffins are supposed to cook on the stove and only on the stove. I prodded at my muffins in despair, wondering what I needed to do to make them cook all the way through. At this point, I've watched so much GBBO that I always hear Paul Hollywood's critical voice in my ear while I'm baking.
"i just keep poking at the middles and hearing his voice say, "raw"

"

– @madderka, determined to succeed

— laneia (@grrreen) February 11, 2016
@grrreen @madderka "Don't eat that, Mary."

— Heather Hogan (@hhoagie) February 11, 2016
The Paul Hollywood Approach
I decided it was time for a different recipe. So I went to the source: Paul Hollywood's technical challenge recipe.
I stayed away from this initially, because most other muffin recipes had a much longer rise time, and I figured that since I didn't have the time constraint of a technical challenge on GBBO, why impose it on myself to the detriment of the muffins? But a longer rise wasn't having good results, so I decided to give it a shot.
The dough recipe on this one is a lot different than the first: there's an egg involved, and slightly less flour. The dough ended up being a lot sturdier and less sticky.
I made these twice, because the first time I accidentally dumped way too much salt in. The two batches came out roughly the same: they were pretty small, and while they did cook through, they didn't have the nooks or the crannies, and the taste wasn't that interesting.
So I turned back to the depths of the internet, where I found Sheryl's recipe, developed in direct response to the lack of nooks and crannies she'd had with other internet English muffin recipes. They were the best bake of the three internet recipes I tried. The trick with this recipe, Sheryl explains, is to actually leave it proofing long enough to overproof so that a lot of air pockets develop – this is something that you should try to avoid with bread, but with English muffins it's exactly what you want in order to form the nooks and crannies. But Sheryl's recipe had way too much yeast and they ended up tasting sour without the flavor depth of sourdough.
Maddie's English Muffin Recipe
So I went rogue. I took all the components of each recipe that I liked, and I made my own, introducing a new component: bread flour. My first attempts all used all-purpose flour, but bread flour is more glutinous, which means it's more elastic when you knead it, and ultimately makes a sturdier type of structure when it's baked.
Ingredients
1 1/4 cup milk
1 tbsp butter
1 tbsp sugar or honey (I used honey this time, but I'd probably use sugar if I did it again)
1.5 tsp active dry yeast
2 cups strong bread flour
½ tsp salt
semolina (about 2 tbsp)
The Process
Heat the milk on the stove and once it's simmering, mix in the butter and the sugar with a small whisk. Transfer it into a glass bowl or measuring cup and leave it to cool. Once it's lukewarm, put the yeast in and stir it again. Let it sit for 10 minutes or until the yeast bubbles up.
Mix the flour and salt in a glass bowl, and then mix in the yeast and milk mixture using a wooden spoon. When it gets too hard to mix with the spoon, use your clean hands to bring the flour and liquid together into one doughy mass with all the flour incorporated, and then knead it either in the glass bowl or on the counter.
You'll know it's done kneading when it can pass the "windowpane test," which is when you pinch a golf-ball-sized chunk of dough off and pull it apart. If you can see light through the dough without it just breaking, then you know the gluten has developed it enough.
Put the dough in the glass bowl and cover it with a cloth or plastic wrap. Leave it for about eight hours outside the fridge. (If you do this right before you go to bed, it's good timing for making fresh English muffins the next morning.)
The dough will rise…
…and then fall again.
That's the goal: to get it to puff up and then sink back down. If you were making bread, this would be considered "over-proofed," and it would leave your bread with big giant air bubbles. But with English muffins, that's exactly what we want: big giant air bubbles, aka "nooks and crannies."
Then, tip it out — you should be able to hold it in one hand — and GENTLY stretch it into a large flat blob.
Then split it into six pieces. I usually do this with a sharp knife.
Put the two tablespoons of semolina flour in a small bowl you'll be able to dip the raw muffins into.
Shape each of the six pieces into the roundest shape you can. Techniques really vary for this part. Some recipes recommend you cut out circles, but then what are you supposed to do with the extra dough? Others will tell you to roll the dough into round spheres, but then, all the air gets squished out of them. I did my best to shape the six pieces into rounds without squashing them too much.
Then plop each one in the bowl of semolina to get a thin coating on the tops and bottoms. The semolina keeps the muffins from sticking to the pan.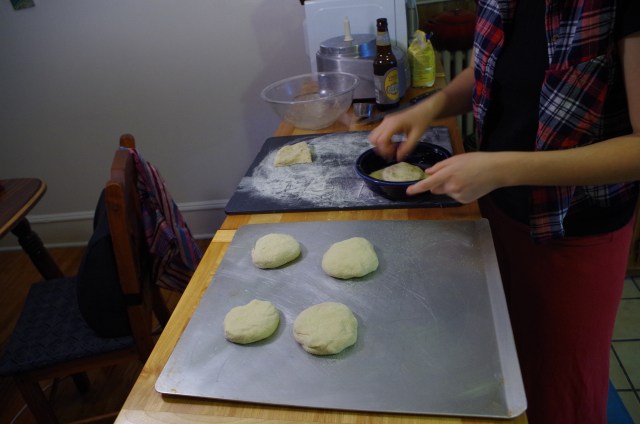 Once they're all shaped and semolina-ed, leave them on a tray for 30-40 minutes to proof again. They'll puff up a little.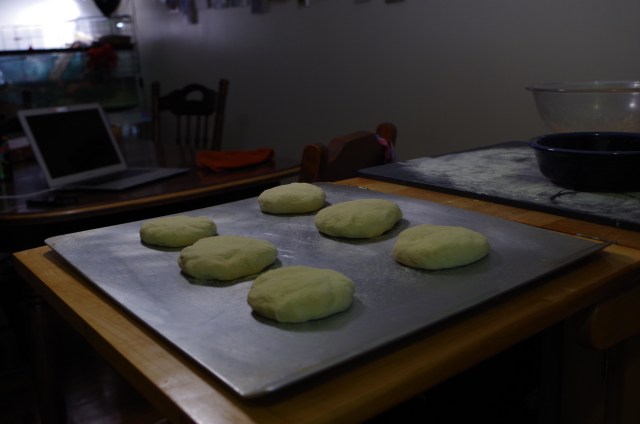 And now, the trickiest part: cooking the muffins.
I highly recommend a cast iron skillet for this. I've never used anything else. I imagine a typical frying pan would work, too, but the following instructions are based on my experience using cast iron on a gas stove. You might need to adjust based on your specifications.
Turn your stove on VERY LOW. Melt a bit of butter into the pan and wipe out any excess beyond a light coating. Once the pan has gotten hot but not extremely hot, place your muffins in (I typically get three at a time in one pan).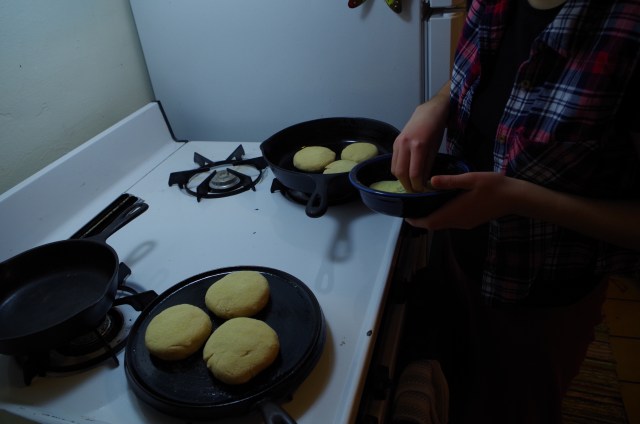 They will cook on the first side anywhere from 10 to 15 minutes. Check them periodically to see if they're cooking unevenly and move them around if necessary for them to get an even bake. DO NOT RUSH THIS PROCESS. If they brown too fast, they'll be raw on the inside and Paul Hollywood will tell you so.
But you also don't want them to burn. So a long slow bake is key. If you actually watch the technical challenge where they make English muffins (episode two of PBS's season two, but the British season five), they'll tell you that if they cook for too long, they'll dry out, but I have yet to encounter dryness as an issue in my desperate attempt to cook them to beyond raw.
Once the muffins are brown on one side, flip them and repeat.
Then take them off and put them on a rack to cool. Let them cool so the middle will be less doughy.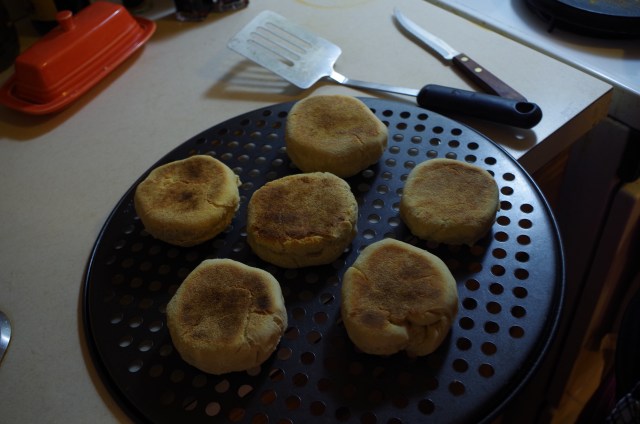 Split them in half and toast them. Then top with whatever you want! The true test is if they will split open with a fork. If they can, and if the edges are "squidgey" as Mary Berry likes, then hooray! You've done it!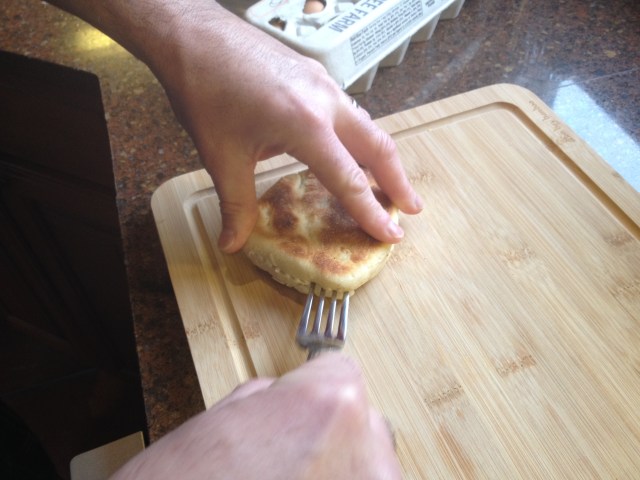 Toast and enjoy with…
…an egg shaped like a creepy bunny…
…a veggie burger…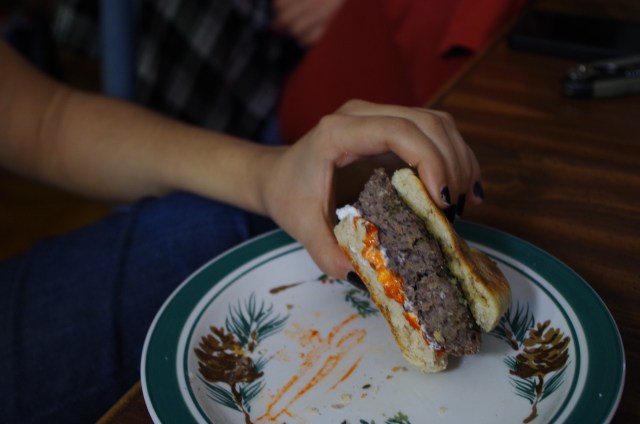 …and maybe your friend's turquoise lipstick will rub off on it.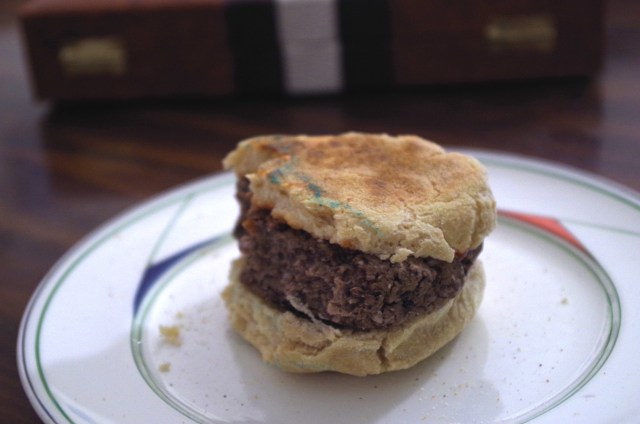 I hope you enjoyed this first installment of Soggy Bottoms!
Special thanks to Hannah Mogul-Adlin for helping with photography!