Every season has a standout, one archetype who becomes the most powerful version of themselves. Take spring for example— buttery pastels and flowing dresses bring out the best in our soft femmes. Or summer, where butches reign supreme in ripped muscle tanks and artful cutoffs. But fall? Fall, my friends, is for Mommis.
Swaddled in cardigans, draped in sweaters, Mommis are at their most powerful when the temperature drops below 70 degrees. They are in your coffee shops, your pumpkin patches, your late summer farmers markets, gathering strength each time a crisp fall breeze blows. In honor of their most powerful season, I have compiled a fall fashion guide that will allow you to usurp some of their power for your own, should you wish to do so!
Classic Mommi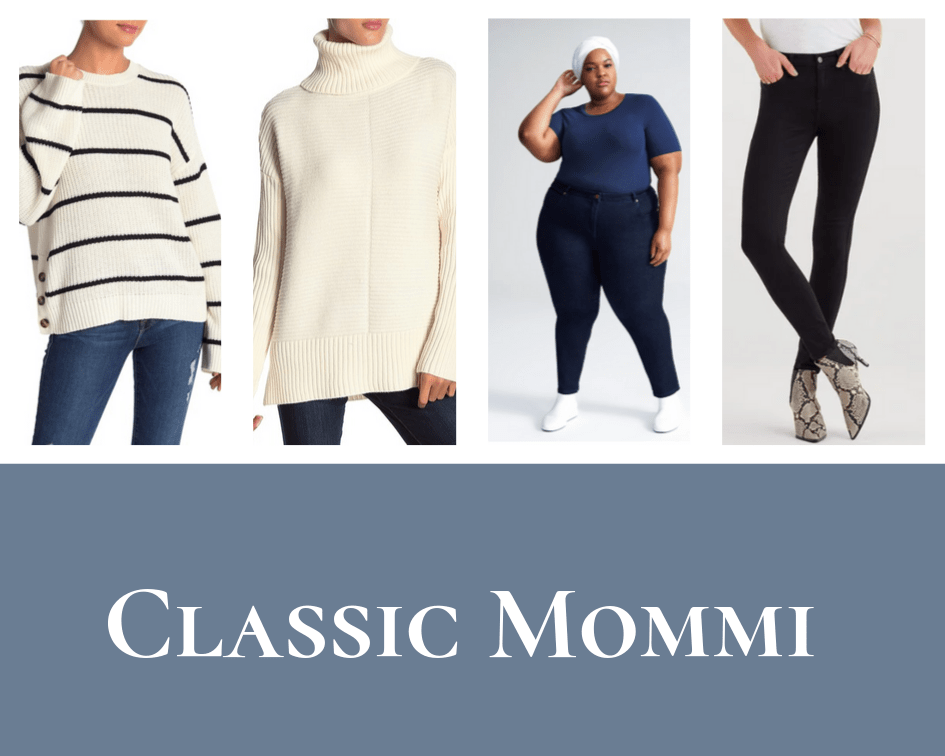 Left to Right: Stripe Knit Sweater, Nordstrom Rack; Rib Knit Sweater, Nordstrom Rack; Seine Mid-Rise Skinny Jeans, Universal Standard; B(air) Denim High Waist Skinny in Black, 7 For All Mankind.
Here are the building blocks, the essential pieces any aspiring Mommi needs in their wardrobe. Classic Mommi is all about two things: black or dark wash denim and sweaters. High rise black skinny jeans with a cream turtleneck? This is an iconic "Mommi standing in a spotless kitchen she certainly did not clean herself" look! Dark jeans with a nautical sweater? This is effortless Mommi — you don't need to look like you own a boat, but you do need to give off the impression that you would be comfortable near one.
Edgy Mommi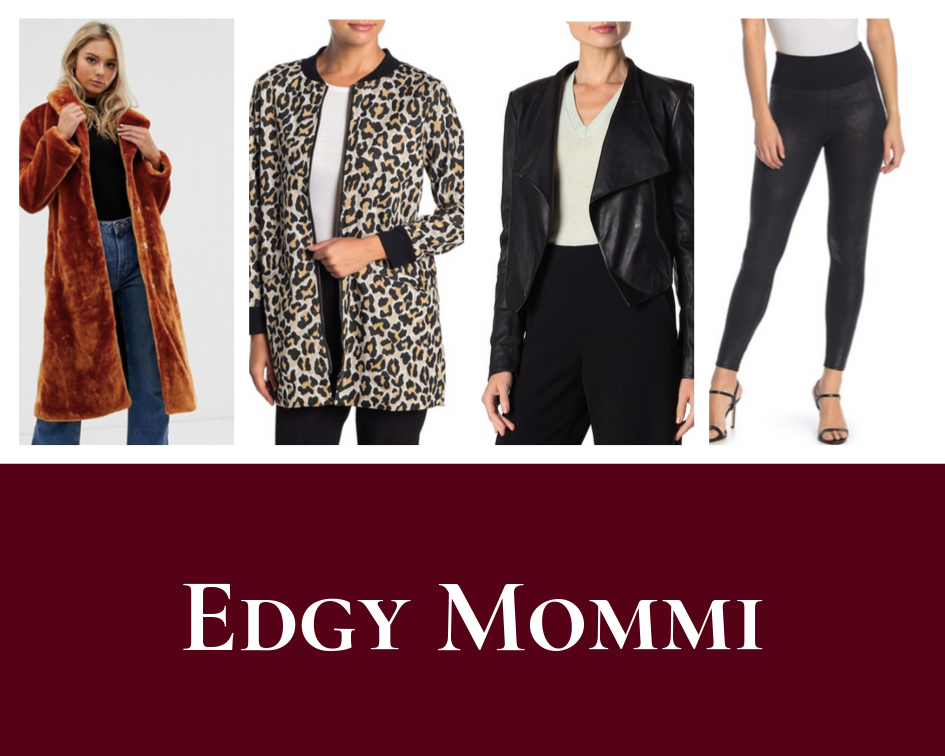 Left to Right: Brave Soul Tasmin Maxi Length Faux Fur Coat, ASOS; City Topper Leopard Print Coat, Nordstrom Rack; Crossover Lamb Leather Jacket, Nordstrom Rack; Faux Leather Panel Leggings, Nordstrom Rack.
The easiest way to level up to Edgy Mommi is by adding three things: leather, fur and prints. You are going for hints of Mob Wife here, you want to make people a little scared of you. Faux leather leggings with a leopard print coat tells even casual passerby that you are in charge of the PTA meeting schedule and everyone knows it. Throw a classic white button down under that faux fur coat and the next lunchtime glass of red is on the house, Mommi!
Power Mommi
Left to Right: ASOS DESIGN Pop Waisted Suit Blazer, ASOS; Fashion Union Double Breasted Hooded Trench Coat, ASOS; Empower Wildflower Tux Blazer, Wildfang; Socialite Paperbag Trousers, Nordstrom Rack
Power Mommi is, above all else, busy. She has time for exactly three things: dynamic, colorful blazers, trench coats and kneecapping smug executives who think they've got her beat. Let her ruthless corporate ways inspire you in the form of this stunning bright pink blazer. (Bonus points for going shirtless underneath!) Pick up this classic trench, thoughtfully tuck a sheaf of papers in your inside pocket and you'll be on your way to that corner office in no time!
Androgynous Mommi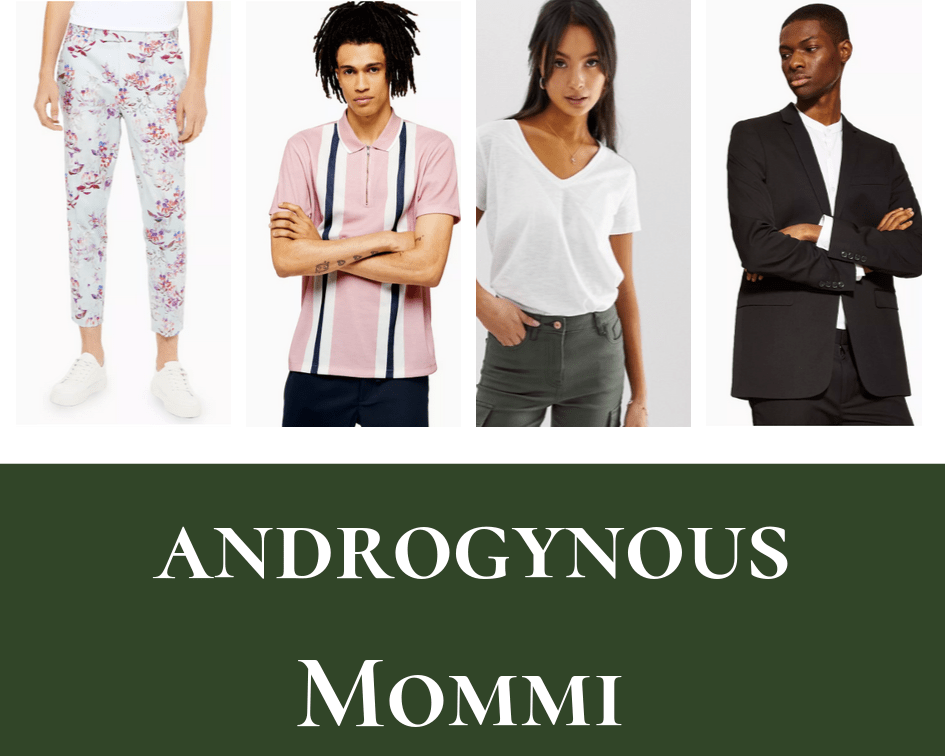 Left to Right: Floral Print Skinny Fit Suit Pants,Topman; Pink Pique Bowling Polo,Topman; New Look Organic V-Neck Tee, ASOS; Black Slim Fit Single Breasted Blazer With Notch Lapels,Topman.
While it is true that Mommis are often more femme, there is a wide world of Mommi-adjacent fashion for those who aren't partial to super femme looks. Swap out the skintight jeans for a slim-cut, floral pants, a classic white t-shirt and you are in business! Blazers are among the most Mommi clothing items on Earth, so opt for a traditionally cut single breasted one here. Remember, Mommi is state of mind!
Lounge Mommi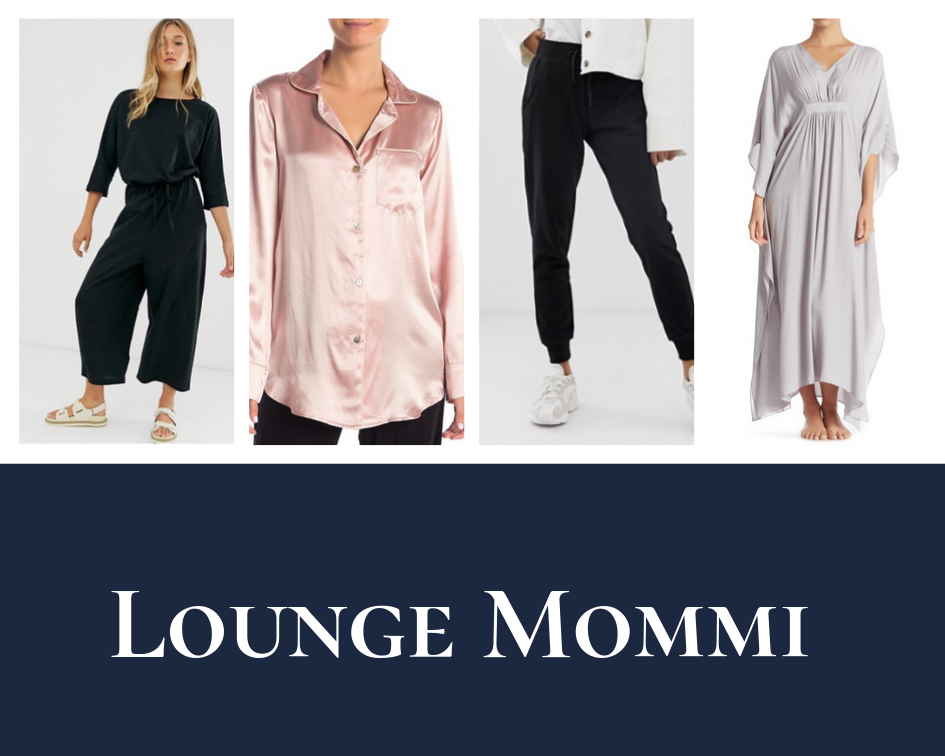 Left to Right: ASOS Design Tie Waist Jumpsuit, ASOS; Commando Silk Pajama Shirt, Nordstrom Rack; New Look Tapered Leg Sweatpants, ASOS; Natori Joy Caftan, Nordstrom Rack.
All Mommis, whether they be edgy, andro or classic have one thing in common: a deep, powerful love of loungewear. Want to run some errands while remaining as comfortable as possible? Grab this jumpsuit — or if getting fully nude to pee at the farmers market doesn't appeal, perhaps these lightweight joggers? A classic silk Pajama shirt is so canonically Mommi I feel like it doesn't need further explanation? Nor does the caftan, frankly. Mommis value luxe comfort above all else.
Of course, there are many, many ways to Mommify your wardrobe — I have only just scratched the surface! Do feel free to share some of your additional favorites in the comments! Happy Mommi Season to us all.