While I am loathe to intervene of the turf so accurately depicted in the Emmy nominated, critically lauded 'The Real L World', the time has come for Autostraddle to throw their proverbial hat into the sex column ring. Because it's really hard to find true stories by actual lesbians about lesbian sex on these here internets. So now I present "Sleeping Around": a new column documenting my sexual conquests, emotional bitch-slaps, carnal fumbles, and relationship follies. Please note I will be using the terms 'dating' and 'relationship' very loosely. Obvs all names are changed for protection — mine mostly, but also those I encounter.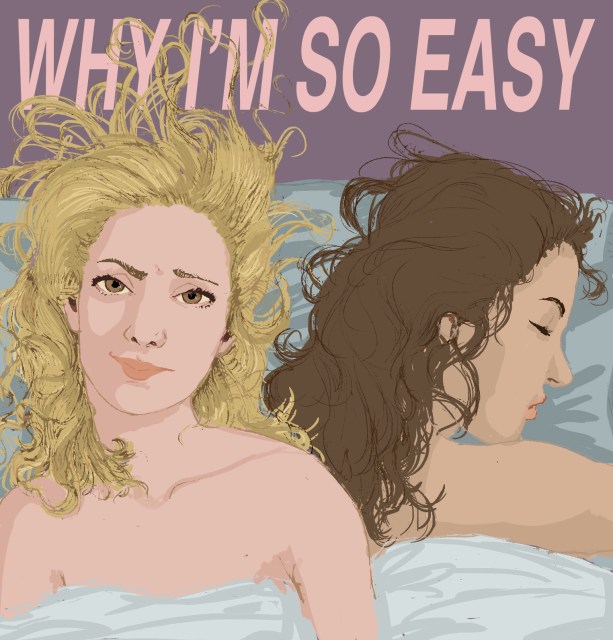 Column 1: WHY I'M SO EASY
On Monday my loud, bisexual, makeup artist friend Georgia invited me to the closing night of Spotlight — LA's oldest gay bar, a charming dive being elbowed out by rising rents in an increasingly yuppified area of Hollywood. First things first: I make my way to the bar, order a G&T, and plaintively ask the bartender if he has any peanuts. Rent's due and I'm skint, so I am experimenting with cutting way down on nonessentials, such as food. He kinda rustles up a bowl of pita chips, and I rabidly dig in while pretending to listen to small talk around me and trying not to look too much like a feral child.
After a while one of the darkly clothed twenty-somethings buys me a drink, and we commence chitchat/vague impressions of possible interest that are impossible to diagnose. She's 28 and a reality TV producer for one of the cable networks, specializing in sort of bro-ish gross/freak out type shows. She's attractive, if not pretty — blue eyes, blonde hair (with noticeable roots), and a bit more zaftig than I usually prefer but very nice boobs. Personality and intelligence-wise she's far above average — witty, dark sense of humor, and confident but not arrogant. As the evening continues she seems interested but slightly aloof, sort of like an attractive bro flanked by approval seeking sorority pledges at their first mixer. I don't particularly care and in fact enjoy the presence of an occasional intelligent bro, as long as they are isolated from the pack. After several rounds of whiskey and a late night snack we head back to her Los Feliz house to have drinks. Obvs.
We both know the drill and after a brief game of strip drinking game poker (I'm always changing the rules to this but it pretty much involves drinking if you win, drinking more if you lose, and telling girls to take off various items of clothing.) hook up on her couch then bed. Layla is unfortunately on her period but seems very interested in demonstrating her finger dexterity. It is impressive, and results include two very nice orgasms. This is a pleasant surprise because usually it takes more than just hands for me, and I happily snuggle into sleep, making a mental note to ask for tips if we ever hook up again.
The next morning my terrible, unspeakably miserable hook-up body alarm goes off at 6:30. Jesus. It is a God-awful evolutionary occurrence left over from college: whenever I sleep out, the alarm unfailingly goes off between 5-8 am, and I awake ready, energized and ready to peace. Usually I'll just say bye and go, but she drove. Ughh. As my body wriggles into consciousness Layla pulls me closer and briefly wakes up to give me one more fuck before falling back to sleep. "Well that's nice," I think to myself "but what am I supposed to do now?" Trapped until she awakes, I sneak out to do a quick morning after fix up in the bathroom, grab a magazine from the living room, and try not to turn the pages too loudly.
We go to brunch. She is deeply hungover and I am obnoxiously perky (another side affect of the devil's alarm) and when she drops me off I contemplate a goodbye kiss but instead just smile, say "Bye dude, thanks for the ride", and briskly walk into my building.
Layla isn't the only dyke who can channel bro.
Epilogue: A week after our night of summer lovin', I glance at my phone, pause, then punch 'delete'. We exchanged a few texts, but never met up- she didn't go out on the nights I did, and neither of us asked to see each other again. As someone who loved "He's Just Not That Into You" too much (I respond well to brutality) if someone doesn't show effort, I don't show interest. As the invisible link between Layla and I vanishes, I can't help but feel a pang of… regret? Not precisely. Lost lust? No, not really. It's a sliver of lonenliness that punches little holes in my gut. Layla was funny and refreshingly original, and I wouln't have minded a friend like that. One of the most confusing things about being a lesbian is navigating relationships with other gay women: are we best suited to be friends or fuckbuddies or forever after? How the hell am I supposed to know what to do (or not to do) with someone I just met? All the time we're told by our mothers/shrinks/friends the conventional wisdom of relationships: strong relationships are built from a foundation of friendship.
But is it possible to build a meaningful friendship from a sexual relationship? If so, how is it done?
Original illustration for Autostraddle.com provided by and copyright Michelle Mishka Colombo 2011