I've been reading and re-reading this little bit of "journalism" from The Irish Independent and honestly I don't even know where to begin with this thing. Entitled "Loud and Proud Gays Want to Take Over Rest of Society" (i mean, yeah, duh), this question posits the challenge that "increasingly, it seems as if the homosexual community has forgotten that it is the minority." Right, of course, because we're Just That Stupid.
Eamon Delaney, a 49-year-old Irish Journalist, immediately tells us that he used to live in New York's West Village where he enjoyed "their nightlife and cultural atmosphere." He in fact claims some of his best friends are gay. (I suspect that has changed within the last few hours since this piece was published.) However, he's "recently begun to get impatient with the endless trumpeting of gay 'identity', and the growing appetite for more and more rights and privileges."
Ah yes. Our growing appetite for more rights and privileges! I've kindly made an image to represent this appetite, since he didn't include any in his article.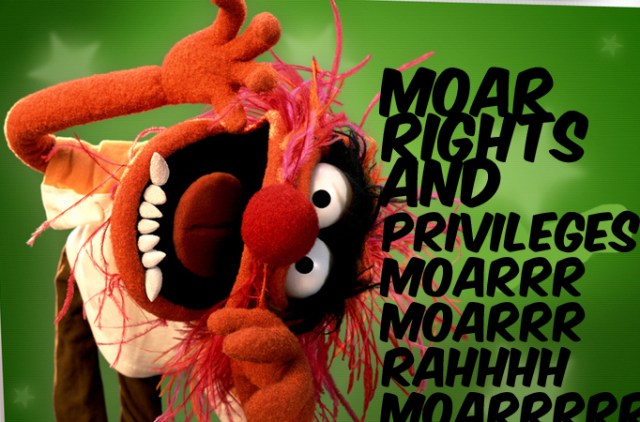 Other highlights from the piece:
+ "…it seems as if the tables have turned and a minority community — the gays — want to increasingly change mainstream culture to suit them."
+ "…why is civil partnership not enough, and why do gays also want marriage, a surely traditional heterosexual facility, which gays used to see as patriarchal, and 'straight'?"
+ "Many gays want to have it both ways. Thus gay magazines are full of ads endorsing late-night gyms, sex lines and a freewheeling sexual activity which would be dismissed as sleazy in heterosexual culture. But we also have articles that suggest a yearning for bourgeois respectability."
+ "It makes many of us uneasy and impatient with the idea that raising a child with homosexual parents is totally equivalent to a child being raised by its natural heterosexual parents. It patently is not, and it is a crazy concession to PC culture to say that it is."
+ "Bisexual? Isn't that reminiscent of the loose Seventies sexual experimentation? How many bisexuals are there? And will the plain people of Ireland be happy with legalising rights for, and spending money on, all of this?"
Firstly, I love that he's basing his entire understanding of homosexuality seemingly on his experiences clubbing in the Gayborhood in Manhattan. What's he reading gay magazines and gay travel guides for if it upsets him so much, eh?
Secondly, this is so wrong on so many levels that I can hardly believe it was published, and I don't know where to begin besides to tell you it exists.
FYI, Ireland decriminalized same-sex sexual activity in 1993. Ireland does not allow same-sex marriage, but in 2010 the House of Representatives and the Senate passed the "Civil Partnership and Certain Rights and Obligations of Cohabitants Act 2010," which recognizes civil partnerships between same-sex couples.  As of 2008, 84% of Irish people supported civil marriage or civil partnerships for same-sex couples and 58% supported full marriage rights in registry offices — more than the United States.
A breakdown of Ireland's gay rights issues from Wikipedia: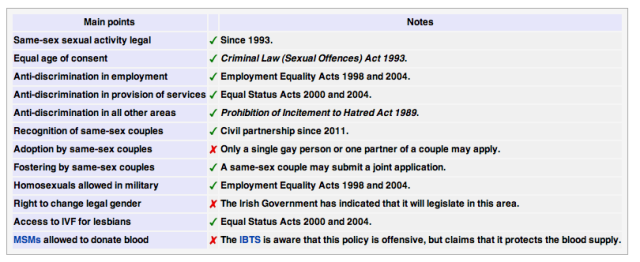 We'd love to hear how you feel about this, especially if you live in Ireland!