Laneia: What's your favorite weather?
Kirya: I like it hot.
Rhiannon: I actually really do like the fog in San Francisco. It's just moody, and foggy weather can be an excuse to stay in and write: Well, it's not sunny out, I better stay in and write a novel!
[Everyone laughs]
Kirya: Foggy weather just reminds me of middle school when I just wanted to slit my wrists.
[Unexplainable laughter from everyone ???]
Laneia: Awww, that's terrible!
Rhiannon: That's terrible!
Kirya: [laughing] It's true, though!
Rhiannon: I like the fog! Everyone hates the wind, too, and I like the wind. I'm weird!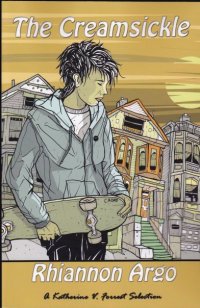 Laneia: Is your book, "The Creamsickle" part memoir? Or like…?
Rhiannon: I think when writing fiction you're always going to draw from personal experience, but when I wrote it, I was creating characters. The main character, to me, is a character. I identify with things about her, but it definitely isn't me.
Laneia: Ok, I guess that's — wait! Can I ask you one more question.. ? … are you freezing?
Kirya: No! Yeah! [She's answering my questions in reverse here. Don't worry.]
Laneia: Has there been a moment on the tour — well it's only been a week! [to Rhiannon] Did you go to Europe?
Rhiannon: Yeah.
Laneia: Well have you had a moment where — I guess in life, at all — where you think, "This is why I do this. This is why I'm writing. This is why I'm getting out there and talking to people."
Rhiannon: I have that every show!
Laneia: That's awesome!
Rhiannon: It just takes one person coming up to say, "I've never heard something like that before," like, "I live in a small town." Especially in Europe. Wow.
Laneia: Really?
Rhiannon: They've never heard stuff like this before, and if they're really young, this is gonna stay with them for a long time. Maybe they're gonna write, you know?
Kirya: I love performing. I felt really shitty today, really hungover.
Laneia: You did great!
Kirya: When I get on stage, something happens where a purpose takes over and you can feel, "this is what I'm meant to be doing." I feel better on stage than anywhere else. But it's also definitely about connecting with the audience. I have a piece about body hair–
Laneia: I watched it on your myspace. Fucking amazing. I loved it.
Kirya: Oh. Really? I usually do that piece when I'm not so hungover. [laughs]
Laneia: I was really hoping you were gonna do that one!
Kirya: Aw. How awesome! Well, at U of A there was another black femme with facial hair. It was just really cool to be like, "My sister!" [laughs]
Laneia: Yeah, like that moment.
Kirya: Yeah!
Laneia: I actually watched a lot of videos on your MySpace! I hadn't read anything by either of you, so.
Rhiannon: I hate when you go to interviews and the people don't even research.
Laneia: Are you kidding me? I had three interns on that sh*t!
[everyone laughs]
Laneia: I didn't even know about this happening until Saturday.
Kirya: Oh wow!
Laneia: Yeah, and I was like, "I'm going. I'm doing an interview."
Kirya: So is your website like local, or?
Laneia: No, it's um, the girls that do… like the main team, is in New York.
Kirya: Ooooh.
Laneia: And then some of us are spread out all over. And I'm one of those.
Kirya: Cool. What's the name again?
Laneia: Autostraddle dot com. Here, I can give you a carrrd. [gives card. so fresh, so clean.]
Them: Yeah!
Laneia: One of our main themes is that sh*t doesn't have to be totally gay to be gay. And seeing yourself represented in the media, but in a positive way. Not like, the psycho lesbian killing her roommate or whatever.
Rhiannon: That's why me and my friend did The Popsicle Project. It was wintertime, and we were like, "I want a website where I can go and look at hot queers!" So we were like, "Let's take a bunch of pictures, and some other person in the wintertime, when they're sad, and want to see some queers in the sunshine, looking cute–"
Kirya: I didn't know that!
Rhiannon: Yeah!
Kirya: When you were asking me about the reading list, for me I was thinking, I love when a book is not a queer book, but it's IN THERE. Like "The Color Purple." And I've discovered a lot of poets as an adult where you'll stop in the middle of the book and ask, "Oh, she's a lesbian?"
Laneia: My mom still, up until two years ago, didn't realize that "Fried Green Tomatoes" was about–
Kirya: Oh! It's SO GAY!
Laneia: –a lesbian! Right! And my mom's like, "How do you know that, Laneia?" And I'm like, "Mother! She's totally GAY!"
— Next Page–
Laneia Interviews Michelle Tea
"I think that there were a lot of people
who carried a lot of trauma from being queer,
so it was a real act of bravery to go out and to do this."
Pages: 1 2 3 4See entire article on one page