Sister Spit: The Interviews
Laneia: Why are you doing Sister Spit? Why are you here?
Tour Manager & Total Hottie, Beth: It's part of my job, so I'll let you…
Ariel Schrag: Well it just sounded super fun to me. I actually had the same reason [Michelle Tea] had, which is that I was always jealous of people in bands.
Laneia: So the adventure, then?
Ariel: Yeah, I wanted to be able to do the whole tour thing. It sounded really fun. And it's lived up to all of my expectations.
Laneia: What are you guys listening to in The Van?
Ariel: Everyone's iPods!
Beth: Yes, and I'm so tired of mine!
Ariel: When we're rolling into a town, we like to put on a song about that town.
Beth: We listened to Viva Las Vegas on the way into Vegas.
Ariel: When we went into LA, we listened to "California Love."
Kirya Traber: Well, I wanted to do Sister Spit definitely for the adventure, but very realistically for the career opportunities. As an artist, I perform a lot in the Bay Area. There's a strong community there, which is great, but I'm curious about the reception I'll get across the country and whether I can make this a viable career for a long time. And a lot of that has to do with spoken-word touring and sharing your work and selling your work.
Laneia: And how has that been for you so far?
Kirya: Great! It's only been a week, and it's been great! I feel really good about it.
Rhiannon Argo: I'm on Sister Spit to tour my new book "The Creamsickle." The Sister Spit of the 90s inspired me and influenced my writing, so my work definitely fits into the Sister Spit aesthetic. And like Kirya said, I love to get outside of my San Francisco bubble and reach new, different people.
Laneia: Yeah, it's impossible to find anybody's books here [in Phoenix]. Like, I went to independent booksellers & some major booksellers. Not there. At all. And I have some [books], but in preparation for seeing everybody, and I was so excited, I was like, "I'm totally gonna go get Beth Lisick! — something. Right? Nothing's here!"
Kirya: Uggh, yeah.
Rhiannon: Especially my book! It's a small press so it won't come into the bookstore unless a little queer kid comes in and asks them to order it.
Laneia: Specifically, right.
Rhiannon: And then wait a month.
Laneia: So how do you get yourself out there for the little queer kid who doesn't have anything else?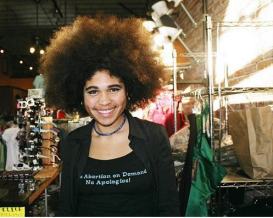 Kirya: Well, like what Rhiannon said about being inspired by Sister Spit in the 90's — see, I didn't know of Sister Spit until recently, but a lot of my friends found out about queer culture via Sister Spit and via Michelle Tea, who's one of the most published queer women authors in the world. It's generated a sort of "underground" movement. Folks from across the country can be united by, "Oh yeah, I've heard of Sister Spit," which creates buzz. That's the kind of model we're all hoping to build on.
Laneia: What kind of books would you recommend as "required reading" to young queer girls?
Rhiannon: Because there are so many different types of queers & lesbians & personal identifications, it's really great to read lit from a queer person or lesbian who doesn't necessarily live how you live. Like reading a book by a transgendered author.
Laneia: Yeah, that's a really good idea.
Rhiannon: Like, having the whole canon.
Kirya: I say, there's no bad thing to read. I didn't really get a lot of direction and I didn't have queer mentors, so all I had were the classics like "Rubyfruit Jungle" and "The Color Purple." [laughs]
Rhiannon: I read all those books, too.
Kirya: I think what's important for a young person to know is that there are modern, young people who write.
Laneia: EXACTLY.
Rhiannon: YEAH.
Kirya: So, seek it out, you know? The Internet is an amazing resource these days. And I'm not published, I just have my chapbook that my mom and I made together.
Rhiannon: [totally unsarcastically] That's so sweet.
Kirya: There's other forms of literary & artistic stuff aside from published books. There's a lot of spoken word with queer content on YouTube, and there's some visual artists doing awesome things including websites. It's important that people constantly see themselves as the bearers of queer culture and that they get together with their community, make a community out of nothing and try to do something.
Laneia: [interrupts a lot and says things like I COULDN'T AGREE MORE YES YES]
— Next Page–
More With Kirya & Rhiannon
"It was wintertime, and we were like,
"I want a website where I can go and look at hot queers!""
Pages: 1 2 3 4See entire article on one page