This post was written by Valerie Anne, Meg Jones Wall, and Heather Hogan. Huge major enormous spoilers for the entire season below. 
---
Heather: So, She-Ra and the Princesses of Power season five was a literally perfect season of television. It was an ending befitting an epic film saga! Every character continued to grow and each of them had their own resolution! It was funny and empowering and sweet and GAAAAAY. Let's put a pin in Catra and Adora's relationship for a second and talk about the other things that really worked for you in these last 13 episodes.
Which character's stories and relationships really jumped out at you as something special this season?
Meg: I really loved watching Glimmer's growth in this season, especially after the ways that things were left between her, Bow, and Adora at the end of season four. She apologized sincerely, but she also held a lot of space for Bow to work through his anger, to feel his feelings and process what he needed from the relationship moving forward. Glimmer demonstrated real patience through this, not pushing him to forgive her immediately but instead recognizing the ways that she had hurt him, and his justifiable anger. And especially compared to how she handled disagreements in earlier seasons, this felt like an incredible shift in maturity, a real demonstration of all that she's learned throughout the arc of this show.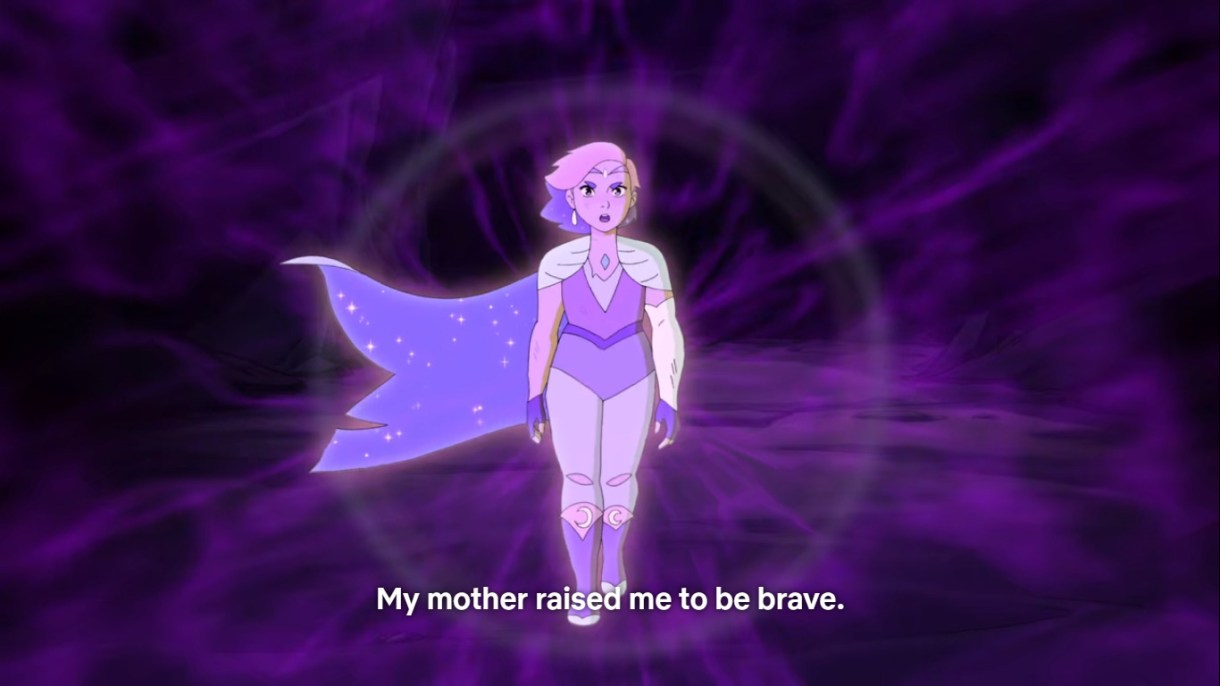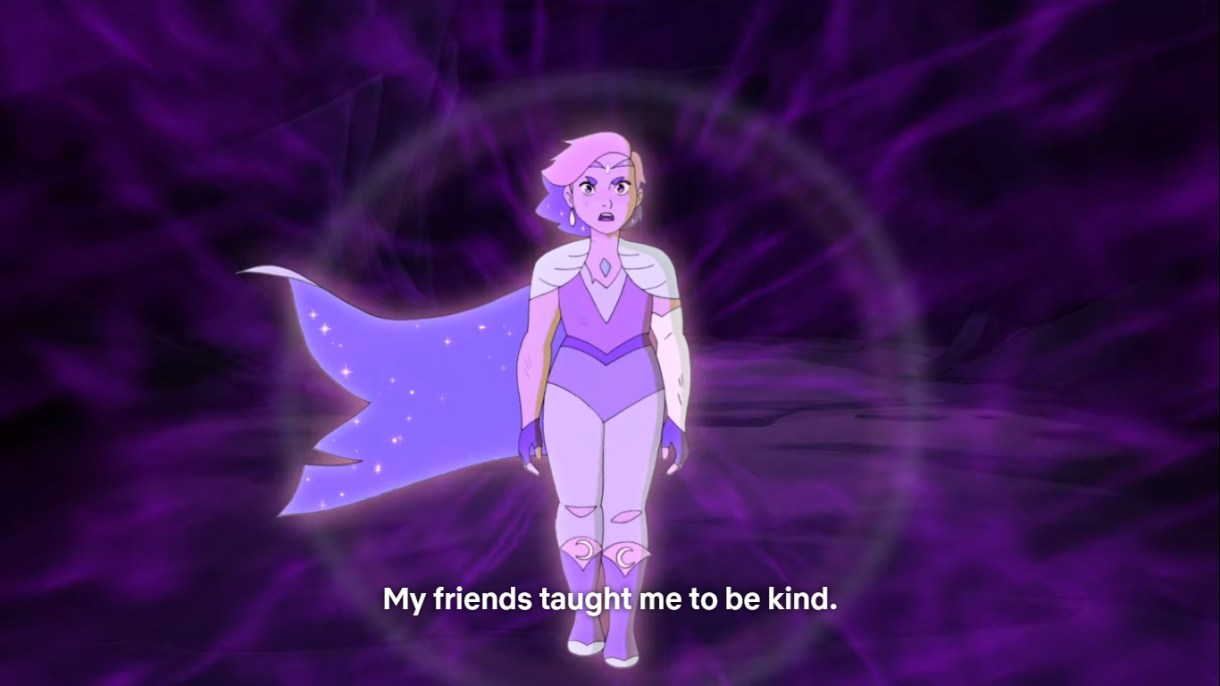 Valerie Anne: I honestly felt more of a connection to Perfuma this season than I ever have before. I always low-key worried, despite wanting to be an Adora, that I was totally a Perfuma (nervous hippie optimist), but this season I finally accepted that it's totally fine to be a Perfuma. She has one of my favorite convictions, which is that hope is not a weakness. Optimism isn't always easy, and in fact often requires more strength than it seems. Her being the friend that Scorpia has always needed – and deserved! – brought me so much unexpected joy.
Heather: I agree with both of these things! Glimmer and Perfuma showed so much maturity this season! I really loved that Scorpia's arc, which got so much brilliant exploration last season, had a little more growth and self-realization and a sultry — and hilarious! — solo performance that culminated in her accepting how powerful and worthy she is. I thought it was perfect that she was their biggest foe when she was chipped because she is SUCH a force, and I loved that she didn't change for anyone. Once a hugger, always a hugger!
---
Heather: It could get lost in a larger conversation, but I want to point out that there were some hilarious moments and recurring gags this season. Wrong Hordak winking, Noelle Stevenson's trademark doodles in Netossa's book of everyone's weaknesses, also just Netossa's assessment of everyone's weaknesses. Particularly, I loved Glimmer: "That's pretty personal compared to FIRE." What made you laugh?
Valerie Anne: Oh my god, when Catra was like, "You don't know my weakness" all confident and slick and then Netossa took her down with a SPRAY BOTTLE. I cackled like a buffoon. The very name "Wrong Hordak" got me every time. Catra sitting on Adora's lap when she was trying to focus felt like something out of fanfic, it was so perfectly, adorably hilarious. And I loved every time Glimmer and Bow were like "yeah no you're part of the Best Friend Squad" much to Catra's feigned chagrin. Also BOW'S SPACESUIT HAVING AN AB WINDOW. I laughed EVERY TIME. And basically all of Bow and Entrapta's "please please please" "no" "PLEASE" "ugh FINE" interactions.
Meg: Netossa was INCREDIBLE. I loved literally everything she did and said. What a treasure.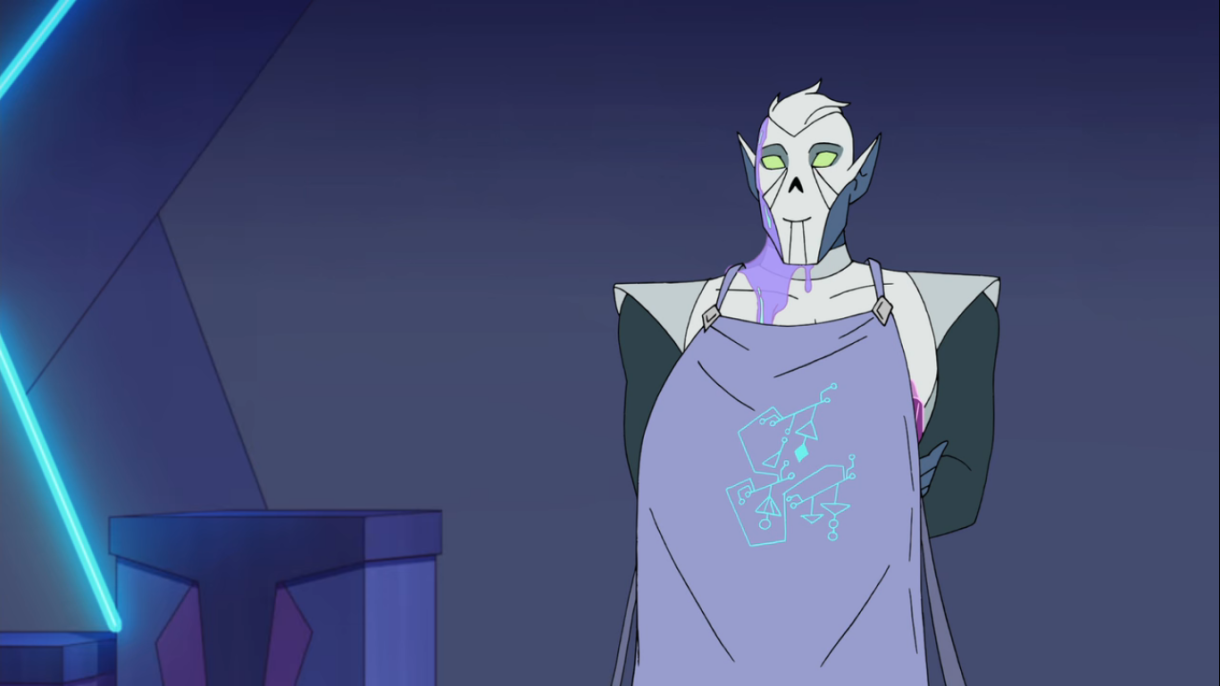 Heather: I also loved how all of Catra's outfit changes, even her villager cloak, had cat ears. And I loved how angry she got every time Bow couldn't stop talking about how adorable she is once she stopped fighting them. And "Why did I get the water princess???"
Meg: Those outfits! So many good looks this season! I really loved Wrong Hordak, and the ways that he brought out Entrapta's most charming self. Entrapta has been through a lot throughout the course of this show, and it was nice to see her learning to understand how to work alongside her friends, to express her needs as well as her feelings, and to see the rest of the princesses start to understand her for who she really is. Also I loved the fancy underwater party episode, and the callback to Mermista's noir detective murder mystery episode earlier in the show.
Heather: "Wrong Hordak" is just so fucking funny. The gag never got old!
---
Heather: When, exactly, would you say you started crying and didn't stop? Around what episode?
Meg: I'm not a person that cries very often, to be honest — it's never been how I respond to strong emotions. But when Catra apologized in episode three, I had tears streaming down my face, and it seemed like every major milestone she hit had me crying again. Catra has been incredibly important to me, and watching her discover hope, slowly open herself to softness and vulnerability and real love, affected me deeply. By the time she confessed her feelings for Adora, I was crying so hard I had to pause the show so that I wouldn't miss anything, which has never happened to me before!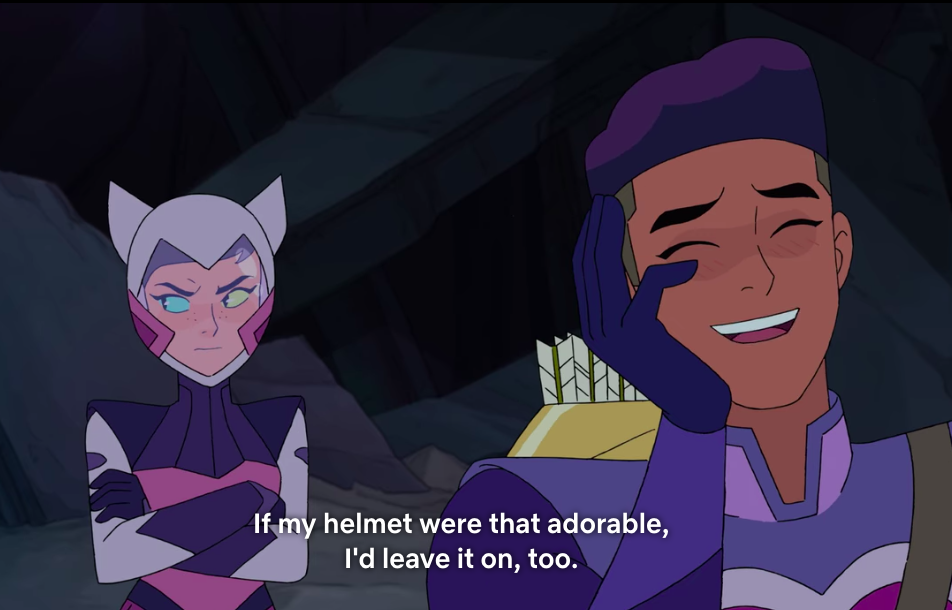 Valerie Anne: I don't cry as easily as one might think upon meeting me (I think it's my body's defense mechanism; if I cried at everything that gave me Big Feelings I'd be crying nonstop), so I actually didn't cry as much as I thought. I got pretty close around, "For once in your life, stay." But I think I just had so much trust that this show wasn't going to let me down that my anticipation of a happy ending kept me afloat.
Heather: I think every big moment of growth for Catra had me in tears, to be honest. For the character but also I was so overwhelmed by the grace and deftness of that storytelling! The care they gave to her! Women characters never get that kind of redemption. Any woman character who expresses her trauma and fears and insecurities the way Catra does gets punished, and only when the audience feels thoroughly sorry enough for her, does she potentially get redeemed. Usually any complex female character's redemption is through MORE suffering. But not Catra!
---
Heather: I want to touch on the other non-Catradora LGBTQ characters! All of them had a moment to shine this season!
Valerie Anne: Netossa and Spinnerella, besides having two of the best names in the show, had SUCH a powerful arc! I did actually worry for a minute the corruption was going to spread too far to get Spinnerella back and I was stressed out; and these are like tertiary characters! But they're so cute and playful and fun and I love them. Also, Bow's dads are HILARIOUS. I can't believe they told Bow where their apocalypse bunker was via dad joke. PERFECTION.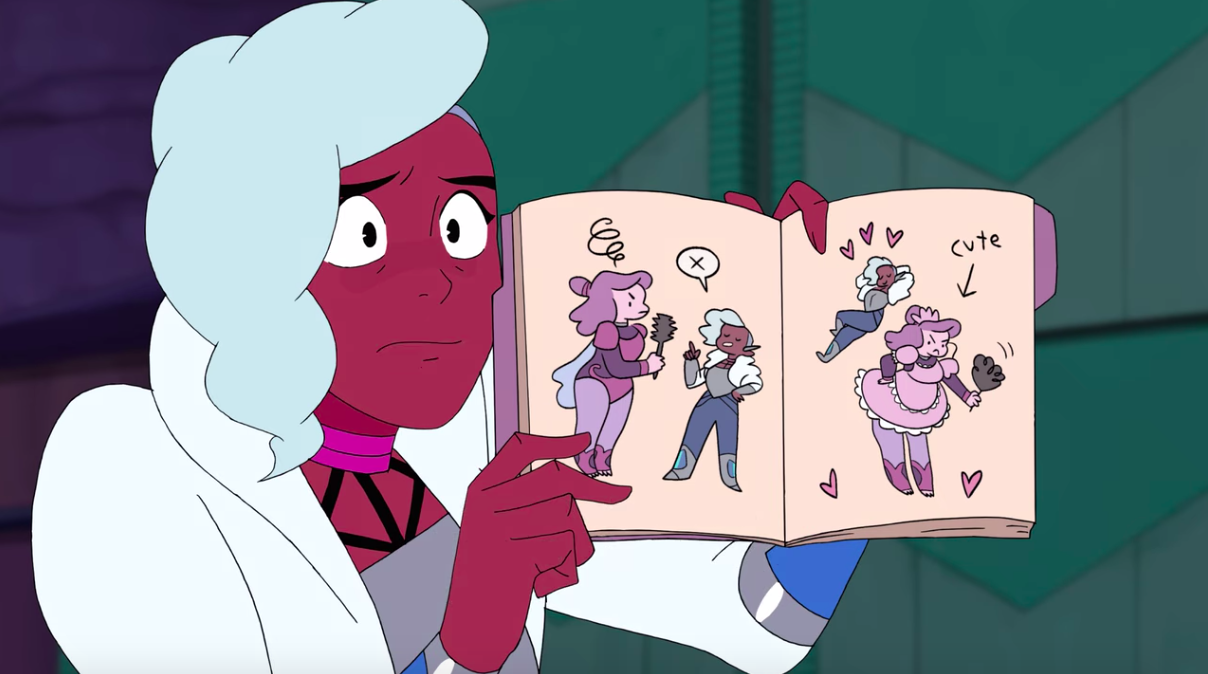 Heather: I love that the writers took two of the most ridiculous She-Ra names and made them into such great characters with their own nicknames. Spinny? Come on! And I love that they are each other's weaknesses. I was thinking this morning about how the writers made the choice to show Bow's dads getting to see his huge hero's speech at the end of the finale, and how proud they were, and how he'd hidden his true self away from them for so long, and in the final battle, there he was! It's such a clever trope-flip and really moving to see those loving gay dads supporting their — well, actually, Bow's probably bisexual isn't he?
Meg: The dad jokes, the hero speech, the wives as each other's weaknesses — all perfection.
---
Heather: All right. Catra and Adora. I can't believe they did it. I CANNOT. BELIEVE. THEY DID IT. I'm never going to be over it. Catra's very first flashback and then her apology, like in episode three, I said out loud, "Holy cats, they're going to do it." I think it's one of best — and probably my personal favorite, competing with series three of Skins — queer couple storylines EVER, and also my favorite thing of each individual character growing outside the couple. Let's do it. Let's just yell about Catradora.
Meg: I honestly didn't believe that they would really, REALLY do it until Catra said "I love you." Even after all the growth and apologies, all the blushing and teasing, all the conversations about what they both want, I couldn't let myself believe it. I was so afraid to be let down. But holy shit y'all, THEY DID IT.
Valerie Anne: I also was sure they were just going to be just some gals becoming pals again until Catra said, "She doesn't want me. Not the way I want her." It was the first time the show explicitly acknowledged that their feelings were rooted in more than just a lifelong friendship and her saying that out loud, based on the trajectory of Catra's redemption arc, I knew it right then that it was going to happen and I was on the EDGE OF MY SEAT the whole time. It was SO PERFECT.
And also I love that Catra had to earn it. She didn't just apologize and be forgiven. And her first act of redemption wasn't even to try to win Adora back; she sacrificed herself to save Glimmer. It was FOR Adora, yes, but Catra didn't expect to survive. She explicitly told Adora not to come back for her. So she didn't do it for the reward, or for the praise. She did it because she finally understood. She did it because it was the right thing to do. And the parallels between Catra punching Adora's first Not!Catra friend in the face, then literally sacrificing herself to save Adora's last Not!Catra friend…THE JOURNEY! THE GROWTH!
It was earned and it was beautiful. And there was also a point where I worried Adora wouldn't be able forgive Catra, even if Catra did truly redeem herself. So it was a relief when Adora let Catra back in. Saw that she changed, truly believed it and accepted it and defended her to her friends. Also just the mere fact that a queer kiss literally saved the world. And the fact that this is just a piece of TV canon that children will grow up with? I'm so happy.
Heather: I'm never going to get over it. How many times have we been through these storylines where this happens and then it's just Myka driving off into the sunset hanging out the window while Helena plays house with her new stupid boyfriend in the suburbs? Hem hem. Anyway. But yeah, how many times? A zillion. But I dunno, from the second She-Ra didn't need a distraction and then Catra was in her literal lap, I knew in my bones it was going to happen. Right and these characters are animated and storyboarded, so those constant blushes and longing glances were VERY ON PURPOSE.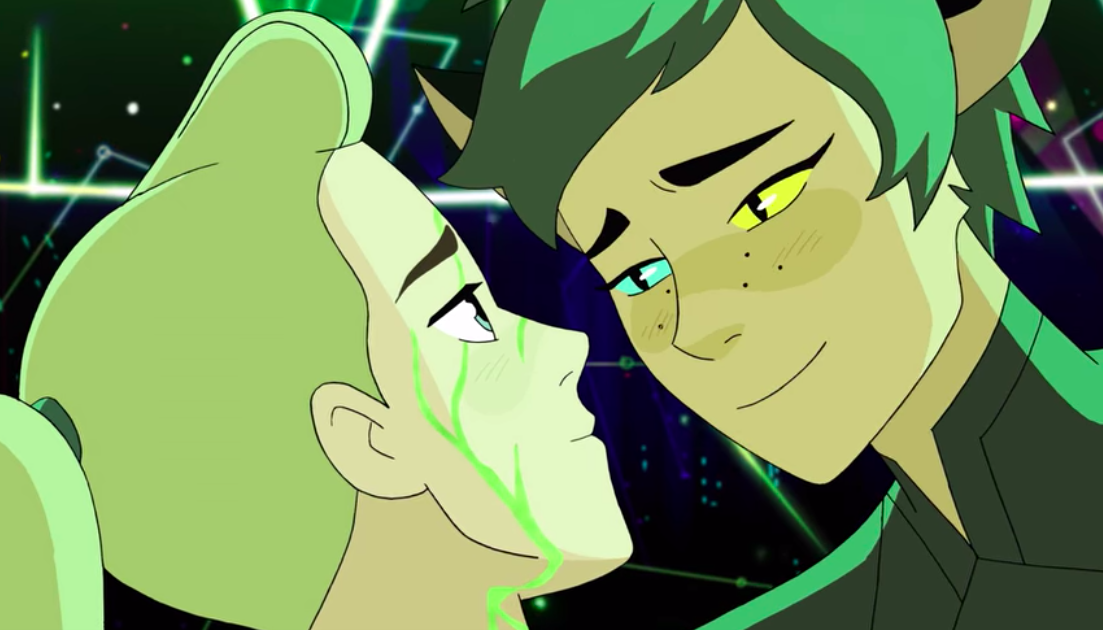 However! That moment when Catra says, "She's never going to want me, not like I want her" was like a sucker punch. I gasped out loud because she said it out loud! And everything after that was like a fever dream. Like that meme of giving the gays everything they want, only for real. Again: This was epic fantasy and sci-fi on par with Lord of the Rings and Star Wars and a queer love story was at its heart. I almost feel like Noelle Stevenson somehow tricked Netflix into letting it happen! Special shout-out to Adora's dream of the future in which she and Catra are together, Glimmer's still messing with Catra but Catra loves it, and they're a whole family together! I cannot wait to rewatch this series a billion times. In the 12 years I've been writing about LGBTQ TV full-time, I've never seen anything like their love story.
---
Heather: When we wrote about this last season, I asked y'all what character you resonated most with at the time. Now that it's all said and done, whomst? And why?
Meg: I originally said Catra and Scorpia, and I still think that that's right. But after watching Catra's arc this season, and in seeing how it fits with her growth over the course of the show, it's more true than ever. I'm not sure I've ever seen myself so clearly in a character before — the intensity, the determination, the desire to control situations and relationships, the fear of vulnerability, the pain of loneliness. Seeing her softness with people she trusts really reminds me of myself.
Valerie Anne: I cheated and said a little of everyone. I already talked about why I identified with Perfuma more than I anticipated, but I also feel very emotionally attached to Adora. The way she feels responsible for everything and everyone, the way she has a hard time asking for and accepting help, the way she is fiercely protective of her friends. How far you have to push her to lose her loyalty, and how hard it is to win her back once you have. It's not often I end up relating the most to a lead character — in fact, the only other show I can think of off the top of my head is Supergirl. So the fact that Adora is also queer? It helps me relate even more to her, and think maybe there's a She-Ra in me too.
---
Heather: One thing I write over and over is that queer people need all-ages queer stories because: a) We come of age over and over because our lives don't exist on the same kind of timeline as straight people; we have a lot of ways to get rebirthed. And b) A lot of queer people do have a lot of trauma, especially childhood trauma, even if it's "just" the knowledge that we're different and so we live in more fear because of that. I don't think a show has ever pushed on or applied a balm to my trauma like She-Ra has. Did you feel that with any of these characters or storylines?
Valerie Anne: I talk a lot about things that reach back and heal younger versions of myself inside me, but this one healed me in ways all throughout the timeline of my life. I have a lot of what I call "mommy issues" because reductive humor is how I deal with things, and a lot of shit surrounding it I don't deal with or confront enough, but stories like She-Ra's make me feel less alone; it's a safe way to process my pain. So Adora's arc struck such a deep chord with me. At one point she realized that the people raising her didn't actually have the best intentions for her, and didn't have all the answers, even though they thought they did on both counts.
So then she's rocketed out into this world that is unfamiliar to her, with this new outlook that everything she thought she knew was wrong or skewed or an all-out lie, and she's also alone. I moved to New York for college and I didn't know a soul here. I barely knew myself. I just had to leave. But over the years, much like Adora, I went on a journey to figure out who I was and what my purpose was, and along the way I found a family of my own choosing; a family that chooses me back in the ways that matter. (I feel like there's a longer metaphor about my mother/ShadowWeaver in there but I'll unpack that some other day.)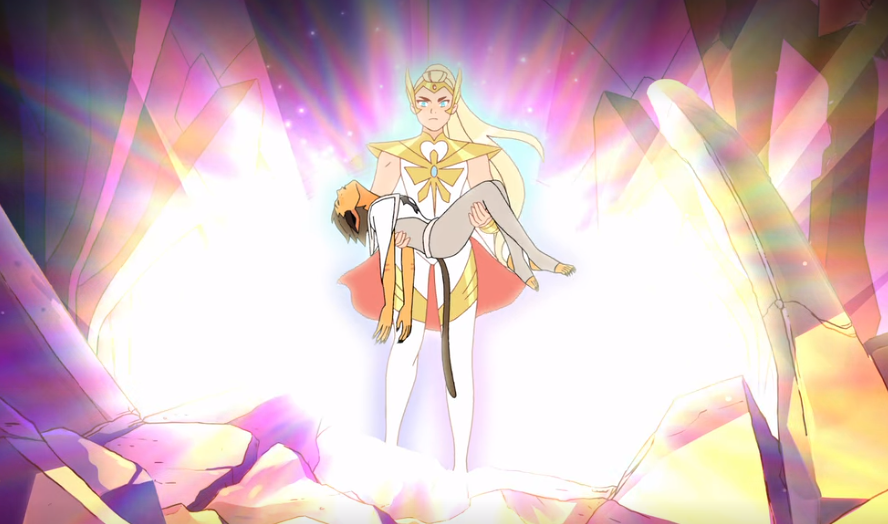 When Adora was unable to summon She-Ra for a while in this last season, because she was putting too much pressure on herself, but was able to call her when her friends needed her most; that's what my depression looks like often. I can't show up for myself, no matter how hard I try, because it feels too hard, too scary, too real. But I can show up for my friends. Which reminds me how to show up at all; so eventually I get back to remembering how to show up for myself, too. Because I know my friends will be there for me, fighting by my side until the end.
Meg: Whew, okay. Content warnings here. I think one of the reasons that I resonate with Catra so strongly is that I see her as suicidal, something that begins to feel clear at the top of season three, after Shadow Weaver leaves her for Adora and the Rebellion. I think the trauma and abandonment and abuse that Catra has endured for her entire life just hits her in a new, even heavier way once this figure leaves her behind for the person she loves the most, and she copes by planning to end her life, eventually pulling everyone down with her by attempting to open the portal. I see season four as a time of intensive, ongoing self-harm, as Catra intentionally punishes herself for still being alive by refusing comfort or kindness, lashing out at anyone that attempts to show her care in spite of her desperate need for affection.
She believes that she's beyond saving, beyond redemption, that Adora hates her, that she's worthless, and hits absolute rock bottom. She even invites Glimmer to kill her at the end of the season, with no efforts to save herself. So when season five begins and Catra sees an opportunity to save Adora and simultaneously remove herself from the world, certain that she'll experience the torture and death that she deserves at the hands of Hordak Prime, she takes it. And while both of Catra's suicide attempts fail, I think her intent is both clear and heartbreaking. Even at the very end, Catra is willing to die alongside Adora, because she has never felt that her life has real value, real meaning.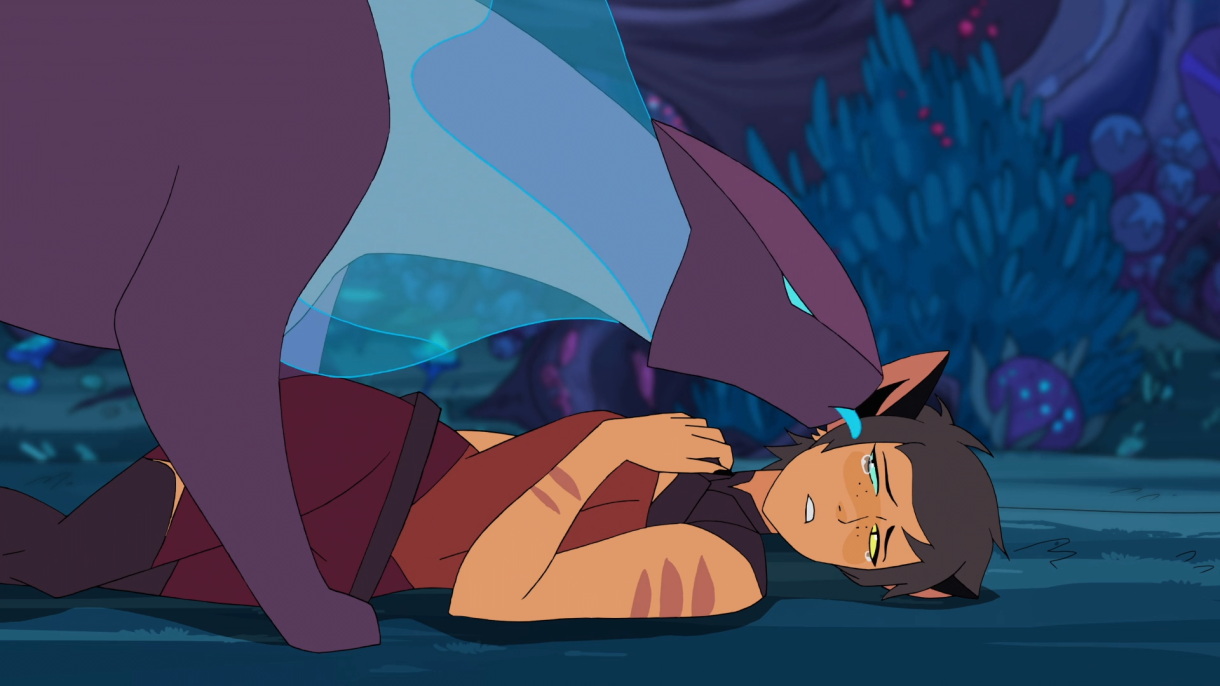 As a person with major depressive disorder, who has survived trauma and self-harm and two suicide attempts myself, seeing Catra slowly release her self-hatred and find healing in community felt like a journey that I hadn't really seen before. We don't often get to see characters show their deepest darkness as well as their light, but Catra was allowed to be awful, to harm herself and literally everyone she's ever known, to show anger and sadness and anxiety and PTSD and deep, profound loneliness — but she was also allowed to heal, to grow, to ask for forgiveness and evolve into a person capable of friendship, of love. And seeing that evolution, that true transformation, has started to heal something in me in a way that years of therapy have not. I'm so profoundly grateful to this show for showing me that this kind of shift is possible, for giving me a character to love that has been deeply broken but has also begun the process of recovery.
Heather: Last fall, I was diagnosed with a degenerative spinal condition that caused me to lose a terrifying amount of mobility and strength in the left side of my body. Luckily, intense physical therapy multiple times a day for months helped me get a lot of my strength back and reduce a lot of my pain. Just when I was finally really starting to get back into the swing of my life, I got COVID19. I'm now on day 52 of having symptoms and this journey has, in many ways, shattered me. Now that my body has managed most of the lung and chest issues, I have post-viral fatigue syndrome, which means that if I don't spend most of every day in bed, I will crash to the point that I can hardly lift my arms above my head. Some days I can walk ten minutes in my back alley behind my house in the sunshine, but some days even that's too much. It's not just physical energy — it's mental and emotional and social energy too. I'm operating at like 20% of my pre-COVID capacity as a human being. And on top of all that, my panic disorder has flared up worse than ever. I'm averaging at least one panic attack a day, usually more. Sometimes I just jerk awake in the night hyperventilating and shaking.
Over the last six months, I've lost the ability to do the things that have always been integral to my identity, like overachieving in my career and cloaking the people I love in my empathy and taking care of my family in every way and riding my bike and just, you know, being the person other people go to when they need someone to open a jar or get something off the top shelf or carry an entire team of people through a crisis on their own shoulders. I've always taken care of everything. All my life. Mostly alone (often, in recent years, because I refused help, not because it wasn't available to me in the form of people who truly love me). I've related to She-Ra since I was a kid watching the original series, and this incarnation more than ever. I can do it. I can do it. I'll make the sacrifice. I can handle it. This is my calling. I'll take care of it. I can do it. Let me be the one. I will save us. I will make it okay. I can do it. Alone. Thank you for your love, but I will carry this alone.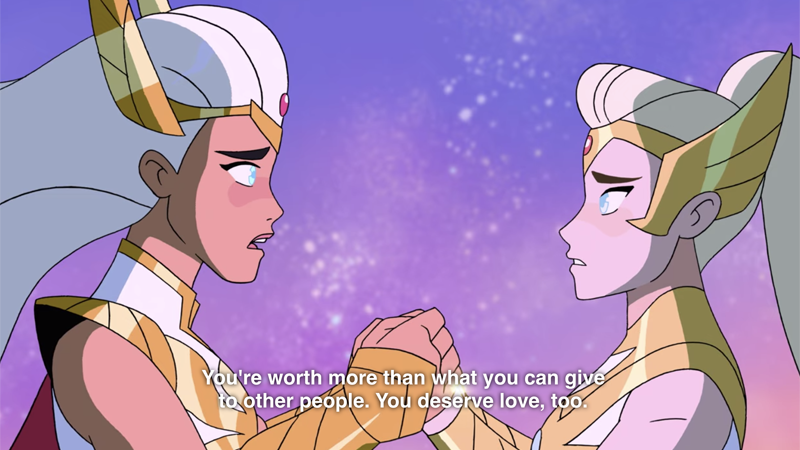 Watching She-Ra make real friends, a found family, and learn to trust them and accept their help, to rely on them, and to understand that's how relationships work, and that she isn't a burden to them — that's been transformative to me. But boi, watching her navigate the Heart of Etheria just did something to me that I can't even fully articulate yet. When Mara told her, "You're worth more than what you can give to other people. You deserve love too" I, like Meg with Catra, had to pause the show to get myself together. Tears are rolling down my dang cheeks even now as I write this!
I have my own Catra, my partner of ten years who's been through so much of her own trauma that has forced her to be hard in so many ways in the world, to wear an armor she will not let down outside of our home, and who had such a propensity toward prickliness and an impulse to bolt before she could be abandoned when I first met her. Seeing She-Ra desperately confess to Catra that she needed her really punched me in my heart's face. And then accepting it, at the end, when Catra simply refused to leave no matter the cost to herself. I have needed my partner more than ever this last half a year, in ways that have shocked and terrified me. Sometimes when I can't get out of bed, I just sob because I feel like my body and spirit are broken, and I'm afraid I'll never feel like my old self again, and Stacy's there and she's not going anywhere, and seeing that kind of love and commitment reflected back at me in a queer relationship on a show targeted at kids, it reached out for the wounded child in me where all these fears are rooted, and I'm going to let it help me heal them.