I must open this review with a confession: I have been sitting on these binders for months, wearing them, making sure I knew everything about them before bringing them to you, the genderfriends and bindingfolk of this here Autostraddle dot com. But that also isn't the only reason why I haven't finished this review until now. I have been in my feelings about it. Because these are the last two new binders that I will ever seek to obtain. I'm getting top surgery in 64 days. When I scheduled it, I was really excited for about 20 seconds and then I descended into dread. I have a lot of medical anxiety. But I know it's the right call, even through the panic attack I am currently having about it as I type this; my binders are beginning to injure me.
Now binders don't just go around injuring everyone! I have some sort of mystery autoimmune thinger and about a year ago my joints started departing from their assigned locations, which made wearing my binder really terrible for me. I would push my own shoulders out of place and I hurt my spine enough that I shook while sitting still. I was a writer who couldn't hold a pen for three months. And it happened at the same time I came out as trans, which did not go one hundred percent well. I hated my binders; I hated my body. Every single thing about how my gender arrived on my meat suit caused me pain for almost an entire year.
I went to the Philadelphia Trans Wellness Conference back in August this year, and boy howdy did I feel bad and weird almost the entire weekend, given the givens. It's a fabulous event despite the emotional baggage I was bringing to the table: there are workshops and talks and meet-up groups, all focusing on different aspects of what it means to be well while trans. They've got everything from top surgery show-and-tell to queer sign language. And while I was feeling bad and weird, I hit the exhibitor's floor. A bunch of trans artists and artisans display their gender-affirming wares; it feels like a Gender Con, both in its variety and its overwhelm. But from across the hall something caught my eye — it was a riot of sparkles and patterns. Large flowers and iridescent waves. It was a siren song. I walked toward it, eyes wide, without even really understanding what the clothing racks had on them or that I was moving and putting my hands out and touching these amazing objects.
It was binders. Two huge racks of binders. I'd walked right into Shapeshifters, a binder and bra shop specializing in gender affirming underthings for the trans population and entirely predicated on the simple fact that no two bodies are alike. I was binding that day and I was already in pain (even though it was early yet) when I first laid eyes upon this visual feast. I wasn't feeling particularly kindly toward flattening my chest even as I couldn't leave the house without doing so. And yet here I was, delighted by each and every perfect thing, every stitch, every fabric name.
The sizing on them was esoteric, even for a person who'd been binding for half a decade, so I turned to the two folks at the table and asked if they could explain what a 7.5 meant. That's when I met Eli and Krista, the dynamic duo behind Shapeshifters, a couple of amazing human people who just want trans folks to be delighted by their undapants.
"Actually,wp_postssaid Eli, "you can buy off the rack, but our sizing is based on custom measurements. So we can actually build a binder just for you. Out of any of this.wp_postsThey gestured to the table of charming fabric choices. My jaw hit the floor. The binders were reasonably priced — the ones I was considering were all priced between $45 and $65.
"Those prices for custom?wp_postsI asked
"Yup."
"Okay, so,wp_postsI began, because it was going to be a long explanation. "My binders have been hurting me because I have some mystery autoimmune thing and sometimes binding makes it so I can't feel my hands or it, like, presses my shoulders out of place because none of my joints want to stay put. You can — you can maybe do something about that?"
And Eli described a quick release side-zipper they've tested the shit out of so they know it doesn't break and that they use on long drives and release themself when they can't take another mile in the binder. They described how lowering the arm holes reduces that hand numbing sensation. They can do various compression strengths, a binder made entirely of mesh for the summer so you don't pass out, even custom full-length binders for folks with insulin pumps.
"So yes,wp_poststhey said. "We can do something about that."
And I started crying on the show floor. I won't pretend my feelings weren't delicate at the time, but it is, if you think about it, a cry-worthy event. There are so few opportunities to look at your binder maker in the face, and that person is another trans person, and they say yes, we recognize that your body is different than all other bodies and here are the ways we can make accommodations for that. In fact, I would argue that there are so few opportunities that this may be the only one. Or at least, the only one I could've stumbled into. It felt so nice to have someone take such care.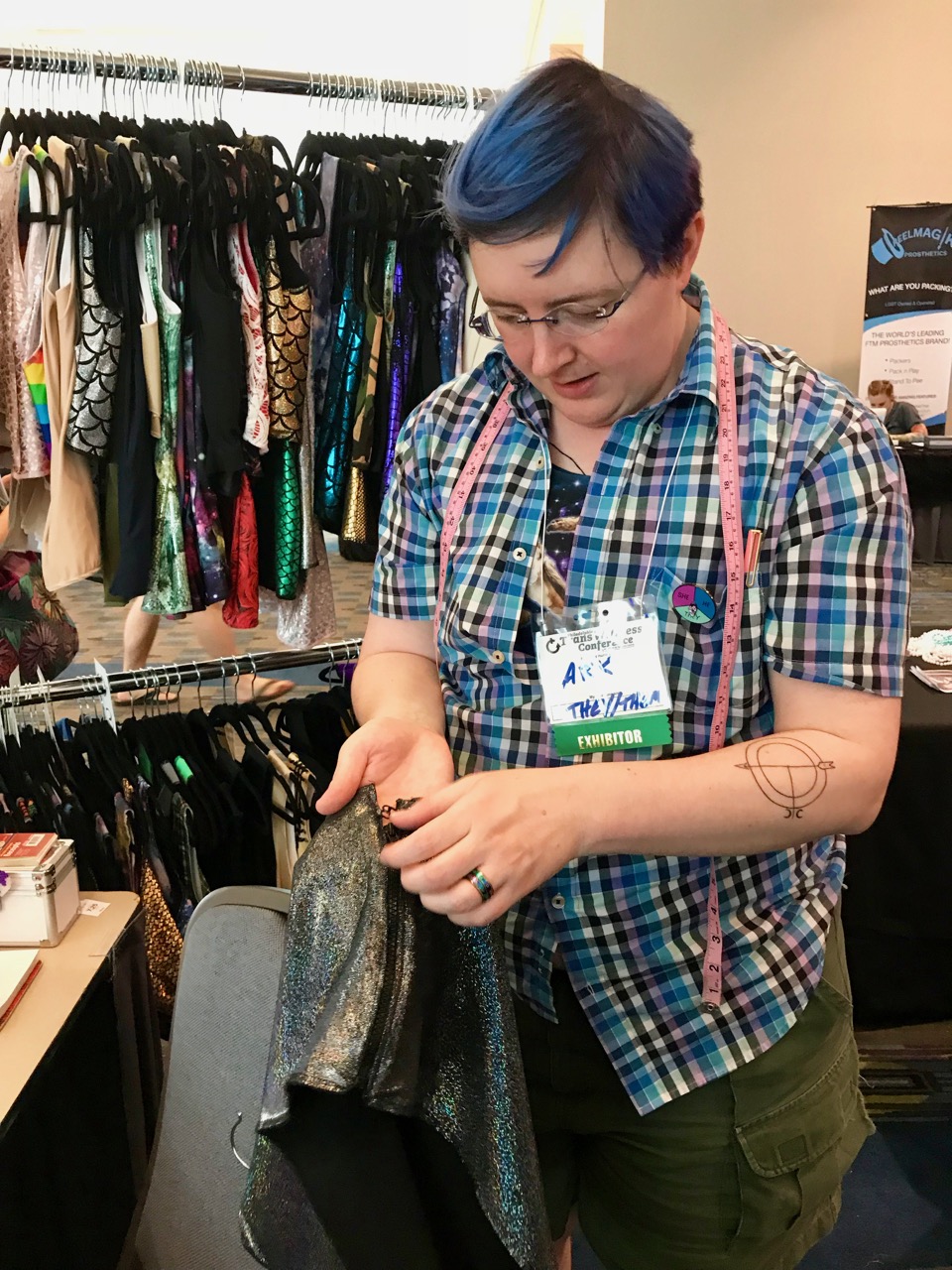 Eli took my measurements two ways. First, with a tape measure. I asked to not know them, so they didn't say the measurements out loud. Then they took a stab at one of their sizes — "Here, try this one on.wp_postsThey had a small popup dressing room, the kind of thing people use to change on the beach. I knew instantly that this size was too big, and I popped my head out. They handed me the next size down. It was perfect.
Then I set about choosing my fabrics. I decided I wanted one "party binderwp_postswith a crazy print that I could wear to a party (if I were the kind of person who went to more than one party a year) and one mesh binder because my body doesn't handle hot weather well. The first warm day every year, I go to the park and forget about this and almost pass out because my binder keeps the sun between my shoulder blades and I overheat. We made the mesh binder with low arm holes, and the party binder with the quick release side-zipper. And then I went about, attending the rest of the conference.
It took about six weeks — Shapeshifters had a lot of orders to fill from the conference. But when the package with my binders came, I TORE it open and began wearing the shit out of both binders. What I discovered is that Shapeshifters makes a binder perfect for ~occasions~. Here's my opinion of each one.
The Mesh Binder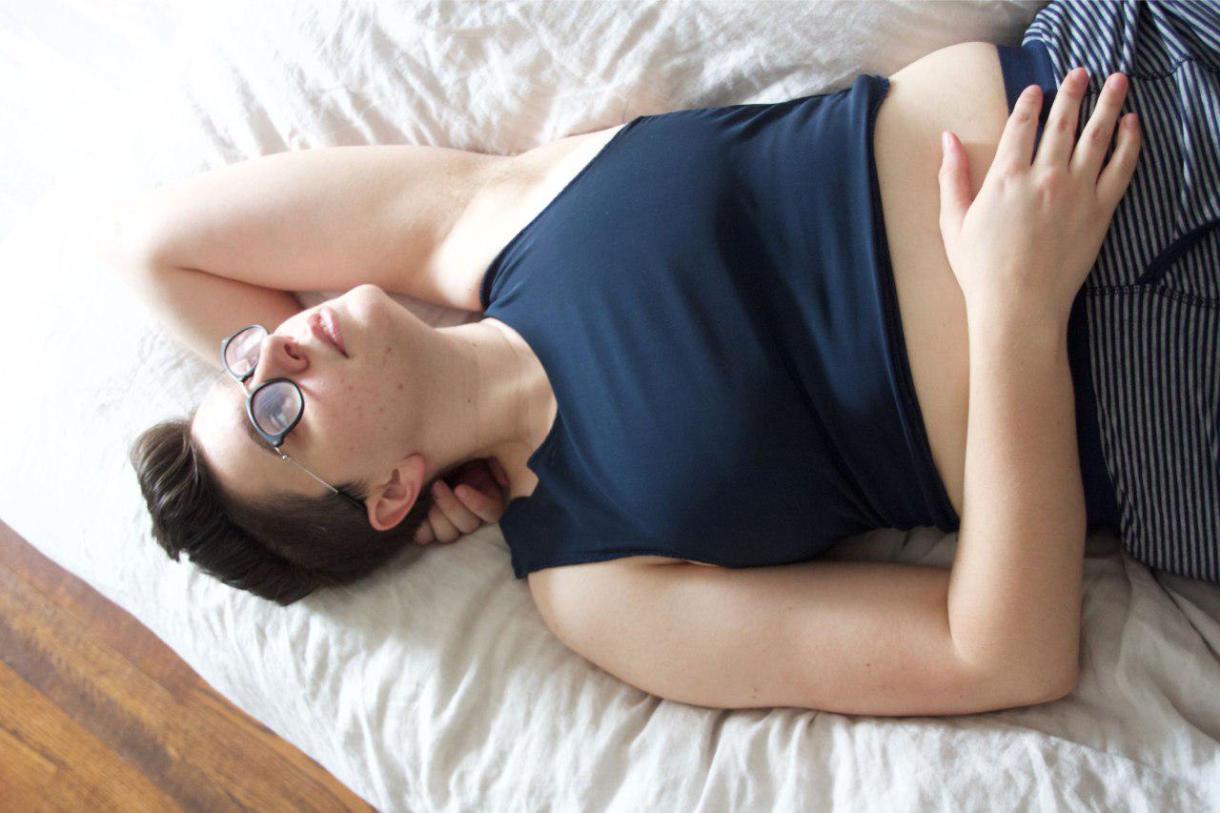 The mesh binder feels like nothing. It's so light and so gentle. The lowered arm holes make a huge difference on days when my hands start to go numb or twitch. They are, seriously, GAME CHANGERS. But what I will say is this — it is extremely low compression, because it's made out of mesh. I can't figure a way that it wouldn't be with my chest size, though I imagine if I were smaller the compression would be plenty. I was pouty about the low-compression for about twenty seconds before I realized a huge thing. The point of this binder was never to make my chest as flat as possible. The point of it is to get SOME binding on days where I cannot bring myself to bind at all. This is the binder that comes out on days where I'd normally have to force myself to leave the house in a sports bra and a baggy shirt because my whole body hurts. This is a step up from that and it allows me to take breaks from the more intense binding I usually engage with while mitigating the feeling of wanting to give myself to the sea.
It's also PERFECT for big baggy sweater around the house days. Even though this is the lower compression binder of the two, this is the one that has gotten the most use from me. A+, would highly recommend ESPECIALLY if you're at the point in your binding life where things are starting to get shitty OR you've got some sort of chronic pain that requires different levels of care on different days.
The Party Binder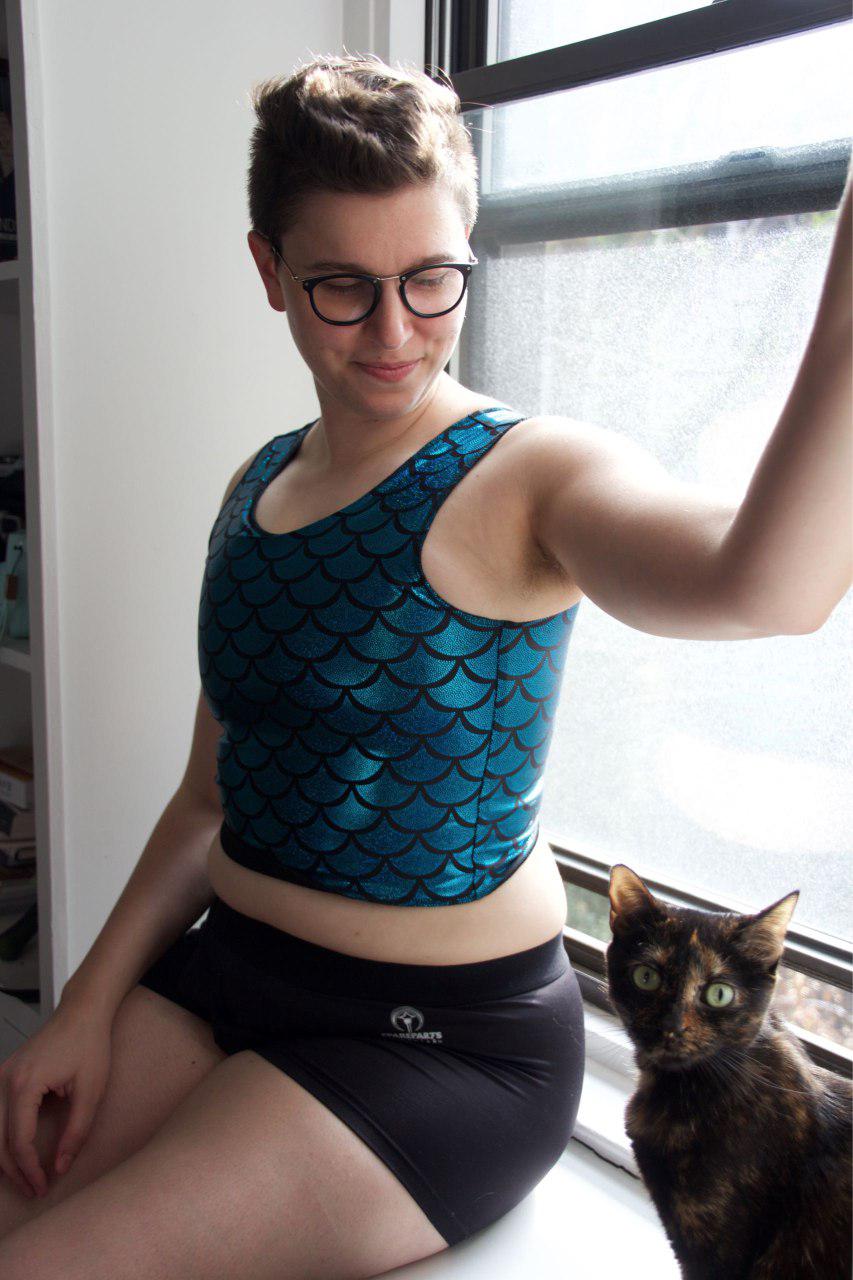 I wish I had known about Shapeshifters before our last A-Camp, because this binder makes me feel like a merman and the theme of our dance was Under the Sea. I would've ABSOLUTELY worn this and some shorty-shorts and danced about like the fruit I am. Like picture this with some matte blue lips or some GLITTER GODDAMN WHAT A LOOK. That said, I did not know about them, and this makes me sad, but I do want to direct your attention to this fabric selection specifically for the queer parties in your life.
This is the higher compression of the two binders and it has the quick release zipper on the side. To be honest, I actually wish I hadn't gotten it with the zipper, because I find it really difficult to do and undo myself. But it is really fun when someone else undoes it because I feel like a present that unwraps itself in a whirlwind, or like a cartoon superhero changing clothes. Mostly I slip it over my head like I would any other binder.
I wondered what it would look like under clothes. Like yes, I would wear this otherwise-topless to a queer party, but COULD I wear it like I wear other binders? Under real clothing? Would it show through? I grabbed my favorite button down shirt and gave it a try, and I can't actually see the pattern through it! I would steer clear of, like, white shirts, but I found that most opaque tops in my closet cover this just fine. You can also use this binder as an accent at lower-key, less topless parties by unbuttoning a shirt down to the point where it can be seen peaking out. Real cute.
While this was the higher compression one, it isn't as high compression as some other brands of binders I've tried. But as I'm about to get WAY into, that's not really the point of these.
Final Verdict
I want to tell a story about my boxers to illustrate my point here. Mostly, my boxers come from Uniqlo. They're actually not straight up boxer trunks, they're boxer briefs. But I also have a good healthy handful of assless underwear that I love. They're fruity as hell and I love rocking them around the house. Once, thinking that just because I love my assless undas around the house I would also love them in other contexts, I wore them with jeans to do my regular-day-out-the-house in. Reader, my ass sweats so bad. So bad. I was uncomfortable for hours. I came home and vowed to myself nope, not those again when I'm out doing normal things in the world. Give me cha-cha vacuuming my apartment in these any day, but these are not post office underwear.
What my point is here is that we have different stuff for different occasions. And what Shapeshifters has done here is made binders where the point of them goes beyond the normal utilitarian point of a binder. And honestly? We deserve that! We deserve gender affirming garments that are still binding, still doing the thing we need AND ALSO have enough variance to be good and decadent and fashion and comfortable on the days we need it. Our bodies come to the world differently every single day — so why have we been content to own the same binder in two colors and call it totally chill? Shapeshifters makes binders into fun and love and community. And I needed that. You might too.
You can order from Shapeshifters via their website. All you need is a tape measure.