Family Guy and The Cleveland Show creator Seth MacFarlane is responsible for some of the worst trans representation on TV, and he's up to his old tricks on his new sci-fi comedy, The Orville. In the third episode, "About a Girl," MacFarlane introduces a baby born to an all-male species of aliens that has the "wrong genitals" at birth; the episode revolves around the fight the parents have with the ship's human crew, including the captain and doctor, to give the newborn surgery to "fix the problem" and "make the baby male." It presents that idea that gender and sex are binary in humans and, in fact, universally binary in all species in every universe even in the distant future. MacFarlane seems to think he's making a progressive point about gender, but it's really another huge miss for him.
In the galaxy where The Orville takes place, there seems to be a universal concept of sexual dimorphism, where every species has the stereotype that males are bigger and stronger and females are smaller and weaker. This isn't even true of most species on earth. Where did the Moclans get this idea? If they only have one gender, where did they get a concept of a gender binary? Why would they even need a word for male if everyone is male? Shouldn't any baby, regardless of how it is born, be male if that's the only gender this species has? This is not how anything works. Presenting gender this way as a universal constant determined by your genitals at birth isn't just lazy, it's dangerous. It leads to the biological essentialism that leads to transphobia, transmisogyny and violence against trans women by the men who sleep with them.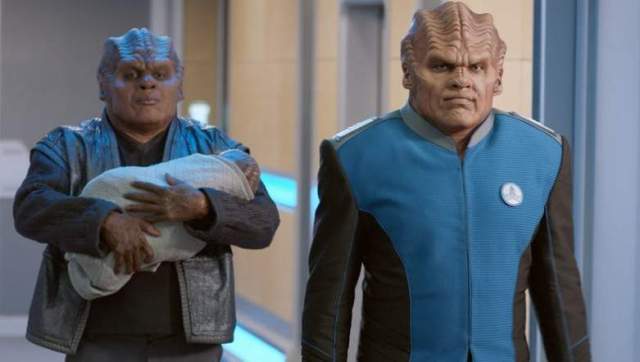 There are so many frustrating things about this episode even outside the half-baked gender binary world-building. It completely ignores the existence of intersex people who actually do undergo nonconsensual surgery on their genitals shortly after birth. It uses ominous music and editing when it talks about trans issues. It makes it all seem like trans people are so confusing that even in the far future when we have intergalactic unions, starship captains and doctors won't know how to deal with or talk about us. It turns being trans into a plot point and source of conflict.
The Orville is leaning heavy on Star Trek, a show that often addressed social issues and pushed them forward; the original Star Trek had the first interracial kiss on television. The Orville instead decides to look at social issues and push them backwards. The tone of the show makes it even more confusing, as it has an air of self importance and intellectualism about it, but mixes that with a complete lack of understanding about the current cultural and political climate, and dick jokes.
"Seth MacFarlane was attempting to be a progressive ally with his latest Orville episode," wrote Jessie Earl at The Advocate. "Yet, while he may have failed on the progressive side, he still was being an ally to the intersex and transgender community."
While it's true that the LGBT community often comes down way too hard on allies for their attempts at LGBT representation — and that community includes us here at this website a lot of the time — Seth MacFarlane might be one of the few who has officially exhausted any remote benefit of the doubt we could possibly summon. Don't forget that MacFarlane is also a misogynist who told a series of disgusting rape jokes at the 2013 Oscars. You'd think after so many past failures, he might actually consult with GLAAD before taking another hack at a trans storyline.
Like… what exactly is Seth MacFarlane's problem with trans people? Does he have a personal bet going with Ryan Murphy — the creator of terribly-treated-trans-characters like Unique from Glee, Liz Taylor from American Horror Story and so many trans women seeking surgery on Nip & Tuck — to see who can be more irresponsible, offensive and harmful in their depictions of trans people on television while congratulating themselves for portraying trans characters at all?
Throughout his career, MacFarlane has made a habit of turning trans women into jokes and objects of derision. Riese wrote about several of his attempts in her GLAAD-Award nominated piece about the history of trans women characters on American television.
One of the more infamous depictions of trans women on TV in recent years is Quagmire's dad on Family Guy. His dad is a trans woman, who sleeps with Brian the dog, and when this dog finds out that she is a trans woman, he "vomits for a solid 60 seconds and screams in terror."  Seth McFarlane described this portrayal as "probably the most sympathetic portrayal of a transsexual character that has ever been on television, dare I say." When the LGBT community expressed deep loathing towards this episode, McFarlane responded with, "that surprised me. I don't meet a lot of stupid homosexuals. They seem to be a pretty smart bunch. But it seemed that they were not picking up on the fact that it was a very sympathetic portrayal of a transsexual character."
In his Family Guy spinoff, The Cleveland Show, when Cleveland finds out that a character named Auntie Momma is a trans woman and that his dad slept with her, he "vomits for about 45 seconds." When Cleveland tells his dad that he slept with a trans woman, his dad also vomits for 45 seconds. MacFarlane repeatedly teaches his viewers that not only should they feel tricked if they sleep with a trans woman, but they should feel absolutely disgusted as well. This is exactly the attitude that gets trans women murdered.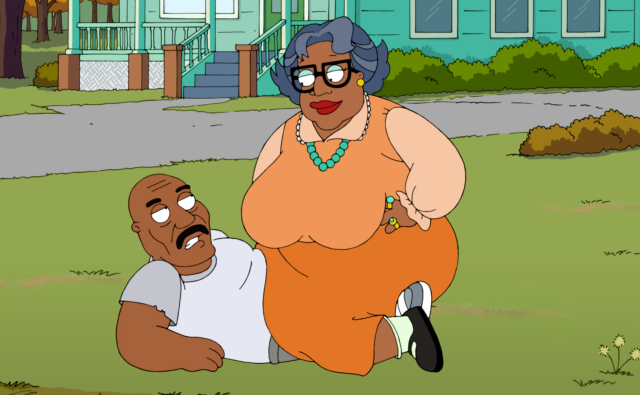 Because it's a show created by a popular and established showrunner on a broadcat network like Fox, The Orville has a wider reach than shows like Transparent, Sense8 and Doubt — the latter of which which got canned after only a few episodes at CBS and burned off on Friday nights after wide backlash — that have worked hard with actual trans people and activists to make sure they're getting representation right. That makes it even more imperative that when shows like The Orville tackle trans issues, they do a good job. It's especially important right now as the Trump administration rolls back protections for trans people, bans trans people from the military, and props up state legislatures that continue to try to keep trans people out of public facilities that match their gender identities and, in some cases, even prohibit them from gaining access to their vital records.
MacFarlane has proven he can't be trusted to tell trans stories, in this or any galaxy.