A Scripps News Poll released earlier this week and a Washington Post poll released today include a bevy of alarming numbers regarding how the American people feel about whether or not it's okay for transgender people to exist and do things, such as access medical care, live in houses, play sports, and have their gender recognized and acknowledged by the people around them. The polls also show a sharp partisan divide around these issues as well as signs that conservative backlash against trans rights has been increasing from year to year. I wonder why!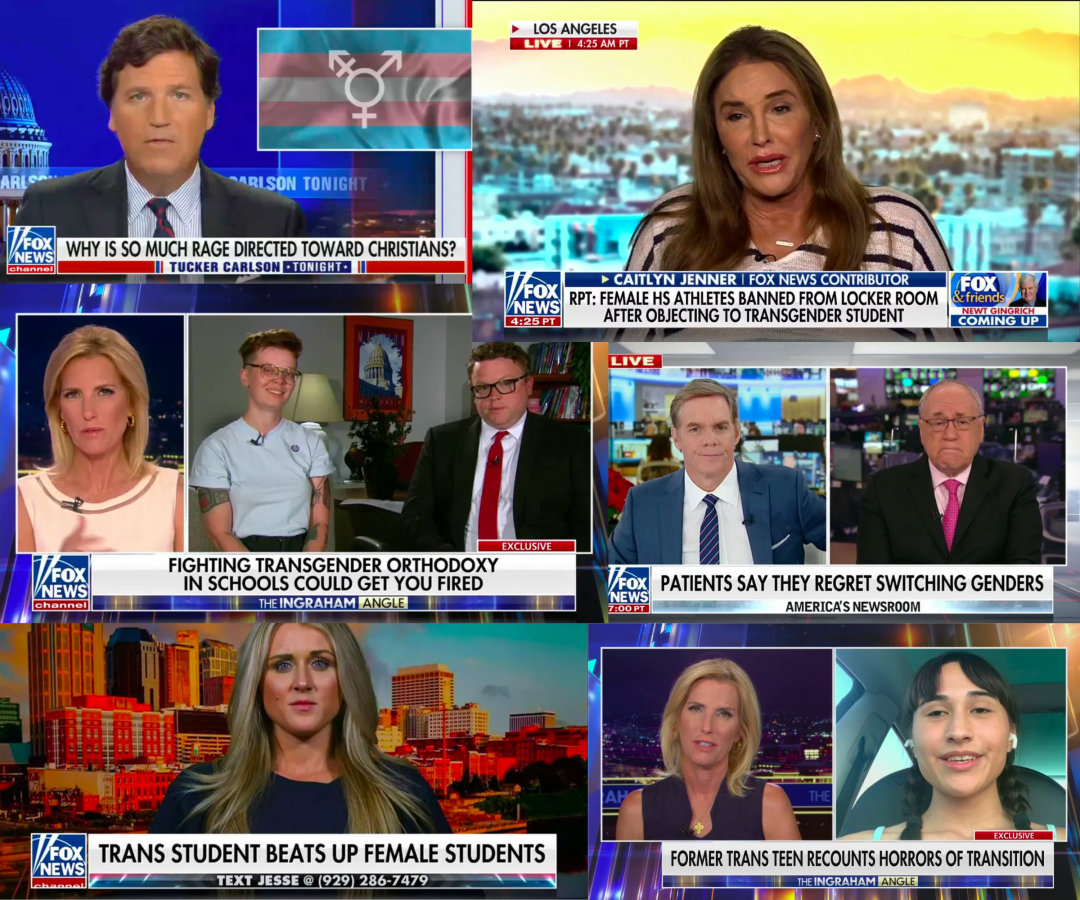 Those of us who've been covering LGBTQ+ rights for a long time will remember how political candidates and groups as well as certain religious communities used the gathering storm of immorality known as "same sex marriage" to rile up its followers and subsequently garner massive amounts of money and votes from said riled-up followers. In the eight years following the 2015 Obergefell v. Hodges ruling — which held that same-sex marriage was a fundamental right of the American people — conservatives have been hunting for a new form of intolerance to monetize, and boy did they find one in the battle for trans rights. Speaking out against the health and happiness of trans people in general, and trans youth and trans women athletes most specifically, has proven to be a big moneymaker for political candidates, lobbyists, and advocacy groups. It's also driven a lot of clicks and eyeballs to anti-trans "journalism."
What the Scripps/YouGov and Post-KFF poll numbers show us is that this campaign is in fact working. People who cared a little bit about trans issues a few years ago are starting to care more. WaPo cites a Pew poll that found 60% of survey takers in 2022 saying one's gender is determined by their sex assigned at birth, up from 54% in 2017. They quote a 29-year old resident of Daytona Beach who recalled being "on the side of acceptance, like using pronouns and stuff," because she wanted people to be kind to each other. But after listening to a bunch of Christian podcasts on the topic, she has changed her mind about wanting people to be kind to each to each other, or, more specifically, wanting people to be kind to children — citing the popular conservative talking point that since we can't smoke cigarettes until the age of 18, we shouldn't be allowed to access gender-affirming medical care until the age of 18.
However, the anti-trans movement is hardly just a conservative problem. Even within the LGBTQIA+ community, we have TERFs (Trans-Exclusive Radical Feminists) espousing conservative talking points about trans people and building a small but incredibly vocal contingent of anti-trans activists. Allegedly progressive publications like The New York Times continue to espouse anti-trans views, as do many non-Republican celebrities. Non-partisan publications like UnHerd post anti-trans stories regularly, including the work of notorious anti-trans journalist Jesse Signal (who previously espoused his views in The Atlantic and The Times). While it's not as easy to find anti-trans journalism in left-wing media as it was a decade ago, it's definitely still not very hard!
Most Americans Support Trans Children and Teens Getting Gender-Affirming Therapy, but Not Medication
The WaPo/KFF poll found when it comes to trans children between the ages of 10-14, 62% support gender-affirming counseling or therapy, but only half that amount (31%) support puberty-blocking medication. For trans teens aged 15-17, the numbers change only slightly: 66% support counseling and 42% support hormonal treatments.
Scripps/YouGov found 75% of Republicans supporting measures that would restrict access to life-saving medical treatments for trans youth and 60% of Democrats opposing those same measures. While the Republican numbers are annoying and predictable, the Democrat numbers do offer a bit of hope! 45% of independents support restrictions on gender-affirming care, and 29% oppose limits.
Also on the brighter side — less than half of Americans (44%) signed up as supporting "laws that would restrict and/or ban transgender care for minors, even with parents consent" in their state.
PinkNews recently noted that despite Tucker Carlson's departure from FoxNews, his anti-trans legacy would live on — and he's far from the only Fox News anchor spreading alarmist lies about trans people. In 2021, Carlson invited a guest who suggested gender-affirming healthcare for trans youth was a vehicle for the abuse and molestation of young children. He also described trans youth as "grotesque."
But, again, it's not just the far right espousing these ideas, which have been rejected by medical professionals. Last year The New York Times posted a feature story imploring readers to consider "growing concerns" about the long-term effects and consequences of puberty blockers.
Between 50% – 63% Of Adults Think Your Gender Is Assigned at Birth and That's That
57% of all adults in the Post-KFF poll agree that "whether someone is a man or a woman is determined by the sex they were assigned at birth." This is an interesting and problematic way to phrase this question, because it presumes that "man" and "woman" are the only options for one's gender!
18-to-34 year olds were predictably the least likely to agree with this statement (53% do). Most interesting to me is that 57% of those 65+ agree that your gender is determined by the sex you were assigned at birth, compared to 59% of 45-54 and 63% of 55-to-64 year olds. My unscientific theory here is that once you get older, you stop giving a shit about stuff that does not concern you.
While the Post-KFF poll was focused on what makes you a man or a woman, other surveys add some nuance to this narrative. Last year, Time Magazine reported on a Nationscape/Democracy Fund survey conducted from Late 2020 to early 2021 that found 51% of Gen Z believing there are more than two genders, as well as 35% of Millennials, 33% of Gen X and 33% of boomers.
Most Americans Wanna Keep Trans Girls and Women On the Sidelines of Sports
The campaign to bar trans women and girls from participating in women's sports continues to gain traction and support, with the Post-KFF poll finding between 62% and 65% of the adults it surveyed in favor of barring trans women and girls from competing in sports with other women and girls at various age levels.
The Scripps/YouGov poll found 54% of Americans supporting or strongly supporting Congress amending Title IX to bar schools that receive federal funding from allowing trans women and girls to participate in sports with cisgender women and girls. By political affiliation: 83% of Republicans, 58% of Independent, and 34% of Democrats support the amendment. It probably doesn't help that the most visible trans person in the U.S. is Caitlyn Jenner, a former Olympic athlete who supports trans sports bans.
Melissa Moore, the associate research director at YouGov, looked specifically at the political affiliation of survey-takers, noting, "this more recent data shows Republicans have a strong response against trans care and admission to women's sports, whereas Democrats are strongly in favor of those same issues. Both parties have shifted — Republicans and independents much more so than Democrats."
The Post/KFF poll went so far as to ask actual trans people for their opinions and found 7 in 10 in support of trans women participating in sports with other women.
Banning trans women from women's athletics has been a popular cause for Republican candidates in the early stages of the 2024 presidential campaign, with both Nikki Hailey and Donald Trump posting ads promising to outlaw trans women from kicking soccer balls with cisgender women.
"A quick scan of the women's sports landscape shows that trans women are far from dominant in any sport," reports Translash Media, "but that doesn't stop anti-trans campaigners from claiming that trans participation in women's sports is inherently unfair. And seemingly the perfect issue to divide uninformed voters."
They go on to point out there has never been an "athletically superior, undefeated trans woman athlete in any sport," but that most people are still attached to societally embedded beliefs that "people assigned male at birth are all inherently more athletic than people assigned female at birth."
Trans sports bans ignore mountains of arguments in favor of inclusion as well as the reality that there is enormous variance in the bodies of cisgender athletes w/r/t qualities that could give someone an "edge."
"Frankly, I think what a lot of people know is versions of the right's talking points because they're very loud," Megan Rapinoe told Time Magazine. "They're very consistent, and they're relentless."
Survey Says That Despite All Of That, Most Americans Are Still In Support of Trans People Living in Apartments and Getting Health Insurance
The Post-KFF poll found that 74% of Americans support laws prohibiting discrimination against trans people in housing, with between 65% and 73% showing their support for anti-discrimination laws relating to employment, health insurance, medical treatment, school, and the military.
It is really special that 71% of Americans think trans people shouldn't experience discrimination by medical professionals but, as aforementioned, oppose trans people receiving trans-affirmative medical treatment.
It's also quite special that random people on the telephone are being asked for their opinions about trans medical care in general, a query that would seem to be best answered by medical professionals. (Abortion rights are a similar debate in this light.) Overwhelmingly, leading medical groups "recognize the medical necessity of treatments for gender dysphoria and endorse such treatments."
Also Most Americans Don't Even Know a Trans Person, So Come On Now
The Post-KFF poll found that 43% of cisgender adults do personally (know that they) know a trans person, and amongst those who have that direct knowledge of a trans person, support for ideas like "a person's gender can differ from that assigned at birth" is much higher — 53% agree, as opposed to 35% who lack that personal connection. That said, I am bummed for the trans people out there who are friends with or related to the 47%.
We've seen over time that support for LGBQ issues increased as more and more people actually knew openly gay people, so there is some hope that perhaps increased visibility of trans folks will change hearts and minds, especially for people who have a trans person in their family.
But with so much media pushing anti trans narratives with increased vitriol, getting transphobes to realize how wrong they are is gonna be a long battle. Some of that will start with us — talking to the people in your life who are misinformed on trans issues and doing the work to change their hearts and minds.
It's also worth noting that these numbers, while alarming, are still better than what we were looking at a decade ago.