Welcome once again to graduation season. For graduates, this time of year means freedom from college or high school (or pre-school. You know you weren't the only one who graduated to kindergarten.) – at least until they start the next chapter of their life. For their parents and family members, it means sitting through a never-ending barrage of names and listening to a hopefully-tolerable commencement speaker. For me, it means one thing: cake at graduation parties.
Okay, so maybe that's not all I think about. But I'd be remiss if I didn't mention how much I love the cakewalk that is bouncing from one graduation party to the next. In all honesty, as a professional Internet user, what graduation season really means to me is encountering a whole lot of articles about what who had to say where the other weekend. Graduation speakers are all anyone wants to talk about from mid-May to June. Which is funny because the speakers are hardly the most important part of the day for graduates. All I remember from my graduation exercises is that Bill Cosby showed up and received a rousing round of applause after he told the parents of a crying child in the audience to "give the child a pudding pop."
Now that I've safely made it to the other side of college, though, I can't help but reading about what's going on in the land of graduations. I'm not going to count down the best speeches from this year. You can find at least ten Best Of lists for this year and we're hardly even halfway through all the commencements. Instead, let's talk about
College Claremont, CA, May 18, 2013

Jon Lovett, a former speechwriter for Obama, spoke to the graduates of Pitzer College about, well, bullshit. "I believe we may have reached 'peak bullshit,'" he said. "And that increasingly, those who push back against the noise and nonsense; those who refuse to accept the untruths of politics and commerce and entertainment and government will be rewarded. That we are at the beginning of something important."
Though Lovett says he no longer believes that "the proper response to our culture of BS is cynicism," Salon point out that the bits of pop culture he invokes as perhaps healthier alternatives to cynicism of are, at best depressing.
We see it across our culture, with not only popularity but hunger for the intellectual honesty of Jon Stewart or the raw sincerity of performers like Louis CK and Lena Dunham. You can even add the rise of dark, brooding, "authentic" super heroes in our blockbuster movies.
Their point? Authenticity doesn't have to be painful. "Happiness isn't, by definition, a put-on, or generated through lies and self-deception." It's an interesting middle path for the two conflicting messages – the trite commencement speeches about how we're all going to change the world v. the dour news we hear from our 2-5 year older peers about the atrocities of the read world – when tend to hear when we graduate.
Atlanta, GA, May 19, 2013 and Bowie, MD, May 17, 2013
You've probably heard about the president's and first lady's speeches at two historically black universities. Both were polarizing speeches that many saw as paternalistic, racist and, in short, deeply problematic while others simply heard their messages as encouragement to work hard and help each other.
Whether you're looking to find out what, exactly, the debate is over, or just interested in reading more about the nuances of their speeches, Ta-Nehisi Coates's article at The Atlantic is a fantastic place to start. His logic is inarguable:
At the most basic level, there's nothing any more wrong with aspiring to be a rapper than there is with aspiring to be a painter, or an actor, or a sculptor. Hip-hop has produced some of the most penetrating art of our time, and inspired much more. My path to this space began with me aspiring to be rapper. Hip-hop taught me to love literature. I am not alone. Perhaps you should not aspire to be a rapper because it generally does not provide a stable income. By that standard you should not aspire to be a writer, either.
And his explanation of how their speeches fit into history helped me to understand why their underlying message is so damaging:
…As the president of "all America," Barack Obama inherited that policy. I would not suggest that it is in his power to singlehandedly repair history. But I would say that, in his role as American president, it is wrong for him to handwave at history, to speak as though the government he represents is somehow only partly to blame. Moreover, I would say that to tout your ties to your community when it is convenient, and downplay them when it isn't, runs counter to any notion of individual responsibility.
Atlanta, GA, May 19, 2013
Though Obama's speech to Morehouse's newest graduates had more than its share of problems, it's notable to point out his nod to queers. "Be the best husband to your wife, or your boyfriend, or your partner," he told them. And though much of his message seemed to ignore the bearing of the past on our current situation, as Coates said, "No president has ever been better read on the intersection of racism and American history than our current one." In his speech, Obama called upon the men in the audience to empathize with other oppressed groups in order to connect with others.
As Morehouse Men, many of you know what it's like to be an outsider; know what it's like to be marginalized; know what it's like to feel the sting of discrimination. And that's an experience that a lot of Americans share.  Hispanic Americans know that feeling when somebody asks them where they come from or tell them to go back. Gay and lesbian Americans feel it when a stranger passes judgment on their parenting skills or the love that they share. Muslim Americans feel it when they're stared at with suspicion because of their faith. Any woman who knows the injustice of earning less pay for doing the same work — she knows what it's like to be on the outside looking in.
Boulder, CO, May 10, 2013
Intermission time! Did you know that Julie Andrews gave a commencement speech this year? Me either! She even name-dropped every movie she's ever been in and ended the speech by saying, "The hills today are truly alive with the graduating class of 2013! Bravo!"
New York, NY, May 22, 2013
Edith Windsor, a 1957 graduate of NYU, was given a Presidential Medal on Wednesday, the anniversary of the day she and Thea Spyer legally wed in Toronto. Don't know much about this badass 83-year-old? Read up on her here.
The Internet, May 7, 2013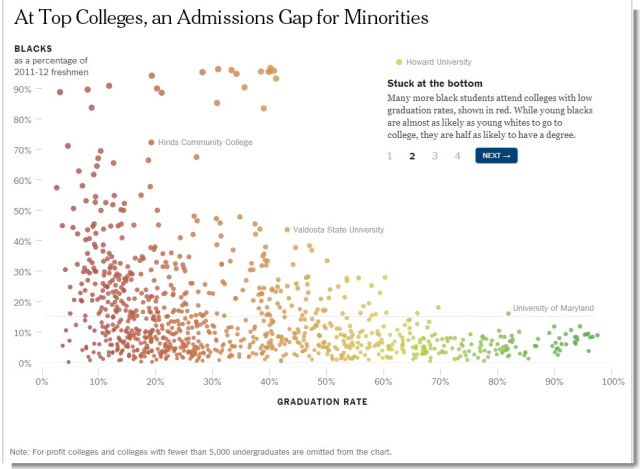 The charts, showing research on minority student enrollment and college graduation rate done by the National Center for Education Statistics in 2011, come from a Times article without text, but Racialicious filled in the gaps for us. With all the graduation celebration going on, it's worth looking at the demographics of the graduates. According to Racialicious, finding a school that fits your budget and provides the resources you need to succeed in school can be prohibitively difficult.
Lets consider the state of Maryland once again. UMD's cheaper tuition starts at (not including room and board, books, etc) $8,909 for residents, and jumps to $27,288 for non residents. At an 81.8% graduation rate, they're also 15.9% Black students which make for great numbers on this graph. In comparison, Morgan State University (a public university, but with their own board of regents) starts at $3,609 for residents and $8,316 for non-residents. The HBCU is more financially accessible and eliminates one of the major stresses students face during college, but with that comes 30.7% six year graduation rate. It goes without saying that college choices shouldn't be this starkly contrasted.
To see more in-depth detail about each data point and about Hispanic and Asian students, check out the original article.
The Internet, May 24, 2013
Lisa Wade and Gwen Sharp are two sociology PhDs with some seriously solid advice. I liked the last three points the best.
7. Remember: If You Change Your Mind, You're Still Right!

[W]e often refuse to admit [that we're wrong] or go on the counter-attack. Being told we're wrong, though, is really great!  It means we have a good chance of not making that mistake in quite that way again. That doesn't mean it feels good, but it is a very good thing to learn how to accept that we're wrong.

8. Listen When People Point Out Your Privilege

It's really easy to write someone off as racist; it's much harder to start a dialogue on the issue. If they do the latter, it's because they've decided that you're a good person who's worth their time and energy. So instead of launching into an explanation for why and how you can't possibly be prejudiced, ask "Can you tell me what you mean?" and listen listen listen.

9. Make Allies and, Yes, Change the World

C. Wright Mills one said that sociology was both terrifying and magnificent.  It is terrifying because it teaches us that our lives are not ours to determine, but are subject to cultural norms and institutional forces over which we have very little control.  It's magnificent, however, because once we can see the system for what it is, we can agree to change it. In other words, we're stuck in a system not of our own making, but we're in it together.  So, when you come across an unfair workplace, an unjust law, a biased educational practice, or some other injustice, know that — with the right allies, hard work, and a little luck — you may just have the power to change it.