We've welcomed all kinds of new writers to the Autostraddle team, and now it's your turn to say hello! Read about the newest Contributing Editors — including a few that have been here for a while but haven't been formally introduced UNTIL NOW.
Here are the new kids who've been pumping extra smarts into your brainspace! We're so glad they're here!
---
AUDREY
Contributing Editor

Audrey is a 2013 UT-Austin graduate living in Managua, Nicaragua. She manages English communications and fundraising for a development nonprofit and goes to the beach with glorious frequency. She started writing at age 5 and never stopped. She spent most of her time at UT-Austin in the basement office of The Daily Texan. These days, she also contributes at ByVolume. Here at Autostraddle, she is excited to write about policy, radical activism, music, and feelings.
Interesting Facts:
I can plan the guitar and the harmonica at the same time.
I have the outline of Texas tattoo'd on my shoulder and am unequivocally one of *those* Texans.
I first learned about feminism listening to Alanis Morissette with my mother on road trips to Memphis, thus beginning the journey that brought me here. Thanks mom <3
[more]
---
HELEN
Contributing Editor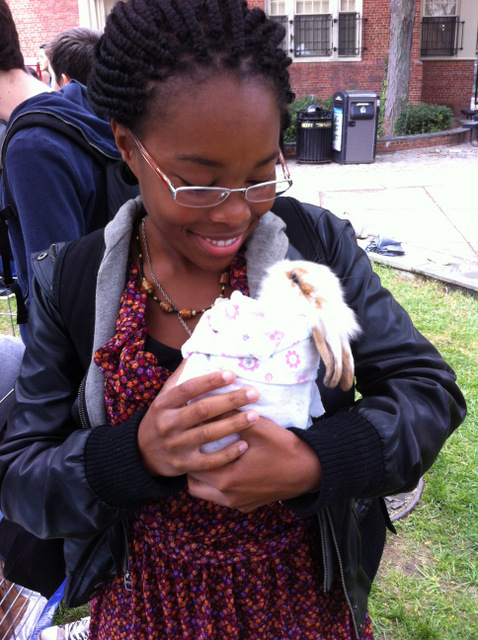 Helen is a New England-born, professional procrastinator. She identifies as a chocolate enthusiast and is always the little spoon. When she doesn't have her head inside a book, Helen indulges in some form of femme-flagging or sharing her feelings on Tumblr. She's fun-sized but has a big mouth. Feel free to check out more of her work on ElixHer.
Interesting Facts:
I'm afraid of chickens. It's okay though because I'm a vegetarian.
I spent a lot of my childhood convinced that I was pikachu.
My body is probably 56% peanut butter thanks to the inordinate amount of PB I consume.
[more]
---
MADDIE
Contributing Editor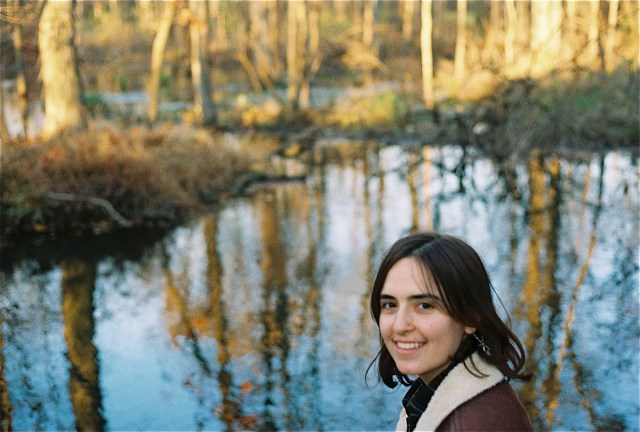 Maddie recently graduated from Vassar College with a degree in Women's Studies. While at Vassar, she was a friend of the Geography department and worked on a peer hotline for students affected by interpersonal violence. Maddie was raised on the 1970s children's album/book/movie Free to Be…You and Me, which her friends often say, "explains a lot." Maddie is passionate about immigrant justice, and she envisions a world in which no one will be unnecessarily separated from their chosen families. Maddie plays guitar, runs, cooks without recipes, and talks about maps with her housemates. She does not have a smartphone and likes it that way.
Interesting Facts:
This past summer I made a papier-mâché unicorn head with my best friend. We named it Pink Ivy.
I have three close friends who are also named Maddie/Maddy/Matty.
I didn't become a fan of Tegan and Sara until Heartthrob came out, sparking a three-month period in which I listened to them exclusively, which I think makes up for lost time.
[more]
---
MARI
Contributing Editor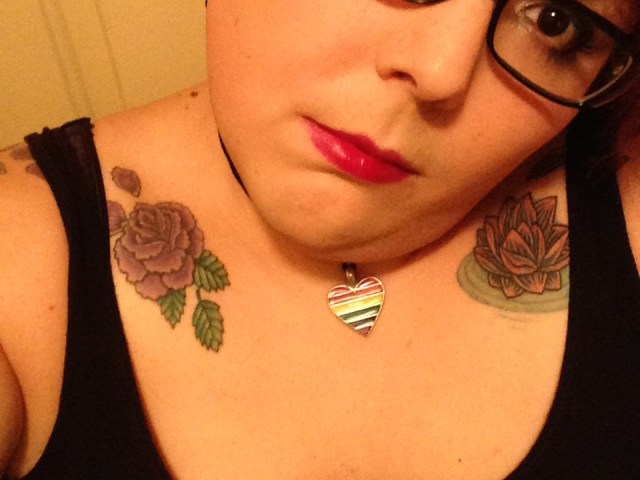 Mari is a delightfully (some spell that "painfully") nerdy queer girl born, raised, and currently stuck in America's High-Five (you, know, Michigan). She's a healthcare professional who decided, in a moment of total loss of all rationality, that getting a PhD in genetics sounded like a really good thing to start at the age of 30. She likes to spend time ignoring her dissertation so she can write about trans and queer issues and pick apart pop-culture. She's an avid science-fiction fan, and you can often find her at any of the sci-fi conventions in Detroit and Chicago giving panels on queer/trans inclusion and consent culture. She dislikes brussel sprouts, romance novels, and people who randomly touch her tattoos. In addition to writing for Autostraddle, she's also a contributing writer at Transadvocate, and [does her best to] maintain her personal blog at transnerdfeminist.com.
Interesting Facts:
I've been a semi-professional DJ since 2007 (I even got a random mention in HuffPo for a party earlier this summer.)
I'm an obsessive music fan, and I've been to well over 300 concerts.
I initially went to school to work in radio production, so I do an excellent impression of an NPR reporter.
[more]
---
BRIANA
Contributing Editor

Briana is an Afro-Dominicana stuck in the Mitten state. Aggro Hard-Femme. Anarch-ishh Black Punx. Team Rih Rih. Bruja. Big Mouth. Cooking Mami. Lana Del Rey's wanna-be wifey.
Interesting Facts:
I share a hometown with Davey Havok, Kim Gordon, and Lydia Lunch.
My maternal grandfather was an exorcist.
I can make paper airplanes out of starburst wrappers with my mouth.
[more]
---
KAELYN
Contributing Editor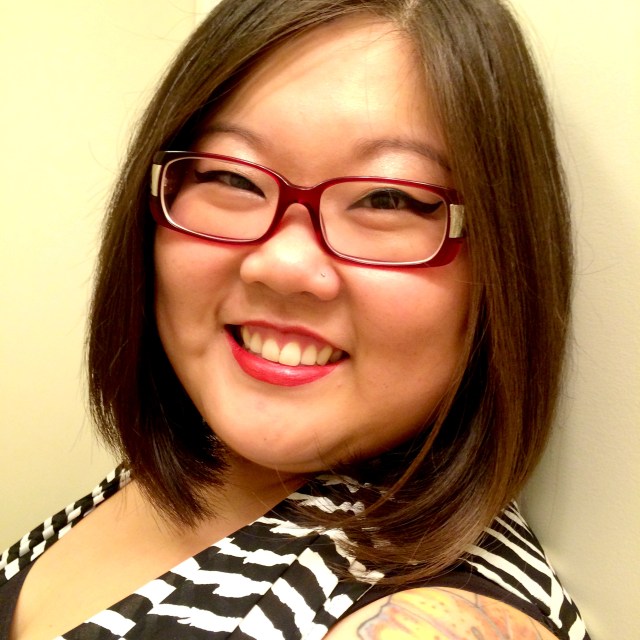 Kaelyn is a (femme)nist activist and the reigning Queer Fat Vegan Korean Immigrant Ms. America Pageant winner. She is a full-time community organizer, and a part-time lover/sex educator. You can find her binge-watching TV, over-caffeinating herself, standing somewhere with a mic or a sign in her hand, eating vegan comfort food, or just generally doing too many things at once. She lives in Upstate NY with her partner-in-crime/spouse and their furkids: a xenophobic cat, two bossy bunnies, and two sassy guinea pigs.
Interesting Facts:
I was in a pageant…I mean "scholarship contest" once in high school. 3rd runner up Lakewood Area Junior Miss RIGHT HERE.
I have an extensive collection of Rocky Horror Picture Show memorabilia.
I love, love, love rats and have had five fancy rats as pets over the years.
[more]
---
ROBIN
Contributing Editor

Robin is a dandy-bro Chinese-American gay lady who does internet stuff by day and different internet stuff by night. She's very into the history of tech and the future of people-machine interactions. She graduated from Princeton with a degree in English, which has provided her with a perfect recall of Grey Gardens. She loves theorizing her ideal TV show, hiking to and skinny dipping in swimming holes and communing with animals by imitating them. If you ever find yourself with fifteen minutes to kill, ask her about cold-brew coffee.
Interesting Facts:
Two of my three tattoos are inspired by "The Love Song of J. Alfred Prufrock": that line about mermaids runs up the middle of my back, and the yellow fog-cat rubs its muzzle upon my spine right above it.
I've been trying to make clotted cream for six months now, and I'm still not getting it right. I need dairy help!
I have never met an Oxford shoe that I did not covet.
[more]
---
ALLEY
Contributing Editor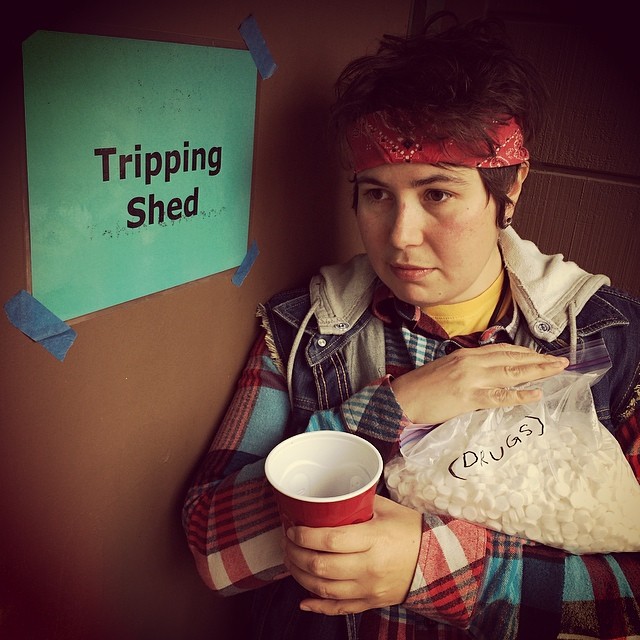 Alley Hector is a writer and Web Developer based in Portland, Oregon where she has lived since the dawn of queer time. This means that if you have ever been here she has probably gone on a date with your ex and has accidentally responded to friends Craigslists personals no less than 3 times. (Remember Craiglist personals? Of course not, you're 22.) Past projects have included editing Just Out magazine and founding and editing local queer news and events blog/ex-girlfriend-making program qPDX.com.
Interesting Facts:
I am currently obsessed with making my iPhone speak in emoji. Turn on the accessibility and then Siri will say all kinds of creepy things to you like: "A Monkey that can speak no evil. Face with no mouth. Face with no mouth. Face with no mouth. Face screaming in fear. Chinese man with hat. Boar."
I learned to code by making a drag trivia game in a long dead programming language called Lingo. It was for a Digital Art class in 2003 at Smith College. And if you won you were treated to a animated dance number of a woman with a riding crop dancing to Madonna's "Human Nature."
I grew up listening to 1990s Dyke Punk in Portland, Oregon like my favorites Team Dresch, Sleater-Kinney and the Third Sex and even got to play with them during an amazing riot grrl convention we put on called SPRGRL Conspiracy in the summer of 96 with my first band Bonanza Jellybean. My Chainsaw Chat handle was Idgie, in case any of y'all remember waiting for 30 seconds for the forum and chat pages to reload each time. Fuck yeah Geocities!
[more]