TEGAN & SARA: Tegan & Sara are on the road with Sainthood and Sara Quin did an interview for the Boston Globe in which she was so cute and perfect you'll hardly be able to handle it. Unfortunately as we try to read page two of this interview, it keeps getting massacred by a giant Sleepy Mattress ad. We are all about advertising even intrusively at times 'cause papers/websites have to pay the bills, hello, but omg you guys. This is a whole new level.
Highlights from Sara Quin's interview:
Every time I fall in love I become absolutely, pathologically obsessed. The moment that you have what you want, and you're not totally ready for it, you become obsessed with the idea that you don't deserve it. I think the core of what makes Tegan and I insecure is that we'll disappoint people. I really do believe that Tegan and I are obsessed with disappointment – the idea that we would let someone down, that someone wouldn't like us, that we weren't talented enough.
I'm so touched by what people feel about me and Tegan. I wanted to be in a band where people get obsessed with me the way I used to get obsessed with people in bands. I like that our audience is filled with people who will cry because of how one song makes them feel about their heartbreak. I appreciate that.
She also talks about how they're going to be working with Amanda Palmer, and how when they first met, shooting for OUT magazine, "an old man walked in" and it turned out to be Edward Albee. Sara didn't know who Edward Albee was — do you? If you don't it is never to late to learn!
HEY! THIS IS WHERE THE ALLIGATOR VIDEO WAS INITIALLY POSTED:
Earlier today we embedded the music video for Tegan & Sara's Alligator. Unfortunately neither the intern who found it on a public website owe were not aware that the video was a leaked version and had not officially been released. FYI blogs-who-will-not-be-named-cause-who-knows-maybe-you-got-it-from-another-liar; "Today Tegan & Sara released the official video for Alligator" IS SLIGHTLY MISLEADING.
We have a strict 'no leak' policy here at Autostraddle and have since taken the video down. We know you're all excited about seeing it, so we encourage you to tune in to the Tegan & Sara myspace page for its official premiere on Saturday.
For more on why leaking is bad and we are anti-leaking anti-pirating etc, please see the Tegan & Sara Sainthood review, paragraph two, entitled "A Brief Crystal PSA" which begins with the sentence, "As you've probably heard, as of yesterday, some asshat has leaked Sainthood."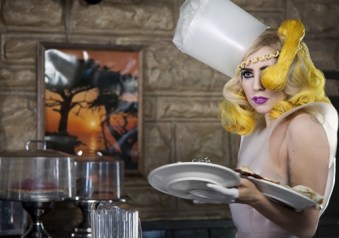 LADY GAGA: Gaga is hitting the studio ASAP teaming once again with producer RedOne: "we're gonna start very, very soon. I think within weeks, we're just gonna rock again. When me and Gaga get together, it's crazy. It's unbelievable." (@mtv)
Also, the world is abuzz over Gaga headlining Lollapalooza this summer in Chicago. (@billboard)
Finally, look at this insane still from the upcoming "Telephone" video.
UGLY BETTY: The adorable Mark Indelicato who has played Ugly Betty's nephew for the past 4 years is aiming to keep of VH1's Child Stars Where Are They Now with a reality show that would follow his internship at Teen Vogue. (@intouch)
WE HAVE TO STOP NOW: The cast of the lesbian web-series starring Jill Bennett & Cathy DeBuono has a behind-the-scenes video from their photoshoot with photographer Judy Francesconi. "We Have To Stop Now" co-stars out comedian Suzanne Westenhoefer and Meredith Baxter and season 2 premieres in April.
EWAN MCGREGOR: Ewan McGregor talks about his gay sex scene with Jim Carrey in the upcoming I Love You Phillip Morris:
"There were two alternatives. There was the spit, and there was a really nice slow swallow, where I look at him and just do a loud swallow. I really like that one, but I guess they went for the more obvious spit over the side."
Also, on the subject of de-gaying Hollywood films:
"I'm very keen that it's a gay movie. There was quite a lot of talk at Sundance that 'well, it's not a gay movie. It's a film about guys who happen to be gay.' And I was thinking, it's nothing but a gay movie. It's about a gay couple, about a man's sexuality, and he comes out. It's not the point of the film, but let's not pretend it's not a gay film.wp_postsI Love You Phillip Morris will be released on March 26. (@out)
KATHY GRIFFIN / LAW & ORDER: A preview of Kathy G. in character as a lesbian activist in disbelief that Mariska Hargitay is straight. Obvs this is serious business but it still cracked me up. (@aol)
KRISTIN WIIG: Paul Feig and Judd Apatow, who worked together to create the absolutely brilliant Freaks and Geeks, will re-team for a film written by and starring Kristen Wiig. Unfortch, the film's plot is yet another in a long line of wedding-themed, hetero-celebratory nonsense, described as "two women battling to plan their friend's wedding party."  Meh. (@hollywoodreporter)
RUPAUL: Check out photos of RuPaul, sans drag, promoting his new book Working It at in Atlanta. (@loldarian)
GLAAD: Drew Barrymore and Wanda Sykes will be honored at the 21st annual Gay & Lesbian Alliance Against Defamation Media Awards (GLAAD) is Los Angeles on April 17.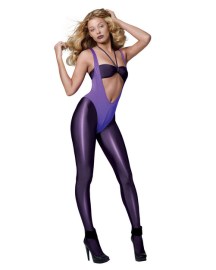 ANTM: The new cast of America's Next Top Model has been revealed. Obviously this season they decided to start the challenges from the get-go, dressing the women in alien wrestling outfits for their first photoshoot. It's sort of Avatar-ish. Allegedly Tatianna is a lesbian, however the only recorded evidence of this is that she said "me and my girlfriend were eating sandwiches" in the beginning of her interview video. Obviously as you and your mom have probs had fights about, "girlfriend" does not always mean "girlfriend." If anyone has additional evidence, like that you have made out with her, please come forward at this time. Obvs all will be revealed in the first episode, but really who watches the show anymore when fourfour's recaps are just so much better. Like his rundown of the new season, which points out that despite the preview:
(Also, ANTM did not bring me fierce! It merely reminded me of that word's existence on an average of every 30 seconds. I know this show thinks it's, like, the patient zero of drag queens, but please, get your gay history straight, ANTM!)
(@antm)
JULIANNE MOORE & ANNETTE BENING: Lisa Cholodenko's (High Art) new film, The Kids Are All Right, starring Julianne Moore & Annette Bening as married lesbian couple, has moved on from Sundance and is now earning raves at the Berlin Film Festival. The film will be released on July 10th. (@timesonlineuk)
BROADWAY: British actors Hugh Dancy and Ben Whishaw have won praise for their turns playing troubled gay lovers in a new Off-Broadway play. The pair portray two couples in the different eras who anguish over emotional isolation and gay identity in "The Pride," which opened in New York this week. (@abcnews)
ALTERNATIVE LIFESTYLE SPICE GIRL: A little shocked it's not Sporty Spice, but Mel B has an alternative lifestyle haircut, ya'll! (@ohnotheydidnt)