EPISODE 2
You know that sexy growl-singing you hear in the opening credits? That's Marilyn Manson! I know that some people don't really get him, but I am a major fan. While I was in Catholic school, I saw him on TV and was confused about his gender presentation. Manson helped me realize many important things about gender, like it's okay to confuse people if you want to, and that I don't like the binary.
Cotton's no Sherlock, and he keeps hanging the wrong people. It's taking a major toll on the residents of Salem.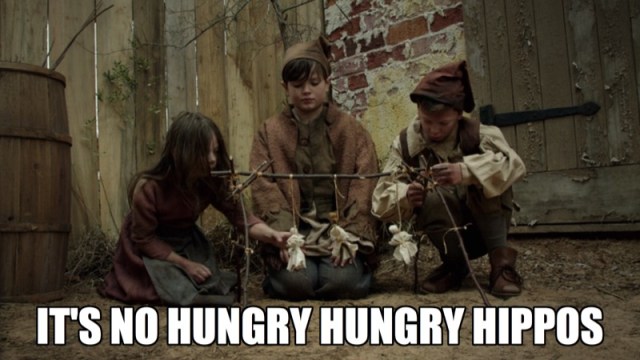 John's super pissed at Reverend Cotton, because his friend Giles was killed in an unnecessarily cruel way (large rocks on top of his body). See what happens when people read the Malleus Maleficarum? They get horrible ideas.
John rushes into the brothel where Cotton's hanging out with Gloriana. He's about to kill the Reverend, but then admits that he's seen the witches rolling around in tar and fire in the woods. So these two enemies team up temporarily.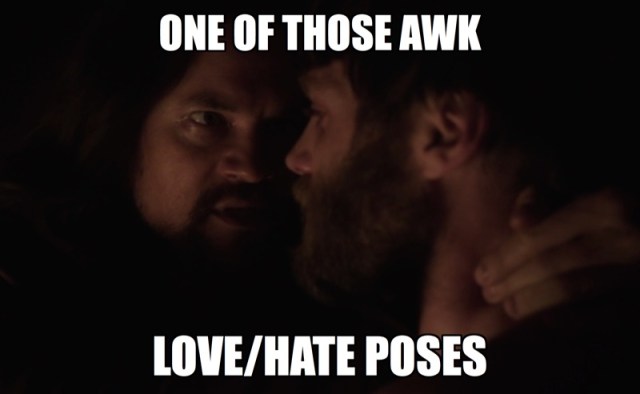 We finally learn that Lucius Malfoy Hair is a for realz witch, and he's concerned that John Alden's presence is distracting Mary from her actual goal of world domination. She reminds Lucius Malfoy Hair of her powers, and tells him not to worry about it.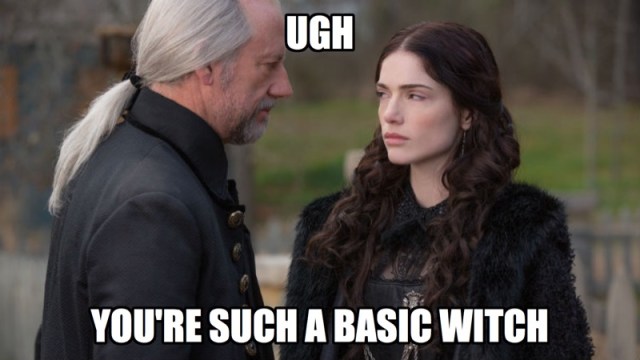 Both of these witches are worries about the witnesses who disrupted their Gay Witch Happy Hour/Circle ritual. No one got a clear look at the culprits, but Lucius Malfoy Hair might know a seer who saw something.
Meanwhile, John Alden, Reverend Cotton, and Isaac form the Witchhunting Stooges, committed to finding the real witches with real evidence this time!
Inside, they find a dead person's hand, covered in glyphs and bugs.
Lucius Malfoy Hair tromps around in the woods in search of the seer, who uses reanimated animals as his miniature spies.
This seer is a scary mofo. He's got the ability to pick up fire with his bare hands and breath life into dead animals. He even sketches out Lucius Malfoy Hair.
Meanwhile, Mary seems to have a new target. The town's midwife keeps questioning the witch panic, imploring people to use Science and Reason! She thinks that the treatment of Mercy is completely inhumane.
Tituba and Mary have a lovers' spat about the next innocent victim of their Grand Rite. They're so adorable.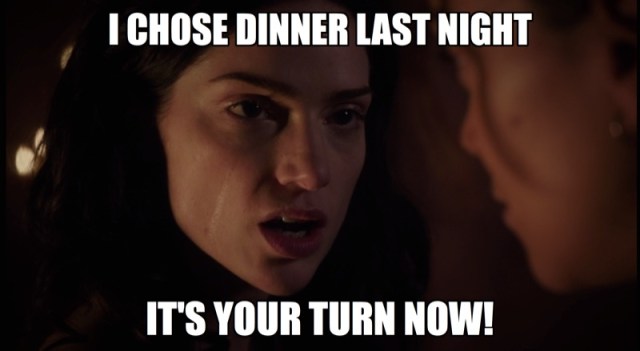 Former Puritanical witch hunter George Sibley tries to throw some shade at Mary, but she crams her familiar back down his throat.
Mary curses the midwife, so that the next baby she delivers comes out stillborn and deformed. Since Mary has lost a baby of her own, you'd THINK she'd never stoop this low. Ugh, evil lesbian cliches.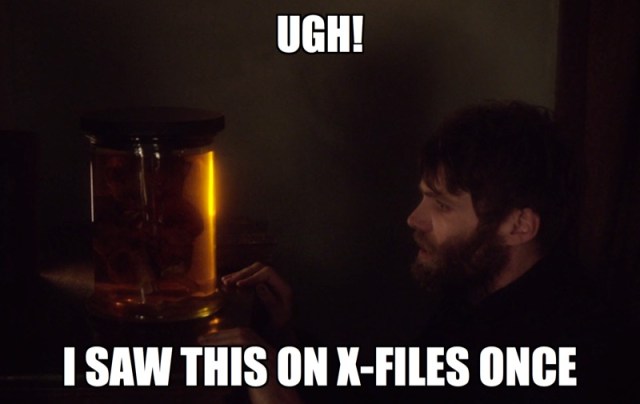 Reverend Cotton visits Mary's house to see the "evidence" of the unnatural birth. He's suitably impressed and runs off to hunt a witch!
The entire town convenes in the church, where Mercy's still hanging on the cross. Cotton continues to be a failure of a detective, and he forces several women to stand in front of Mercy, to test if they're witches. When the midwife arrives, Mary uses her evil powers, causing Mercy to spew blood all over the midwife.
But seriously though, fuck Cotton and fuck Mary. The midwife ends up hanging.
The seer looks into his scrying glass, which is full of zombie lizard blood. And he's able to see the face of Isaac, one of the guys who witnessed the witches' circle! Oh noes!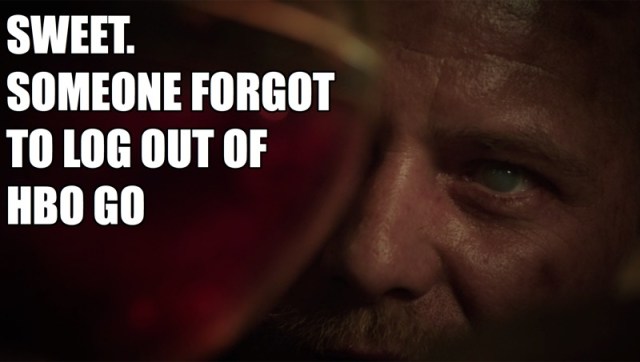 Anne Hale, Lucius Malfoy Hair's daughter, seeks out John Alden because the midwife was her friend. The bartender tries to kick her out because "no ladies allowed after dark." John vouches for her, they both talk about how much Puritanical Salem blows, and Anne demands justice for the midwife's death.
John stumbles over to Mary's house and announces his intention to stay in Salem and join their Board of Selectmen. Which is like an HOA that regulates witch hangings, I guess.
Mary leaps into action, so that she can claim another innocent victim for her Grand Rite. What do you think she'll get as a prize once she completes it? A 5 lb bag of gummy bears? A time machine to take her and Tituba away from the colonial era?
She stuffs a lock of red hair and some beetles into a doll. She squeezes a mouse like a ketchup bottle over the entire mess. Seriously, can't you be an evil witch without the animal torture? There's gotta be a way.
The scene cuts to Anne, who's busy drawing jack-off material of John Alden in her sketchbook. And oh god, I always hated Chucky, but now this doll is sitting on Anne's dresser, giving some major stink-eye.
Ladies' Night in Salem playlist
The theme of this second episode is the Sweet Dreams cover by Marilyn Manson, since we talked about him earlier.
---
Questions:
How would you survive in colonial Salem?
How long until Cotton gets accused of witchcraft?
Why can't Tituba and Mary just ditch their Grand Rite and fly off to Providence, Rhode Island and start a queer witch sorority colony? I'd rather watch that show.
Sleep well, my pretties. Can't wait to explore the dark side of Salem with you next time for episodes three and four!
Pages: 1 2See entire article on one page