You pretty much have had to live under a well-ventilated rock for the last 70 years to not know who Wednesday Addams is. At the helm of all things cool and creepy, Wednesday Addams is the queen of outcasts and rebels, and she's only 6 years old! Well, at least as her first incarnation, when her cartoonist, Charles Addams, created the single panel comic "The Addams Family" for The New Yorker in 1938. As a satirical view of the stereotypical American family, the Addams relished in the macabre and weird and consisted of parents Morticia and Gomez, their two young kids, Uncle Fester, Grandmama and Lurch the butler. Although she made several appearances for the almost 50 years of the Addams' publication, she wasn't officially named until 1964, when the characters were adapted into the cult classic television series. According to the Wiki rumors, Charles Addams gave her the name "Wednesdaywp_postsbased on the well-known nursery poem "Monday's Child" from the line, "Wednesday's child is full of woe." Goodness knows where he found the inspiration for the name Pugsley, her younger brother with an affinity for horizontal striped shirts.
Though Wednesday Addams has seen numerous incarnations from television to animated series and even a musical, she was never more well-known (or more loved) than when portrayed by Christina Ricci in the hit 90's movies, The Addams Family and subsequent sequel The Addams Family Values. In other television series (whether live action or animated), Wednesday was depicted as a sweet natured child who was often bullied by her brother (can you imagine?) and whose weirdest quirk was owning pet spiders.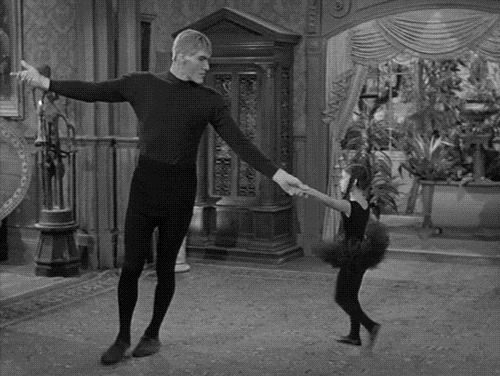 They even had her be a ballerina! Though her dancing sequence with Lurch is adorable (just check out the vid below), this is far cry from Christina Ricci's rendition of Wednesday, who enjoyed torturing her nannies (when she wasn't torturing her brother) and staging real life re-enactments of the French Revolution (real guillotine included).
If you haven't seen the movie, Wednesday Addams is pretty much everything you could want from a mean girl icon: a killer wardrobe, sardonic wit and a frightening stare that works on both kids and adults. While I don't remember much from the first movie, the second is one I still consider one of my childhood favorites. In short, it shows Uncle Fester falling in love with a psychotic nanny who wants to steal his money, so she sends Wednesday and Pugsley to Camp Chippewa so they wont ruin her plans to kill Fester after she marries him. The camp turns out to be over-run with white, blonde-haired yuppies where the villains are cheery and politically incorrect (aka racist) counselors. Also at the camp is Wednesday's arch enemy, the prissy Amanda Buckman, who we meet in the first movie trying to sell Girl Scouts cookies, which our girls asks "Are they made with real Girl Scouts?"
What makes Wednesday stand out is how she goes totally against girly-girl culture. We've seen plenty of macabre teenagers and jaded twenty-somethings with an affinity for black, but this anti-social behavior and stoicism is hardly ever represented in young girls. Throughout these movies, she refuses to ever play into the princess culture that permeates through our childhoods, whether it's the gendered lines in toy stores or the under-representation of girls in leadings roles who aren't damsels in distress.
A perfect example of this is when the campers are being taught how to save someone from drowning and Amanda yells, "I'll be the victim!" to which Wednesday retorts, "All your life." Finally! A young female character who not only defies the little girl princess stereotype but acknowledges it as well (no brainer these Addams Family movies are littered with feminist rhetoric). The movie addresses the infamous Disney princess culture again when Wednesday, Pugsley and Joel are sentenced to the Happy Hut to watch non-stop Disney movies to "brainstorm" them into becoming "happy campers." While the counselors think their cheery torture worked when Wednesday agrees to play Pocahontas in their Thanksgiving play, they are sorely mistaken when she stages an all out riot against the camp with the rest of the camp's outcasts and burn the place to the ground. Her monologue as Pocahontas is the best moment in the entire film series, and any Wednesday fan has committed at least half to memory.
She's empowering, speaks her mind (even with adults) and is kind of a pyromaniac. With all those things and an endless supply of witty comebacks, Wednesday is a breath of fresh air to a generation of girls who felt like outcasts that didn't fit the mold of a perfect girly-girl.
---
I've always had a bit of a thing for bad girls, and I don't think I'm alone on this one. Who doesn't love gals with switchblades hidden in their beehives, girls with killer smirks who drink the tears of their enemies, and ladies that enact revenge without smearing their lipstick? And why do we love them? Is it the clothes, the hair, the make-up? Or is it more about attitude, manipulation, and that pesky sexual ambiguity? For slightly shy girls like me, bad girls let us live out our wildest fantasies. All those things we wish we could have done to that one girl in high school who made our lives a living hell. For these reasons, this column, "Rhymes with Witches" will dissect our love for the fictional mean girls that make it hurt so good. Every week, come take a walk with me on the wild side (switchblade not included) to explore the evil women we love on TV and in film and why we love them. Heroes and damsels in distress be damned.