Victoriah ("Vic") and Hannah Gabriela ("Gab") Banuelos — better known as the sisters who front the Milwaukee-based pop group, REYNA — say they couldn't be more excited for where the future of music is heading. They're excited for a future where even more women are picking up instruments, stepping behind the mixing console, producing records, creating music and writing songs that speak to their realities of being a queer woman and a woman of color. But as of right now, they're working alongside others at reconstructing the present by encouraging you to be you — unapologetically you — and both agree that there's so much more power to creating your own path as opposed to trying to be something that you're not.
Last year proved to be REYNA's busiest so far. In between headlining PrideFest Milwaukee, landing the opportunity to record with Capitol Records after being crowned the winners of a national competition, and opening for Kesha at a local music festival, the duo released back to back synth-heavy summer jams like "Cool With It" and "Baby Forget It."
REYNA kicked off the start of 2019 with a video debut for their latest single, "Heartbeat," a prime example of electro-pop perfection that spotlights that all too familiar intense yearning that comes with being completely lovestruck and wanting to make it work, à la Robyn and Tegan and Sara.
"When people meet us, they think we look sweet, little and cute," says Gab. But here in the video for "Heartbeat," the two get to play around with first impressions. Vic and Gab dance as they bake sweets for their baes, and despite its initial glitter-heavy and fluorescent pink-saturated backdrop, the storyline veers off into darker, campy territory (no spoilers here).
The visuals also work as an homage to Mexican culture, offering snapshots of their childhood (you'll find Mexican sweet bread like conchas, one of those now highly sought-after San Marcos blankets and luchador masks scattered throughout each scene).
"We've always been really proud of where we come from, of speaking two languages and connecting with two cultures," Vic tells Autostraddle. The Banuelos sisters — originally from El Paso, Texas — say that growing up in a border city meant having the best of both worlds at all times. They'd spend weekends in Mexico playing soccer in the street, attending Lucha Libre matches and frequenting the plethora of tienditas in Juarez. At their house, on any given day, it was just as common to hear classic 60's and 70's rock bands like The Who, Rush and The Cars playing on the stereo as it was to hear pop icons like Luis Miguel and Julieta Venegas.
Vic and Gab set their sights on making music long-term as early as 11 and 9 years old. They carefully studied music videos from some of their favorite artists, including Tejana legend Selena and pop-punk pranksters like Blink 182, and wrote some of their first songs shortly after picking up a guitar and a bass. "At first it was like, let's just play around and write a song for fun," says Gab. "But we just loved it so much."
After a few years of performing under the moniker Vic and Gab, the Banuelos sisters reinvented themselves as REYNA in 2016 as a way of carving out more room to experiment with sound and essentially, have the autonomy to do what they wanted. Staying true to the ethos of the new iteration of REYNA, they released songs like "Spill Your Colors," an anthem of empowerment that touches on finding the freedom to be yourself and "growing up to be the person you want to be," and later, "Baby Forget It," which Vic says was written about an ex-gf who kept her jacket and wore it around after their breakup. Naturally, these two songs resonated with the band's queer fandom in their hometown, and beyond.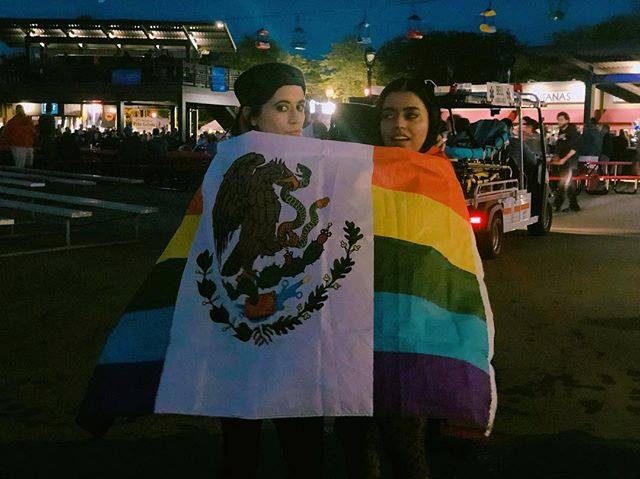 "People love when you are being honest," Gab says. "Sometimes they can't be honest, so they see it [in] you. It's like a comfort. I think that we are getting the feel for who we want to be and who we are. It takes a while but it's definitely better."
"I think the second that we decided to really be ourselves, things really started picking up for us," Vic adds. "Coming out helped my music in the sense where I started to feel comfortable talking about things that happened to me and who I aspire to be. "Spill Your Colors" was probably the first song where I talked about it, being proud of [being gay] and being myself."
Vic joins an ever-expanding roster of openly queer women in pop music such as Hayley Kiyoko and Janelle Monáe who celebrate their queer identity by bringing it to the forefront of their work. REYNA says they also hope to create the kind of representation they say they didn't really see as young Mexican-American women growing up in border cities. In addition to releasing more singles paired with music videos, Vic and Gab plan on performing at more Pride events outside of Milwaukee this year.