While the chance to vote on a ban on same-sex marriage in North Carolina will now definitely be available to voters across the state, that still doesn't mean that opinions are at all unanimous on the subject. For instance, you have Rev. Dr. Keith Ogden of Hill Street Baptist Church, who's publicly aligned himself with the campaign to create a same-sex marriage ban and is in the middle of a Sunday sermon series called  "Save The Family, Now." (Don't even wait til later! Later could be too late!) But on the other hand, you also have a mysterious group of people who are described as "targeting" him for what the Christian Post calls "his outspokenness and willingness to speak to the press about same-sex issues" and "not being afraid to speak to the media about his stance on homosexuality."
Specifically, Rev. Ogden has been "targeted" with a series of voicemails accusing him of hypocrisy and hating gays, which is "untrue" according to the pastor. Perhaps most memorably, the pastor's sermon series has been "targeted" with a rainbow-lettered sign across the marquee announcing it that says "Love Your Own Family." Those homosexual activists! Spouting their bile right there in public where the children can see it!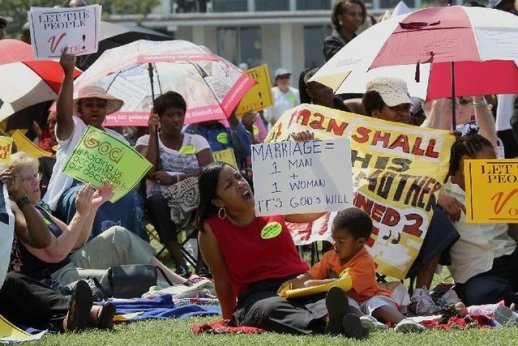 The fact of the matter is that the protest methods described at least in this article aren't particularly vengeful; there don't seem to have been any threats against the pastor, only some impassioned thoughts on his politics. Considering how strong Rev. Ogden's anti-gay feelings seem to be — on the subject of the Asheville city council's attempt to grant same-sex couples normal partner benefits, he was quoted as saying "I didn't think it was fair that same-sex couples get benefits, when those who are fornicating and shacking up – you're not offering them any benefits."
Obviously the pastor is entitled to his right to free speech, but the fact that he expects to do so without having to experience ANY backlash from the people he's advocating discrimination against seems like a lot to ask. In fact, it's a little reminiscent of the recent trend of corporations who feel that gay consumers who hold them to a standard of ethics that include them are "pressuring" them to be "pro-gay."  It's almost like they don't want to have to deal with thinking about the fact that what they do affects us! Or let the public know that, either!
Joe Hoffman is also a pastor in Asheville, and he feels a little differently. "We need to honor the fact that we have differences, and I think people should be respectful in protest," he said. "And yet I certainly feel like protest is appropriate when someone speaks out so strongly against basic human rights." He's also received plenty of angry phone calls, although in his case they're from members of the Christian community that are angry he supports rights of any kind for gay couples. The Christian Post has yet to write an article covering this phenomenon. I wonder why?