This past Christmas I received a kit that teaches you how to paint miniatures for Dungeons and Dragons games. It includes step-by-step instructions for three different miniatures, brushes, paints and everything you need to get started. I got hooked pretty quickly. It was so relaxing to basically paint-by-numbers in 3D. I even forgot about Trump while dry-brushing!  AND doing this makes my game prettier, which isn't something we desperately need (I made cute little minis out of bottle caps), but is something that's certainly nice and fulfilling. Even if you're not a gamer, nothing says you can't paint a dragon mini just because you want one on your desk. Or hell, just because you want to paint one. So without further ado, here's a few recommendations regarding beginning to paint miniatures!
*A quick note on scale—I used 25mm and 28mm fairly interchangeably, but that might bother some of you! If it does, please pay attention to the scale of items in this post.
Getting Started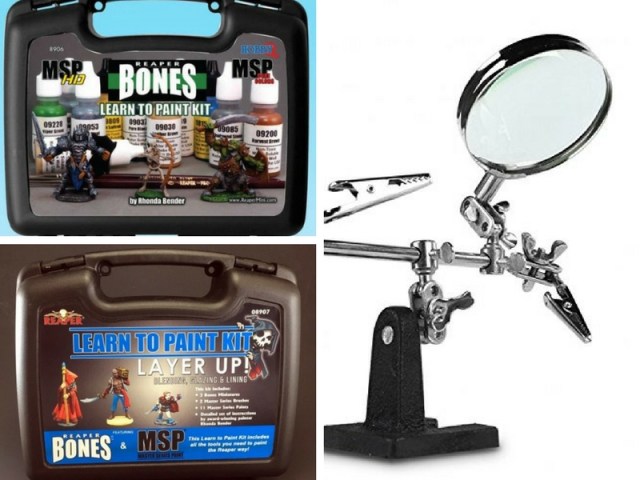 Here's the kit that I got for Christmas: Bones Learn to Paint Kit, $35.42. And here's a sort of level 2 kit that looks really fun: Layer Up Kit, $35.99. And here's a thing I'm ordering literally right now: Helping Hands (with a damn helpful attached magnifying glass), $6.94.
Build a Force of Skeletons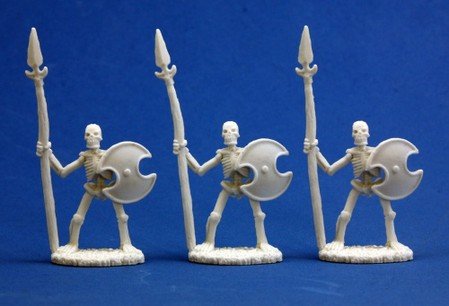 The easiest miniature I've painted so far is a Reaper Bones Skeleton Archer. They're pretty much all one color! And skeletons are, if you're using these for gaming, one of those things you need a force of in order to challenge a party of players. So for some low-stakes practice, I highly recommend building a skeleton force. 3 pack of skeleton archers, $8.45. 3 pack of skeleton swordspeople, $8.04. 3 pack of skeleton spearpeople, $7.75.
Apologies for the lack of quality photos of these! Here's a wee tiny shot of the wee skeleton archer I painted as penance:
Branch Out: Animals, Monsters, People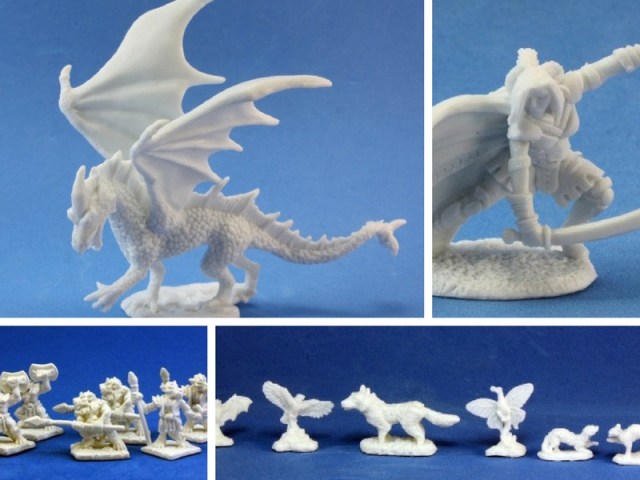 All sorts of beings might show up in your games! Or just on your desk because they're adorable! Kobolds, set of 6, $5.96. Young fire dragon, $8.65. Familiars, set of 6 (includes a very cute weasel looking thing!), $5.02. Michelle, the Human Ranger, $6.72.
Pro-tip: if you're having trouble finding lady miniatures that aren't half naked (not that there's anything wrong with that, you do you, it can just feel very male gaze-y), Oathsworn makes a "sensible shoes" line, wherein ladies are in armor that actually protects their bodies! Or, if you have a really specific idea of what your character looks like, you can always design your own at Hero Forge.
Wee Little Furniture!
It's not just things to battle with! There's also things to battle on and around! And sometimes they're adorable tiny bookcases like the one I'm painting right now! Here's a few other really adorable wee tiny furniture situations: 23 piece tavern set, $19.95. Bubbling cauldron, $7.95. Wee tiny Tudor house set with a wee tiny hanging sign and everything, gosh, the cutest, I love the small furniture, $55.