feature image via dvidshub on flickr
When I decided to enlist in the US Army, everything around me started to mean something else. Commercials of sweet soldier homecomings and Veteran's insurance companies, reports on the news about sexual assault in the military, hell, even laying in bed with three cats, a dog and my sisters watching Netflix brought a cloud of recognition, maybe a little terror: "This soon will all apply to me."
…and when it does, I will miss the hell out of being blanketed by cuddly things like pups, kittens and little sisters.
My experience thus far has been very personal. I held it close to my chest before "coming out" and telling the whole world because there is so much misinformation about what it really means to live in the world of a soldier, and because most of my family and friends aren't all that supportive of the Armed Forces. I had that same sense of apprehension for a long time, too. I'm not a fan of war and I didn't like that one of my closest friends kept getting sent into it while I sat safely at home and remembered him as this kid with emo bangs, lip rings and tight jeans. I attributed his positive outlook as the result of effective brainwashing. So to have been silently considering enlisting for so long felt like straight up hypocrisy. I'd need to assuage my own contradicting opinions before telling anyone else, let alone calling a recruiter.
It wasn't just me though; life, a girl, DADT and college all kind of held me back. To the extent to which the military would've shat on my identity and messed with the lives of people I loved (queue The L Word where Tasha was court marshaled for being a foxy homo, enacting foxy homo "tendencies") was a very scary thing.
Since then, I've: graduated with a BA in Liberal Arts Bullcocky, started on an MFA in the same (i.e. Creative Writing), worked in the field of Chasing People Who Steal Things (i.e. Loss Prevention), served in restaurants and worked on a Mobile Cupcakery (i.e. fucking delicious). Unfortunately though, the crisis of figuring out what would make me the happiest clam kept coming back. And so I picked up my laptop and started in on some research.
What I found – the benefits of job security, travel, educational opportunities, health insurance, challenge and duty – all appeal to me in a big way. Those things obviously come at a price, but overall, it's been looking real good.
What I didn't find though, were the answers to questions like, "Will I have to leave my boxer briefs at home in lieu of high-waisted, thin, cotton lady panties under my kick ass uniform during Basic Training?" and "How difficult is it to opt out of wearing skirts as formal attire?"
Questions that my recruiter can't answer, and surprisingly, neither can the world wide interwebz. My personal concerns regarding the particulars of masculine-of-center identity in the Armed Forces are only the beginning. I can't be the only woman – and masculine-of-center woman at that – struggling to find information about military life.
And so I present: one homo's experience. As I go through the process of enlistment, Basic Training and so on, I'll be writing/tumbling/and youtubing about it. Maybe some of it will be useful to others out there with the same questions, maybe it will encourage others to enter the dialogue and become resources, too. Maybe some of it will include pictures of ladies in uniform…I JUST DON'T KNOW. But, there is far too little out there right now, even less in the way of first-hand perspective — it's always, "I knew a girl who…" or "My husband had a chick in his platoon that was like…" and that is t-totally terrible. I mean, c'mon, really? So for all you who've considered enlisting or are just curious about what it's really like to be a queer in the military, I'll be here.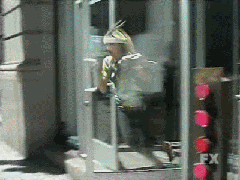 ---
Special Note: Autostraddle's "First Person" personal essays do not necessarily reflect the ideals of Autostraddle or its editors, nor do any First Person writers intend to speak on behalf of anyone other than themselves. First Person writers are simply speaking honestly from their own hearts.