It was Thanksgiving. Or was it Christmas? Honestly, all I remember is that there was this holiday where I brought a very sacred dessert home with me from college and then drank some wine and ended up sitting at a family meal screaming about feminism with my eyes half-shut.
"I just don't get why they can't put women on the money!" I was literally yelling at the top of my lungs. "You know who I wanna see on the money? NICKI MINAJ. THAT'S WHO I WANNA SEE ON THE MONEY. MADONNA. HILLARY CLINTON. Why is Benjamin Franklin on the hundred, anyway? What did he do, turn back time? Well, you know who turned back time? CHER. PUT CHER ON THE HUNDRED!"
Needless to say, I didn't make as persuasive an argument for women on currency as activists in Canada and the United States currently pushing to rectify the Money Man Problem (as distinct from every other Man Problem.) In Canada, a Change.org petition demands the nation of free healthcare, maple syrup, and really kind people add some ladies to their beautiful multicolored bill collection. An American campaign to kick Andrew Jackson, literal worst President ever, off of the $20 bill in exchange for a badass chick is currently accepting votes for who they'll put forward. (Unfortunately, Wilma Mankiller isn't on there so I probably won't live my dreams anytime soon of asking people, "what, you never seen a mankiller before?")
All these campaigns got me thinking: who are the women who have been on the money? What are their stories? Do they have great hair? What I found were heroines and everyday people, celebrities and socialites. These were some of my favorites, in chronological order of when their beautiful faces were first birthed into our worlds by various mints.
Thank you to this website in particular.
---
1881: Empress Jingu (Japan)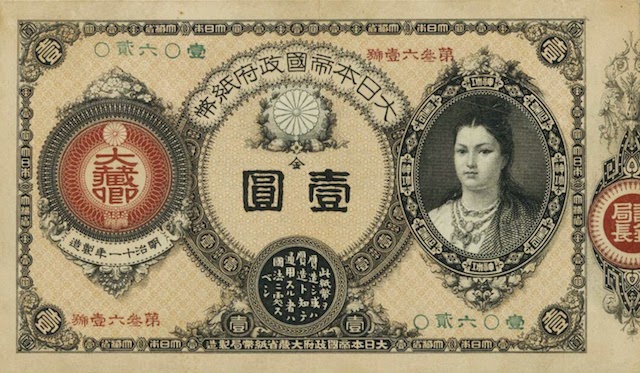 Empress Jingu may or may not have ruled Japan from the year 201 and led an army invasion of Korea. Her name has been removed from official historical documents, with experts instead naming her son the 15th Japanese imperial ruler. In the face of patriarchy and also an incredible lack of evidence or understanding of what the world was even like in 201, she's become a legend in Japan. Well, that and also that her story is literally the stuff of legend, but NBD. Don't tell a historian the truth about women anytime soon, y'all.
---
1900: "Zella" (Brazil)
The "Zella" banknote features an engraving by Sukeichi Oyamaa based on a portrait by Conrad Kiesel and, apparently, stirred a lot of controversy, except all the proof I could find was poorly written and difficult to comprehend? So, there's that. It seems like it might just be a woman who was sleeping with Kiesel or maybe one of his friends, though, which is very Lana Del Rey.
---
1914: Polyhymnia (Mexico)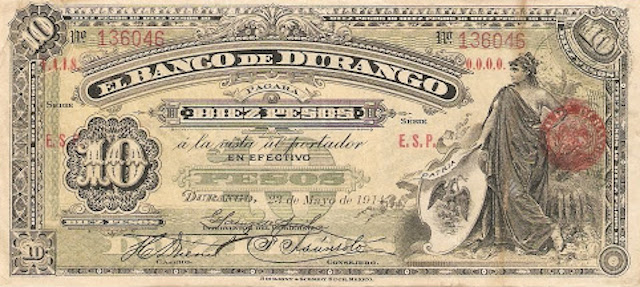 Polyhymnia is the Greek Muse of sacred poetry and hymn, dance, agriculture, elegance, and pantomime, the latter of which is my favorite art form obviously. She appeared in Dante's Divine Comedy in Paradiso, which is nice because it would have been sad to see her in one of the circles of Hell.
---
1942: Women Who Stand for Things (France)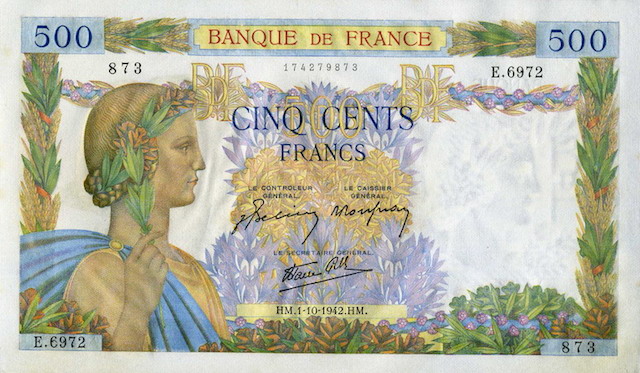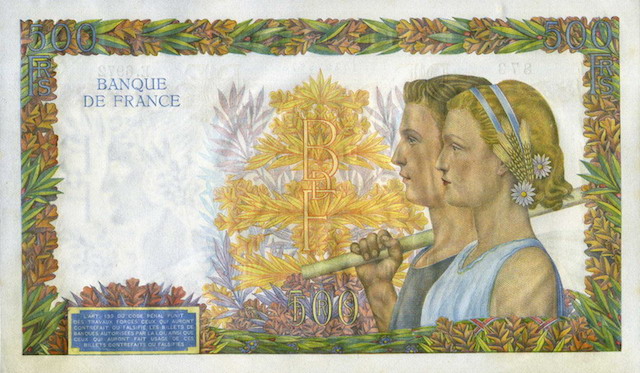 If you like your chicks in twos a la Drake and also my life story, this is the bill for you. This franc depicts a woman holding an olive branch and otherwise symbolizing peace on the front and a blonde girl on the back with "ears of wheat and two daisies stuck in her hair," which is I hope how I appear in other people's memories.
---
1948: Marianne and Madagascar Woman (Madagascar)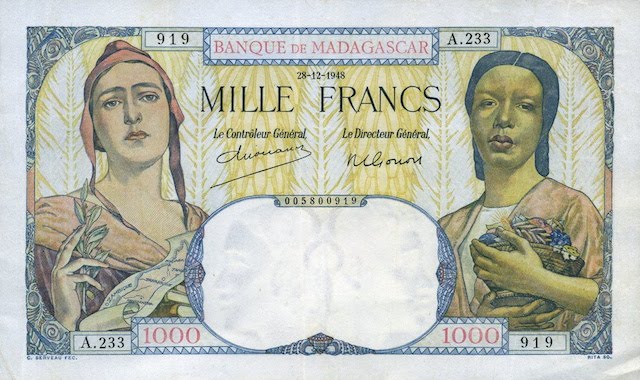 These two lovely ladies are an allegory for the French Republic of Madagascar. Marianne — who has a name it seems! — is holding a map of Madagascar Island and acting like she discovered it, which seems typical. "Madagascar woman," who totally should have a name but lost it in a racist patriarchal world, is holding a basket of fruit.
---
1956: "Nude Women" (French West Africa)
So the description of this bill said it had "nude women" on the front but like, come on, those women aren't nude, currency website! Why you gotta make me click on stuff like that! They're just hanging out! That being said, I think depicting three everyday women talking and leaning on one another is, in and of itself, a deeply feminist act. That's my story and I'm sticking to it. Also, I want that dress on the left so badly.
---
1957: Danse Macabre (Switzerland)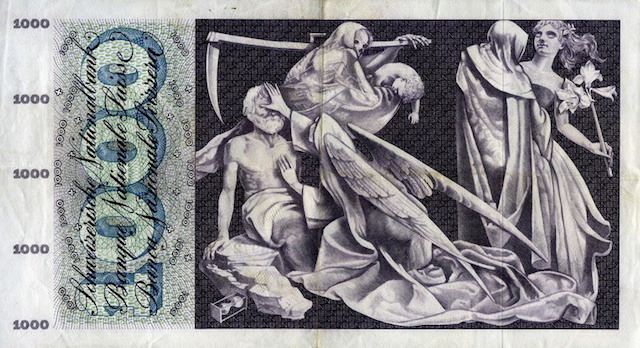 I'm sorry, can we just take a moment here to soak this in? A woman, depicted on front and back of this bill, appears to be in the middle of being summoned to her death by a bunch of, well, dead people during the Dance of Death. Also, this is an entire piece of currency depicting the Dance of Death. If this isn't the most metal thing you've seen today, I'm impressed.
---
1967: Agatha Barbara (Malta)
Agatha Barbara was Malta's first-ever woman President and third President ever, as well as a Labour member in Parliament and Minister. She was part of the Maltese Labour Party's executive committee and headed the party's women's branch. She also founded the Women's Political Movement in Malta. I'm pretty sure if I lived in Malta I'd owe little ol' Aggie everything.
---
1983: Queen Elizabeth (Isle of Man)
I told myself I wouldn't put Queen Elizabeth or any of the other iterations of British Queens on this list because it's too easy, and imperialism and colonialism, and those ladies smack their faces on everything before they die. But the fact that Queen Elizabeth is depicted on notes and coins, like all of them, from the Isle of goddamn motherfucking Man, is so subversive, sweet, and amazing that it provided me with the glimmer of hope I needed to get through this hellish week upon my discovery of said fact. Like, get it together, America. If the Isle of Man can put a woman on the money I think we can get over all of mankind now.
Also, instead of dropping a mic here, I'm dropping this coin. It's so on-brand.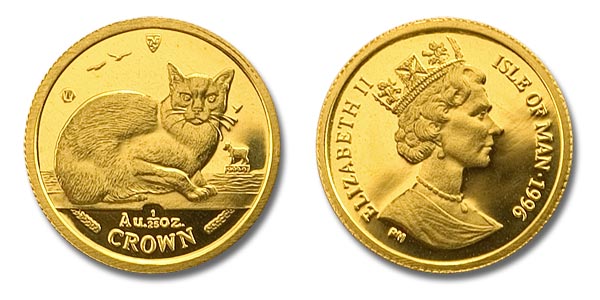 ---
1991: Caroline Chisholm (Australia)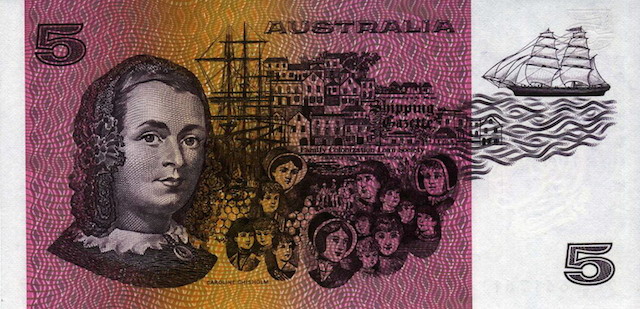 Caroline Chisholm was a progressive English humanitarian who did some gender-based advocacy in her time and was subsequently enshrined for it on this bank note in Australia. Filed Under: Reasons I Really Want to Go to Australia.
---
1992: Aphrodite (Cyprus)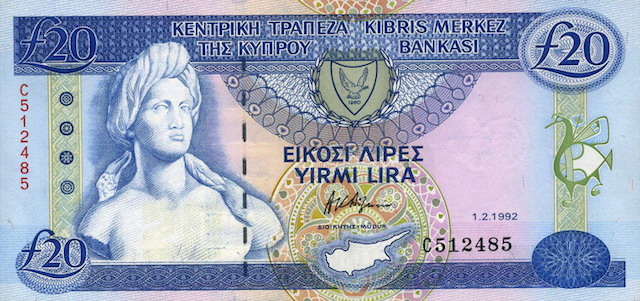 Aphrodite is the Greek Goddess of love, beauty, sex, and pleasure. In the 8th grade, we did an intensive lesson on Greek mythology that culminated in a character potluck where we ate Greek food and dressed up as different Gods, Goddesses, Muses, and woodland nymphs. I chose to be Aphrodite, which I consider to be some of the best foreshadowing I've done in my young life. I will never not be your soul twin, girl.
---
1996: Clara Schumann (Germany)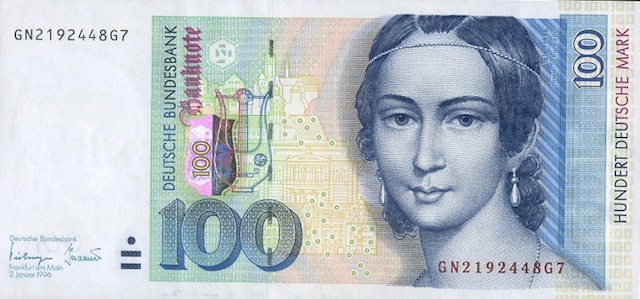 Clara Schumann was a musician and composer who wrote her piano concerto at fourteen and performed it two years later, kicking off a 61-year career. I'm pretty sure after looking into her life that she "made piano cool again," but don't quote me on that just because I put it in quotes. Her husband was also a composer and helped her write that first concerto at fourteen, but Clara is way more badass.
---
1997: Various Women But Especially the One on the Tractor (Eritrea)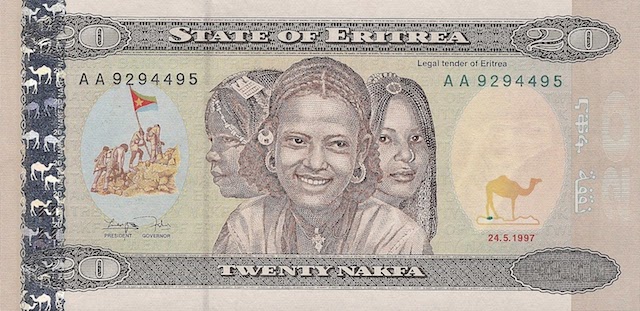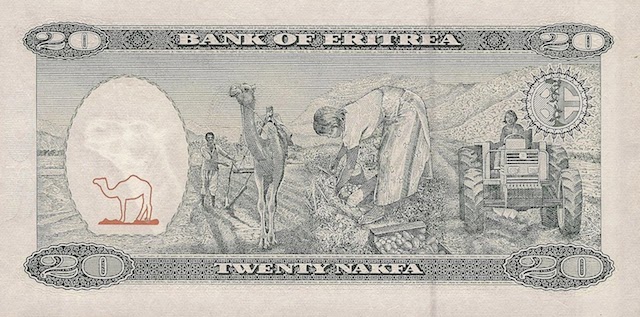 That woman on the tractor is just fucking living it up. She's living the life, you guys. I would absolutely love to be her. Also, a fun fact: Eritrea's currency features a ton of everyday women throughout, which is nice because everyday men typically have value but you have to be a space-travelling, death-defying mythological creature of wonder to even get a cab when you're a woman.
---
2004: The Famous Five (Canada)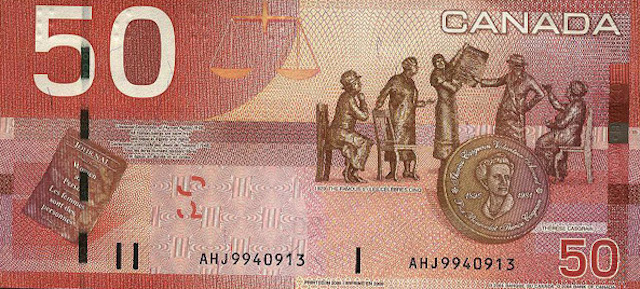 Alberta's Famous Five (Henrietta Muir Edwards, Nellie McClung,Louise McKinney, Emily Murphy, and Irene Parlby) campaigned for women's inclusion in the Canadian government when they discovered that the fairer sex (ha!) was barred from being appointed to the Senate because of some shitty law from eons before that had nevertheless shaped their lives. Canada doesn't print this piece of currency anymore, probably because of the patriarchy, but for a while there they won the award for most badass bitches on a banknote ever.
---
2004: Jenny Lind (Sweden)
Jenny Lind, known as the "Swedish Nightingale," was an opera singer and Sweden's first international celebrity sensation. She was a court singer and member of the Royal Swedish Academy of Music. There are no recordings of her singing, although she was one of the most heralded vocalists of her time, and men have obviously come forward to claim that most of the positive press about her was paid, planted, or otherwise underserved under a contemporary lens. To them I say, put your money where you mouth is, except, ohhhhhh shit!
---
Rebel Girls is a column about women's studies, the feminist movement, and the historical intersections of both of them. It's kind of like taking a class, but better – because you don't have to wear pants. To contact your professor privately, email carmen at autostraddle dot com. Ask questions about the lesson in the comments!