The United States of America has never had a woman president, but a lot of other countries have! In fact, over 70 countries have had women presidents and prime ministers since 1960 and 1974, when the first-ever woman president and prime minister took office, respectively. (Those two women are Marma Estela 'Isabel' Martinez Cartas de Peron of Argentina and Sirimavo Bandaranaike of Sri Lanka, also respectively.)
As an election unfolds before us here in the United States that could bring us into this club of lucky countries, I think it's worth exploring what women's leadership actually tends to look like on the national stage. Many studies have been conducted to explore the true impact of women's leadership, although it's also certainly true that each woman leader will be as unique as the next. It's also peculiar that even in a pool so small as that of women heads of government in the modern world, some thru lines appear that connect each woman to the next — be it how they rose to power, in what capacity they were asked to serve, and what they achieved while they were there.
In the first of a two-part lesson exploring these connections, I'd like to profile some of the other "firsts." These eight women were appointed or elected to lead their governments, for myriad reasons and due to a plethora of circumstances. But what I want to focus on here today is what they accomplished. Because, in the words of two extremely funny women, bitches get shit done. And in the cases of these women, that was some really important shit.
It's worth noting here that no women who ran countries, really, are without controversy. I am not endorsing all of the policies any of these women stood for, championed, or pushed. I chose them based on how much background information I could find on them and, for the most part, based on the things they did that I found to be positive. Politics are always a mixed bag, and no woman candidate or politician will have a perfect stance on all of my issues or all of yours. These women, however, chose to advocate for the social progress that made their own positions of power possible — and for that, I wanted to recognize them.
Also, just reiterating that this is a post about only eight women who were heads of government. Click here for an interactive timeline about all of the "first" women to serve as presidents and prime ministers around the world.
---
Benazir Bhutto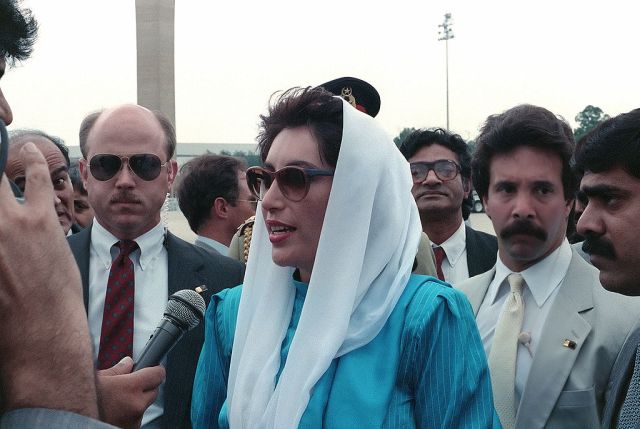 Benzir Bhutto was the 11th Prime Minister of Pakistan (1988-90 / 1993-96) and the first woman to become leader of a Muslim nation in a democratic election. Before her victory, she also made history as the first woman in Pakistan to head a major political party. During her tenures, she championed science and technology research, women's rights and racial harmony, expanding democracy and people power, and an increase in diplomatic relationships between Pakistan and other nations across the globe. Though Bhutto came from a political family, she was not beholden to the legacy policies that defined them. She also wasn't afraid to overpower other men in her government, which I find endearing, and outlasted a coup, which I find badass.
Bhutto was assassinated in 2007. To date, no other woman has served in the role of Prime Minister in Pakistan.
---
María Corazón Cojuangco y Sumulong de Aquino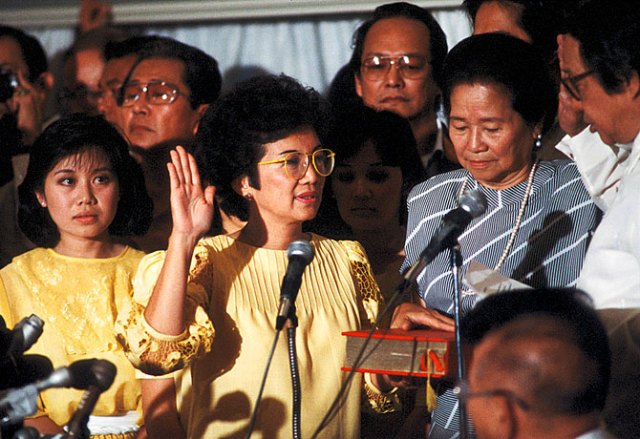 Corazon Aquino was the 11th President of the Philippines (1993-2009). She came to power following a prominent role in the People Power Revolution that brought democracy back to the Philippines, but had never held another political office before her election. While serving as President, Aquino took steps to limit political power for her office in reaction to previous authoritarian rule, including re-establishing a Congress. She also ruled with a focus on civil liberties, human rights, and peace, and restored her nation's economy.
---
Maria de Lourdes Pintasilgo
Maria de Lourdes Pintasilgo was the first woman to serve as Prime Minister of Portugal (1973-80) and the third woman to serve as Prime Minister in Europe. No other woman since has ruled the government in her nation. Although she was appointed for a term of only three months, she used that time wisely and worked to improve Portugal's universal social security, health care system, education infrastructure, and labor laws. She ran for President in 1986 but received only 7% of the vote.
---
Mary Robinson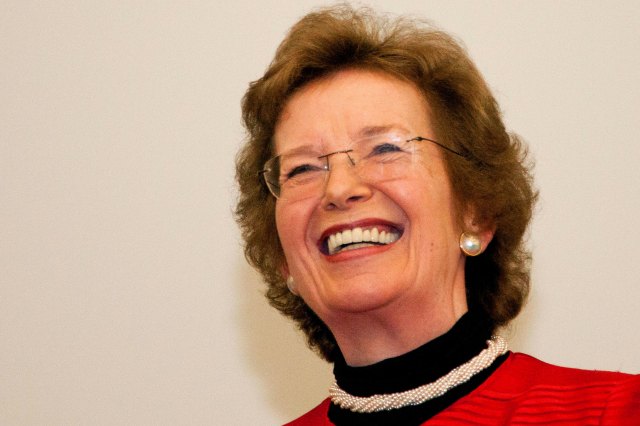 Mary Robinson was the 7th President of Ireland (1990-97) and the first to be elected without the support of Fianna Fáil, Ireland's Republican Party. Although she would eventually resign her post to serve as the UN's Human Rights Commissioner, she achieved many of her goals in office and became, in the words of her opponent for the position, a better president than he could have ever been. (This, to me, is the ultimate victory.) Robinson made efforts to bridge gaps from the Irish diaspora, build bridges between Ireland and the UK, and change the role of president from a "retirement" position to one of actual leadership in the government. Ultimately, she was able to sign into law two bills that were immensely important: one expanding the availability of contraception and another paving the way for LGBT equality by decriminalizing homosexuality.
---
Michelle Bachelet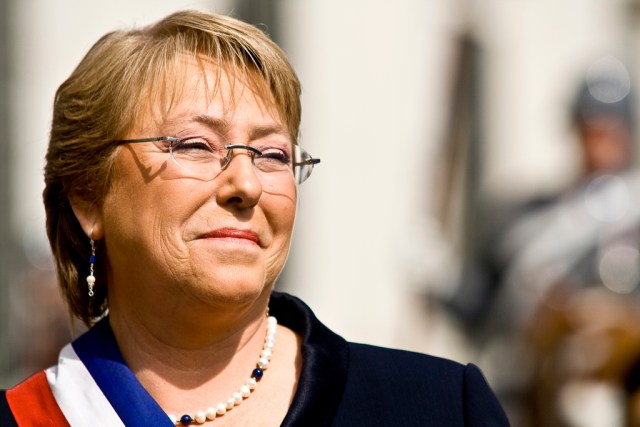 Michelle Bachelet has been elected twice to serve as President of Chile (2006-10 / 2014-present), becoming the first person since 1932 to do so. In 2013, she won with 62% of the vote. In 2006, Bachelet made good on a campaign promise and appointed a cabinet evenly split between men and women; she has gone on to lead not only on issues of gender — including putting equal pay legislation into place — but for other marginalized communities as well, especially the poor. She set up a minimum pension for the poorest families in Chile, and then also created programs to distribute free reference books and computers to the nation's poorest children. She granted amnesty to undocumented immigrants in Chile who originally resided in Latin America. She created Chile's National Institute for Human Rights and opened a museum dedicated to the horrors of a previous dictatorship in the region.
When Bachelet was sworn in as President in 2014, it marked the first time in Chile's history that the newly elected President of the Senate — who administered the affirmation of office — and the President of the Republic of Chile were both women.
---
Portia Simpson-Miller
Portia Lucretia Simpson-Miller has served as Prime Minister of Jamaica twice (2006-07 / 2012-16). She is the second head of government in the Nation to push for republicanism, and endorses replacing the monarch with an elected president. She was also the first PM to come out in support of LGBT rights — during an election, no less — when she said in a debate that equality should be a priority in the nation.
---
Vigdís Finnbogadóttir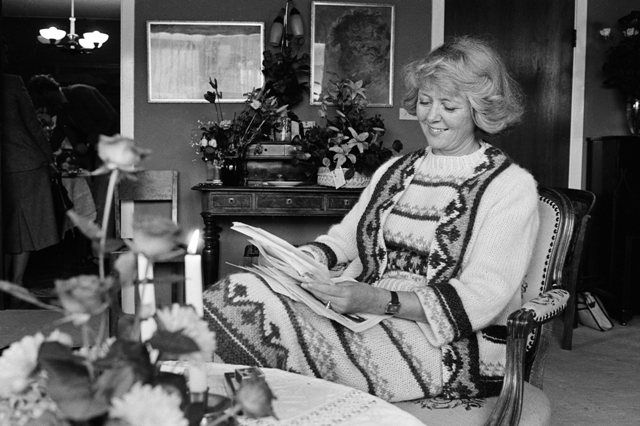 Vigdís Finnbogadóttir was the fourth President of Iceland (1980-96) and Europe's first-ever woman president. She was also the longest-serving elected woman head of state in any country, ever. No other woman has ever served as Iceland's President. Finnbogadóttir was put forward as a candidate during International Women's Year in 1975, where she won by a tiny 1.5 percent to become the first woman president, but then won re-election handily three times — twice unopposed and once against another woman. She was active in working to preserve Icelandic language and culture, fought for girls' education, and took steps toward environmental sustainability.
Her motto was "never let the woman down."
---
Violeta Barrios Torres de Chamorro
Violeta Chamorro was the first and only woman to serve as President of Nicaragua (1990-97) and the first woman head of state in the Americas. Her time in office was marked by the end of the Contra War, and Chamorro is remembered for bringing peace back to the country after the Nicaraguan Revolution. Most of her work, then, was repair work: She established sustainable peace, maintained a stable and constitutional government, ended hyperinflation, and re-established important international financial relationships. After leaving office, she was a proponent of multiple peace initiatives.
---
Rebel Girls is a column about women's studies, the feminist movement, and the historical intersections of both of them. It's kind of like taking a class, but better – because you don't have to wear pants. To contact your professor privately, email carmen at autostraddle dot com. Ask questions about the lesson in the comments!