Feminists do a lot of talking about intersectionality, myself included. But we don't always talk about what feminist organizing across movements and in coalition with other activist aims looks like. These five women relentlessly pursued goals that may not look like the mainstream imagination of "feminist" work — whether they were fighting for the environment or workers' rights — but they did so with a feminist lens and set of intentions, and their work is an example of how a multivalent feminist movement is a critical force for real change.
---
Dorothy Height, Civil Rights Leader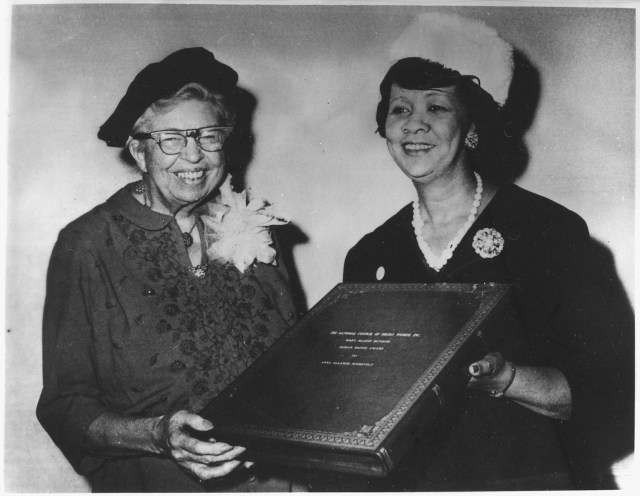 Dorothy Height was a leader in the civil rights movement who focused specifically on the experiences and empowerment of African-American women in America. She joined the National Council of Negro Women at 25 and went on to become president from 1957 to 1997; she also served as national president of the Delta Sigma Theta Sorority from 1946 to 1957. In the 1960's, she organized "Wednesdays in Mississippi" to bring together white and black women from the north and south and helped found the Council for United Civil Rights Leadership – and, when despite her leadership in organizing the famous 1963 March on Washington wasn't given the opportunity to speak, became aware in her activism of the sexism within the civil rights movement. She then became more involved with the feminist movement, and founded the National Women's Political Caucus with leaders like Gloria Steinem, Betty Friedan, and Shirley Chisholm. Dorothy's legacy is one of true bottom-up organizing and activism, and the power of that remains in the movements she was a part of.
---
Françoise d'Eaubonne, Eco-Feminist
Françoise d'Eaubonne was a French (queer!) activist who coined what is now a key term in the movement for environmental justice: ecofeminism. She saw violence against nature and violence against women as connected by a common thread of male domination, and desired for women would lead revolutions to save the planet. That vision became a basic principle in the fight for women's rights and environmental conservation, and her theories guided both movements into the 21st century.
Therefore, with a society at last in the feminine gender meaning non-power (and not power-to-the-women), it would be proved that no other human group could have brought about the ecological revolution; because none other was so directly concerned at all levels. And the two sources of wealth which up until now have benefited only the male would once again become the expression of life and no longer the elaboration of death; and human beings would finally be treated first as persons, and not above all else as male or female.

And the planet in the feminine gender would become green again for all.
---
Leymah Gbowee, Leader for Peace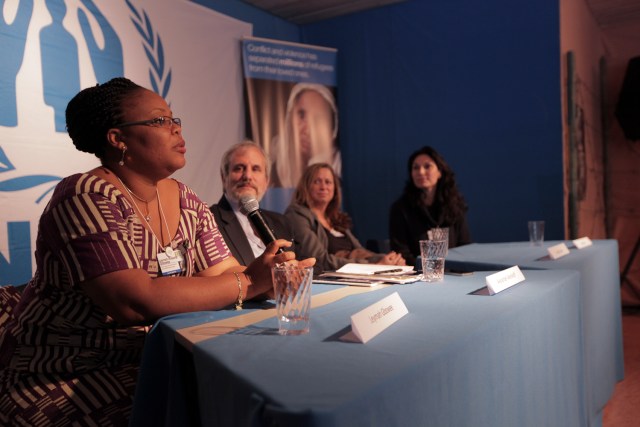 Leymah Gbowee founded the Women in Peacebuilding Network in Liberia in 2003 with the intent of ending the Second Liberian Civil War. What her female-driven push for peace became was a revolution with its place in history. Leymah, a social worker, ultimately partnered with Comfort M. Freeman to mobilize the Women of Liberia Mass Action for Peace, in which thousands of local women gathered in a fish market every day for months to stage nonviolent protests like sex strikes, pray, and sing in order to will an end to the war. After 14 years of conflict, the mass action brought about peace — and led to the election of a woman head-of-state. Then, a zillion mics were dropped.
---
Kakenya Ntaiya, Educator
Women worldwide are mobilizing to get girls educated and empowered. But those kinds of efforts cannot always succeed if they are single-minded, and that's where Kakenya Ntaiya comes in. She escaped a child marriage by opting instead to undergo female genital mutilation, all because she wanted just to go to school. She ended up earning her doctorate in education at the University of Pittsburgh, but then returned to Kenya to found the Kakenya Center for Excellence. Aside from focusing on girls' education, her center also focuses on ending harmful cultural practices that prevent girls and women from shaping their own destinies, most directly through a policy that makes parents who send their daughters there agree not to make them undergo genital mutilation or be forced into marriage. The center is thus not only building girls' opportunities in the world, but also carving out a safer place for them to live within it, and for that Kaknya has been recognized around the world for her leadership and courage in putting it into place.
---
Rose Schneiderman, Labor Activist
Rose Schneiderman began working as a cap maker in the early 1900's, and from there began a life of labor activism with a focus on the lives and treatment of women workers. She helped organize cloth and cap makers as a teen, and a year after founding the local union for them became a member of the union's executive board – making history as the most powerful women at that point in any labor organization. She went on to join the Women's Trade Union League, in which she pushed for strikes among women waist makers and garment workers. She served as president of the WTUL from 1926 to 1950, but was active in it for nearly 50 years, and in addition she helped organize the International Congress of Labor and was appointed to the Labor Advisory Board of the National Recovery Act in 1933 – yet another historical place for a woman. From cap maker to policy shaper, she never gave up her fight for workers' rights – nor did she ever forget the women workers who so often toiled and suffered in the garment-making industries as she fought on.
---
Rebel Girls is a column about women's studies, the feminist movement, and the historical intersections of both of them. It's kind of like taking a class, but better – because you don't have to wear pants. To contact your professor privately, email carmen at autostraddle dot com. Ask questions about the lesson in the comments!